A house of mud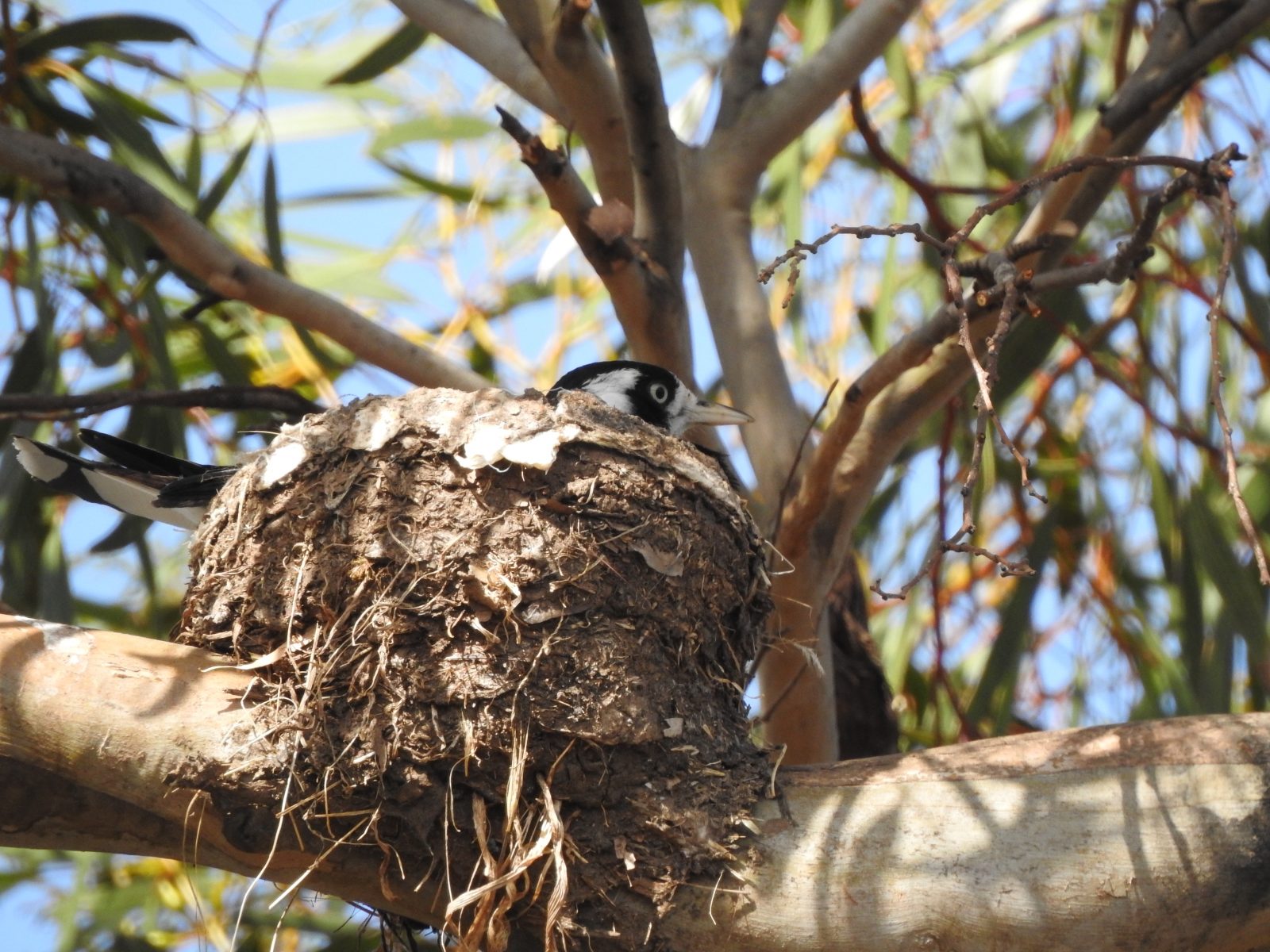 Magpie Larks' nest
Magpie Larks are a resident bird species in my garden in Murray Bridge, South Australia. By "resident bird" I mean that I see them every day. The pair I have on my five-acre property on the edge of the town is also a breeding pair.
Magpie Larks are also known as Murray Magpies, Peewees (imitating their call), and Mudlarks. They are not magpies, nor are they larks. Confusing? Yep.
A cheeky falcon
This year they have nested twice. The first attempt was in a eucalypt tree next to my driveway. The mud nest was quite well camouflaged in the outer canopy of leaves – or so I thought. I found it very hard to get a photo of that nest because of the leaves and twigs nearby. Sadly, a very cheeky Brown Falcon flew in one day and took one of the chicks. Despite being chased by the parent Magpie Larks, the falcon got away with the chick in its talons.
A new attempt
Undeterred by the attack on the nest, the Magpie Lark pair tried again. This time they made their new nest in the tree near my back veranda. I could sit in my comfortable chair on the veranda and watch them build their new home. This took several weeks until they were happy with the result. Now they are sitting on eggs but I cannot tell how many; it is far too high for a ladder and it is not a good idea to disturb a bird sitting on a nest.
Guarding the nest
This time the pair of birds seems to be ready for anything. They chase off many different species who dare to come near. This includes a family of Grey Currawongs who came close a few days ago. Currawongs are not slow at taking what they want from the nests of smaller birds, whether that is eggs or young.
After their failure earlier in the season, I hope that this pair is successful in raising their chicks to maturity this time.