Archive for the 'Good Birding Sites' Category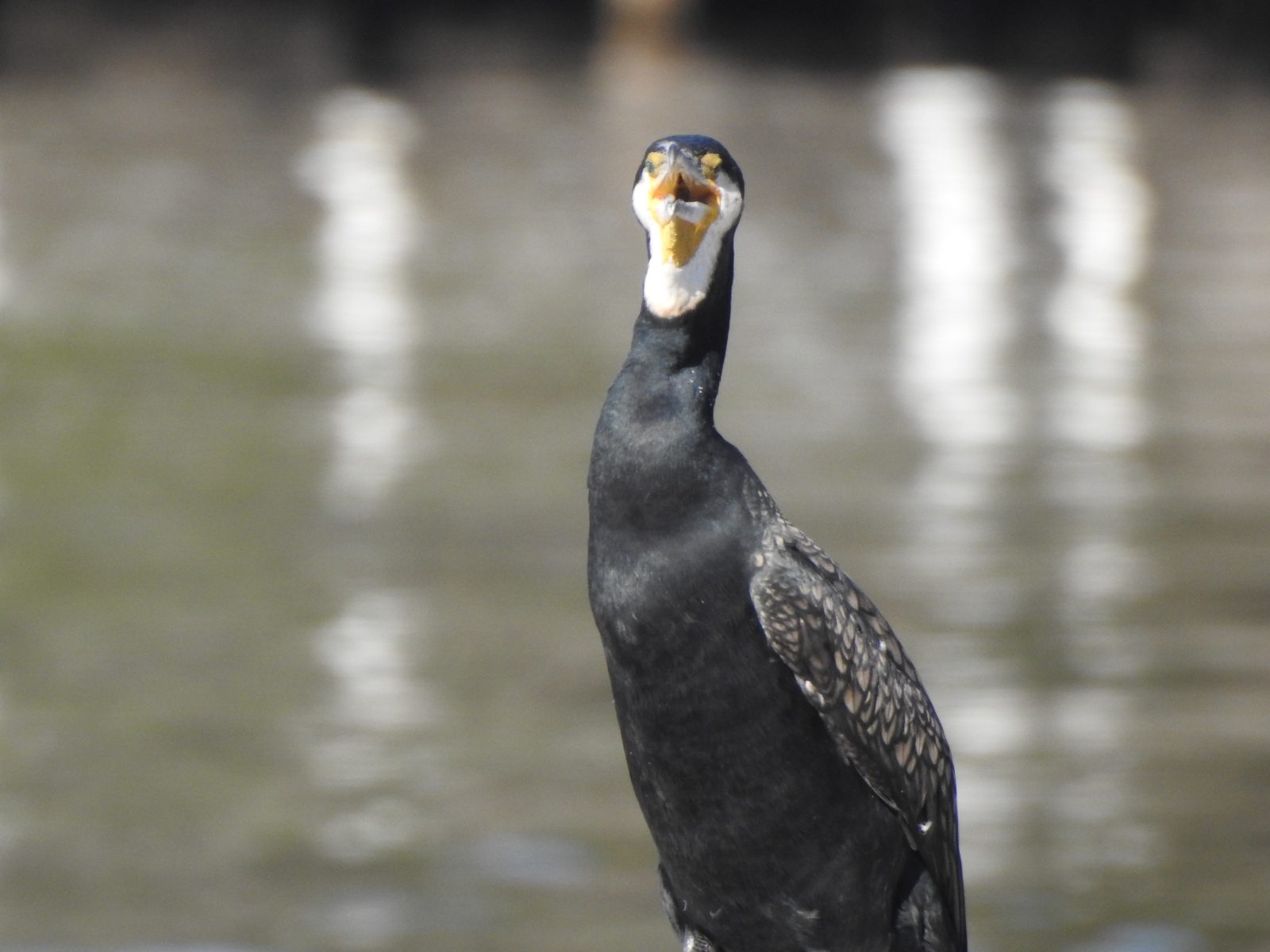 Wherever possible, I like to link to other sites which have birds and birding as their primary focus. In doing this, I hope that I am helping my readers to discover new sites. A selection of these sites is listed in the Links section (click on the link above the heading of this post or click here).
It has been many years since I developed the Links Page here on my site. I am very aware that the page needs a thorough review and overhaul. Some of the sites no longer exist, or the links are broken. In some instances, the owner of the site may have changed direction completely.
I have recently become aware of a new listing of existing blogs or websites with a focus on Australian birds (plus a few other sites as well). Bad Birding is a site run and written by a Canadian couple, Jason and Emily, who are focussed on building up their world list of birds in the coming years. They aim to see and photograph 5000 different bird species – that is about half the world's bird species. Their current list stands at 447 species, so you could say that they have an ambitious goal. They have already spent a lot of time birding in Australia, so they are well on their way.
Good on them, I say. Go for it.
If I was 50 years younger I would attempt to do something similar – until my money ran out, that is.
Links page: Bad Birding Links Page – listing lots of birding sites.
Good birding,
Trevor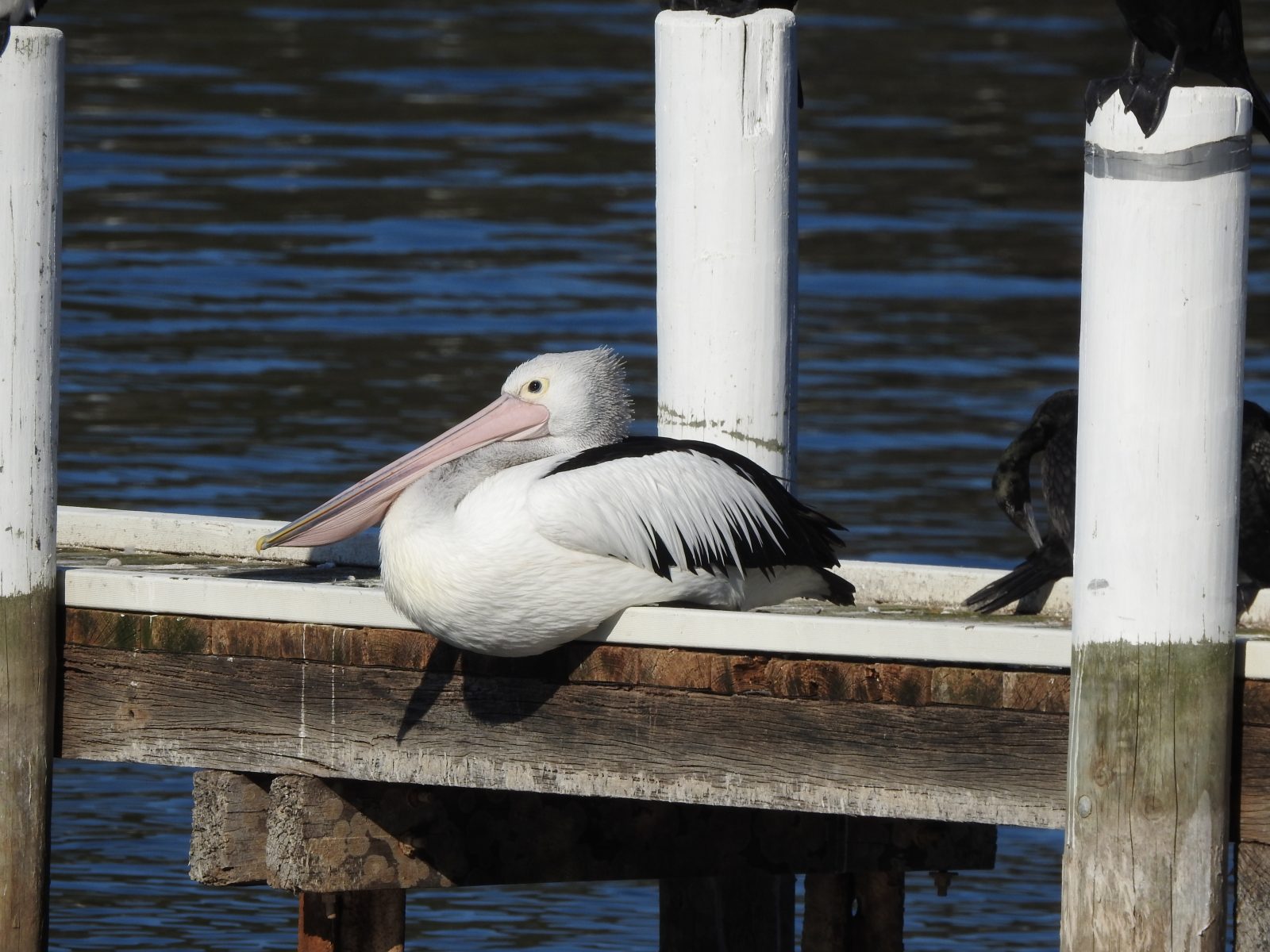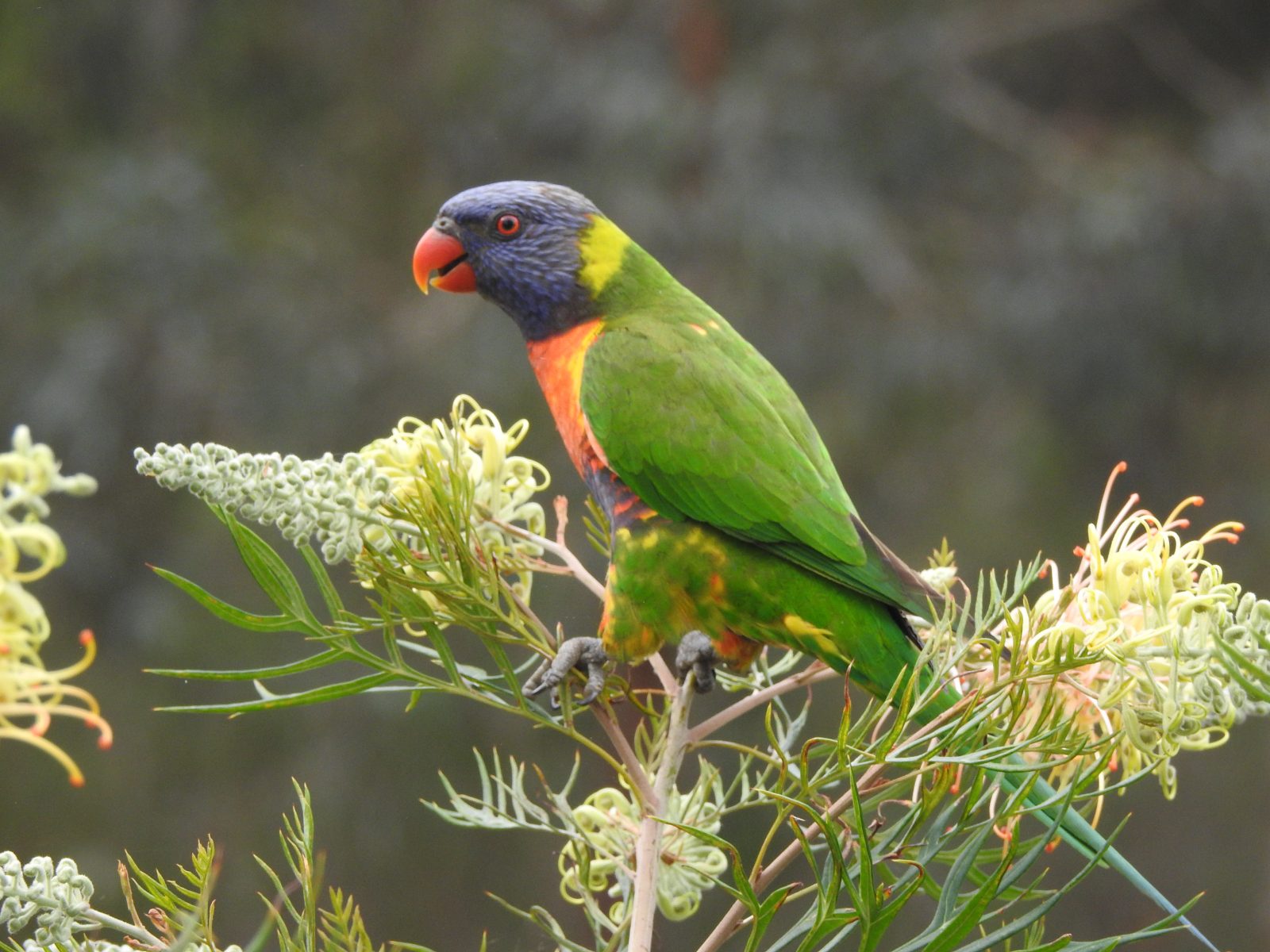 Last week I travelled from my home in Murray Bridge, South Australia, to Sydney to visit family for a few weeks. On the last day of my trip, I had a few spare hours, so I decided to visit the Australian Botanic Gardens at Mouth Annan. These magnificent gardens are in the south-west edge of the greater metropolitan Sydney area.
My wife and I had previously visited these gardens in December 2013 and we always wanted to make a return visit. Being the beginning of spring here in Australia it was an ideal time to visit. I mainly went to photograph the flowers, but it is also a great place to see and photograph some of our Australian native birds.
Just as I was about to leave, I passed a magnificent Grevillea "Moonlight" which is a cultivar, believed to be a hybrid of two other Grevillea species. This amazing plant was a significant tree some 5-6 metres tall and 6-7 metres wide. It was completely covered by brilliant white flowers. The local Rainbow Lorikeets were having a feast on the nectar.
The individual shown in today's photographs was a very obliging bird, seemingly posing for my camera. In reality, however, it was either very hungry or totally hooked on the sweet nectar in the flowers. I was able to take a series of close up shots and it was totally oblivious of my presence. I love moments like this when I can take multiple photos of the same bird.
Below I have included a series of the best shots taken on my visit to the garden.
Further reading:
Australian Botanic Gardens Mount Annan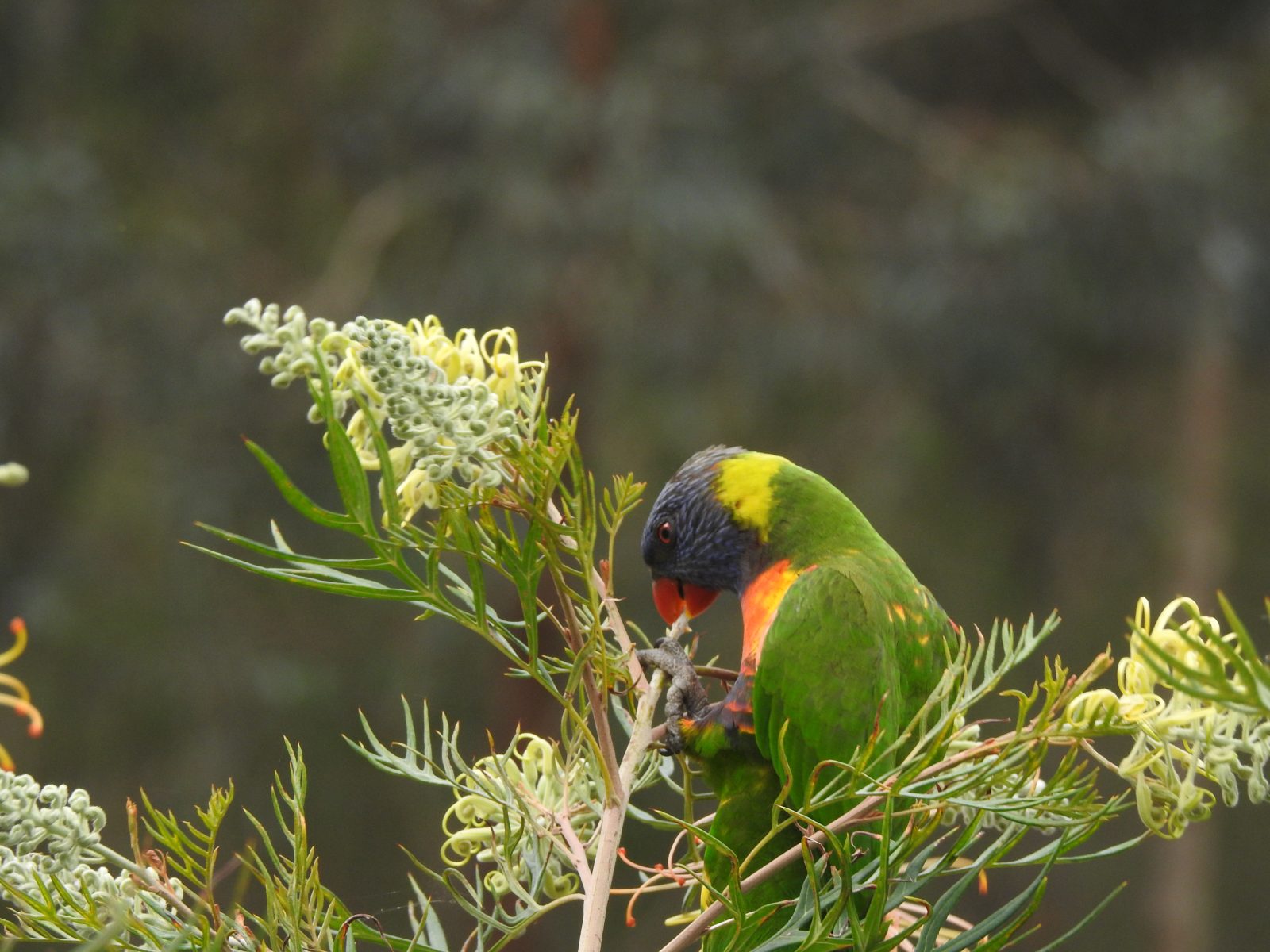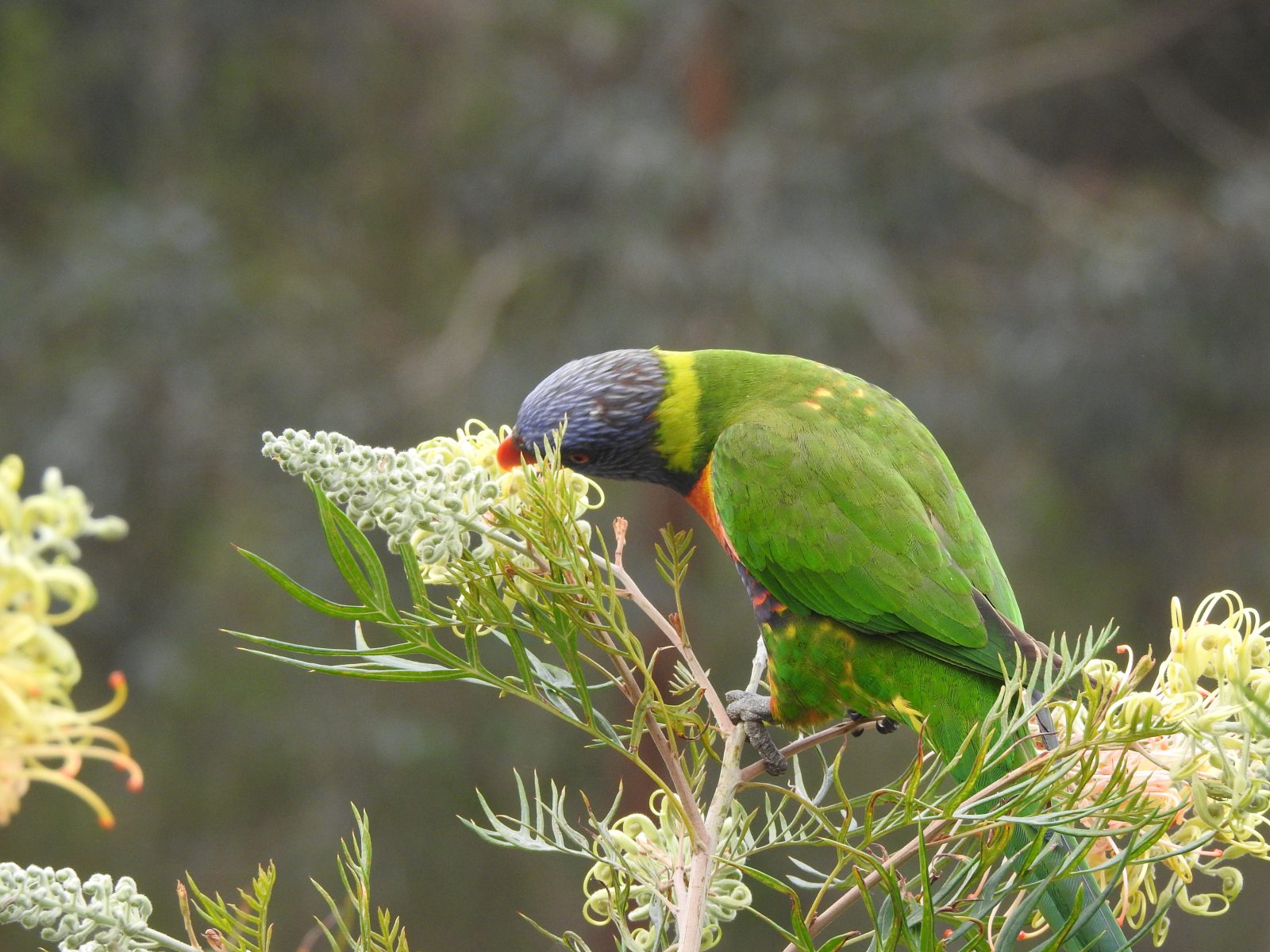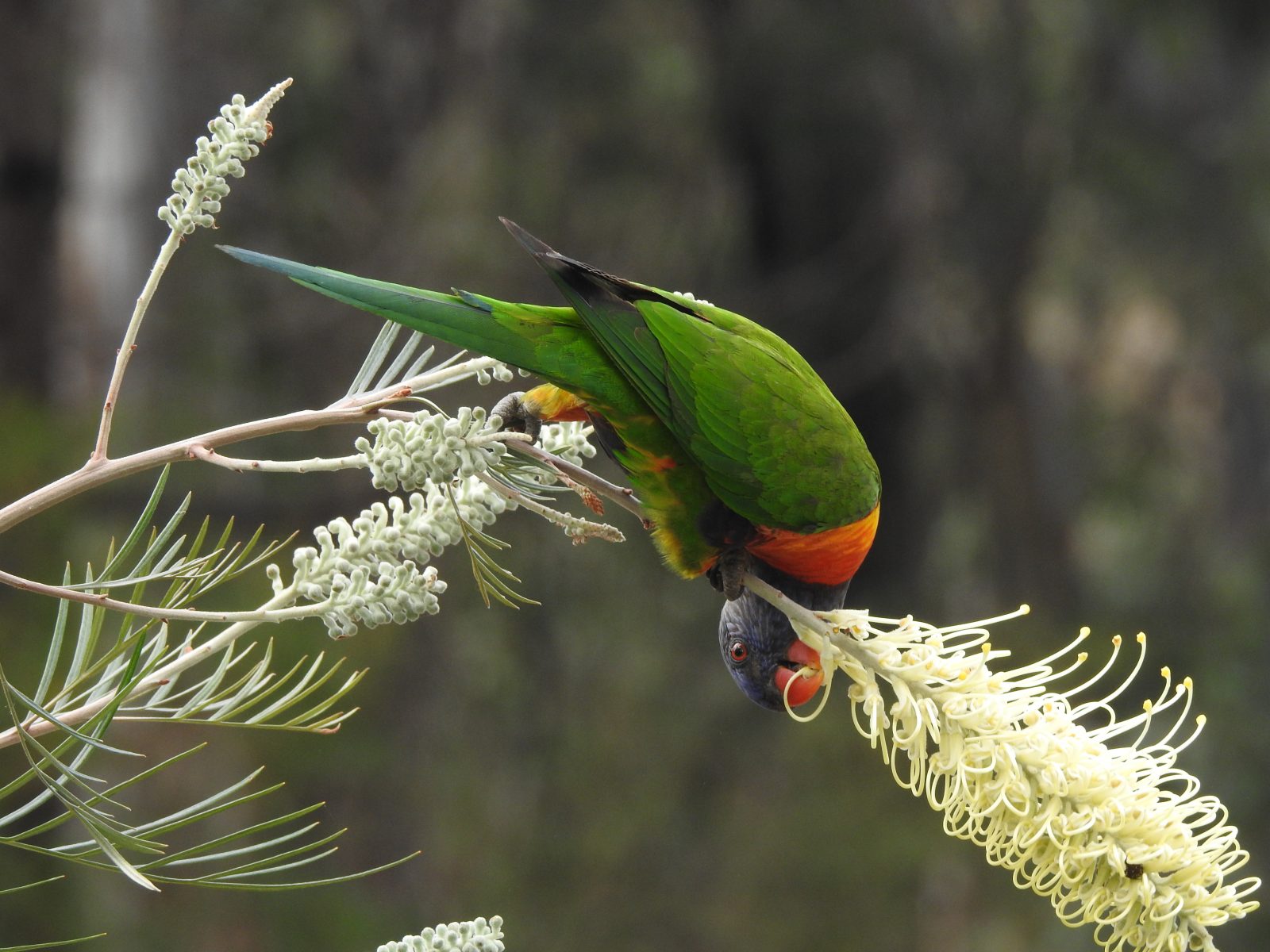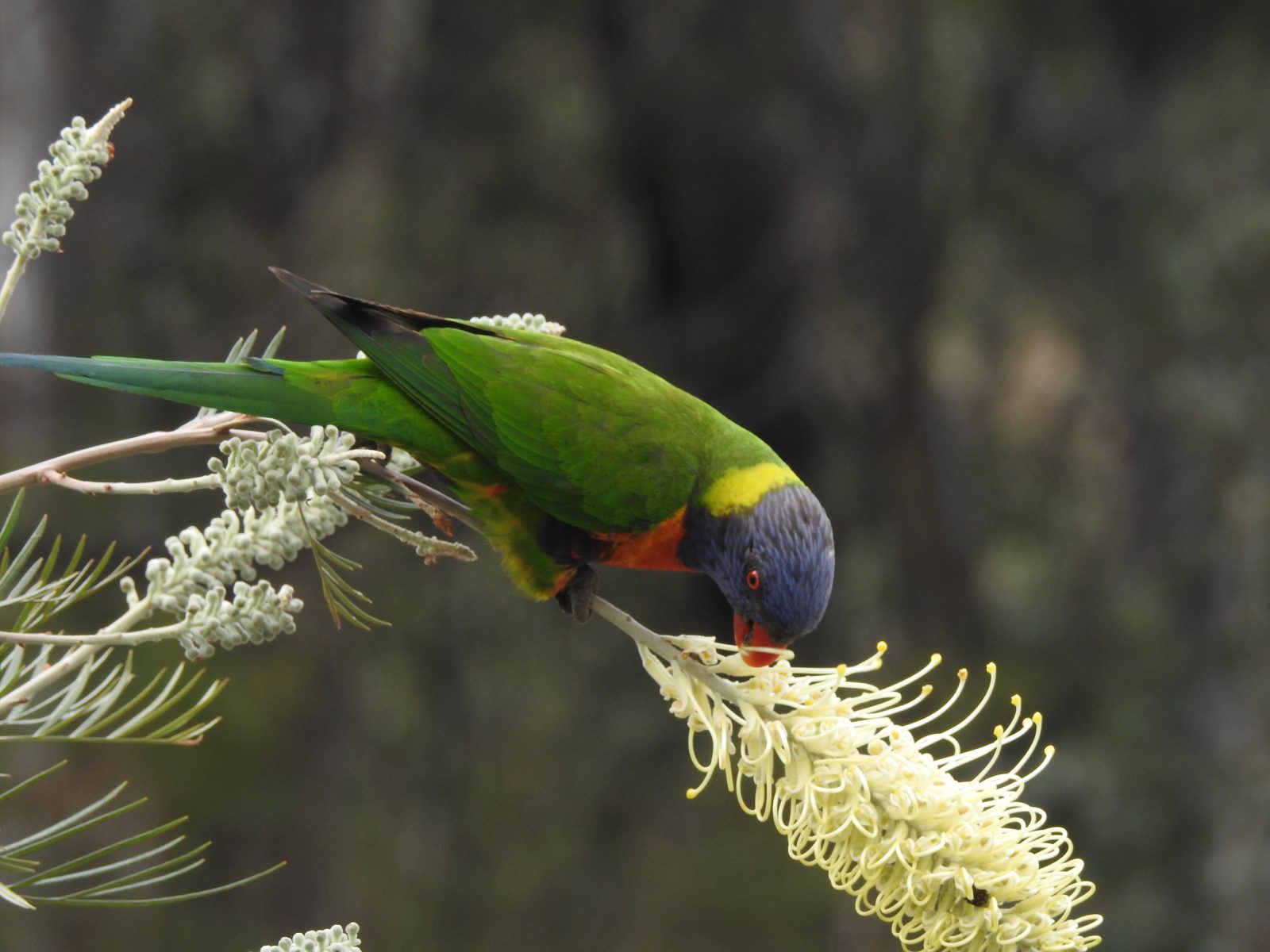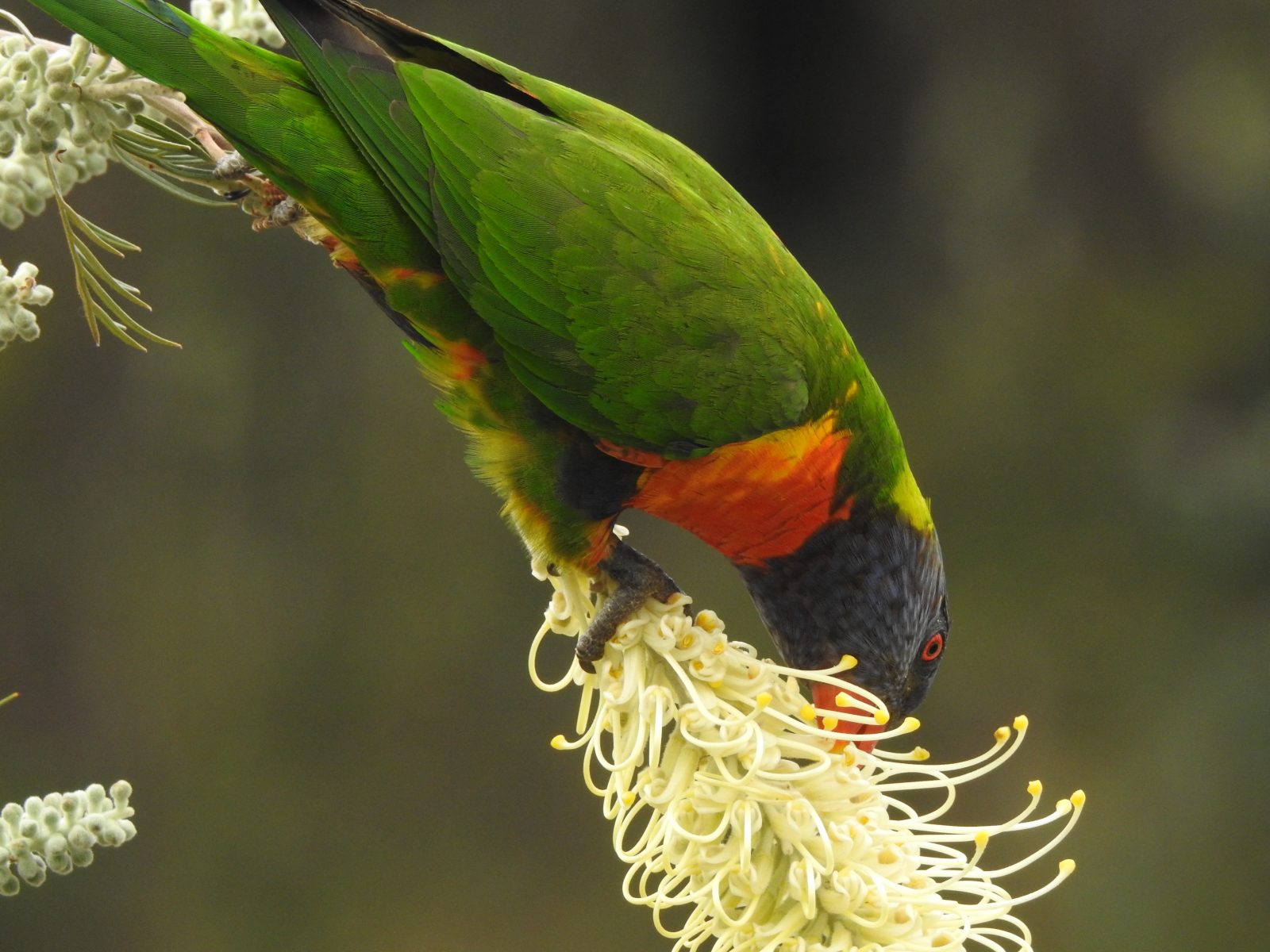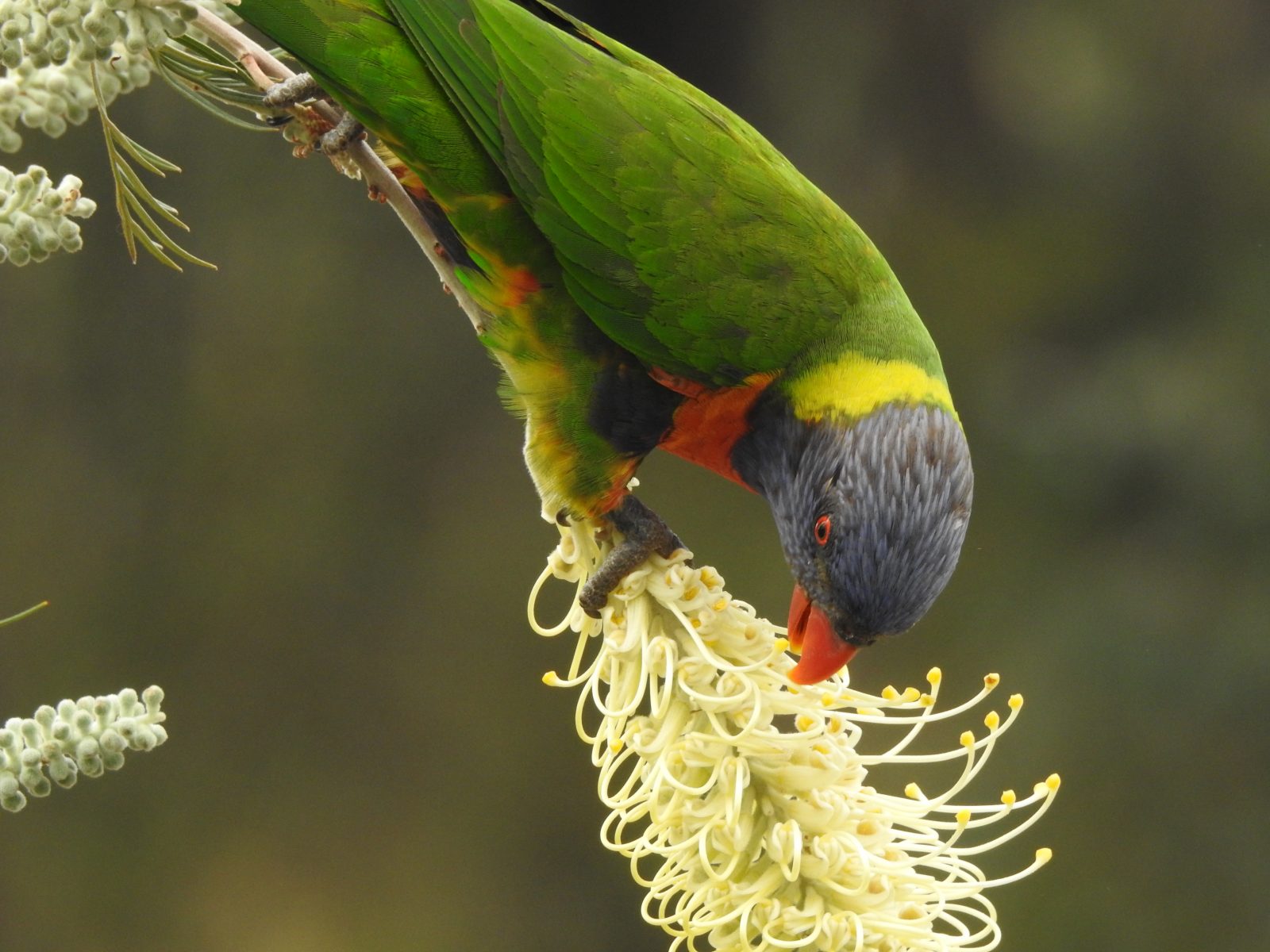 Earlier this year I spent a whole afternoon birding at various sites around my hometown of Murray Bridge here in South Australia. One of those sites was the Rocky Gully Wetlands on Mannum Road. I frequently drive past this wetland area, glancing at the lagoons as I drive, but not stopping. I need to change that and linger for a few minutes and take a much more careful note of the birds present. That action is probably safer than birding while driving, anyway.
Bush birds
On this occasion, there were plenty of birds present. Around the lagoons, there were quite a few smaller bush birds in the trees and shrubs that have been planted in the area. This included Red Wattlebirds, White-plumed Honeyeaters, Singing Honeyeaters and New Holland Honeyeaters. I heard a Grey Shrike-thrush calling and several times I heard the resident Superb Fairy-wrens twittering their soft calls to each other. Several Crested Pigeons were present and three Galahs were the only parrots seen at this location. Normally, I would expect to see Little Corellas and several kinds of Lorikeets here. They were absent on this visit.
Waterbirds
On the water of the lagoons or on the several islands I could see quite a few Grey Teal and Chestnut Teal, but interestingly, no Pacific Black Ducks which are very common in this area. A small number of Black-winged Stilts, Eurasian Coots and a solitary Purple Swamphen were seen, along with four Australian Pelicans, a White-necked Heron and a Great Egret. The egret was slowly wading in the shallows looking for a feed. It is a pity I didn't get a good photo of this bird and its reflections in the water.
Of particular interest were the small group of both Royal and Yellow-billed Spoonbills. I always love seeing these species wherever I go birding. The most interesting sighting, however, was the count of twelve Australasian Darters. While this number is common in many parts of Australia, I have never seen so many in one spot in this region. Probably the most numerous species present were the Silver Gulls, with between 30 and 40 birds around the wetlands.
Further reading:
For each of the species mentioned in this post, I have written one or more articles about them on this site. To read them, go to the search facility in the top right-hand corner and type in the name of the species.
Newsletter: 
I also invite you to subscribe to my occasional newsletter (see below the comments).
Good birding,
Trevor
Earlier this week I wrote about my first visit to the Capertee Valley late last year. In general, this was a rather disappointing day of birding. I went with such high expectations, but I didn't realise that I had underestimated the time needed to do this wonderful region justice. The road through the valley is an alternative route from Lithgow (north-west of Sydney) to Mudgee, though some of this section of the road is unsealed.
One really needs a full day to explore this area even superficially. Several days to a week would enable keen birders to really enjoy the delights of this valley. In this way, keen birders would be able to track down many of the wonderful birds of the valley. Along the route I took we noticed at least twenty signs pointing to Birdwatching Sites. Each would be worth stopping at for an hour or two. We only stopped at one, and that was in the small village of Glen Alice. This small settlement has a school, a community hall, an emergency fire station, an old church and several houses. Oh, I forgot – it also has a historic cemetery.
We went for a short drive along the only street before returning to the parking area near the old church. Here we stopped for afternoon tea. While we had our cuppa and some biscuits, I managed to do a little birding. Within seconds of getting out of the car, a solitary Diamond Firetail finch flew in and settled on the ground only a few metres from me. I was able to get a few quickly taken photos before it flew off again. These are the photos I have featured today.
Within the next half hour, I made quite a nice little list of birds seen but didn't get any more photos – well, not any that are worth showing here. The following species were either seen or heard:
Grey Butcherbird 1
Noisy Miner 8
Diamond Firetail 1
Australian Raven 4
Australian Magpie 4
Red Rumped Parrot 2
White-plumed Honeyeater 5
Willie Wagtail 2
Sacred Kingfisher 1
Little Black Cormorant 1
Hooded Robin 1
Rainbow Bee-eater 2
Superb Fairywren 2
Crimson Rosella 2
Australian Wood Duck 5
Magpie Lark 2
Rufous Whistler 1
Black-faced Cuckoo-shrike 1
Fuscous Honeyeater 1
Several kilometres out of town in the locality known as Bogee, I added the following species:
Grey-crowned Babbler 3
Yellow-rumped Thornbill 3
Related reading:
After our trip to stay with family in Sydney last year, I decided to take a different route back home to Murray Bridge. On our previous trip we had travelled from Sydney via Katoomba to Dubbo on the first day on the return trip. North of the town of Lithgow we drove through the village of Capertee. I remember stopping there to change drivers. On that occasion, we continued on to Dubbo where we stayed the night. We planned to visit the Western Plains Zoo near Dubbo the following day.
On this trip, however, I planned our homeward trip differently. We planned to stop for the night in Mudgee. This was so we could drive through the popular birding area known as Capertee Valley. I had read a great deal about this valley from other birders, so I was looking forward to a good afternoon of great birding. I ended up being somewhat frustrated and a little disappointed. Because of the distances we travelled that day, I underestimated how much birding time I would actually have. Most of the day was taken up travelling. I should have scheduled several days in this area – at least a whole day, anyway.
Our first stop was just a few kilometres east of Capertee. It was lunchtime, so we stopped at a clearing in the forest on the side of the road.
It was quiet.
Far too quiet. As we sat there eating our picnic lunch, I heard just one bird calling, possibly a treecreeper but I couldn't be sure which species. I didn't see a single bird for that whole half hour. Admittedly, around midday is quite often the quietest period for birding here in Australia, especially on hot days. On this occasion, it was pleasantly warm.
As we were having our cup of tea – we always carry a thermos or two of hot water on these trips – a lady pulled up behind our car asking for directions. She, too, was a birder and this was her first venture into this area. Although we knew little of the area, and certainly not how to get to the place she was attempting to visit, we helped her as best we could.
Driving further on along the road travelling east, we eventually came to open country with occasional farmhouses nearby. The vista opened up to spectacular views ahead of us, and to the south. I stopped at one point and took the scenery shots shown above and below. In this area, I saw occasional ravens (probably Australian Ravens), a few Australian Magpies (back-backed sub-species here) and a few Magpie Larks and very little else. At one point I stopped the car, grabbed my camera and zoomed in on a bird quite some distance away. It was sitting on a fence post. I have included the very poor photo below. I think it was an Australasian Pipit.
We continued on until we came to an intersection where we turned left and drove north along towards the small community of Glen Alice. The countryside along this road is wonderfully spectacular, with towering sandstone cliffs bordering the valley. This road has a generally good quality dirt or gravel surface, though there was some evidence that recent heavy rain in the district can cause motorists a few problems.
Also along this road, and the road from Glen Alice to Rylestone, there are waypoints labelled "Bird Watching Site" with numbers ranging up to at least 19. While there is a pamphlet guide available for birders giving the location of these sites, I didn't track one down. I think that they are available in Capertee. They certainly would be handy. Near the public toilets in the roadside park in Capertee there is a detailed map of the area showing all of the birding sites, along with lists of what can be seen at each point. Update: the pamphlet can be downloaded here as a PDF.
While my first visit to the Capertee Valley was somewhat disappointing, I did have some good sightings while we had afternoon tea at Glen Alice, but I will write about that in a few day's time. This brief four-hour visit has given me the incentive to revisit this area in the near future, but for a much longer time.
Related reading: