Archive for the 'Baby birds' Category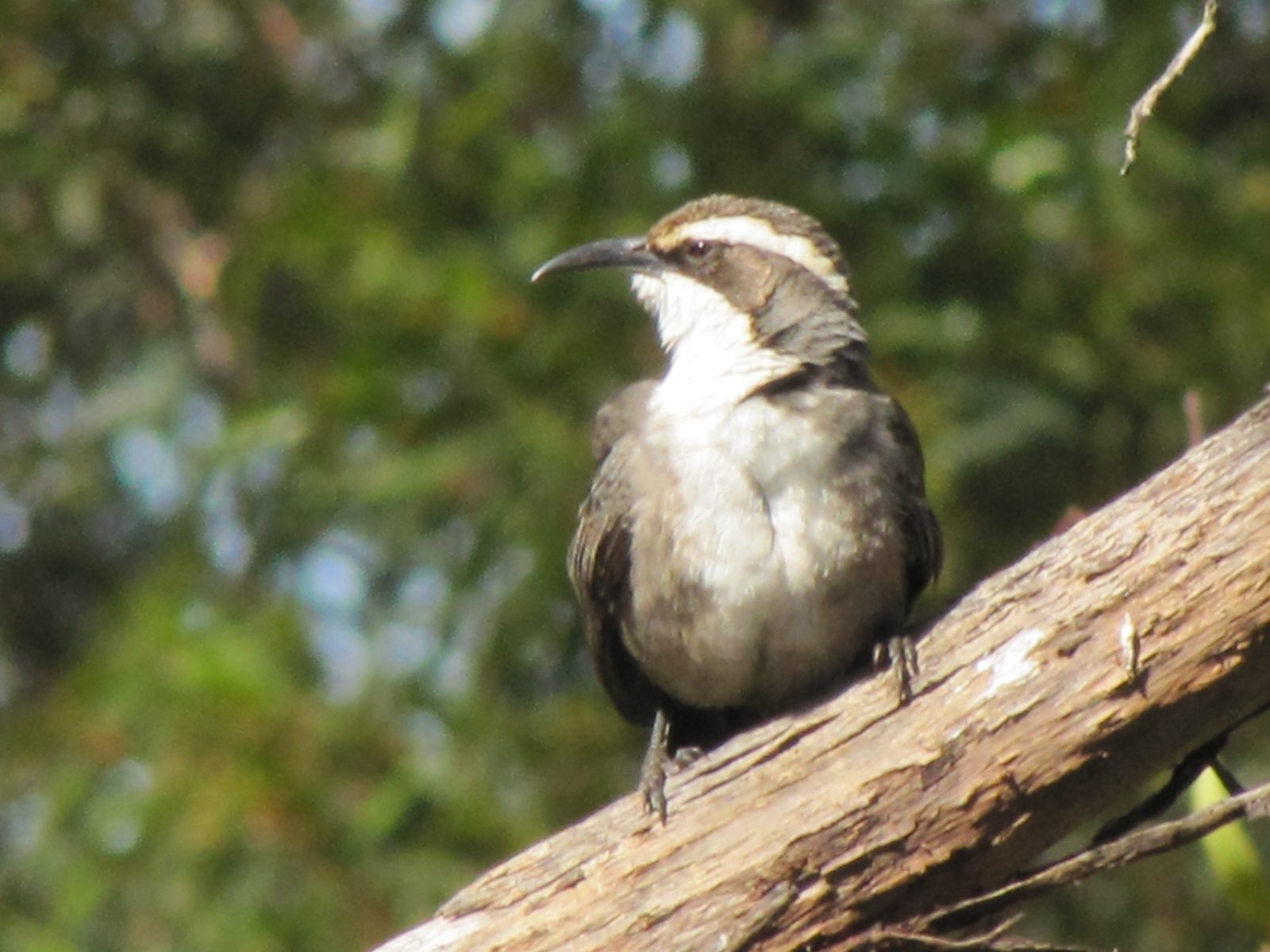 Over recent weeks there has been a family of White-browed Babblers (see photo above) constantly moving around my garden and five-acre block of land. I live on the edge of the rural city of Murray Bridge, an hour's drive SE of Adelaide, South Australia.
I find that this species is an endearing one, with their constant hopping around on the ground, scratching at the dirt, or prying under the bark of the mallee trees surrounding my home. They move around in small family groups of four to six individuals, sometimes more. As they move around searching for tasty snacks such as beetles and caterpillars and insects, they keep up a regular mewing call, like miniature demented cats.
I suspected that they were nesting somewhere, but a search of the bushes where I had seen them flying to were bare of any nests. I thought that might have been keeping the site of a nest as secret as possible. This was good news because I occasionally see a feral cat moving about the property. I discourage cats from moving about nearby by chasing them off, usually followed by a stone thrown at them. They don't know that they are really in no danger; my stone-throwing abilities are somewhat deficient.
A few mornings ago I went to get something from the garage. As I opened up the door, I was aware of a frantic fluttering nearby. This was followed by several plaintive cheeps something like the call of the babblers. I looked over the nearby fence. Two recently fledged baby babblers were clinging on to the wire of the fence, flapping their wings and trying not to get blown away by the strong wind.
It was obvious that they had only a short time before left the nest. Their tails had not fully grown and they had trouble balancing on the shaking fence wire. I can't show you a photo because I didn't have my camera with me. They only lingered there for a few seconds before launching into a haphazard flight path away from where I stood. I hope that they soon adapt to their new freedom.
Further reading:
White-browed babblers building a nest
Here in South Australia, there has been some interest generated in the media in recent weeks about the plight of the Hooded Plover. A pair of this species was found to be nesting on one of our popular beaches. There was much concern over protecting the eggs from damage or predation.
This tiny bird is widespread along the coast of South Australia and all of southern Australia, including Tasmania. Nowhere is it common, and everywhere it is threatened. It is estimated that fewer than 2500 of these lovely birds exist. And during the summer months, when they nesting, they are most vulnerable.
During the summer months, when they nesting, they are most vulnerable. They make their nest by making a small depression in the beach sand. In this hollow, they lay and hatch their eggs. Surveys have shown that as few as only 2.5% of eggs actually make it to adulthood. That is a shocking statistic; it is NOT a typo.
The eggs can be damaged in many ways:
The eggs can be trampled on by people, dogs, horses or vehicles (we still have some beaches with car access here in South Australia – all in Hooded Plover nesting areas).
Overheating when the eggs are exposed to the burning sun after the adult is scared from the nest.
Eggs left too long and becoming too cold without the warmth of the adult sitting. This also happens when the adult is chased from the nest by the presence of humans, dogs, and other animals.
The eggs can also be taken by predators such as foxes, cats, ravens, magpies, gulls and eagles.
If the eggs survive to hatch, the young can die:
By being run over by vehicles, or stepped on by humans.
Eaten by predators like foxes, cats, and birds of prey.
What you can do
You may be thinking that you can't do much to save these, and other, threatened birds.
Think again.
Just by being aware of our wildlife when you go to the beach this summer, and drawing the plight of birds like the Hooded Plover to the attention of family, friends and other beach goers, you can do your bit to save them for future generations.
Donate
I don't often make appeals for money on this site; in fact, I am sure I have never done so. This is different. Birdlife Australia is running a special appeal for these little birds this summer. You can donate here.
Become a Member 
Why not become a member of Birdlife Australia? I have been a member for many decades. They pour large amounts of money into bird conservation, advocacy and research. Membership also provides you with discounts on a range of products and services, and you get their colourful quarterly magazine as well. You can join here.
Further reading:
Good birding,
Trevor
Over the past month or so the area around our garden has been full of birds nesting, sitting on eggs, feeding young or busy feeding the fledglings after they leave their nest. Spring time here in South Australia is the main breeding season for many species of birds, especially the bush birds. Many of our trees and shrubs are also flowering which means plenty of food for the birds, both the nectivorous and insectivorous species.
Here is an annotated list of the species I have observed nesting or feeding young this spring, plus a few species I suspect have been nesting nearby. All of these observations have been in our garden or on our 5 acre property in Murray Bridge, South Australia.
Willie Wagtail – the photos of the nest (above and below) on today's post are of the nest with two babies just peeping over the top of the beautiful cobweb lined nest. They have since fledged and are flying around begging for food.
Australian Magpie – I knew that our resident magpies were nesting but it was only when the young started calling to be fed that I found the nest. They had made a nest in a completely new tree this year. Last year's nest tree was blown over by one of our winter storms. (Must cut it up for firewood.)
House Sparrow – these seem to be always nesting, not just in the spring.
Common Starling – about a dozen tree hollows had nests in them and it is quite obvious when there are babies in the nest; their calling for food is incessant. Most of the starlings have now flown off to the fruit growing districts nearby.
Red Wattlebird – there have been several fledged young wattlebirds getting around in recent weeks. I suspect that the adults may well be nesting again. The male continues to boss all the other smaller species quite unmercifully. They don't like sharing their food, even though there is plenty to go around.
New Holland Honeyeater – I saw several parents feeding young just out of the nest quite a few weeks ago. They may well be nesting again, but their nests are usually well hidden in dense bushes.
Peaceful Dove – we saw a pair mating and they have been hanging around close to the house for many weeks. I have yet to find the nest – in part due to a very bad back at present.
Crested Pigeon – this species always seems to be breeding, but they chose a bush quite a distance from the house this spring.
Spotted Turtledove – again, due to my back I haven't yet found their nest.
Galahs – this one is tragic. After many attempts at breeding over several years in a tree hollow near the house they finally hatched a brood of young, only to see them die in the nest during an unseasonably hot spell several weeks ago.
Common Blackbird – this species often makes a nest in our garden shed, but this year they seem to be nesting next door and only visit our garden occasionally.
Australian Magpie-Lark – again, this species has chosen to nest in the neighbour's tall trees. They visit our garden frequently to catch food for the young.
White-winged Chough – another species which visits frequently – except in recent weeks. I often see them down the road about a hundred metres away, so they are probably nesting there.
Little Ravens – although several of this species visit almost daily, I have yet to record them nesting in one of our trees, preferring to keep away from the magpies' nest, I presume.
White-browed Babblers – it has been quite a few years since they last nested in our garden but they are regular visitors – except in recent weeks – they must be nesting somewhere nearby.
Superb Fairy-wren – our resident pair still seems to be around the house garden, but they are very quiet and secretive about the location of their nest.
Cuckoos – we have heard the calls of the Horsfield's Bronze-cuckoo a few times several weeks ago but have seen no evidence that they stayed long enough to nest.
Other possibilities: White-plumed honeyeater, Singing Honeyeater, Spiny-cheeked Honeyeater, Yellow-rumped Thornbill, Weebill, Striated Pardalote, Spotted Pardalote.
One of the most recognisable Australian birds would be the Willie Wagtail (see photo above). It is also one our most endearing birds, a favourite of many people. It loves occupying spaces close to human habitation, especially our gardens. We have a resident pair in our garden and we see them on a daily basis.
I have always known that Willie Wagtails can also be aggressive, feisty little birds. This has been in evidence in recent days in our garden, illustrated by the following incidents when it has attacked other, much larger species:
Australian Magpies: our resident Magpies must be nesting somewhere on our five acre property here in South Australia. The male is consistently chasing almost every bird which comes near. Fortunately us humans are never swooped. Last Saturday, however, the roles were reversed. It was the magpie being chased – by a very aggressive and angry Willie Wagtail snapping at its tail as it tried to escape its wrath.
Little Ravens: We often have small flocks of Little Ravens in our garden, usually up to about six or so. Yesterday I heard and then saw three ravens in the large mallee trees at the back of our home. As usual, they were cawing loudly. This attracted the attention of the Willie wagtail who rapidly came into the situation and began snapping at a raven's feathers, tail and head, harassing the poor bird mercilessly.  As soon as one raven flew off with a few caws in protest, the Willie Wagtail would turn its attention to another until all three were well and truly seen off the property.
Wedge-tailed Eagles
I have only observed Australia's largest bird of prey, the Wedge-tailed Eagle, on one occasion here in over 30 years. It is, however, quite a common bird throughout this part of the country and I have seen the species on many occasions in my travels. It always amazes when the tiny Willie Wagtail – not much bigger than a humble House Sparrow – aggressively attacking the eagle, snapping at it and even pecking at its back while hitching a ride. Such courage – one snap of the eagle's beak would dismiss the wagtail permanently.
The reason for this aggressive attitude:
Normally the Willie Wagtails are friendly, docile birds. They will allow all manner of birds to cohabit happily in our garden. The reason for this sudden change of attitude is a simple little nest, like the one shown below. The photo below was taken a few years ago because I don't want to disturb the mother Willie wagtail. She is currently sitting on two lovely eggs. She is not even afraid to come after me when I get near to the nest, snapping near my head until I move a reasonable distance from the nest.
The weeds near the nest will just have to wait a few weeks to be mown. Sigh.
I recently wrote about other birds nesting in our garden (click here).
It's that time of year again in Australia – spring nesting season.
Birds everywhere are making nests, sitting on eggs in nests or feeding young just out of the nest. In southern Australia – the region I am most familiar with – the "spring" nesting season stretches from the winter months of July and August, through the entire season of spring (September – November) and even well into summer (December – January).
Having confused all of my overseas readers I should explain three things:
Most of the breeding occurs in the spring months.
Some species – like our honeyeaters – will nest multiple times, raising 2 or more broods a season.
Some species will even raise as many as five broods over a six month period.
Being late September nesting is in full swing here on our 5 acre (2 hectare) property in Murray Bridge,  South Australia. The following is a quick annotated list of those species I have observed in the breeding mode in recent weeks:
Willie Wagtail: our resident birds have been very quiet and I suspected that they had a nest somewhere but I only found it yesterday. It contained two eggs. The photo above shows a fluffy family of Willie Wagtails just out of the nest a few years ago.
New Holland Honeyeater: last week I saw two parent birds fussing over and feeding two fledglings just out of the nest and barely able to flutter, let alone fly.
Red Wattlebird: I saw one bird sitting on a nest high in one of our trees but haven't checked it in recent days. Other wattlebirds in our garden are being bossier than usual, so I guess that there are young around somewhere.
House Sparrow (introduced species): they always seem to be mating and nesting, so nothing unusual there.
Common Starling (introduced): the resident dozen or so birds all seem to have taken up occupation of a number of tree hollows in our mallee scrub, but I haven't yet heard the persistent calls of the nestlings begging to be fed.
Mallee Ringneck parrots: our resident birds were feeding young a month or so ago, and I have seen them constantly investigating a tree hollow. Earlier this week we saw two of them mating, so the next brood could be on the way soon.
Cuckoos: I haven't seen any cuckoos yet this season but I have heard Horsfield's Bronze-cuckoos calling several times, so they could possibly be nesting too.
Galah: I'm not sure what our Galahs are doing. They come to a hollow in an old growth mallee tree near our clothes line and enter the hollow every day but nothing else seems to be happening. This has happened now for several years so I will just have to keep an eye on proceedings.
Australian Magpie: this is a really puzzling one. The resident magpies showed all the right activities a few months ago when they defended their territory but since then everything has gone quiet. We daily see several birds feeding around the garden and in the paddock, but I have yet to locate a nest. Very strange.
I have highlighted just 9 species in this article. Over the last 30 years I have observed many more species either breeding, or feeding young, on our property. I am quite confident that there would be other species currently nesting somewhere here, possibly including:
Grey Shrike-thrush
Common Blackbird (introduced)
Spotted Turtledove (introduced)
Crested Pigeon
Yellow-rumped Thornbill
Weebill
Spotted Pardalote
Striated Pardalote
Mistletoebird
White-plumed Honeyeater
Spiny-cheeked Honeyeater
Singing Honeyeater
Little Raven
Pacific Black Duck (they bring the ducklings to our swimming pool!
Superb Fairy-wren
Australian Magpie-lark
Grey Butcherbird
Further reading:
Click on the following article headings to read about successful breeding attempts in past years: