Archive for the 'Bush birds' Category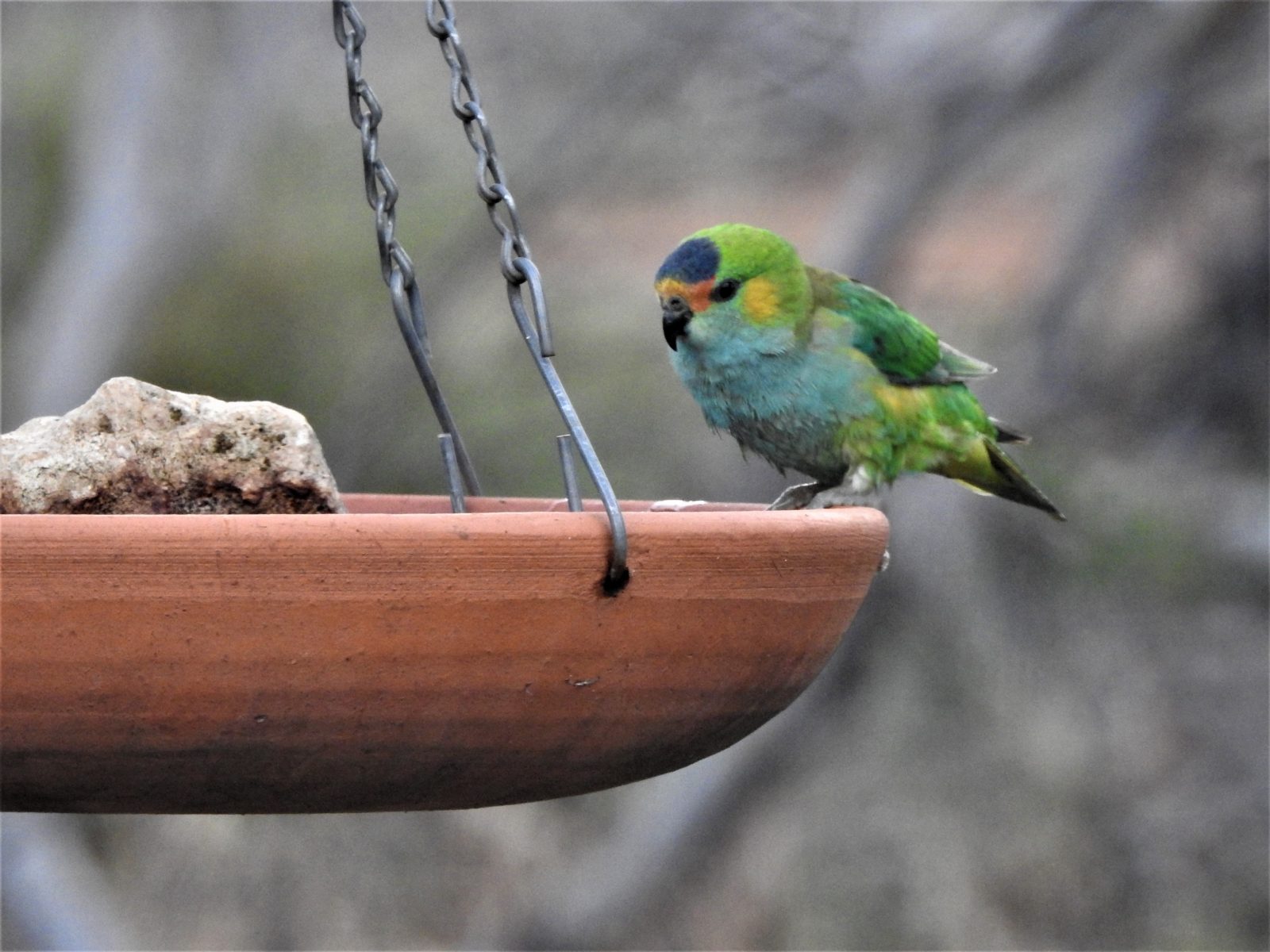 A birdbath delight
Earlier this week I glanced out of my sunroom window to check whether there were any birds at my birdbaths. I currently have three birdbaths just outside the room, one on the ground, one on a pedestal at about 60cm and one hanging from a tree branch at a height of about 1.5 metres. I was delighted to see a small flock of Purple-crowned Lorikeets having a drink and dipping into the water for a bath. I have just checked my list of species to have visited the birdbaths. This was bird species number 36, in addition to the three reptiles and two mammal species.
After a moment or two, I counted up to seven individuals in or near the birdbaths. Soon they were joined by several House Sparrows and three or four New Holland Honeyeaters. There was a sudden screeching and a flurry of wings as a Collared Sparrowhawk swooped in to break up the party. I didn't see if it caught anything for its supper.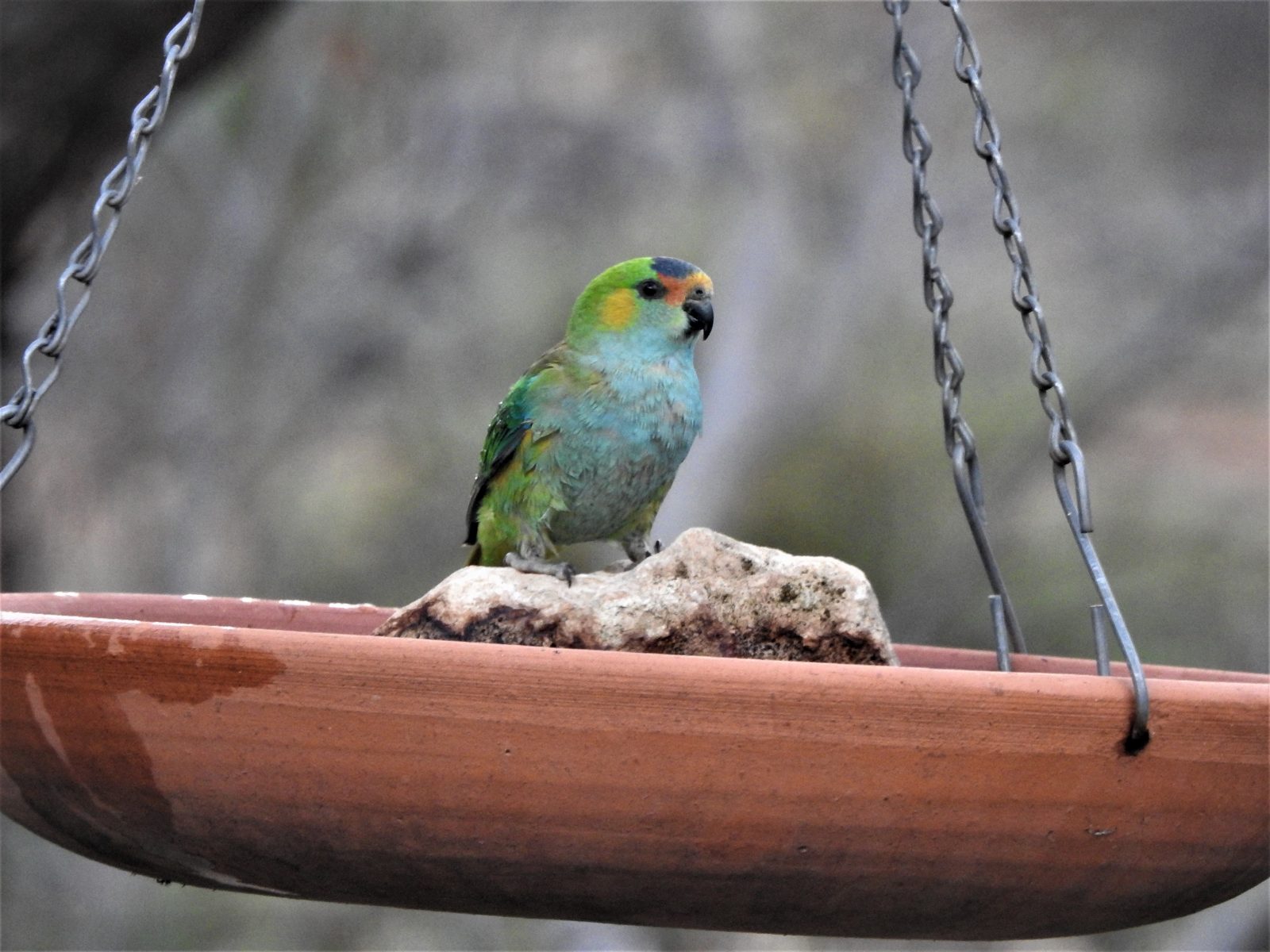 Common species
The Purple-crowned Lorikeet is a common bird in the Murray Bridge district of South Australia where I live. On most occasions, however, I hear them go screeching overhead at speed and rarely get good views of them like in today's photos. Sometimes I am lucky enough to see them reasonably close when they land to feed on the blossoms of one of the mallee trees on my land. That is when my binoculars help out, as well as the 83x zoom on my camera.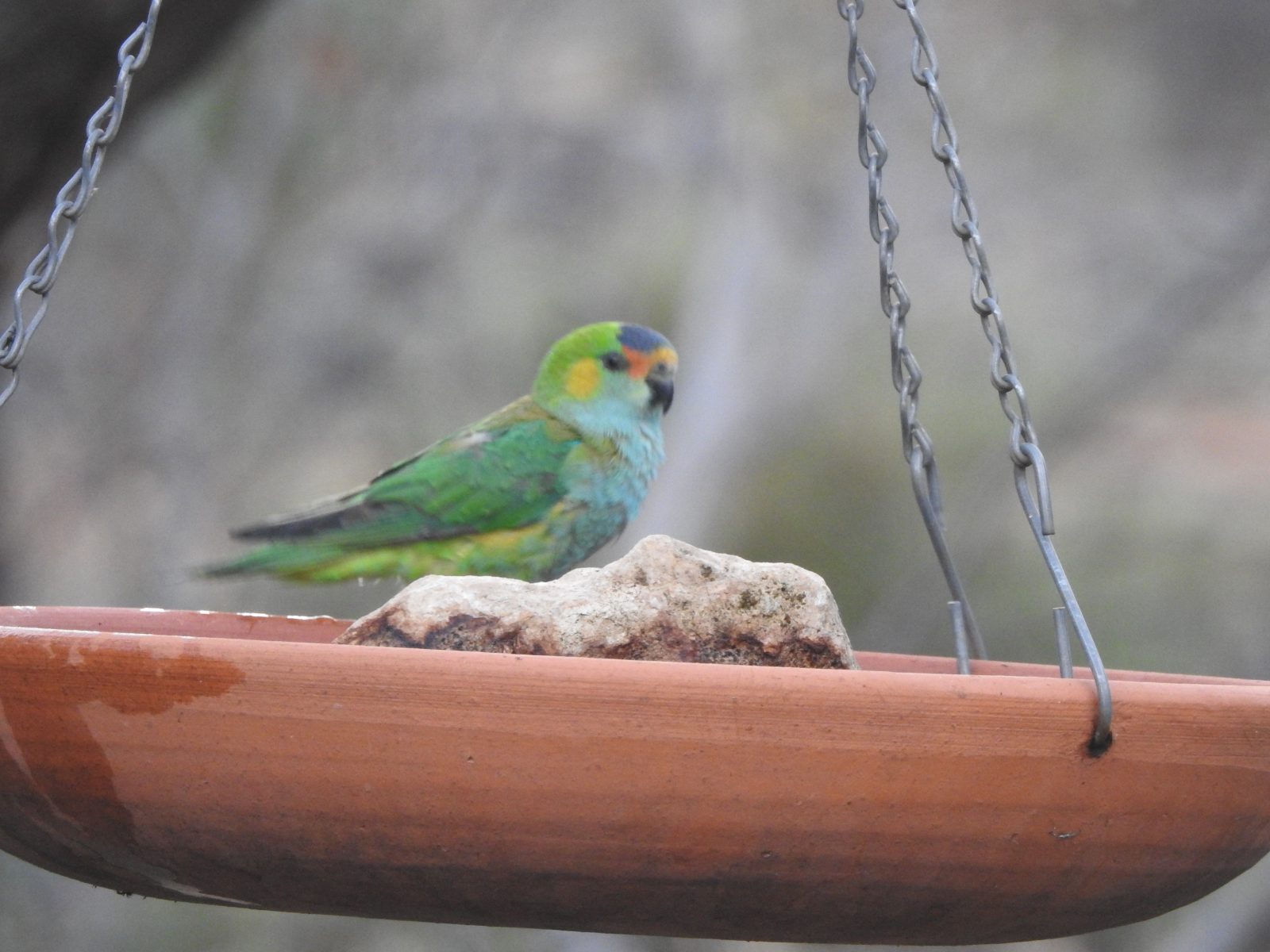 Other lorikeet species
There are two other lorikeet species which visit my garden or the trees on my 5-acre block. They include the very common Rainbow Lorikeet and the dainty, much smaller, Musk Lorikeet.
I am so pleased to have the delight of regularly seeing all three of these colourful parrots right where I live.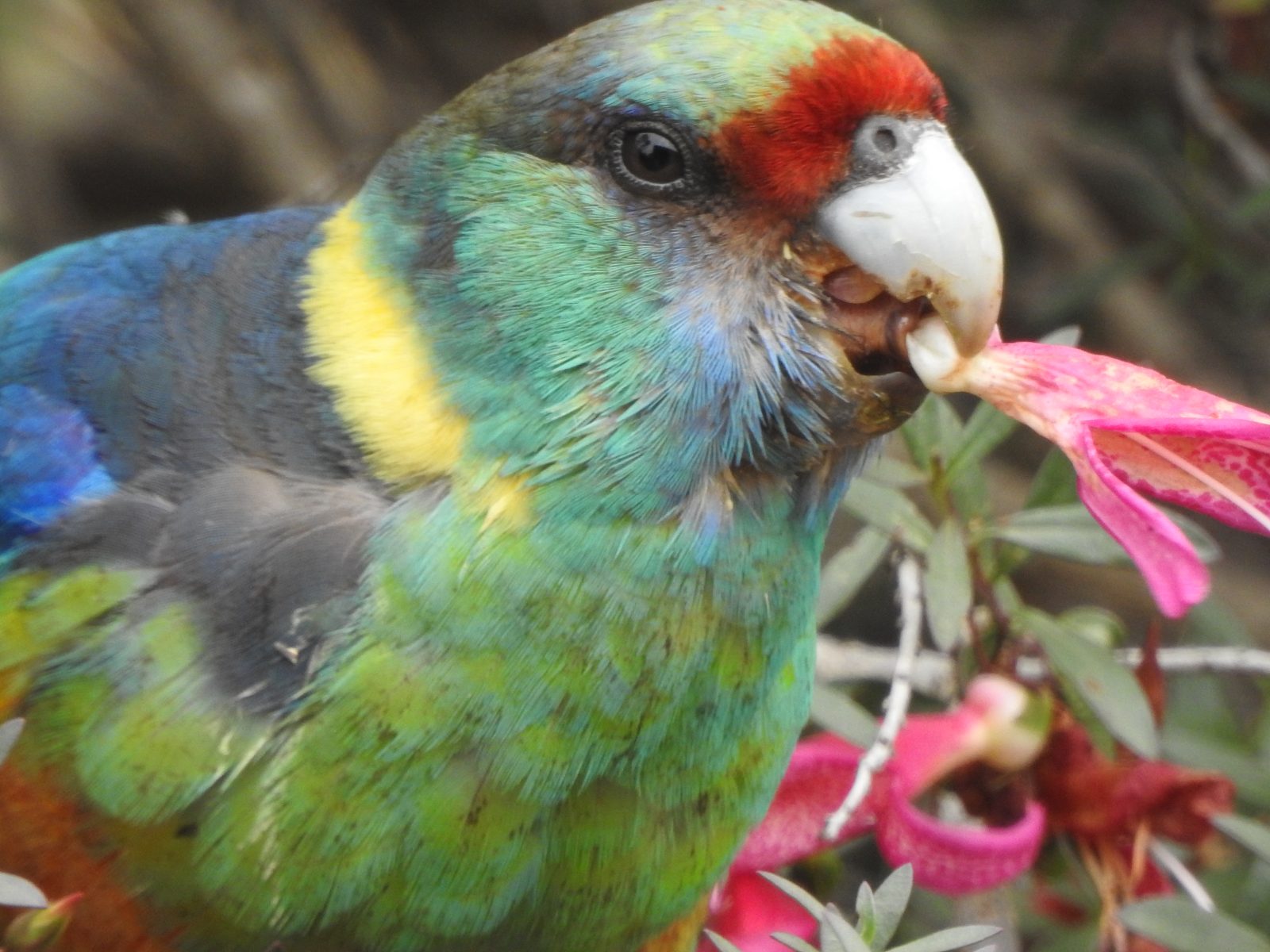 Mallee Ringneck parrots
Australian Ringneck Parrots are one of many colourful and common members of the parrot family in Australia. There are several sub-species of the ringnecks in Australia and the one I have resident in my garden is the Mallee Ringneck, named after their favoured habitat, the eucalypt trees known as mallee trees. I regard this species as a resident bird because I observe them almost every day on my 5-acre property on the edge of Murray Bridge, South Australia. They have also nested in one of the hollows in one of my trees.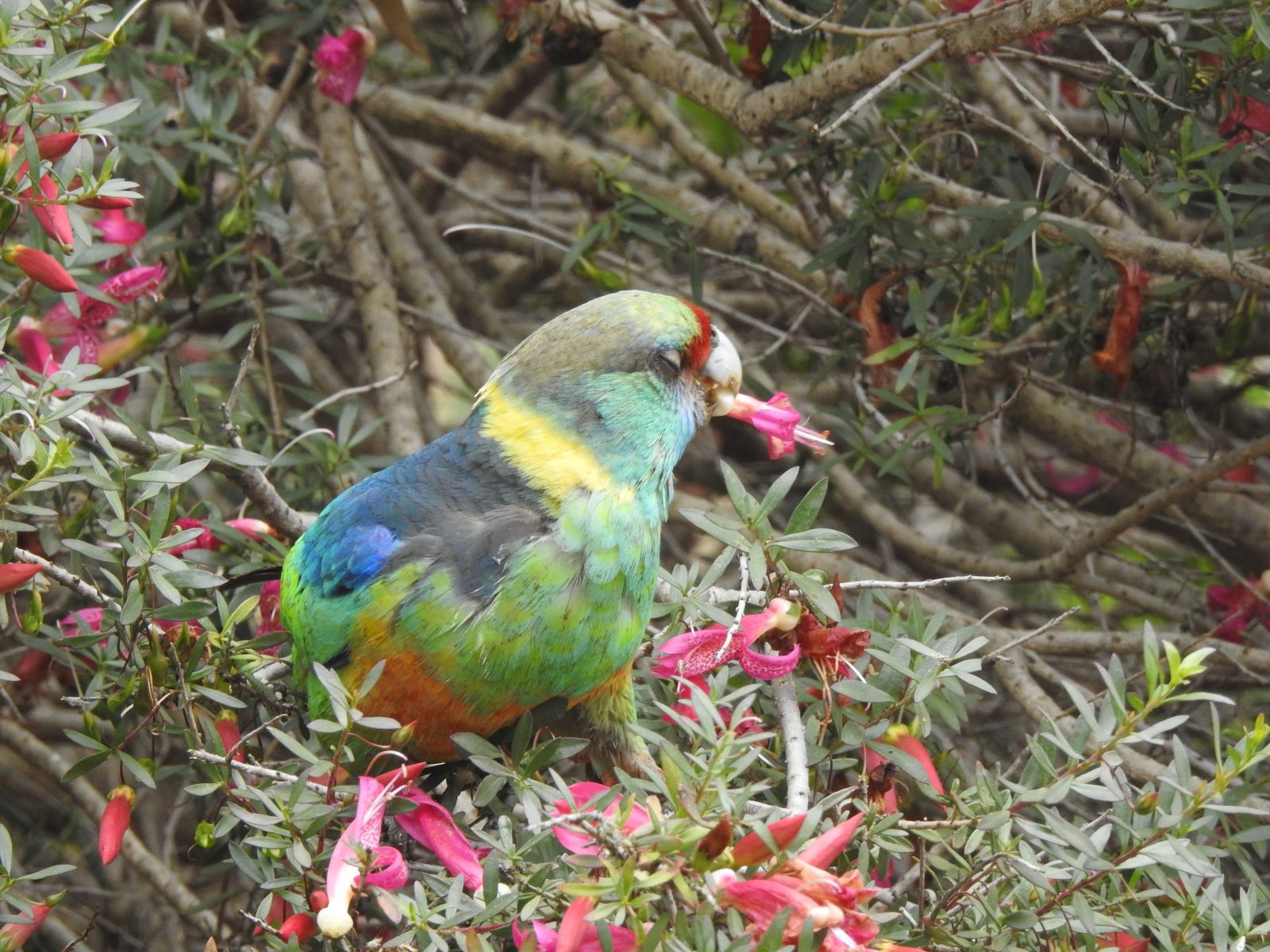 Eremophila flowers
I have a number of Eremophila plants in my garden and they are all prolific when flowering, often covering the whole bush. When my wife was still alive she also loved this family of Australian native plants and she had the foresight to plant quite a few around the garden. The plant shown in today's photos is quite close to the front door. I can stand near the window or door and observe the birds feeding on the flowers without them being aware of my presence. Of course, the many honeyeaters in my garden also like these flowers.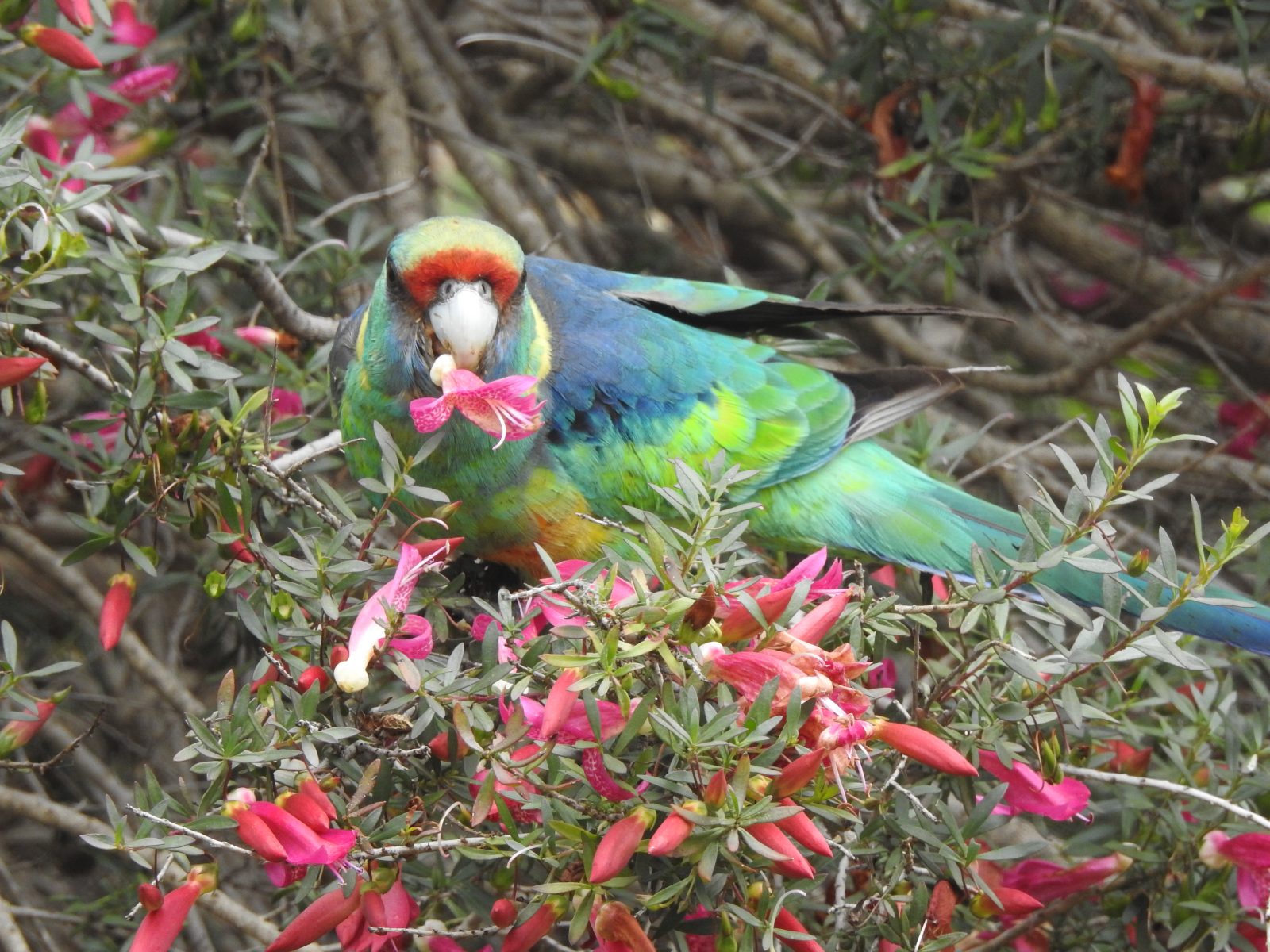 I love seeing the ringnecks flying around my garden and feeding on the various bushes in flower. They can be a little noisy at times, especially when three or four – or even more – decide to kick up a ruckus.
However, I do not appreciate the way they treat my pear trees when they have fruit on them. A few days ago I found out that they had been chewing at the green fruit. The pears are not much bigger than marbles, yet they seem to enjoy chewing on them. I guess that it is a small price to pay for having such a beautiful bird enjoying my garden.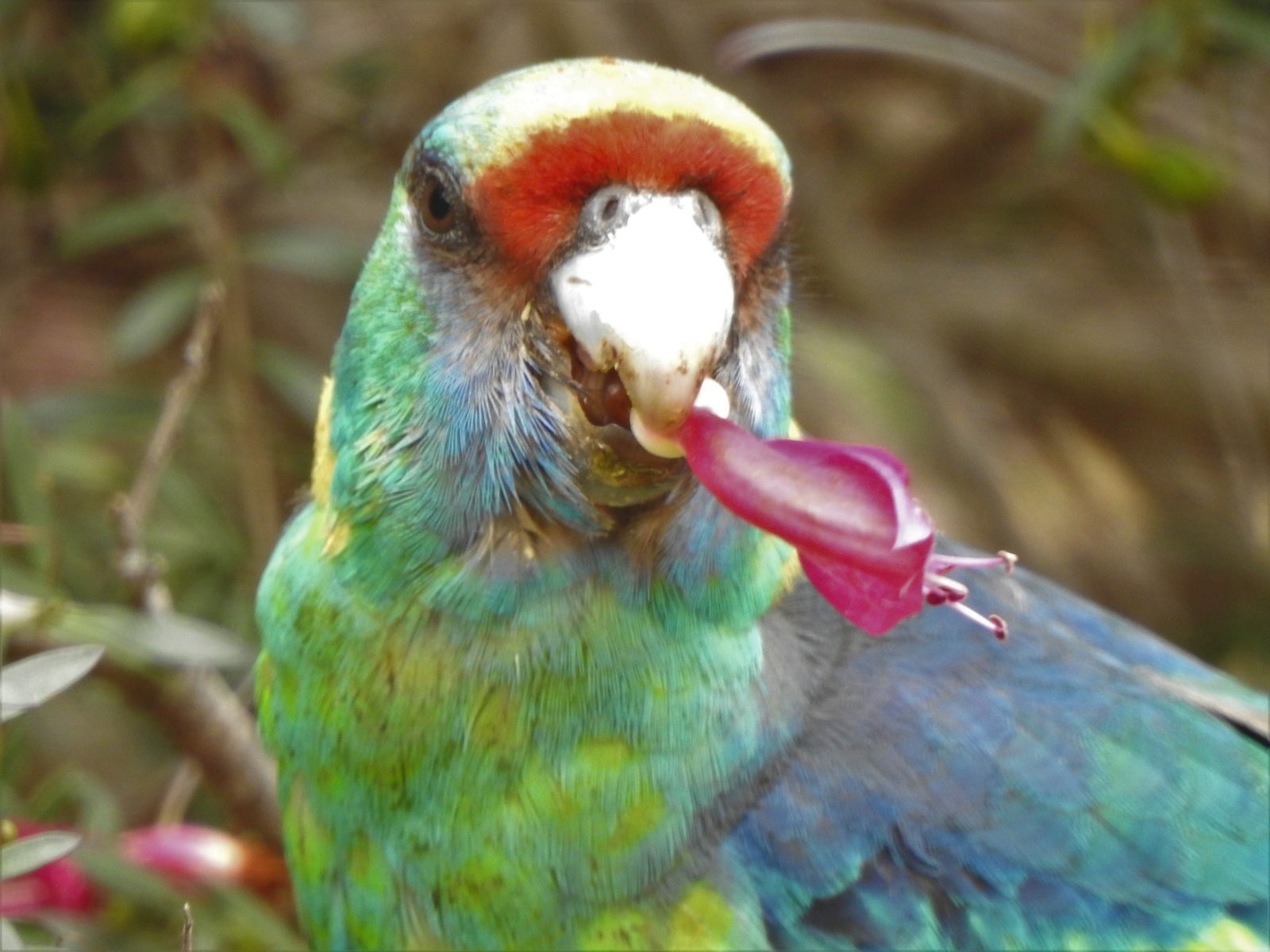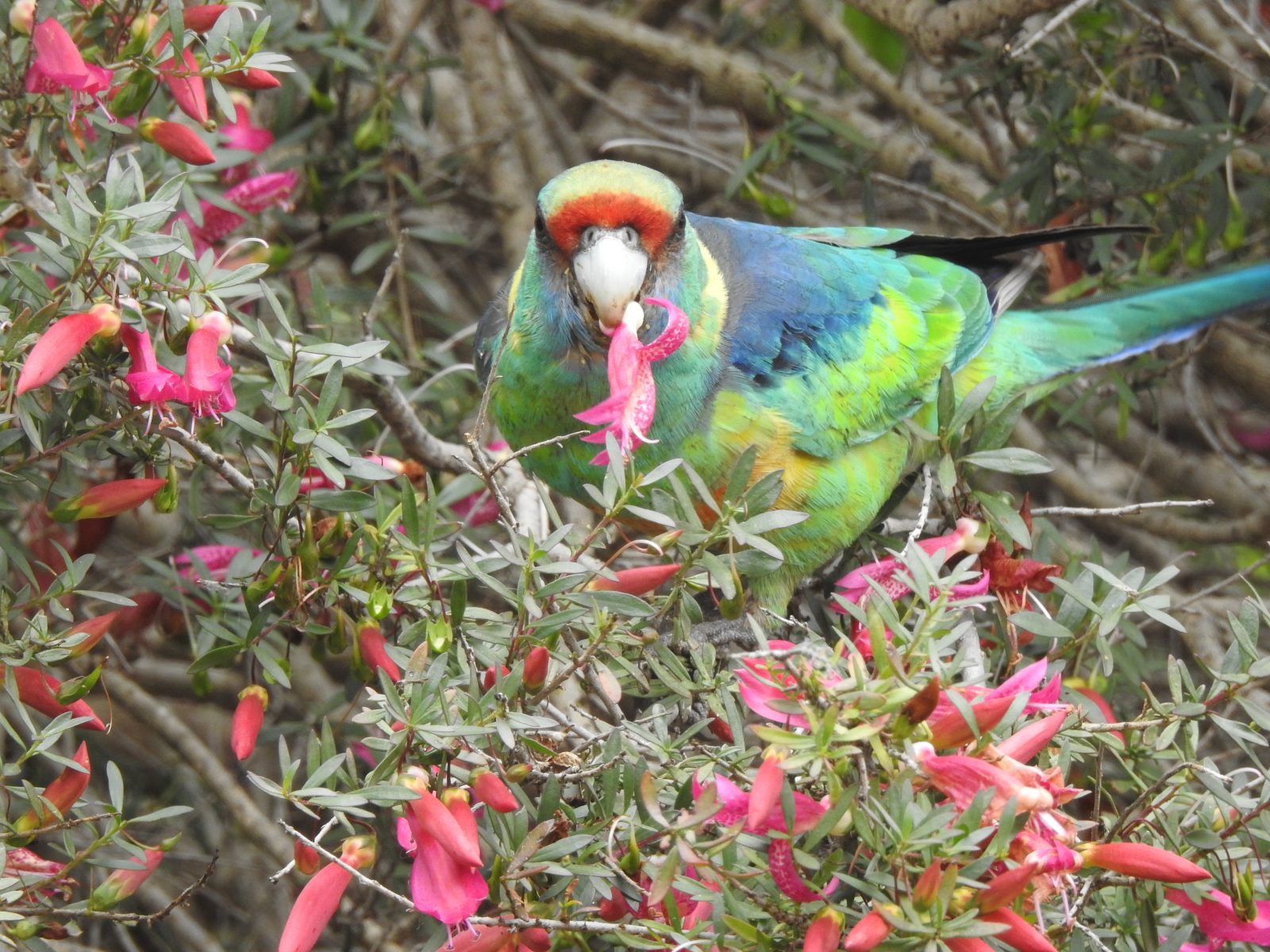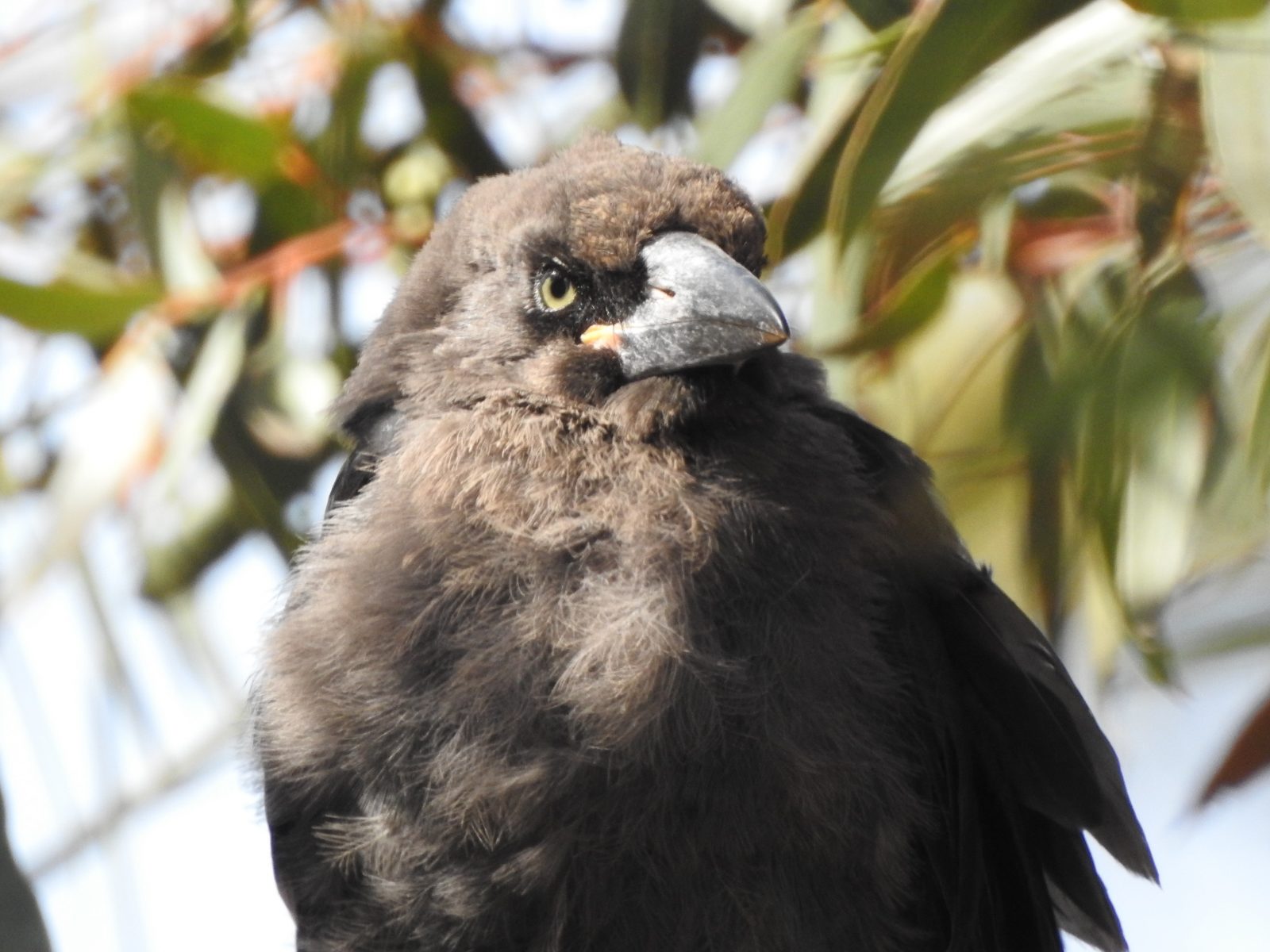 I find it interesting that I haven't heard or seen many Grey Currawongs in my garden in recent months. I live on a five-acre block of mallee scrub, garden plants and a few fruit trees on the western edge of Murray Bridge, about an hour's drive south-east of Adelaide, South Australia.
Occasional visitors
Currawongs are usually only occasional visitors to my garden despite the species being widespread and relatively common in this region of the state. I sometimes hear them calling up the hill from my home, usually around sunset. In past times I have heard or seen this species every few days. This year their calls and visits have been very infrequent until the last few weeks.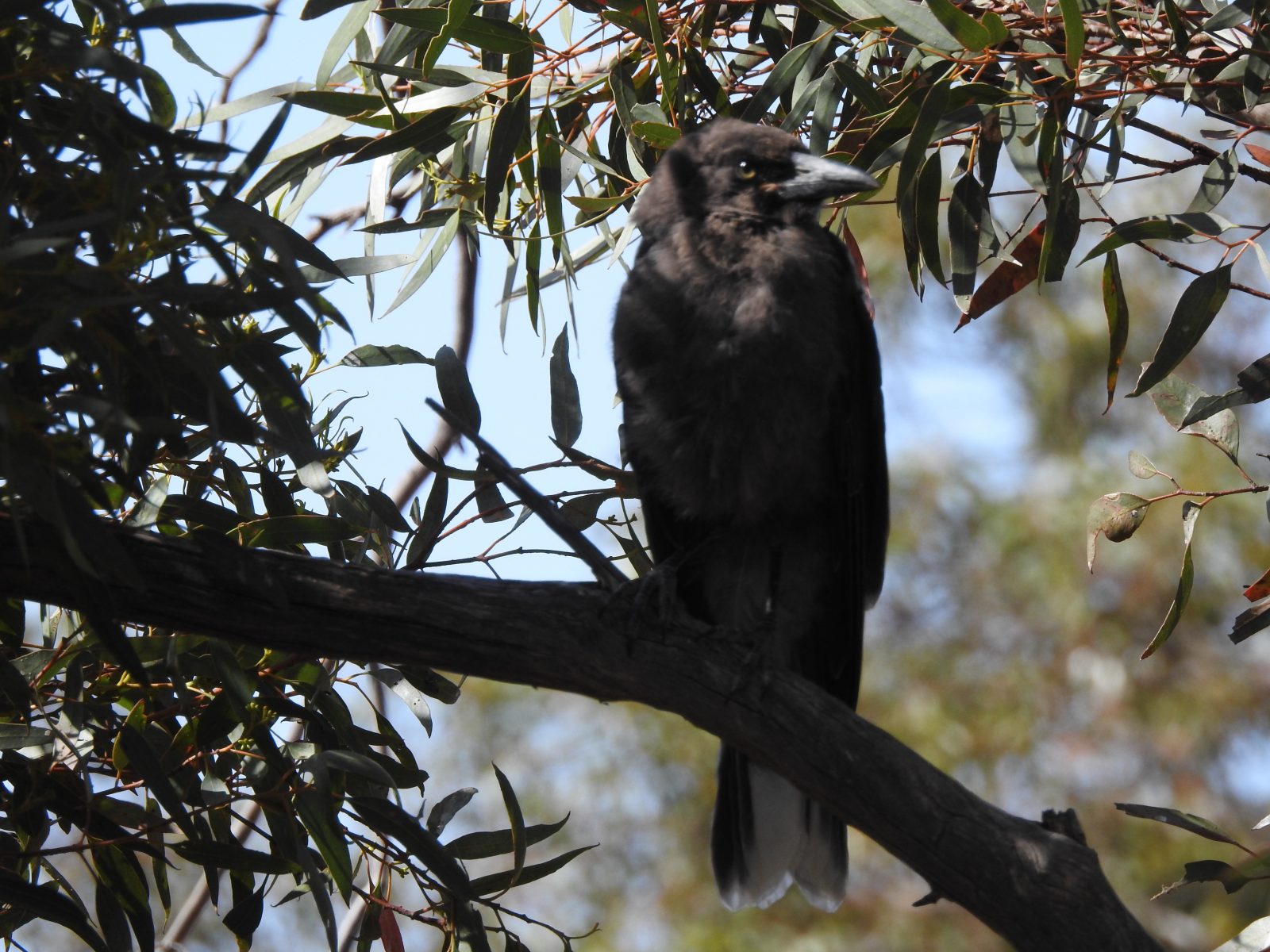 A family visit
A few days ago I was treated to a visit from a whole family of Grey Currawongs. I suddenly had four of them quite close to the house, one adult and three juveniles. The young ones kept begging for food while the adult was busily trying to satisfy the hungry tribe. The young ones had only just fledged and were still looking quite fluffy and a bit scruffy.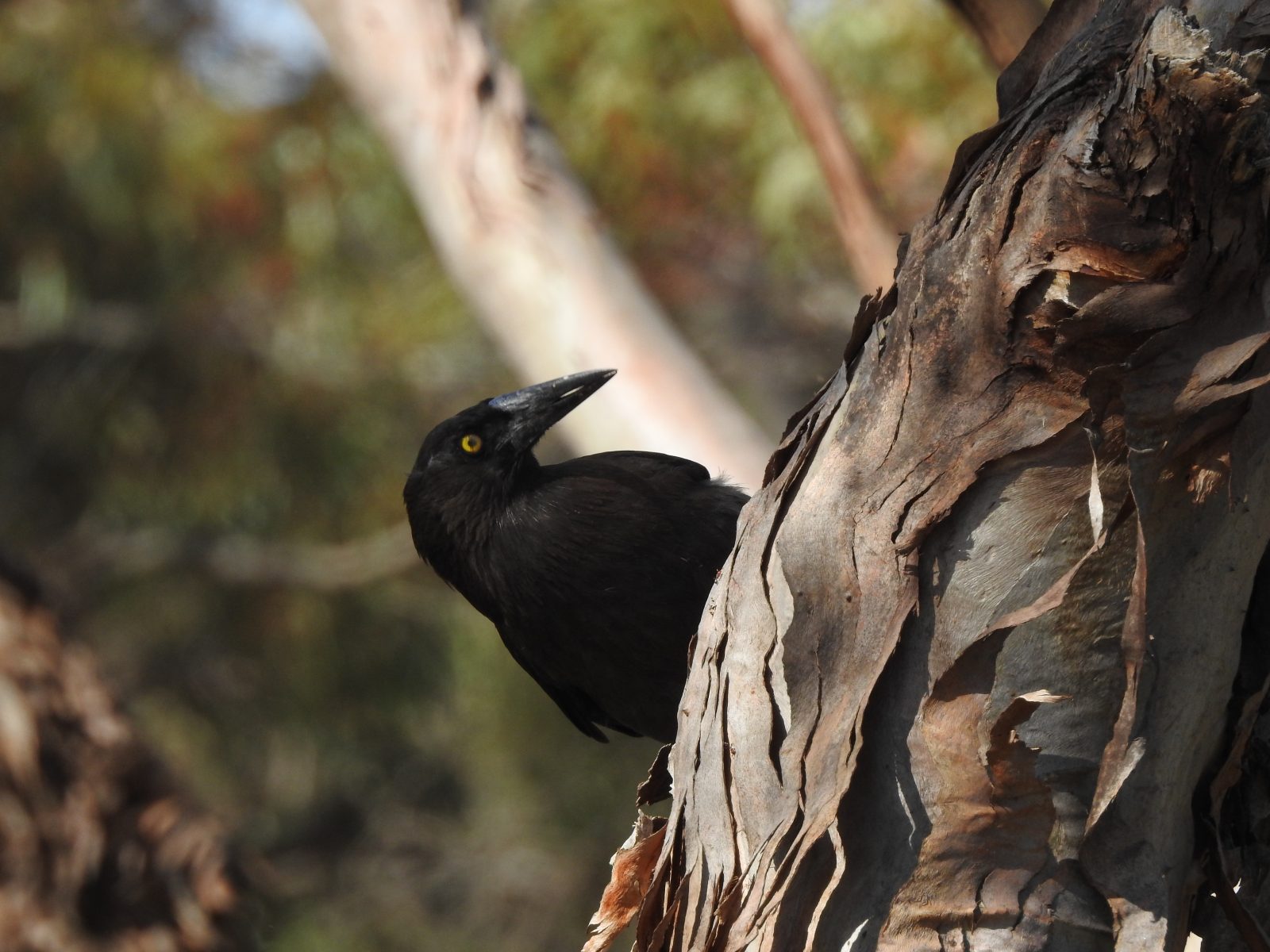 Upset local residents
With so many currawongs in a small part of my garden, it is not surprising that the local residents were quite upset. Currawongs are very quick to take advantage of a tasty morsel from another's nest, not being fussy whether it is an egg or a chick. The local Magpie Larks were sitting on eggs just a few metres away. Their strident shrieking had little effect on the currawongs.
The local honeyeaters, Red Wattlebirds, New Holland Honeyeaters and a solitary Singing Honeyeater all kicked up a ruckus and the nesting Common Starlings joined in the protest as well.
After a few minutes the currawongs moved on elsewhere. Several of them have passed through my property in the days since, but the protests were much more subdued.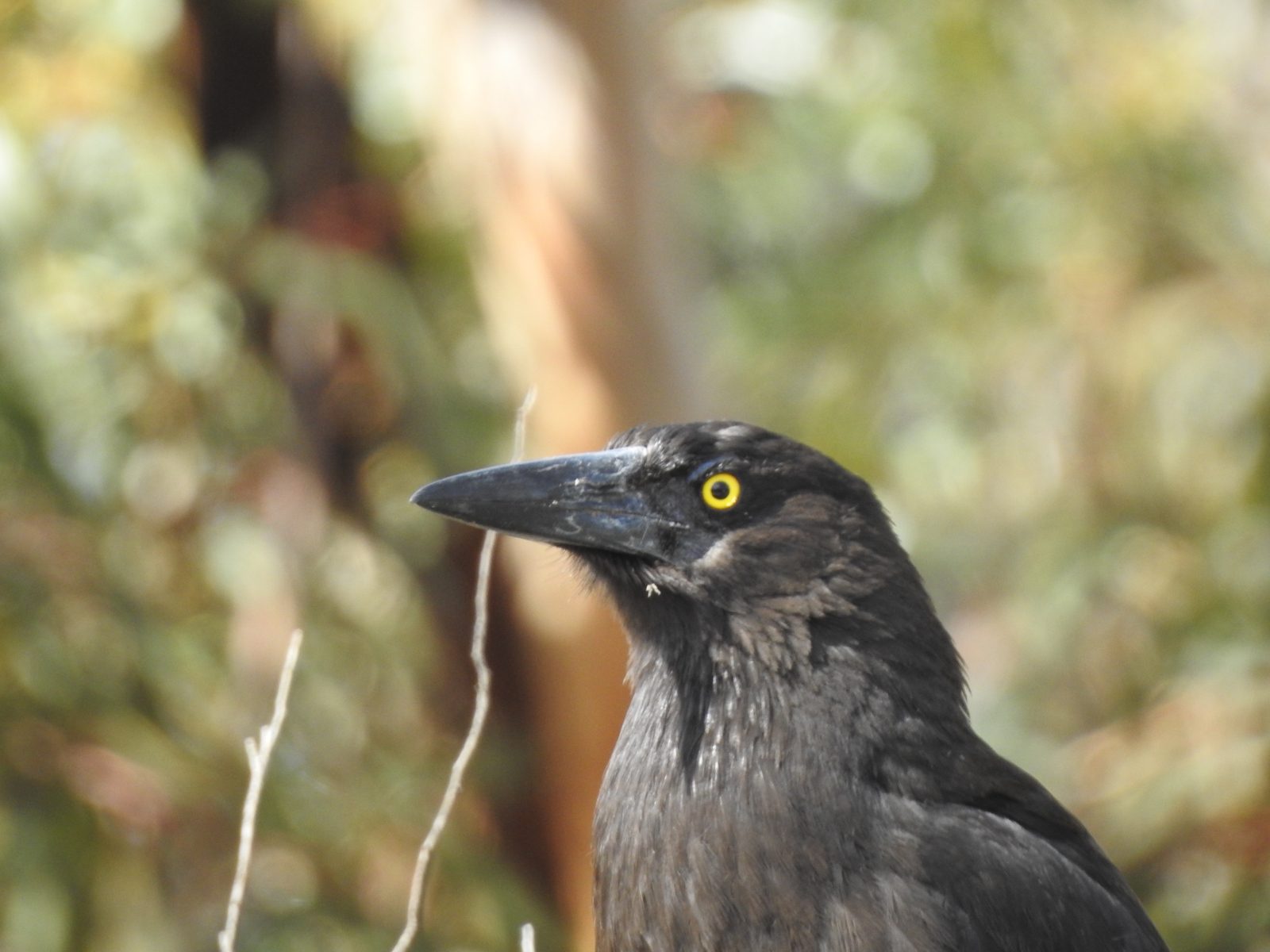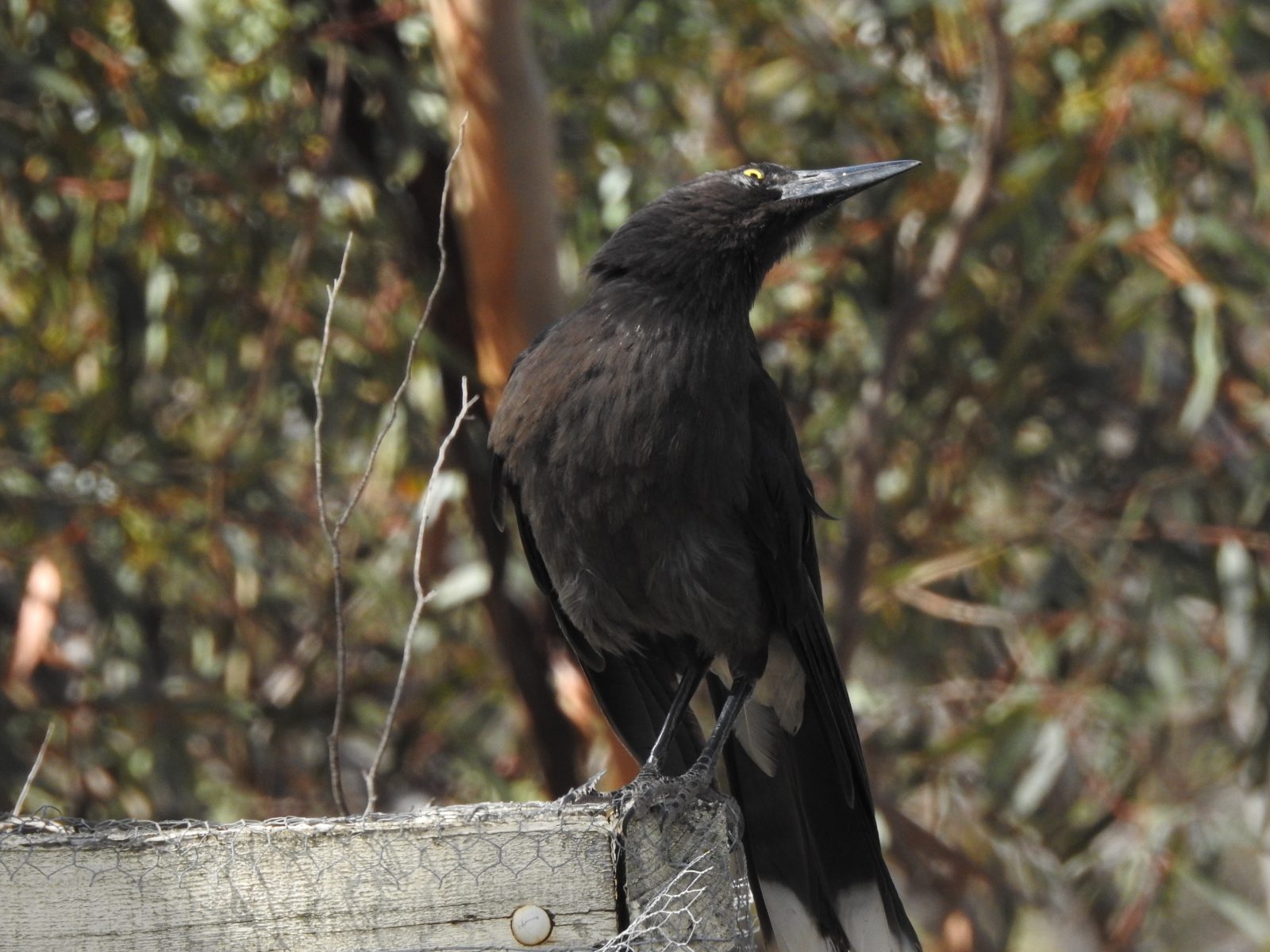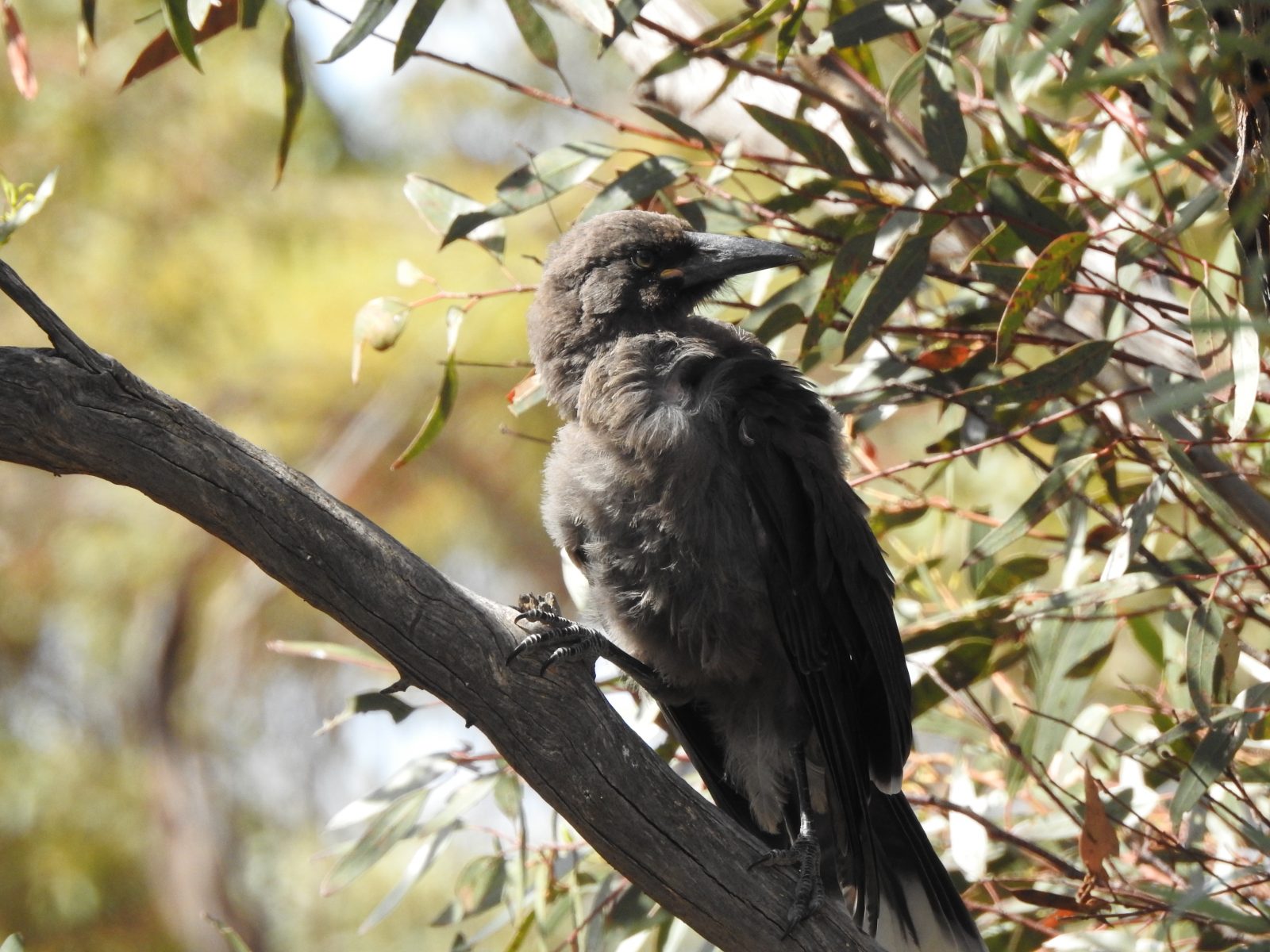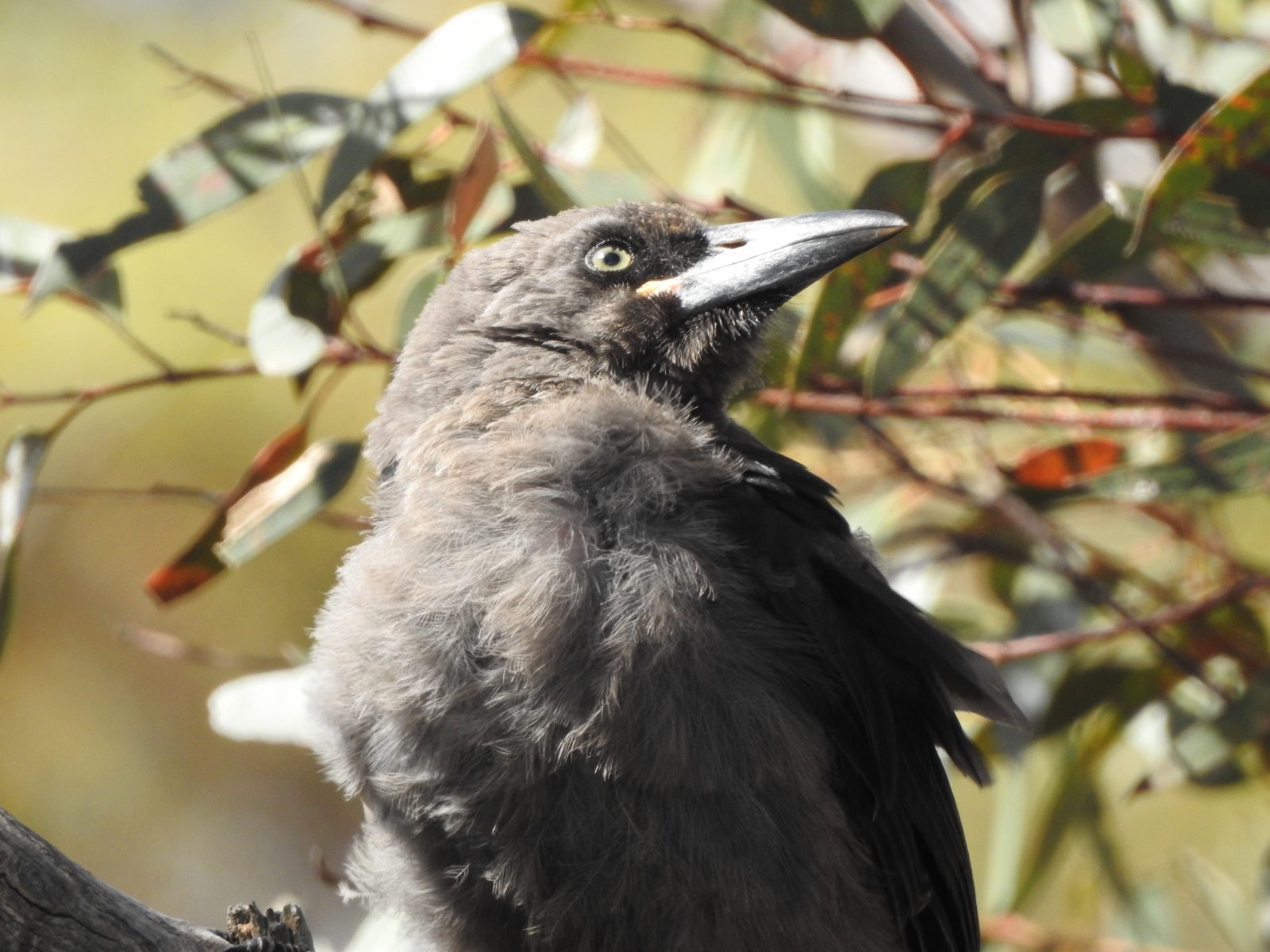 Captive birds
My local zoo is the Monarto Safari Park just fifteen minutes from my home in Murray Bridge, South Australia. This zoo is a part of the Adelaide Zoo which is about an hour's drive from here. I am a Life Member and try to visit often. One of my recent visits was last year when I went for one of the many walks in the park. On one of these walks, there is a large aviary which has a few captive birds in it, including the Tawny Frogmouths shown above.
Tawny Frogmouths are a widespread nocturnal species in this area and it is found throughout Australia, including Tasmania. From time to time I occasionally hear or see this species in my garden. My family and I love hearing the soft call of this bird and we have fond memories of hearing and seeing them on various camping trips.
Bush Stone-curlew
Another mostly nocturnal species in the aviary at Monarto is the Bush Stone-curlew, shown in the photos below. Again, this widespread species is found in many parts of Australia except Tasmania. Campers in our more remote areas may have heard its haunting call at night. On the other hand, in some areas, the Bush Stone-curlew has adapted to life in towns and cities, especially in Queensland where it is commonly seen on golf courses and reserves.
Annoyingly, this is one species I have yet to see in its natural environment and I only have photos like those shown below which have been taken in zoos. I must get out and travel more.
Non-captive birds
As visitors to Monarto Safari Park join the many bus tours through the large park, it is possible to see many of our local native bird species. These include Emus, Australian Magpies, Little Ravens, Brown Falcons, Black Kites, Wedge-tailed Eagles, various parrot species, as well as smaller bush birds like the Willie Wagtail, woodswallows, thornbills, wrens and a variety of water birds when there is water in the creek flowing through the park.
The best way of seeing and photographing these birds is to stroll along the many walking trails through the mallee scrub land. Warning: try not to wander into the African Lion enclosure, or you might find yourself invited to lunch – with you on the menu. By the way: the zoo has four new lion cubs born only recently and they are now on display.
One easily seen species is the White-winged Chough which is about the size of our magpies and ravens. They are often seen in family groups of 10 – 15 and as they fly the white on their wings can easily be seen. On my walk to see the aviary birds I also saw one of their mud nests (see the last photo below).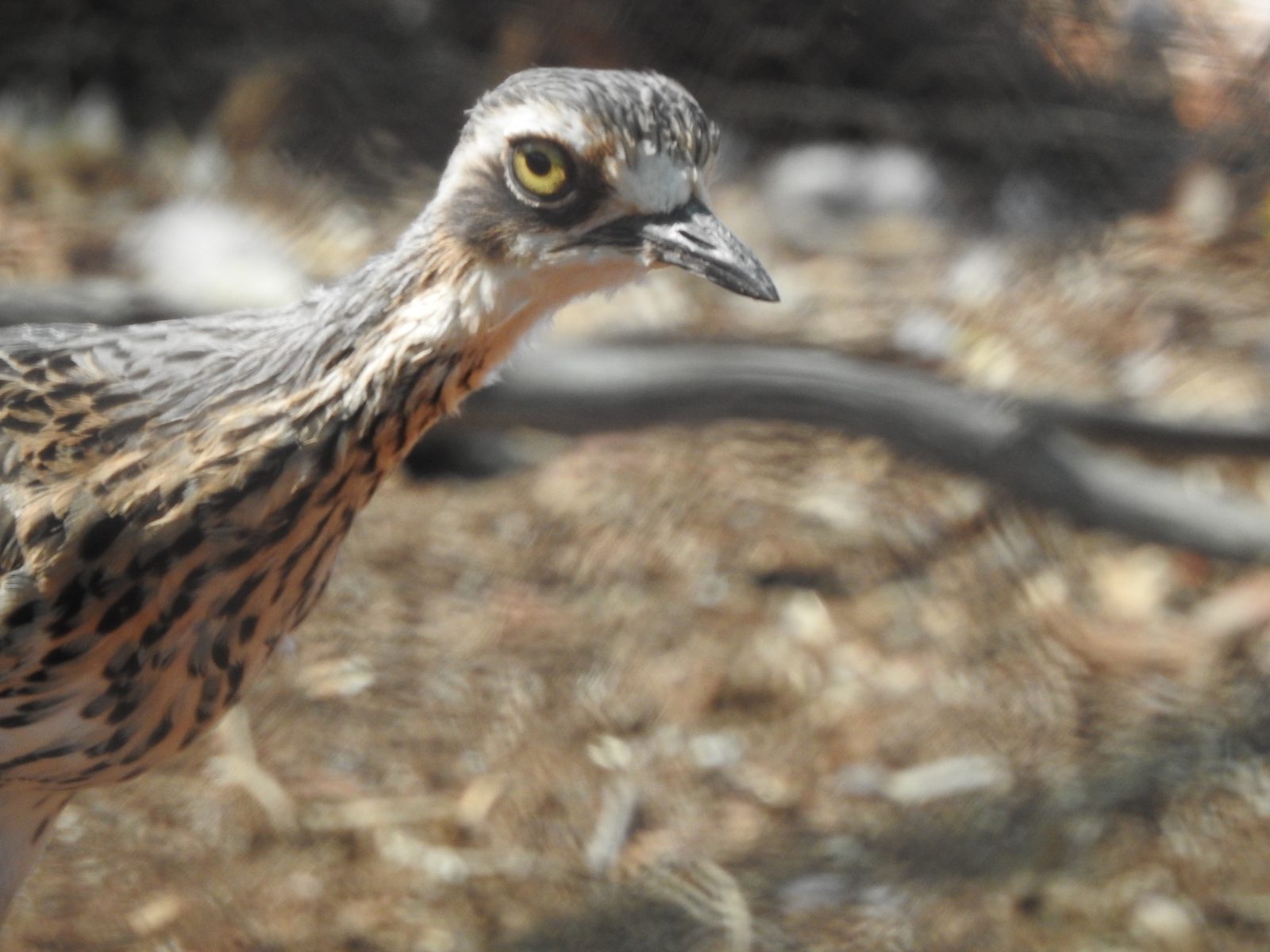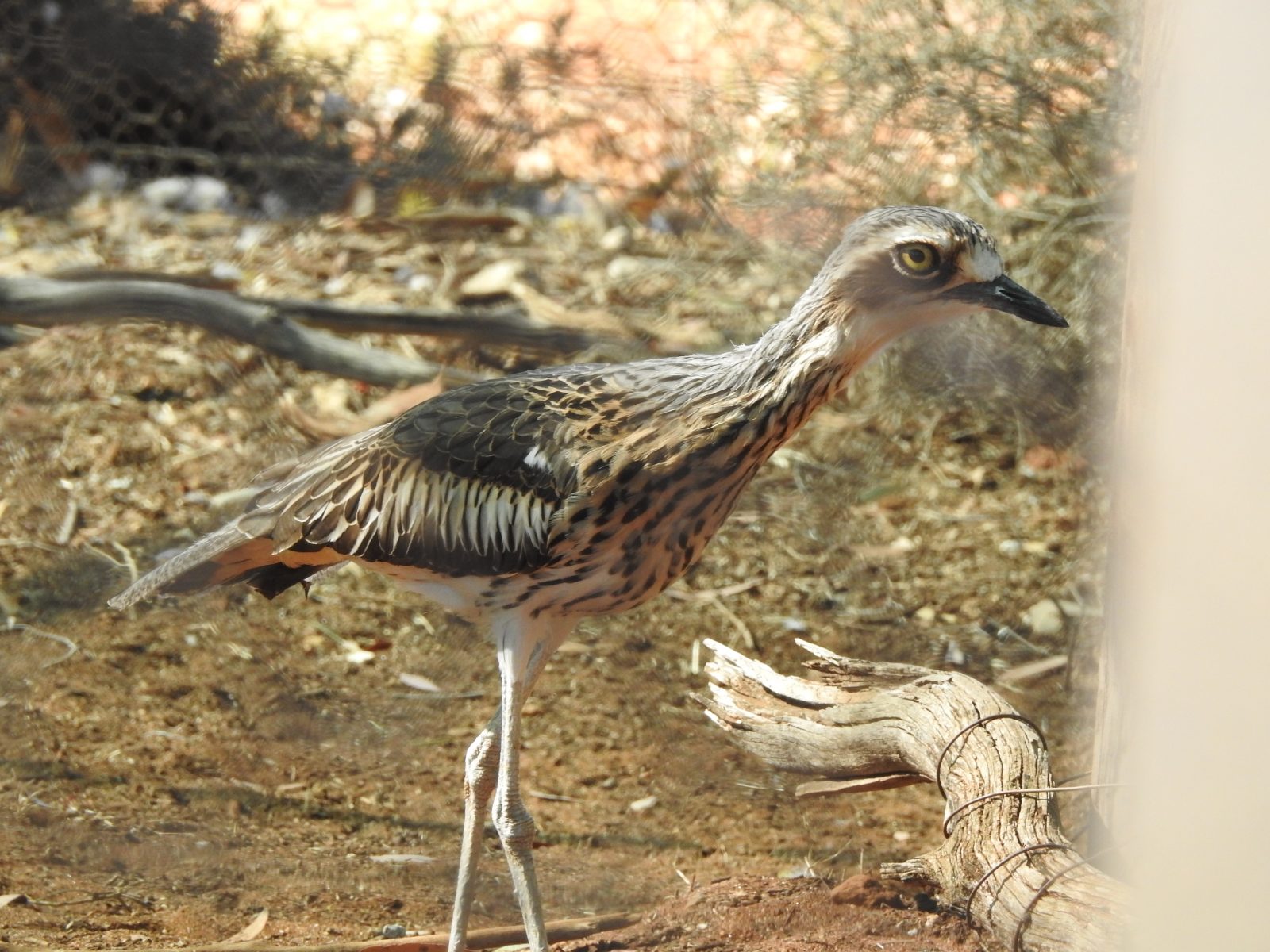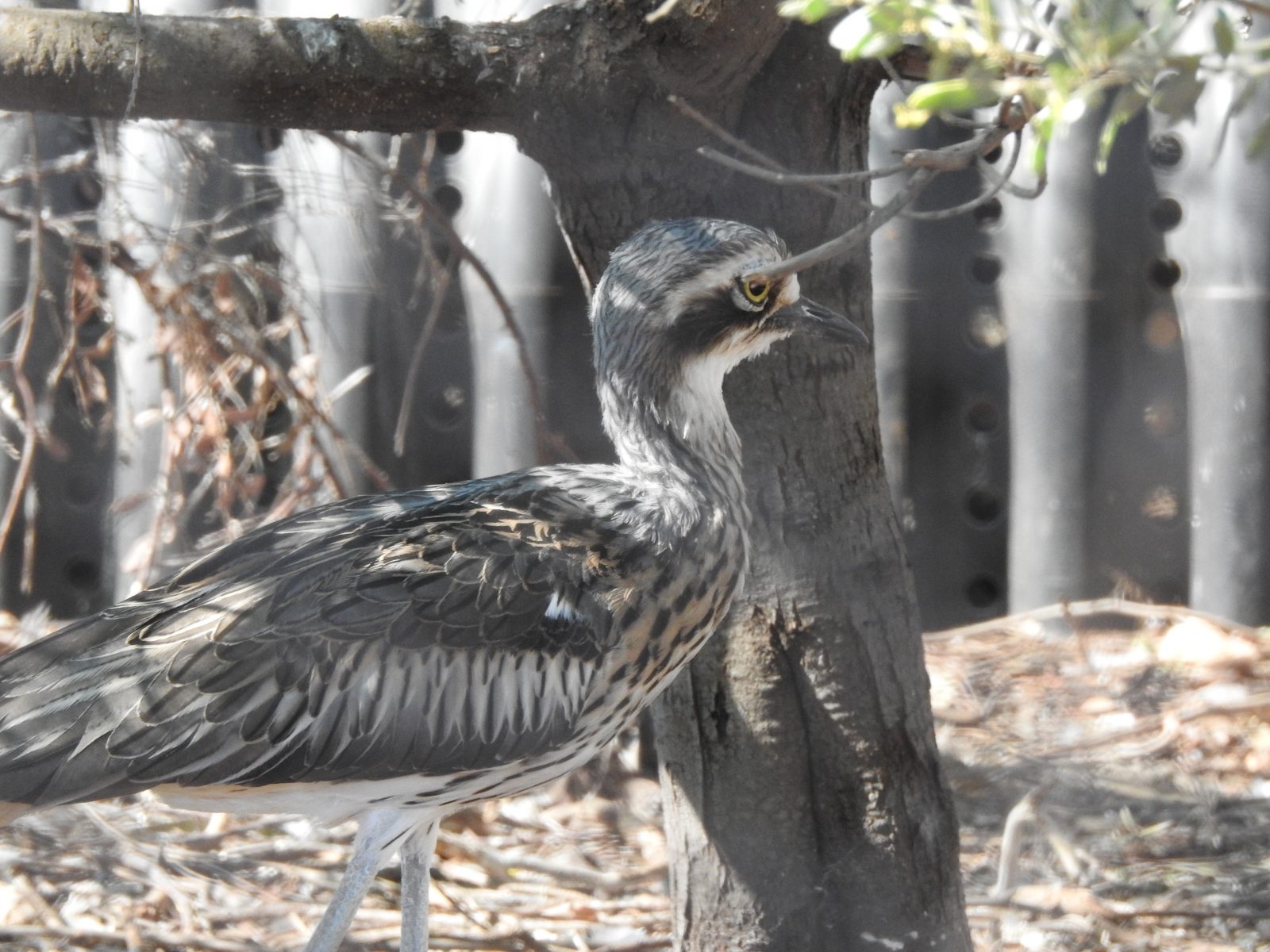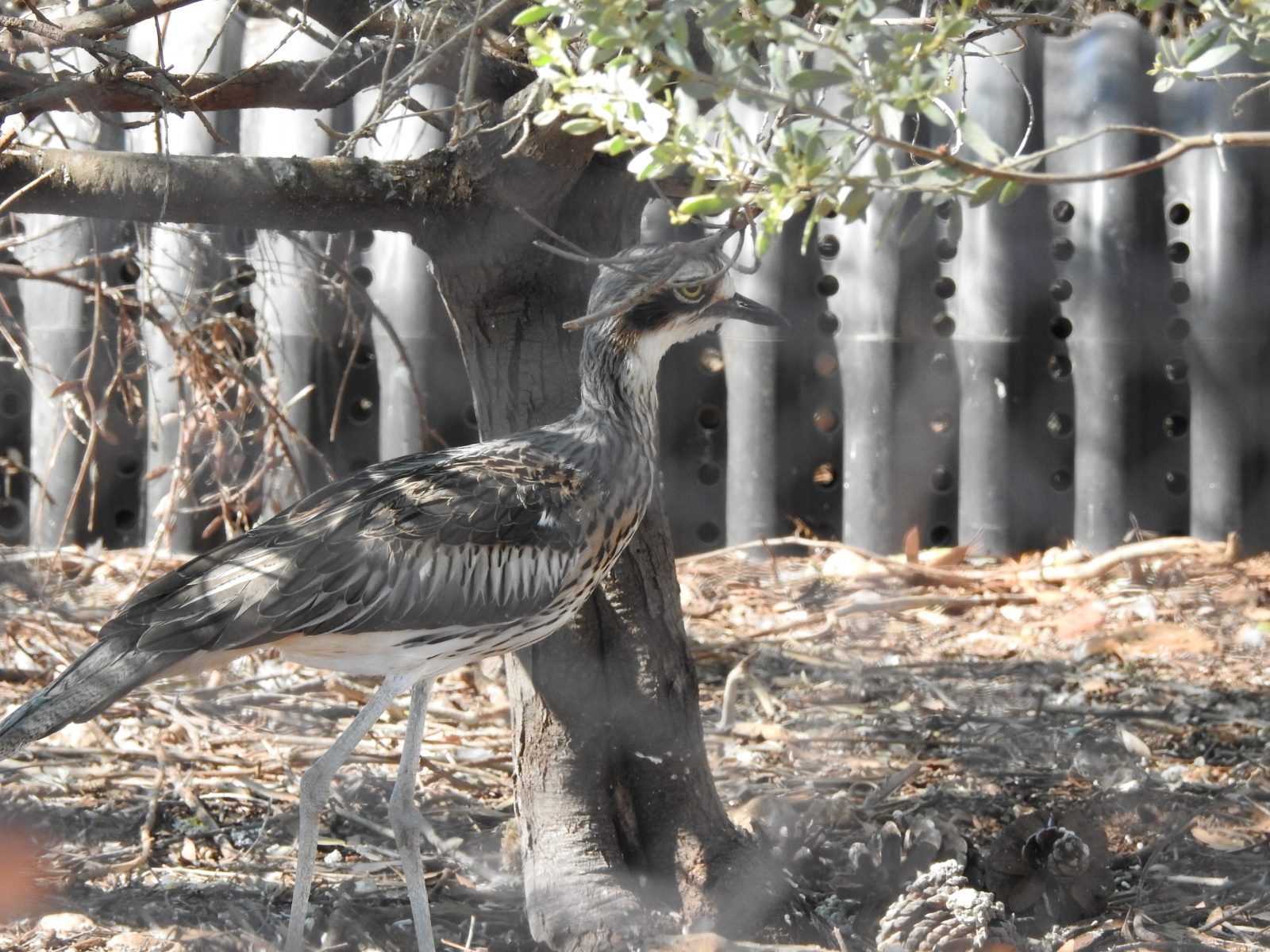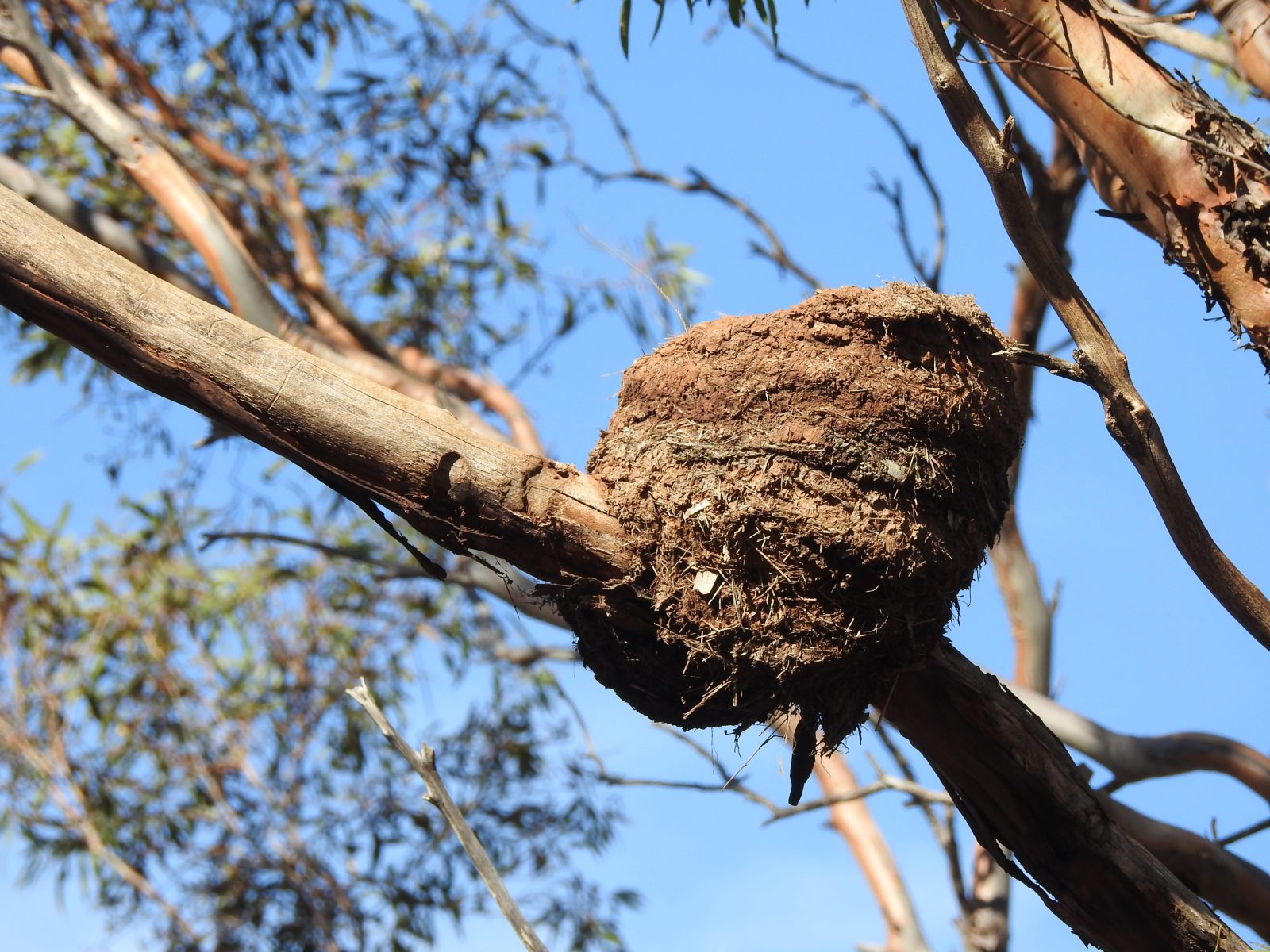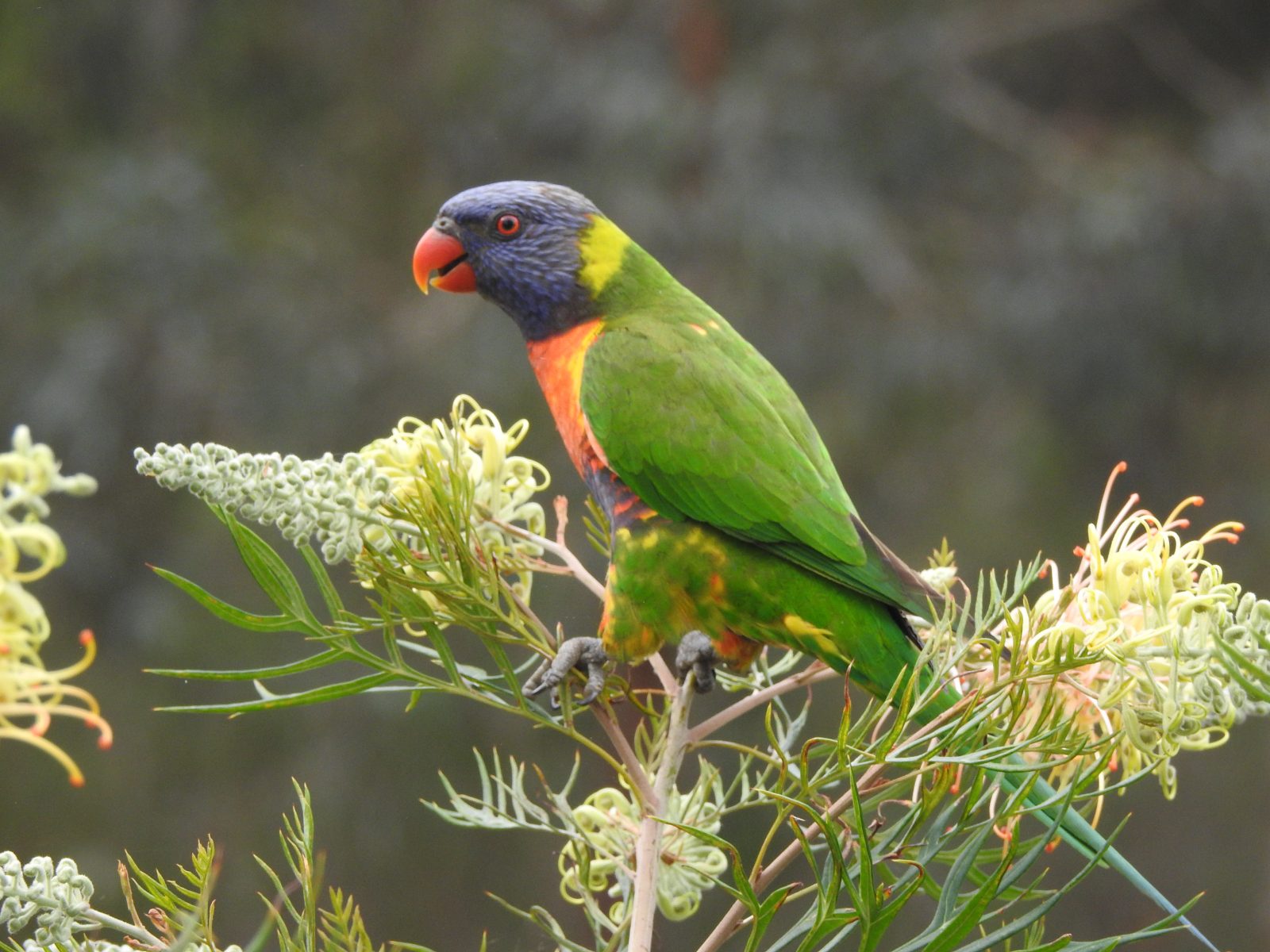 Last week I travelled from my home in Murray Bridge, South Australia, to Sydney to visit family for a few weeks. On the last day of my trip, I had a few spare hours, so I decided to visit the Australian Botanic Gardens at Mouth Annan. These magnificent gardens are in the south-west edge of the greater metropolitan Sydney area.
My wife and I had previously visited these gardens in December 2013 and we always wanted to make a return visit. Being the beginning of spring here in Australia it was an ideal time to visit. I mainly went to photograph the flowers, but it is also a great place to see and photograph some of our Australian native birds.
Just as I was about to leave, I passed a magnificent Grevillea "Moonlight" which is a cultivar, believed to be a hybrid of two other Grevillea species. This amazing plant was a significant tree some 5-6 metres tall and 6-7 metres wide. It was completely covered by brilliant white flowers. The local Rainbow Lorikeets were having a feast on the nectar.
The individual shown in today's photographs was a very obliging bird, seemingly posing for my camera. In reality, however, it was either very hungry or totally hooked on the sweet nectar in the flowers. I was able to take a series of close up shots and it was totally oblivious of my presence. I love moments like this when I can take multiple photos of the same bird.
Below I have included a series of the best shots taken on my visit to the garden.
Further reading:
Australian Botanic Gardens Mount Annan