Archive for the 'Bush birds' Category
Earlier this year I went for a Saturday afternoon drive to the Lowan Conservation Park near Bowhill north-east of my hometown of Murray Bridge, South Australia. I needed to get out of the house after some cold wintery weather, and my daughter had never been to this park. She had just returned home after teaching for the last two years in Ethiopia. The day promised to be sunny and calm, ideal for a picnic and a spot of birding. Over the years I have visited this small park in the mallee areas of our state on a few occasions and it sometimes throws up a few birding surprises.
As we had afternoon tea – a cuppa and some treats from our local bakery – we sat in the afternoon sunshine. My daughter had her current book to read (Tim Winton's The Shepherd's Hut) and I had my camera and binoculars at the ready. Flitting around in the nearby mallee trees was a Jacky Winter, one of our flycatcher species. It's called a Jacky Winter possibly due to its call which sounds a bit like it is saying 'jacky winter, jacky winter.' At least, that's what it sounds like to me. Another common name is 'Peter Peter' and that is probably a closer rendition of its call. Whatever the origin of the name, the bird is a generally unassuming little bird which can often go unnoticed in the Australian bush. More often it is sighted quietly sitting on a branch, a tree stump or fence post watching the surrounding grass intently, just waiting to snatch up a tasty morsel – a passing insect or two.
On this visit to the Lowan Conservation Park, I had good views of this bird, but I had trouble getting my camera focussed on this individual. It kept flitting around, catching afternoon tea and calling all the time. Every time I would try to focus – off it would go again. The only time it sat still enough for a shot in focus it was in the shade – see the photo above.
So that you can get a better view of this species, I have posted several photos taken two years ago in the Murray-Sunset National Park in north-west Victoria. These shots include the beginnings of a nest consisting mainly of a spider web.
Further reading:
Brushturkeys are not everyone's favourite bird. In fact, many people regard them as pests. This is especially so when the turkeys scratch around in their gardens. I believe that they can make quite a mess of a garden when they are making a nest mound to incubate their eggs.
On our recent trip to Sydney to stay with family, my wife and I had several occasions where we spent time in the nearby Lane Cove National Park. It is a lovely park with plenty of picnic areas for visitors. As a bonus, the park is only a ten-minute drive from where we were staying.
On one visit to the national park, we were relaxing near the river. We had enjoyed a hectic few weeks with our grandchildren – ages 9 and 6 – and we were just looking for a quiet time of relaxation. One of the resident Brushturkeys, however, saw us as easy pickings. It wandered around our chairs looking for a handout or two. When this wasn't forthcoming, it jumped on the picnic table and began to scrounge around our things on the table (see photo below).
It actually tried to unzip our cooler bag. It was obvious that it had done this before and knew exactly what to do. It was unsuccessful because I chased it off. A few minutes later, it returned, this time attempting to open our biscuit tin. This was a beautifully decorated tin my wife had bought recently at the fair run by the school our grandchildren attend. It began scratching at the lid of the tin, attempting to open it. I again chased it off before it could scratch the tin. It was also in danger of moving the tin off the table and the lid may have opened on impacting the ground.
Pests
As I said at the beginning, many people regard these birds as pests. I admit that they can be very troublesome. I have a different point of view. I really enjoy seeing these birds when we come to Sydney, for the following reasons:
We don't have the species in South Australia where I live. (There is an introduced population on Kangaroo Island off the SA coast.)
The birds have character and attitude. In heaps – and sometimes this character spills over into being annoying.
They are easy to photograph – they come up close to humans and are generally unafraid.
Good birding.
Trevor
Last week I had a close encounter with a very uncooperative Eastern Spinebill (see photo above) in the Ku Ring Gai Wildflowers Gardens in St Ives in Sydney. My wife and I enjoy visiting these gardens every time we come to stay with family in Sydney. Usually, there are many Australian native plants in flower. This year, however, it has been very dry in recent months in the Sydney region, so the flowering was not as good as we had expected. I still managed a few good photos, some of which are shown at the end of this post.
When the gardens are in full flower they can be wonderful. The numerous honeyeaters in this part of Australia flock to gardens and national parks like this and the birding can be wonderful. On this occasion, the bird life was very quiet and the Eastern Spinebill and the Little Wattlebird (see photo below) were the only honeyeater species present the day I visited.
Although I saw quite a few spinebills, the only photo I managed was the one above. The bird I managed a shot of turned its back at the crucial moment. It then flew off before I could get another photo. Such is the life of a nature photographer.
On my wanderings around the various paths in the gardens, I managed only a moderate list of birds. It was one of those slow birding days and not much was calling or coming into view of my binoculars. I managed a few photos of an Australian Raven (see photo below) and a very poor shot of two Laughing Kookaburras (not shown here because it was not in focus because they were too far away and then flew off before I could get closer).
Other birds seen or heard include:
Striated Thornbill
Eastern Yellow Robin
Rainbow Lorikeet
Sulphur-crested Cockatoo
Magpie Lark
Eastern Whipbird
Pied Currawong
Interestingly, I did not see any Australian Magpies on this visit. I usually see a few in the picnic areas. Nor did I see any of the resident Swamp Wallabies which often come out of the bush into the picnic areas as well.
More photos
Now for something different. Below, I have included some more photos taken in the gardens. These are some of the beautiful native plants flowering at the moment.
Enjoy.
Trevor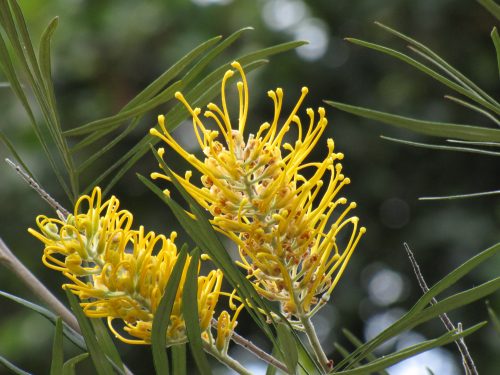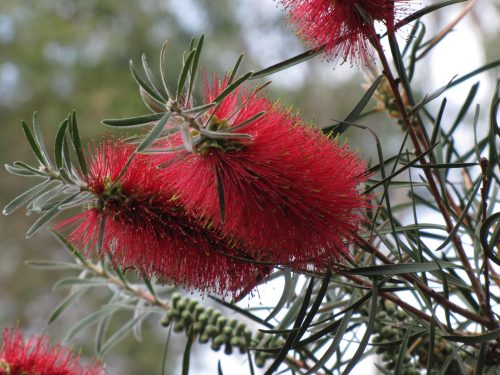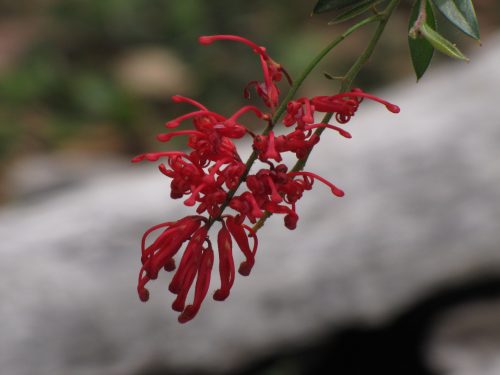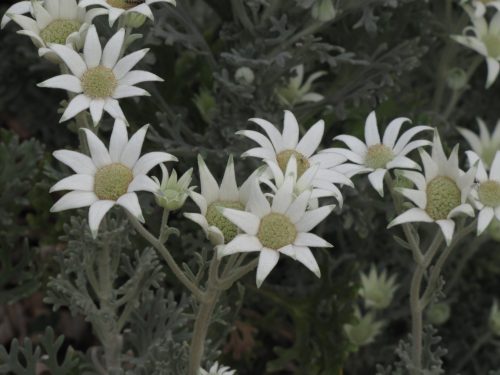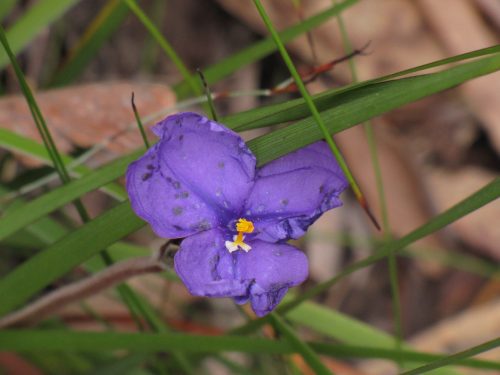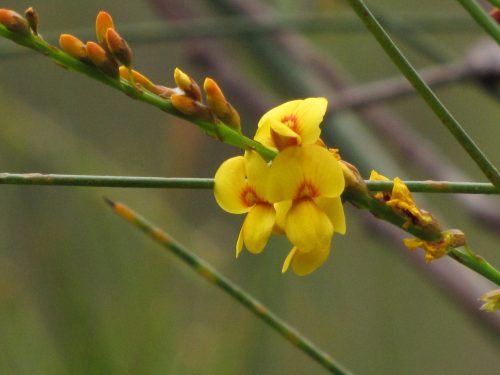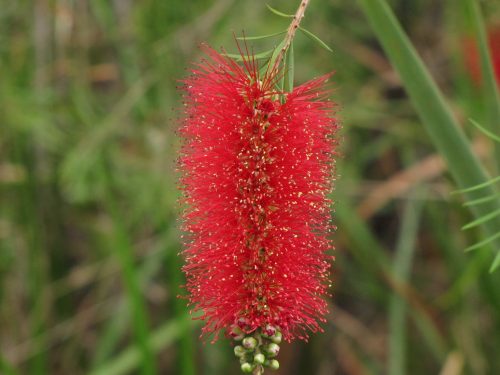 Garden Birds
On my database, I record the birds I see in our garden, or on our five-acre block, or flying overhead. I have done this every month for well over 30 years now. In more recent times, I have started recording them on a weekly, and sometimes daily, occasions. This has built up a great base of information about the birds we have resident (present every day), regular visitors (every few weeks or months) and occasional (perhaps one or two sightings a year). So far, the tally is over 110 different species. (I don't know the exact figure because my database is not quite up to date.)
Rare Visitors
Surprisingly, one of the rarer occasional visitors is the Laughing Kookaburra. This species is widespread throughout southern and eastern Australia and is common in many places. It is a widespread species here in the Murray Bridge region of South Australia too, especially along the Murray River. Despite that, it is a rare visitor to our garden. In fact, until a few weeks ago, our last sighting was just over ten years ago.
Harassment
The individual which paid us a recent visit did not have a good time. As I was getting some photos – shown on today's post – a Grey Currawong kept on harassing it until it flew off in disgust at the poor welcoming party. I guess that the Currawong chased the kookaburra away to discourage it from visiting its nest, though I have not seen any evidence of the Grey Currawongs nesting so far this year. The Currawong itself is not slow about robbing the nests of other birds, either.
Further Reading:
It is supposed to be spring here in southern Australia.
The calendar says so, but the weather is not cooperating. Since the beginning of "spring" at the start of September, the weather has been anything but spring-like. In fact, it has been decidedly wintery for the whole month. And August was no better. This year both August and September (so far) have been like the winter we didn't have earlier on. We had more than double our monthly average rainfall in August and this month looks like going the same way.
To be fair – the earlier months this year were very dry. Large parts of South Australia were heading for a drought, along with other parts of eastern Australia which are still in severe drought. The farmers need all the rain they can get to establish their crops and pastures. The environment also needs the seasonal rains. During the earlier parts of winter, we had very cold nights and lovely sunny days. Now we still have very cold nights – and cold showery days as well. It hasn't been good weather to get out birding.
A sign of Spring on the way?
A few days ago – on a brief few moments out in the garden between showers and wind gusts – I managed to both hear, and then get good views of, a Horsfield's Bronze-cuckoo (see photo above). This species spends autumn and winter in the north of Australia and migrates south to breed around this time of the year.
The 14 species of cuckoos present in Australia are parasitic breeders. They lay their eggs in the nests of other birds, including thornbills, wrens and a range of other species. The parent cuckoos leave all the incubation, feeding and raising of the young to the host species. You could say that they have perfected the art of "out-sourcing" parenthood.
Further reading: