Archive for the 'Parrots and Lorikeets' Category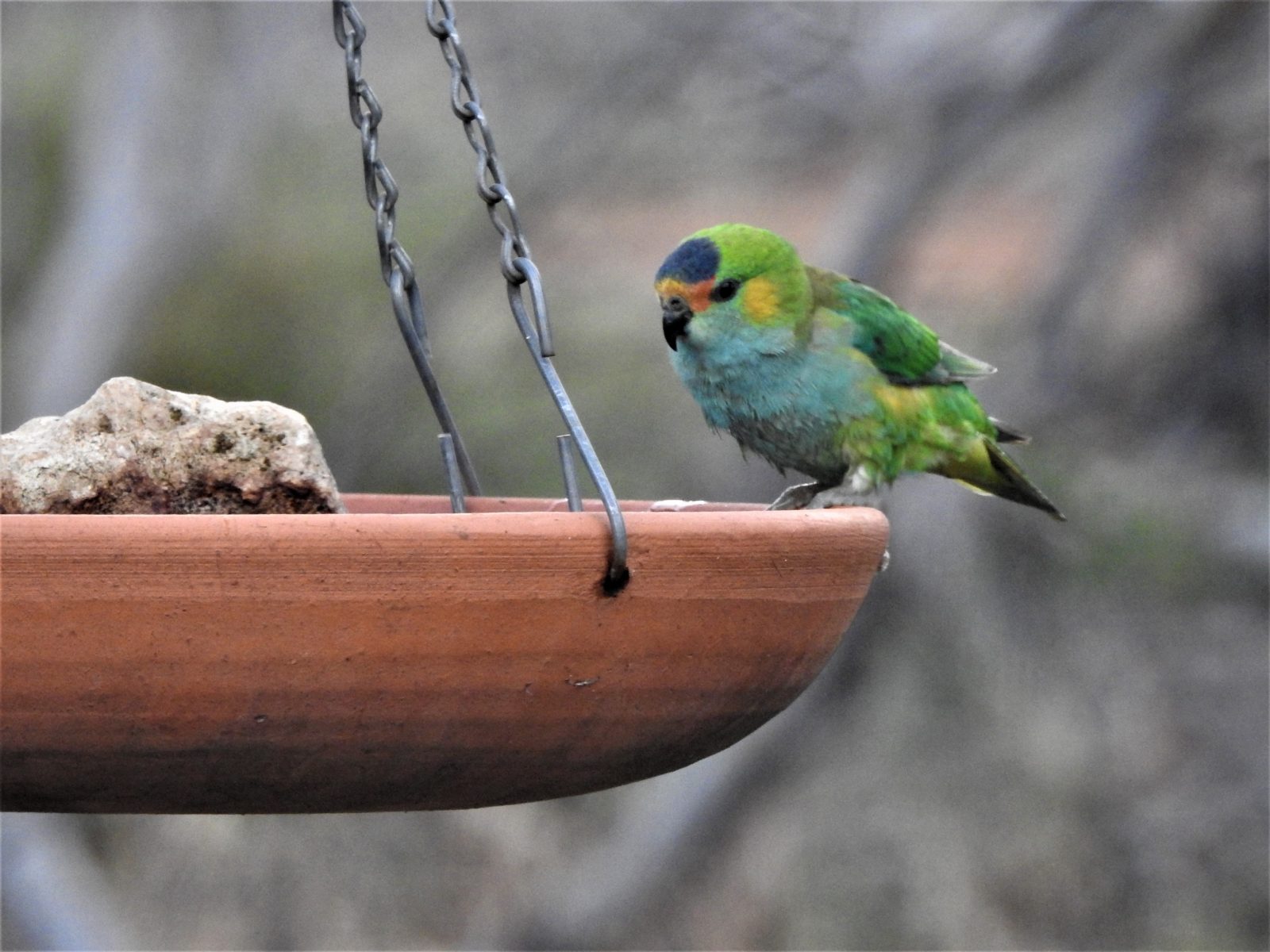 A birdbath delight
Earlier this week I glanced out of my sunroom window to check whether there were any birds at my birdbaths. I currently have three birdbaths just outside the room, one on the ground, one on a pedestal at about 60cm and one hanging from a tree branch at a height of about 1.5 metres. I was delighted to see a small flock of Purple-crowned Lorikeets having a drink and dipping into the water for a bath. I have just checked my list of species to have visited the birdbaths. This was bird species number 36, in addition to the three reptiles and two mammal species.
After a moment or two, I counted up to seven individuals in or near the birdbaths. Soon they were joined by several House Sparrows and three or four New Holland Honeyeaters. There was a sudden screeching and a flurry of wings as a Collared Sparrowhawk swooped in to break up the party. I didn't see if it caught anything for its supper.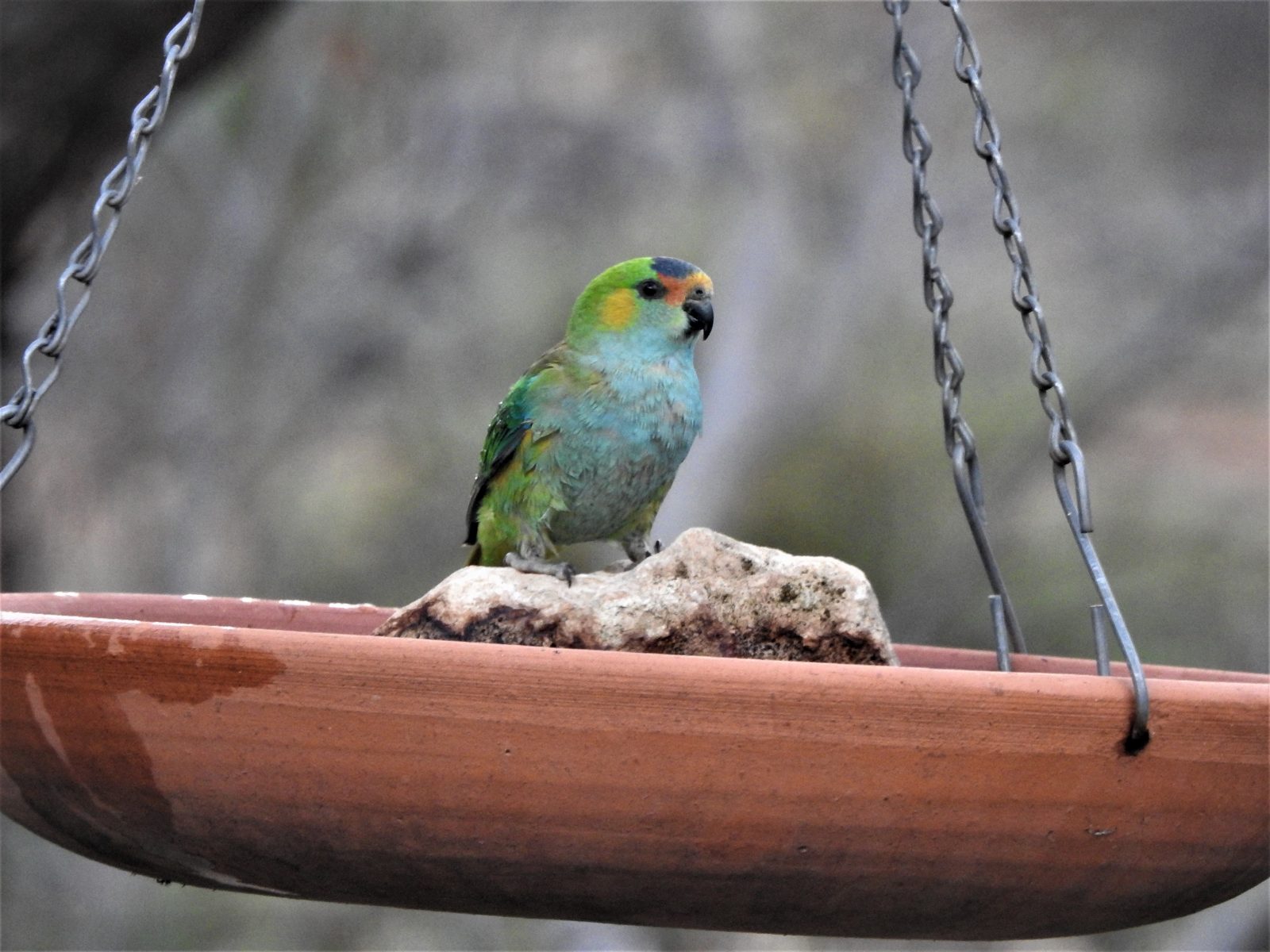 Common species
The Purple-crowned Lorikeet is a common bird in the Murray Bridge district of South Australia where I live. On most occasions, however, I hear them go screeching overhead at speed and rarely get good views of them like in today's photos. Sometimes I am lucky enough to see them reasonably close when they land to feed on the blossoms of one of the mallee trees on my land. That is when my binoculars help out, as well as the 83x zoom on my camera.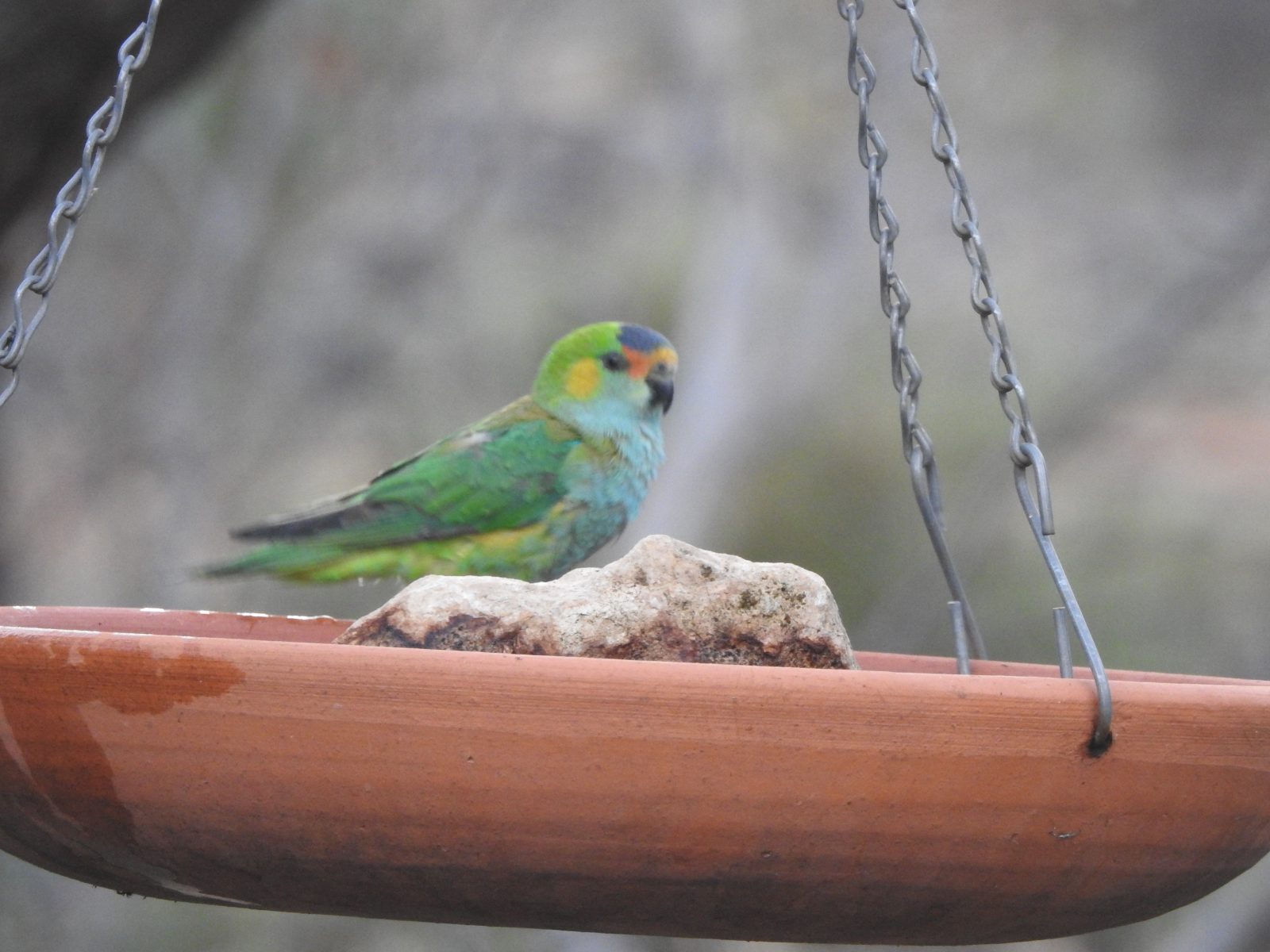 Other lorikeet species
There are two other lorikeet species which visit my garden or the trees on my 5-acre block. They include the very common Rainbow Lorikeet and the dainty, much smaller, Musk Lorikeet.
I am so pleased to have the delight of regularly seeing all three of these colourful parrots right where I live.
Aqua Turquoise Lovebird mutation
A few days ago I wrote about the Rosy-faced Lovebird which visited my garden recently. My property is on the north-western edge of Murray Bridge, South Australia. It is a long way to the natural habitat of the lovebird in south-western Africa. However, lovebirds are a commonly kept aviary and cage species here in Australia and in many other countries.
I suspect that that visitor, and the individual seen in my garden just over a year ago, had escaped from someone's cage or aviary. I know that there are many keen aviculturists (keepers and breeders of birds) here in this district. I have been a guest speaker at their meetings on several occasions in recent years.
Different colours
Today's visitor was quite different. I immediately noticed that the colours were much lighter. Just a little research turned up a variant known as the Aqua Turquoise mutation. Lovebirds, like Budgerigars, have many colour variations when bred in captivity.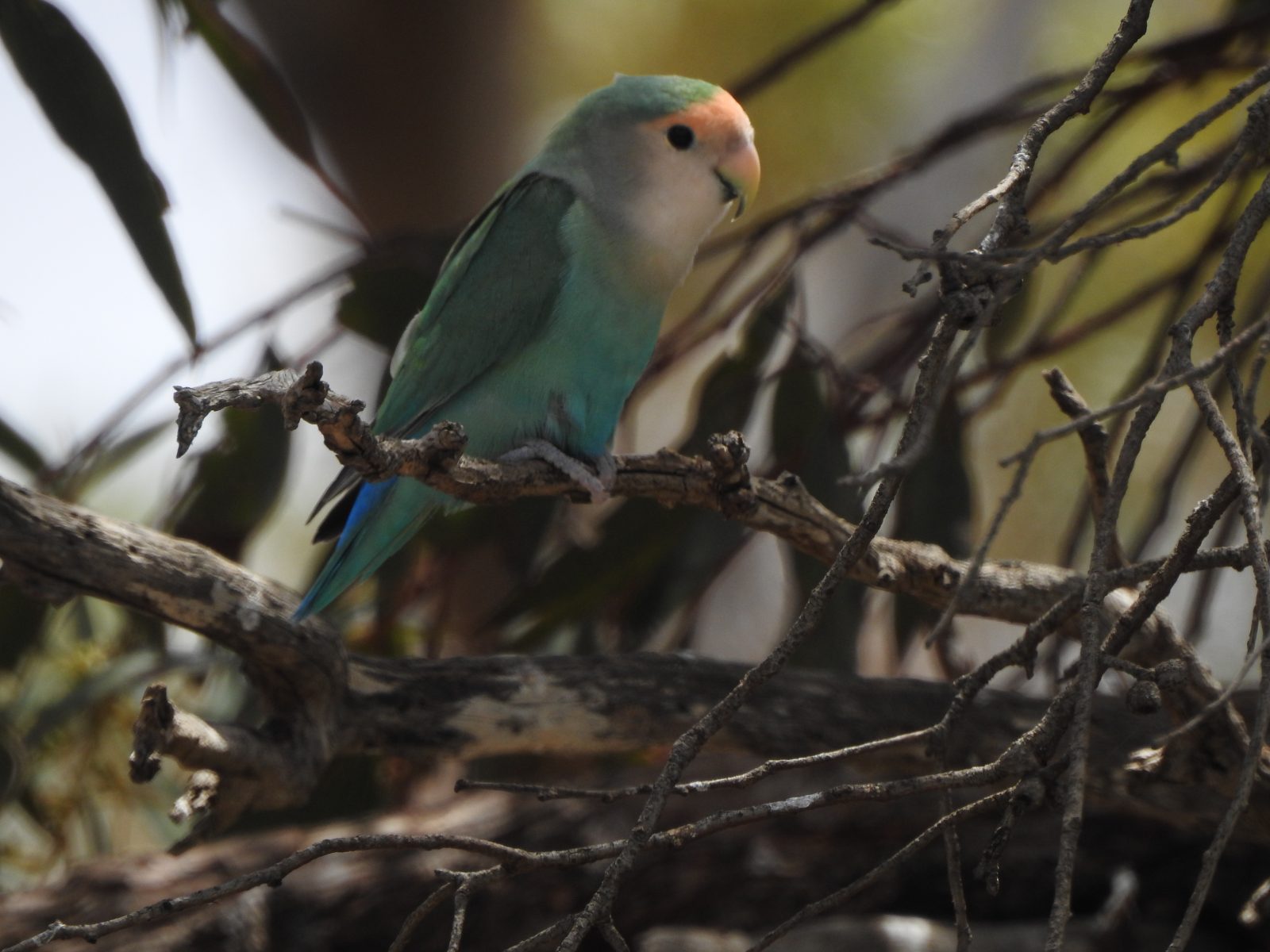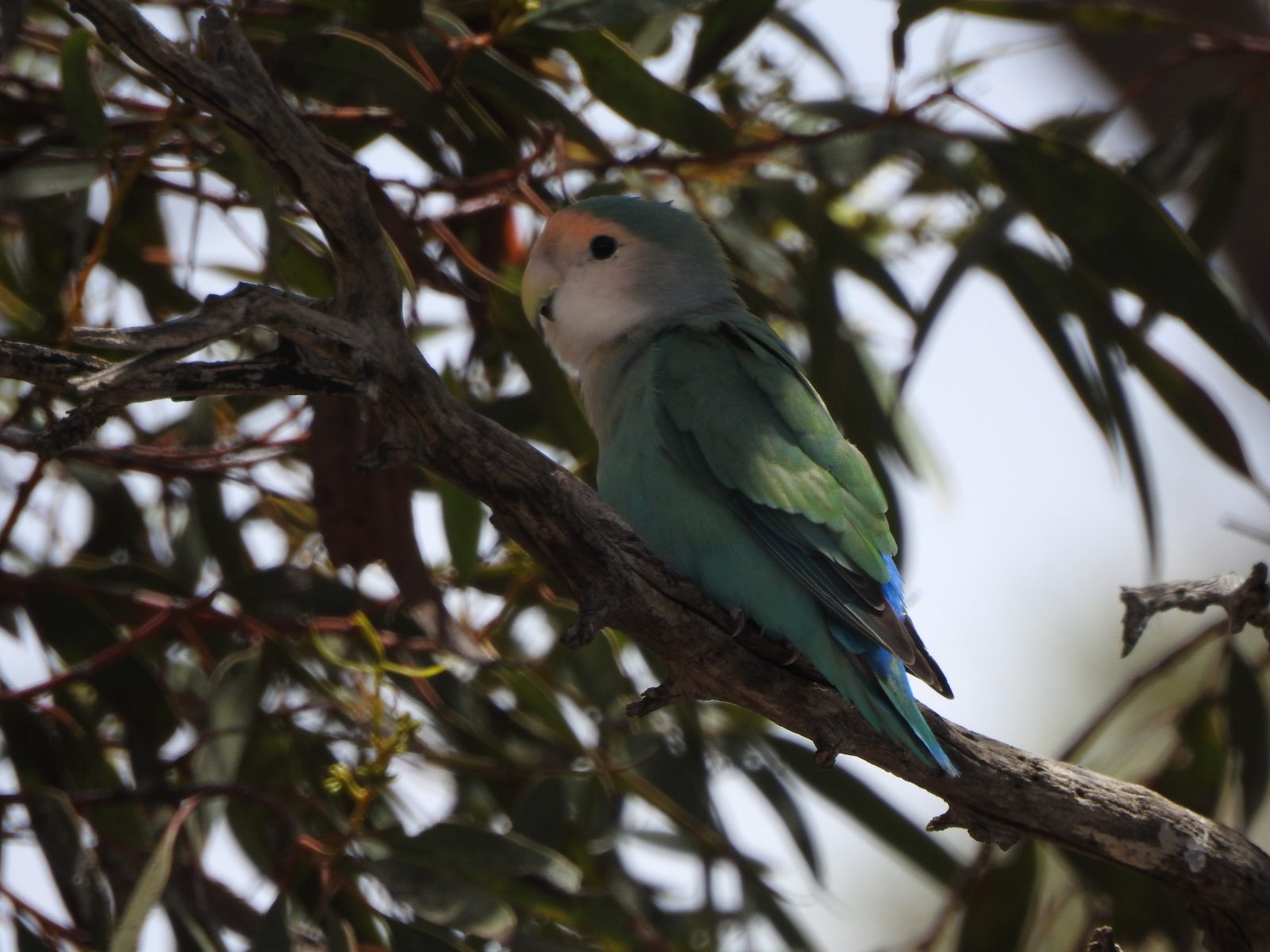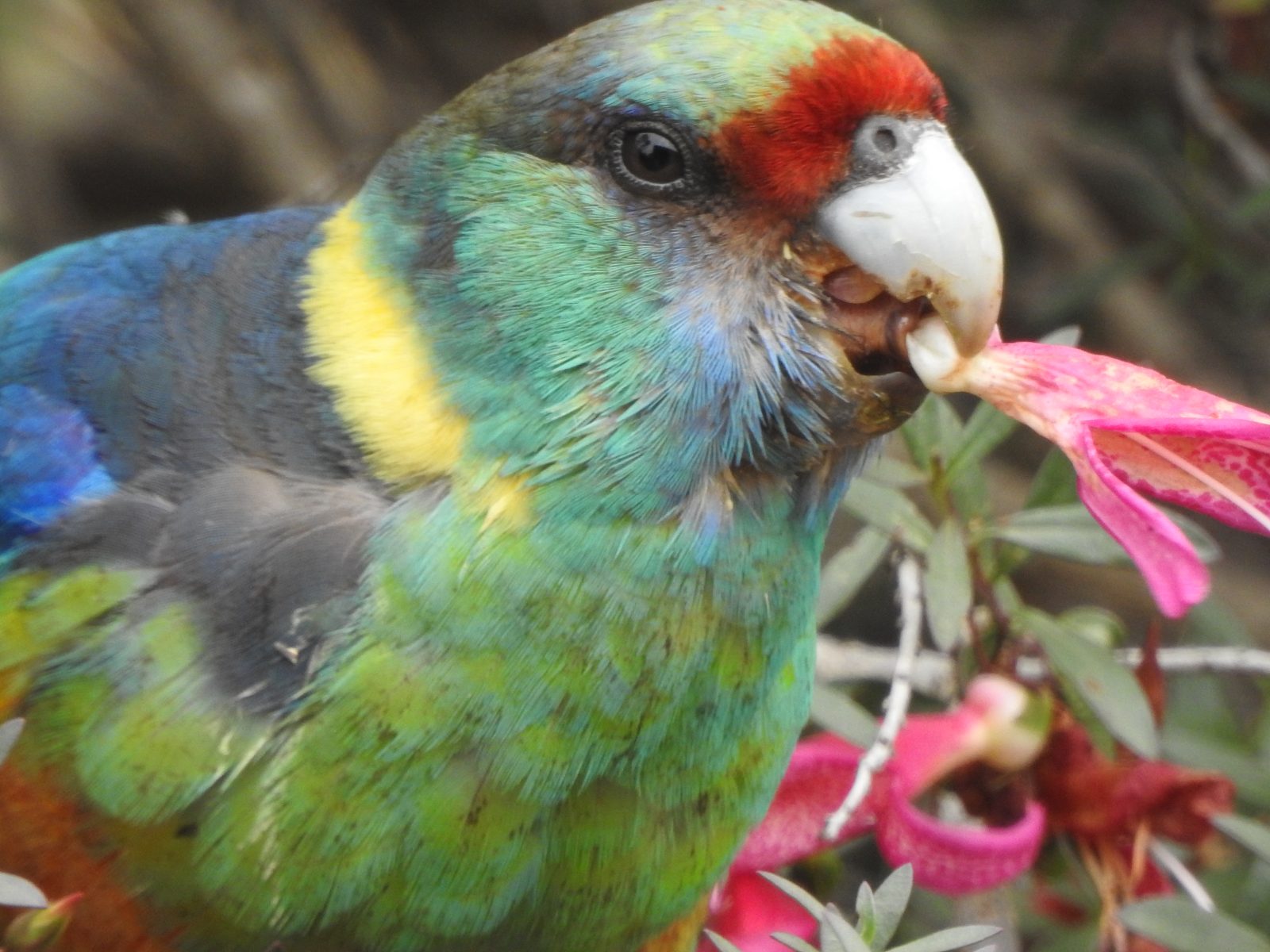 Mallee Ringneck parrots
Australian Ringneck Parrots are one of many colourful and common members of the parrot family in Australia. There are several sub-species of the ringnecks in Australia and the one I have resident in my garden is the Mallee Ringneck, named after their favoured habitat, the eucalypt trees known as mallee trees. I regard this species as a resident bird because I observe them almost every day on my 5-acre property on the edge of Murray Bridge, South Australia. They have also nested in one of the hollows in one of my trees.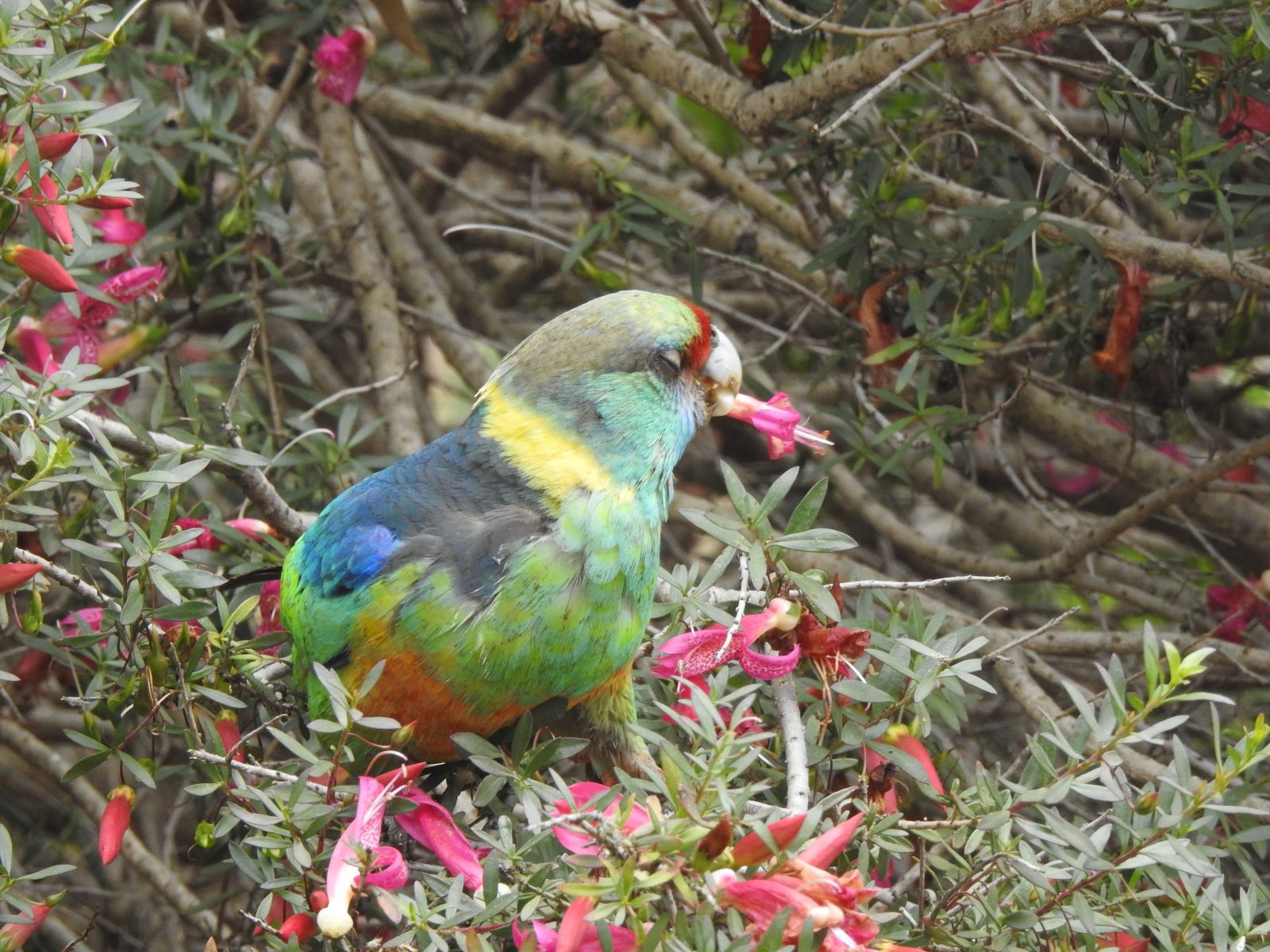 Eremophila flowers
I have a number of Eremophila plants in my garden and they are all prolific when flowering, often covering the whole bush. When my wife was still alive she also loved this family of Australian native plants and she had the foresight to plant quite a few around the garden. The plant shown in today's photos is quite close to the front door. I can stand near the window or door and observe the birds feeding on the flowers without them being aware of my presence. Of course, the many honeyeaters in my garden also like these flowers.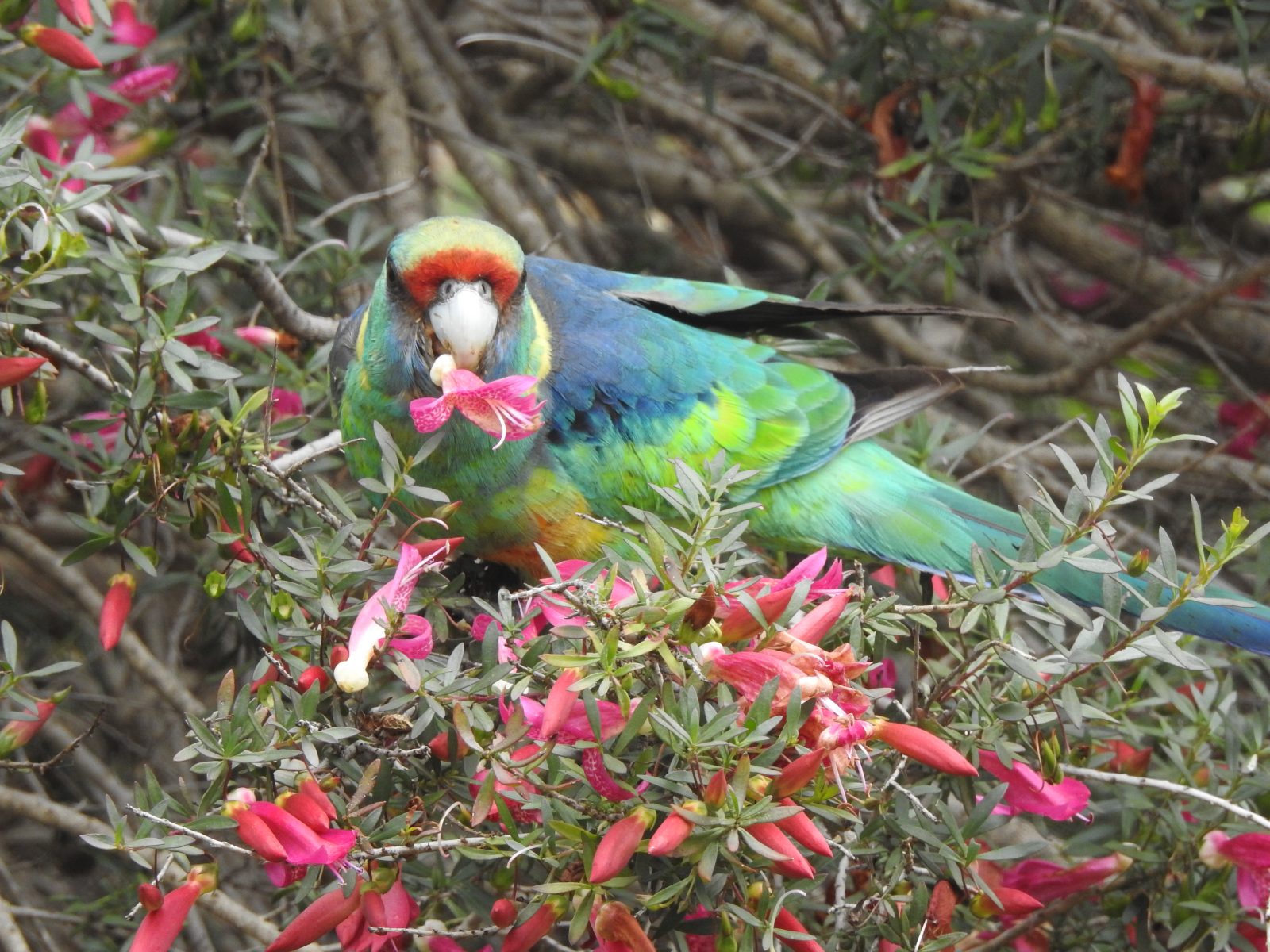 I love seeing the ringnecks flying around my garden and feeding on the various bushes in flower. They can be a little noisy at times, especially when three or four – or even more – decide to kick up a ruckus.
However, I do not appreciate the way they treat my pear trees when they have fruit on them. A few days ago I found out that they had been chewing at the green fruit. The pears are not much bigger than marbles, yet they seem to enjoy chewing on them. I guess that it is a small price to pay for having such a beautiful bird enjoying my garden.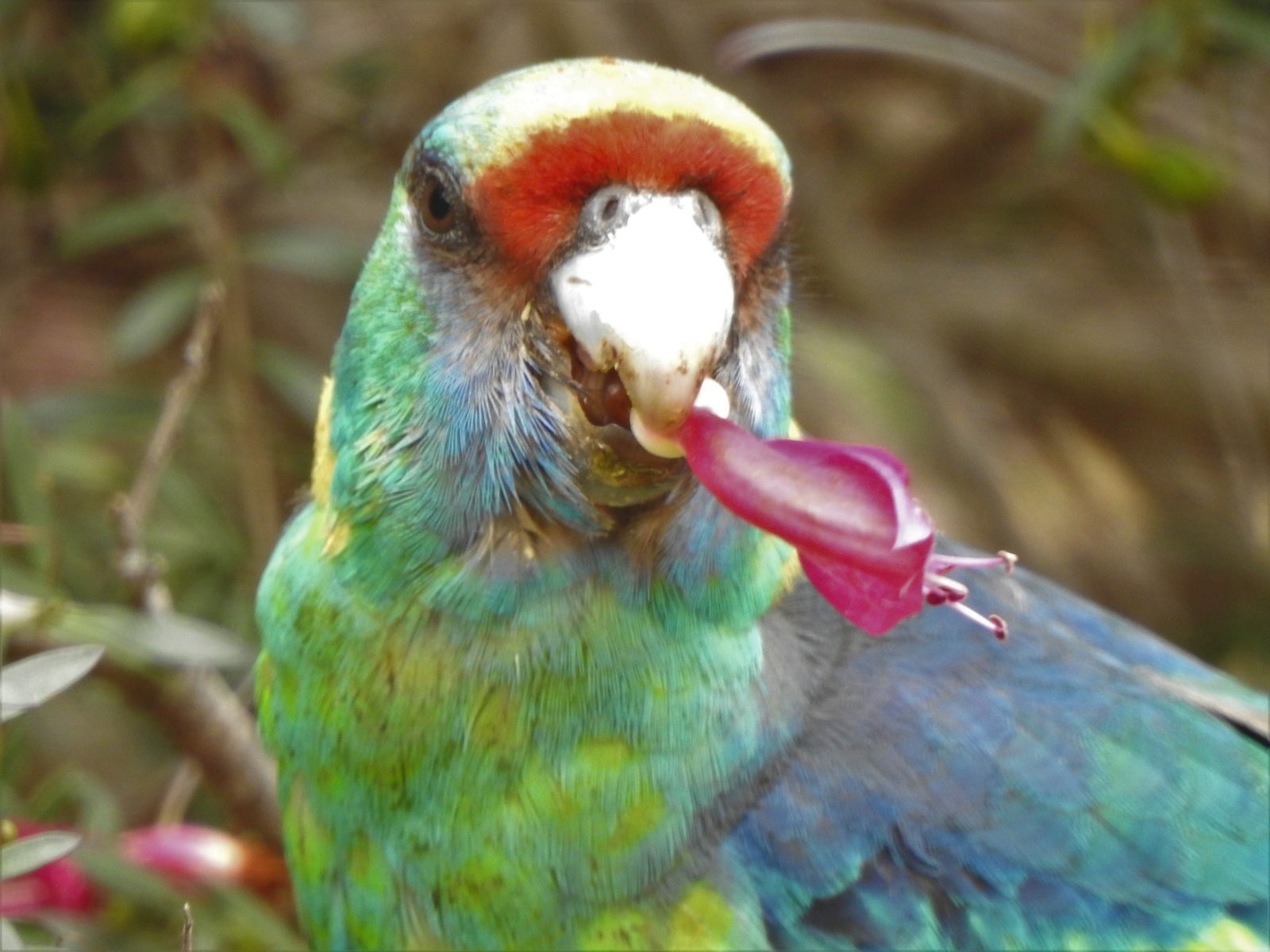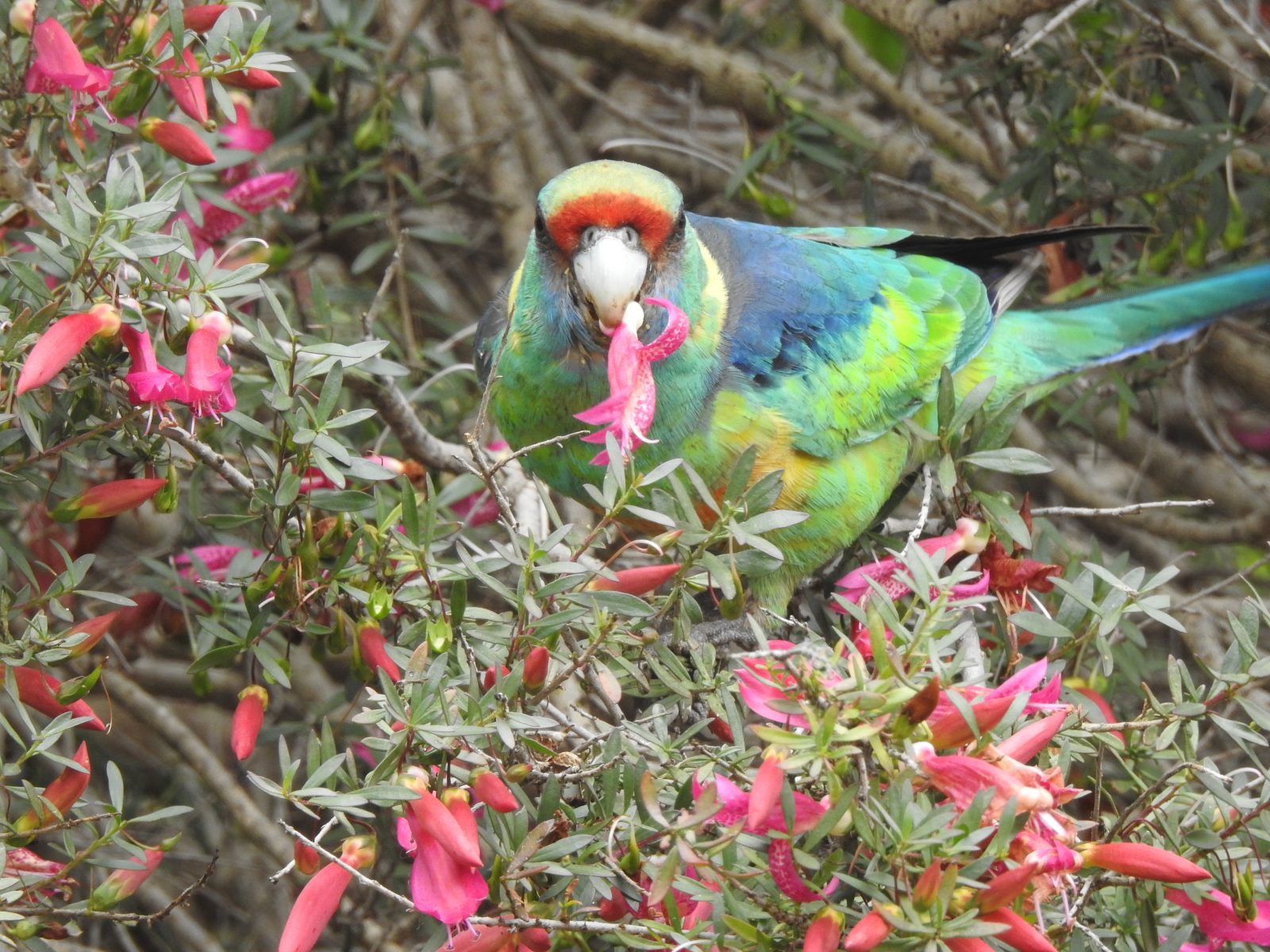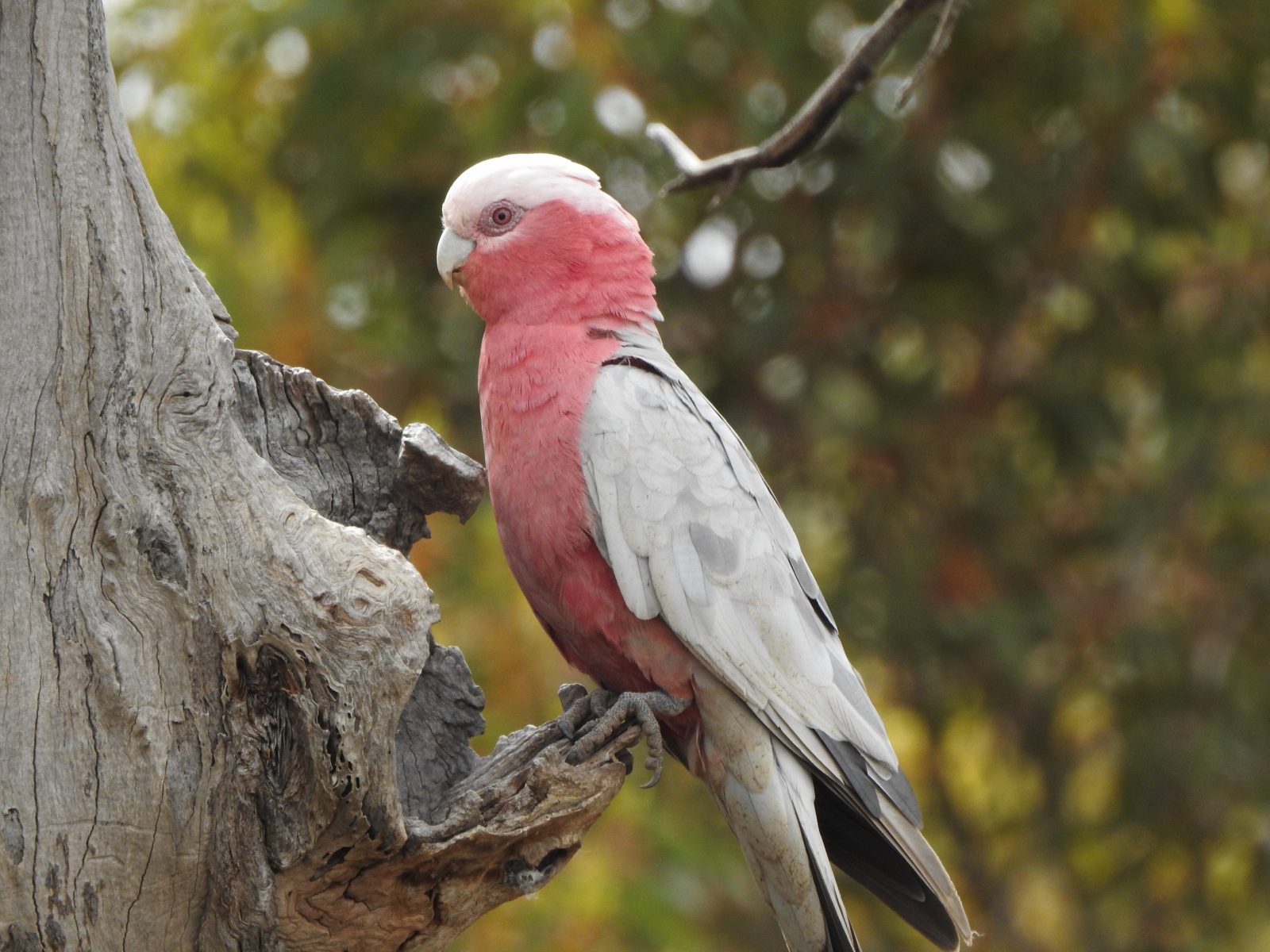 Resident nesting Galahs
I live on the edge of the rural city of Murray Bridge which is about an hour's drive from Adelaide, South Australia. We are blessed to have a variety of parrots, cockatoos and lorikeets in the region. One of the common birds in this family is the Galah. I am sure that if I took a census of this species over a whole year, there would be very few days pass without seeing at least a handful of these lovely parrots either resting in the trees in my garden, or flying overhead. On occasions, I have even seen flocks of many dozens through to many hundreds. They are a very common species in this area.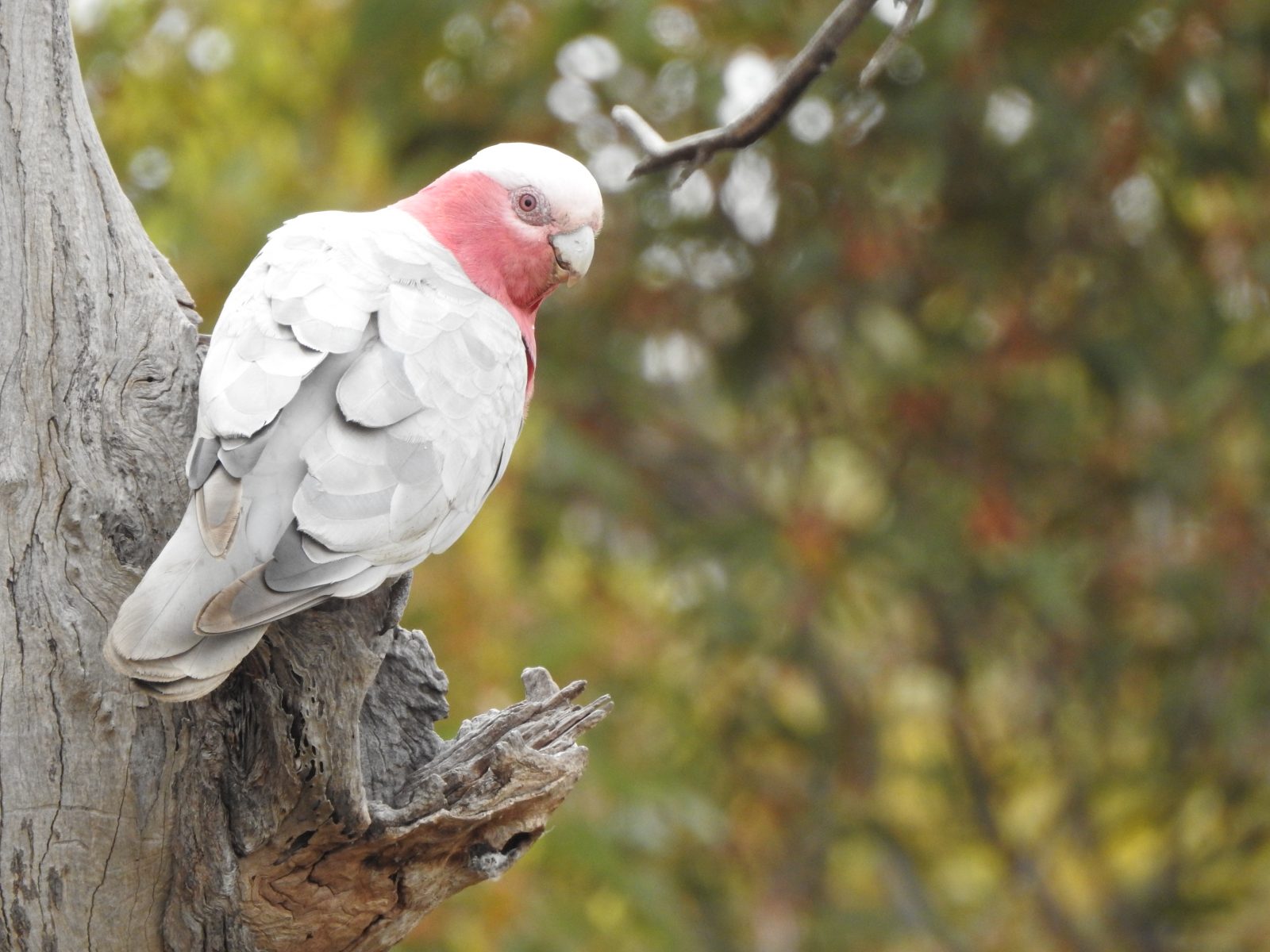 Easy birding
The photos shown in today's post were all taken in my garden and all within a few minutes of each other. This hollow is in an old-growth mallee tree within about twenty metres of my back veranda. I have a comfortable chair located there and I enjoy sitting there reading – or just watching the birds all around. It is very relaxing and quite lovely that the local, resident birds just go about their activities while totally ignoring me. It also makes photography easy.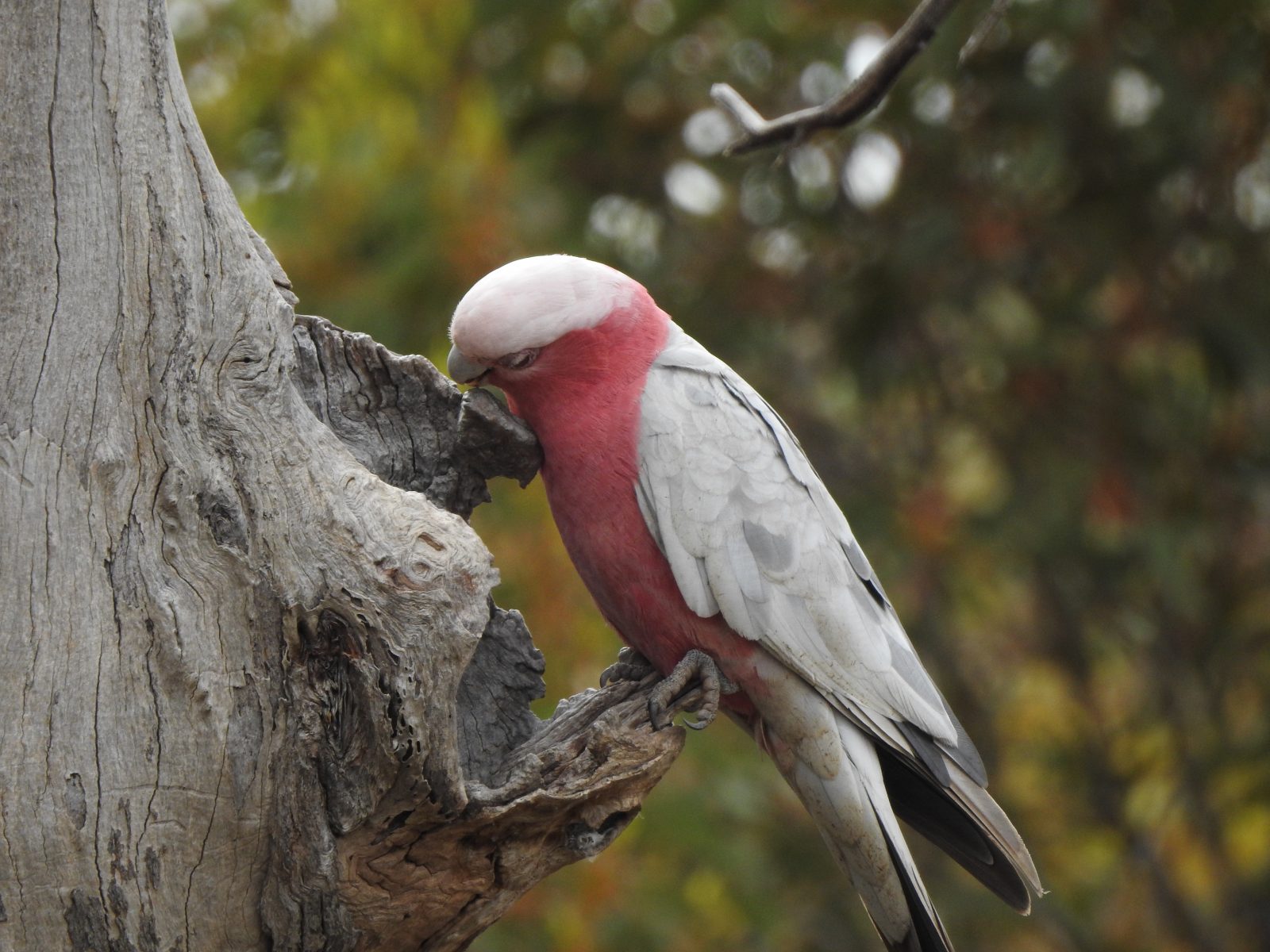 Nesting attempts
A pair of Galahs have been working at this hollow for some years. Then, about four years ago they started putting fresh eucalypt leaves in the hollow. I eagerly anticipated a nesting attempt but they abandoned their quest. About once or twice a day they would sit at the opening of the hollow and screech loudly into the hollow – then fly away.
Strange, I thought.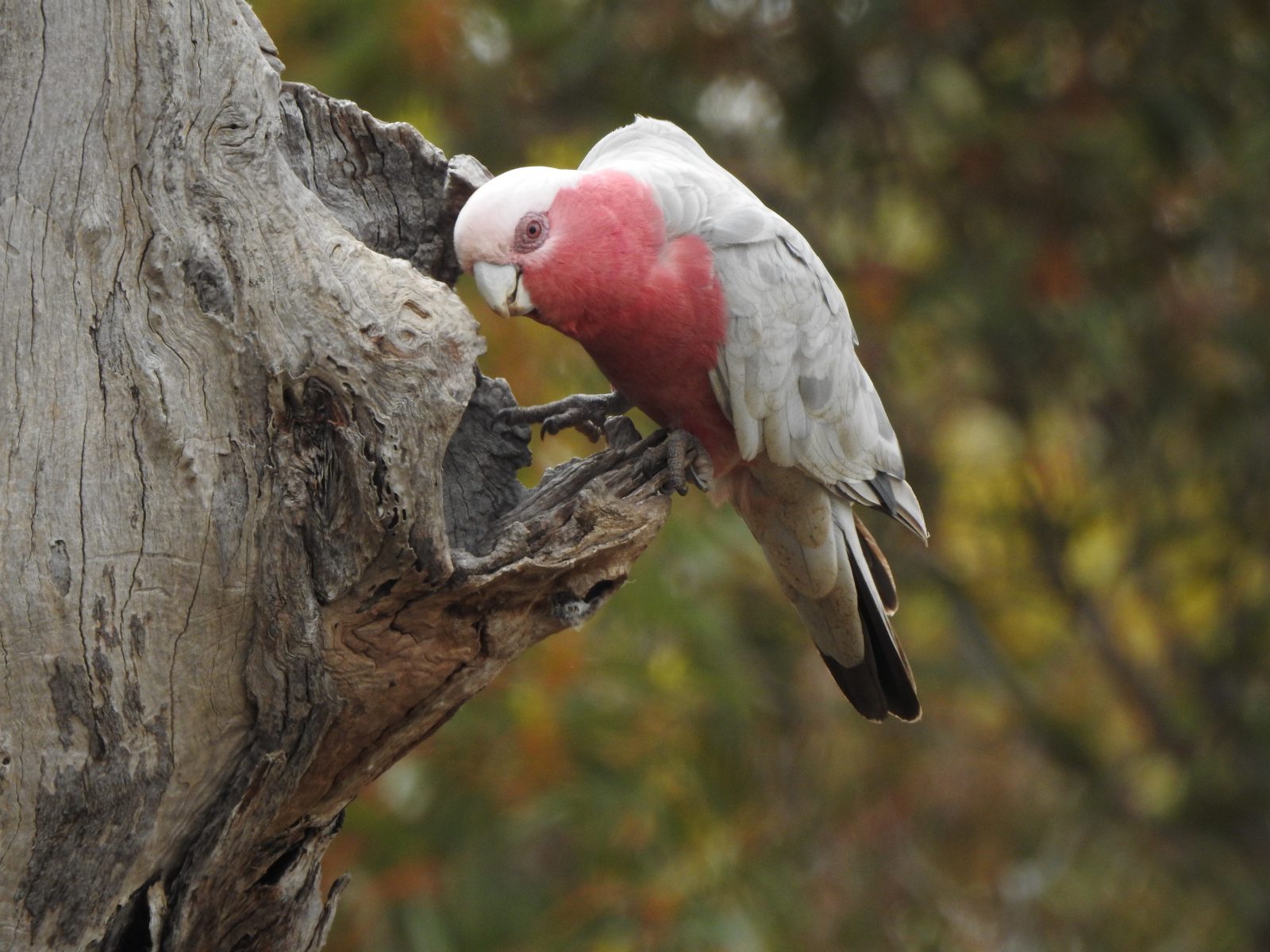 An interloper takes over
A few days later I discovered the reason why they hadn't successfully nested in the hollow. I saw a Brush-tailed Possum coming out of the hollow. It had evicted the Galahs from their home. After some months I guess that the possum had moved on elsewhere. In fact, I haven't seen one or heard one on the roof for several years now. So the Galahs returned to their home.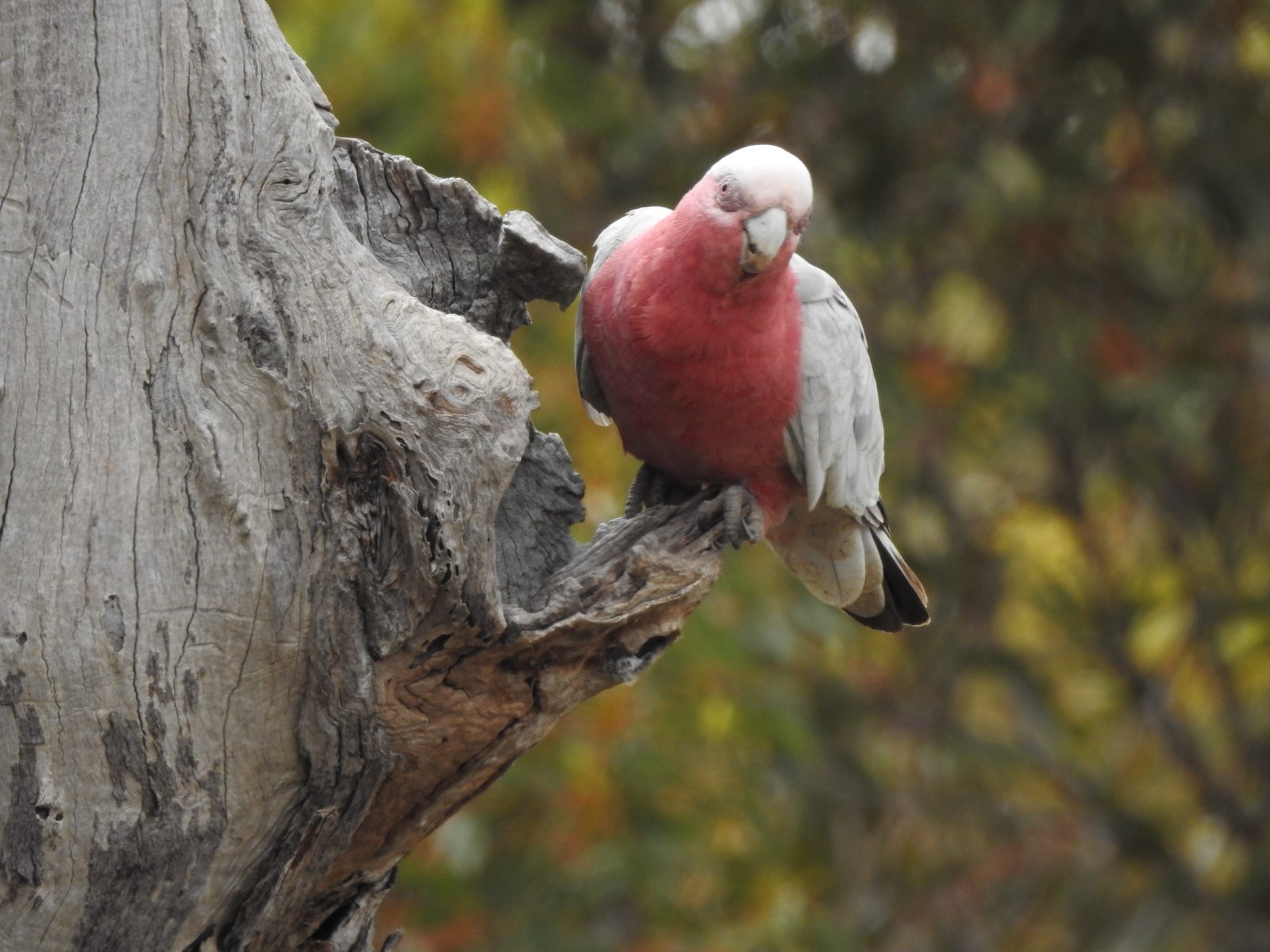 Success at last
During late winter last year they again started working on the hollow. During the next month or so they successfully laid eggs and raised their chicks which later fledged. This year they have again been successful. I didn't manage to get a photo of this year's chicks because they flew off before I could get a shot. Instead, I have included below a photo of one of the chicks from last year's brood.
A few days after the two chicks fledged, they were precariously hanging on to the branches of the trees nearby, along with about a dozen other chicks from other parents. Most of them were calling to be fed, and as the parents came in to feed them I had a very noisy Galah nursery in my garden.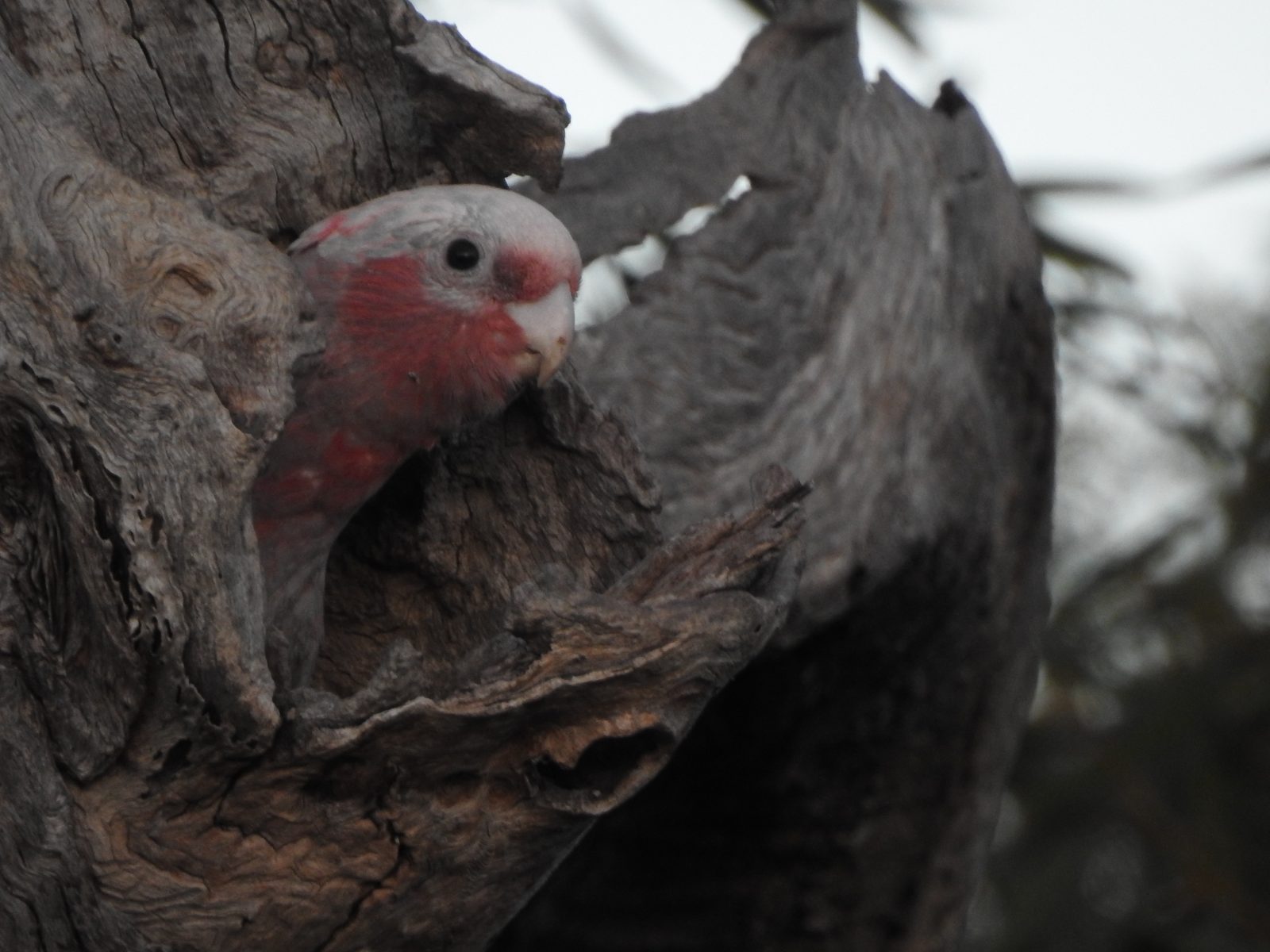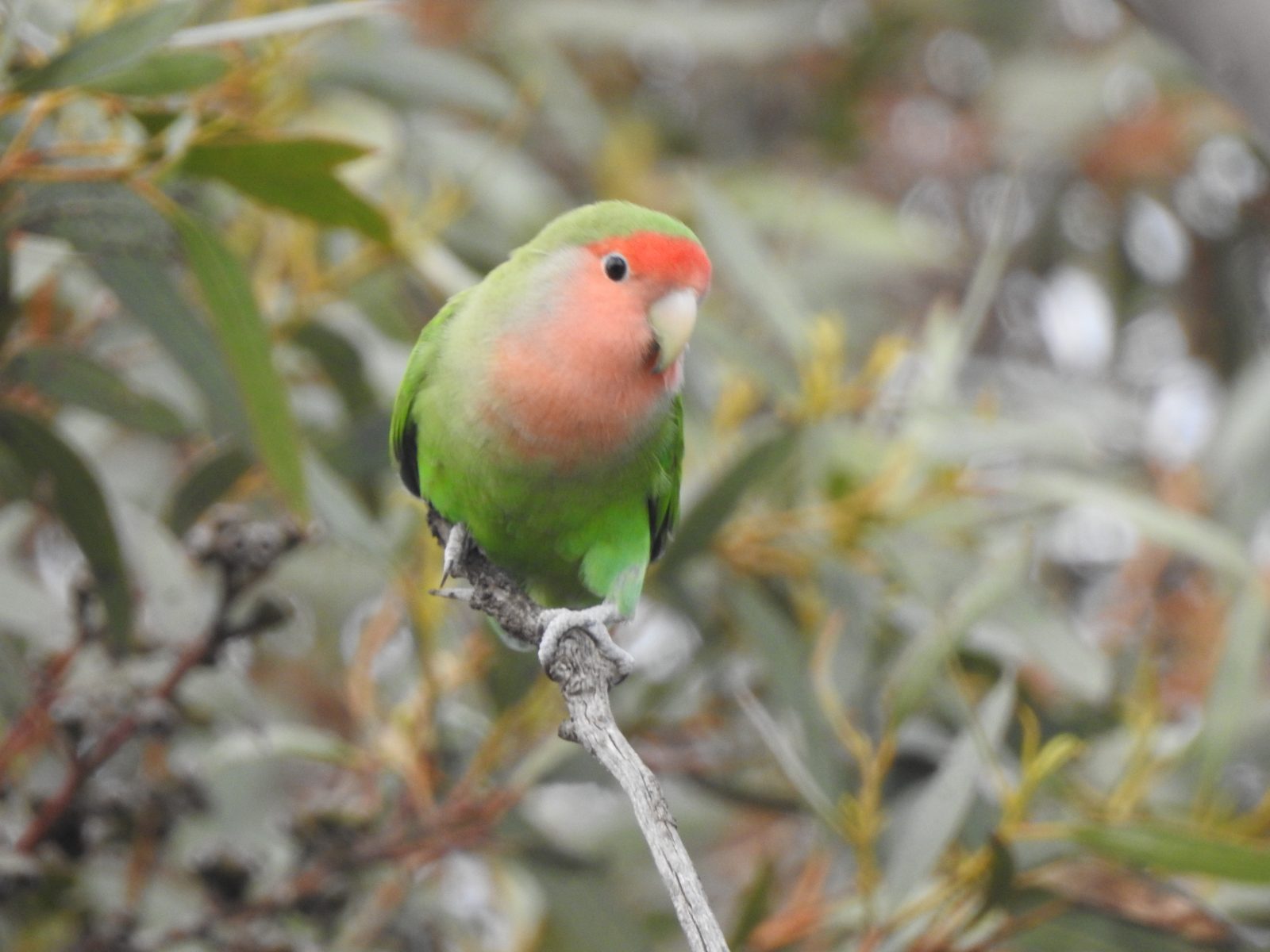 Yesterday I wrote about a visit from a Rosy-faced Lovebird to my garden here in Murray Bridge, South Australia. This is not an Australian native bird. Their natural habitat is in southwestern Africa, mainly Namibia, Angola and South Africa. This species is commonly kept in cages and aviaries around the world, including here in Australia. The bird I saw recently in my garden quite likely escaped from someone's cage or aviary.
I also mentioned that I had previously recorded this species in my garden just over a year ago. Today I wanted to show the photos I took on that occasion. It looks almost as if this individual is just a little guilty about having escaped. As I speculated yesterday, this could well be the same bird I saw a few days ago, though that is unlikely given the number of birds of prey lurking all around.