Archive for the 'Aviaries' Category
Captive birds
My local zoo is the Monarto Safari Park just fifteen minutes from my home in Murray Bridge, South Australia. This zoo is a part of the Adelaide Zoo which is about an hour's drive from here. I am a Life Member and try to visit often. One of my recent visits was last year when I went for one of the many walks in the park. On one of these walks, there is a large aviary which has a few captive birds in it, including the Tawny Frogmouths shown above.
Tawny Frogmouths are a widespread nocturnal species in this area and it is found throughout Australia, including Tasmania. From time to time I occasionally hear or see this species in my garden. My family and I love hearing the soft call of this bird and we have fond memories of hearing and seeing them on various camping trips.
Bush Stone-curlew
Another mostly nocturnal species in the aviary at Monarto is the Bush Stone-curlew, shown in the photos below. Again, this widespread species is found in many parts of Australia except Tasmania. Campers in our more remote areas may have heard its haunting call at night. On the other hand, in some areas, the Bush Stone-curlew has adapted to life in towns and cities, especially in Queensland where it is commonly seen on golf courses and reserves.
Annoyingly, this is one species I have yet to see in its natural environment and I only have photos like those shown below which have been taken in zoos. I must get out and travel more.
Non-captive birds
As visitors to Monarto Safari Park join the many bus tours through the large park, it is possible to see many of our local native bird species. These include Emus, Australian Magpies, Little Ravens, Brown Falcons, Black Kites, Wedge-tailed Eagles, various parrot species, as well as smaller bush birds like the Willie Wagtail, woodswallows, thornbills, wrens and a variety of water birds when there is water in the creek flowing through the park.
The best way of seeing and photographing these birds is to stroll along the many walking trails through the mallee scrub land. Warning: try not to wander into the African Lion enclosure, or you might find yourself invited to lunch – with you on the menu. By the way: the zoo has four new lion cubs born only recently and they are now on display.
One easily seen species is the White-winged Chough which is about the size of our magpies and ravens. They are often seen in family groups of 10 – 15 and as they fly the white on their wings can easily be seen. On my walk to see the aviary birds I also saw one of their mud nests (see the last photo below).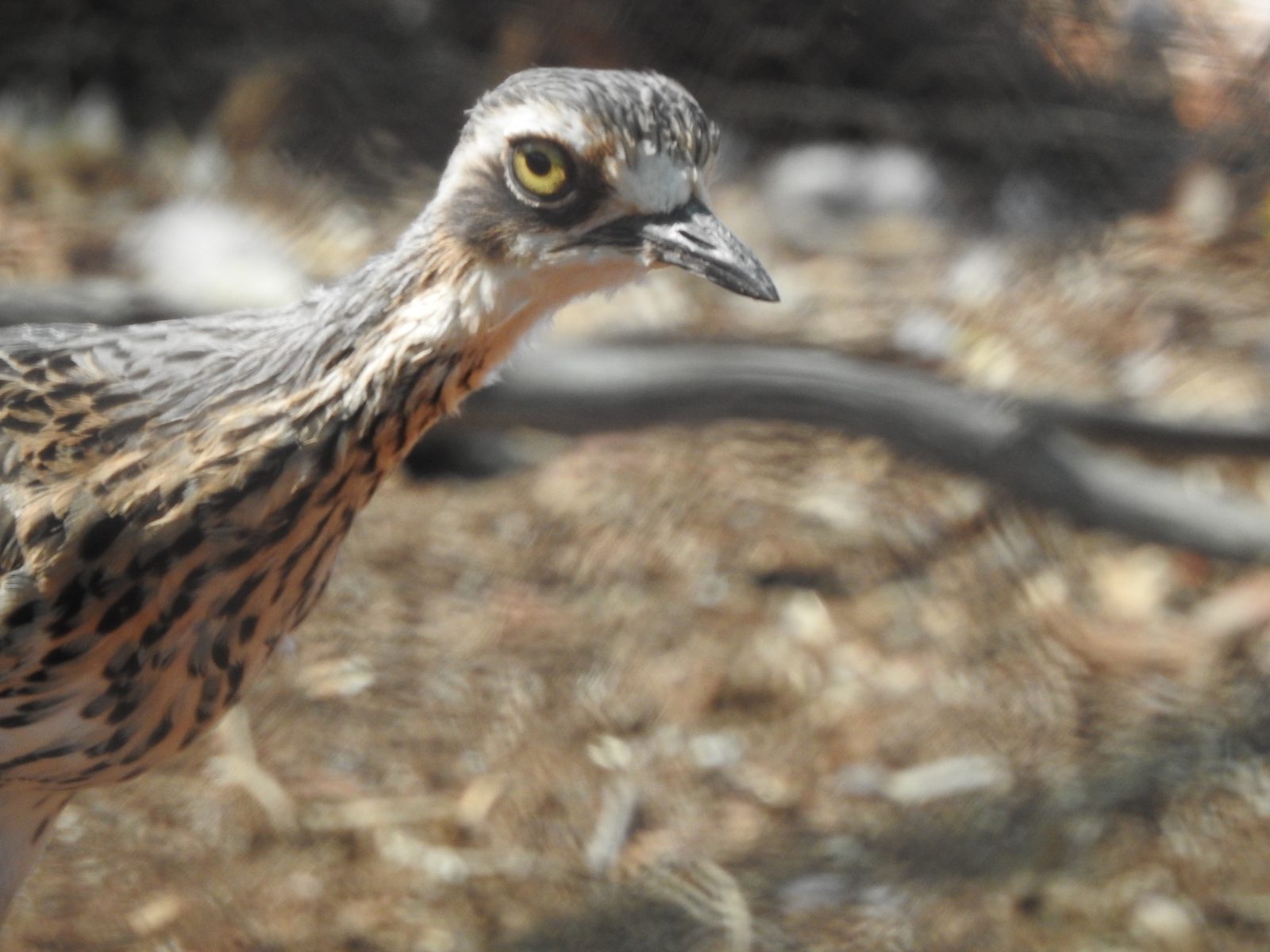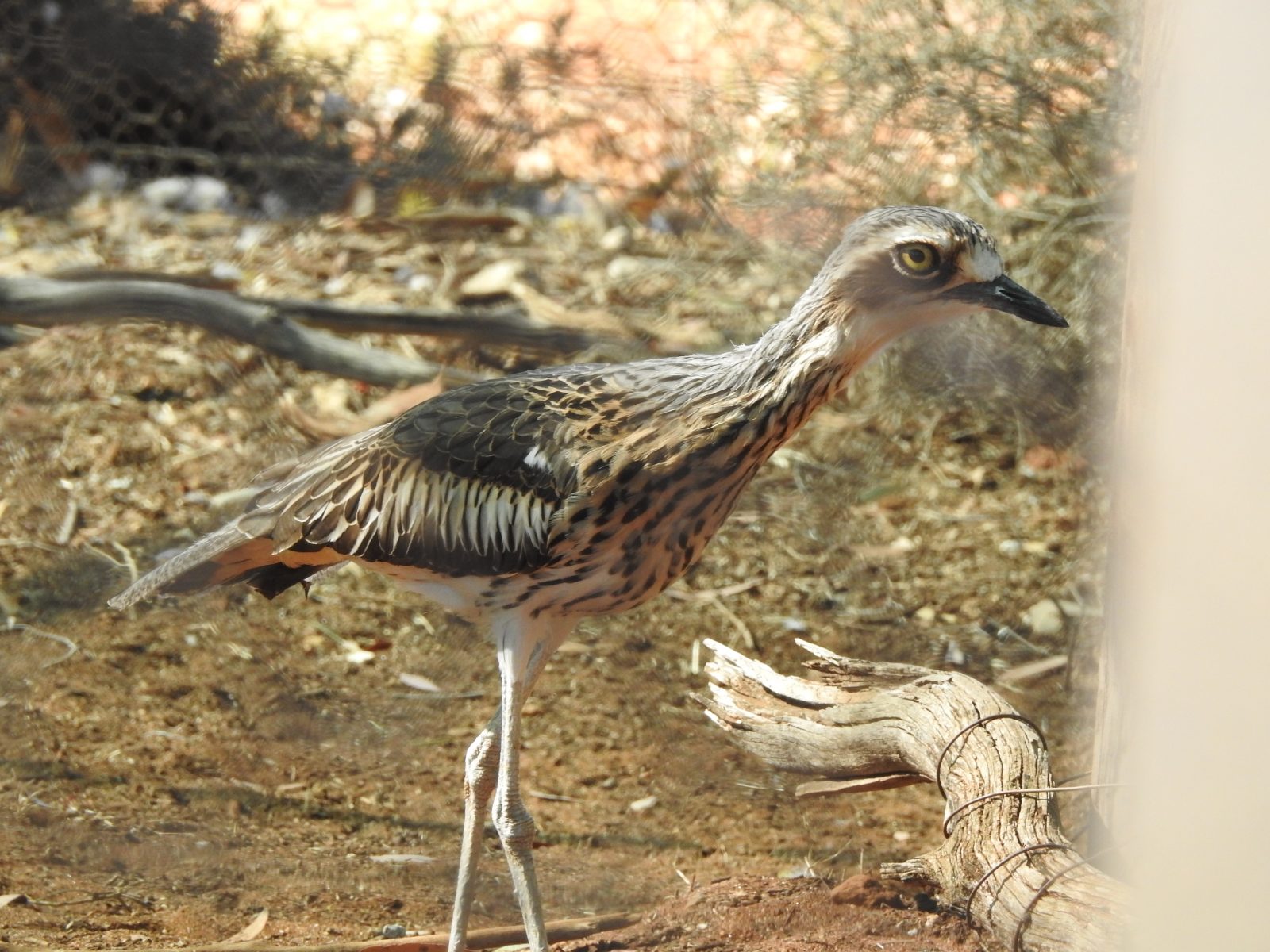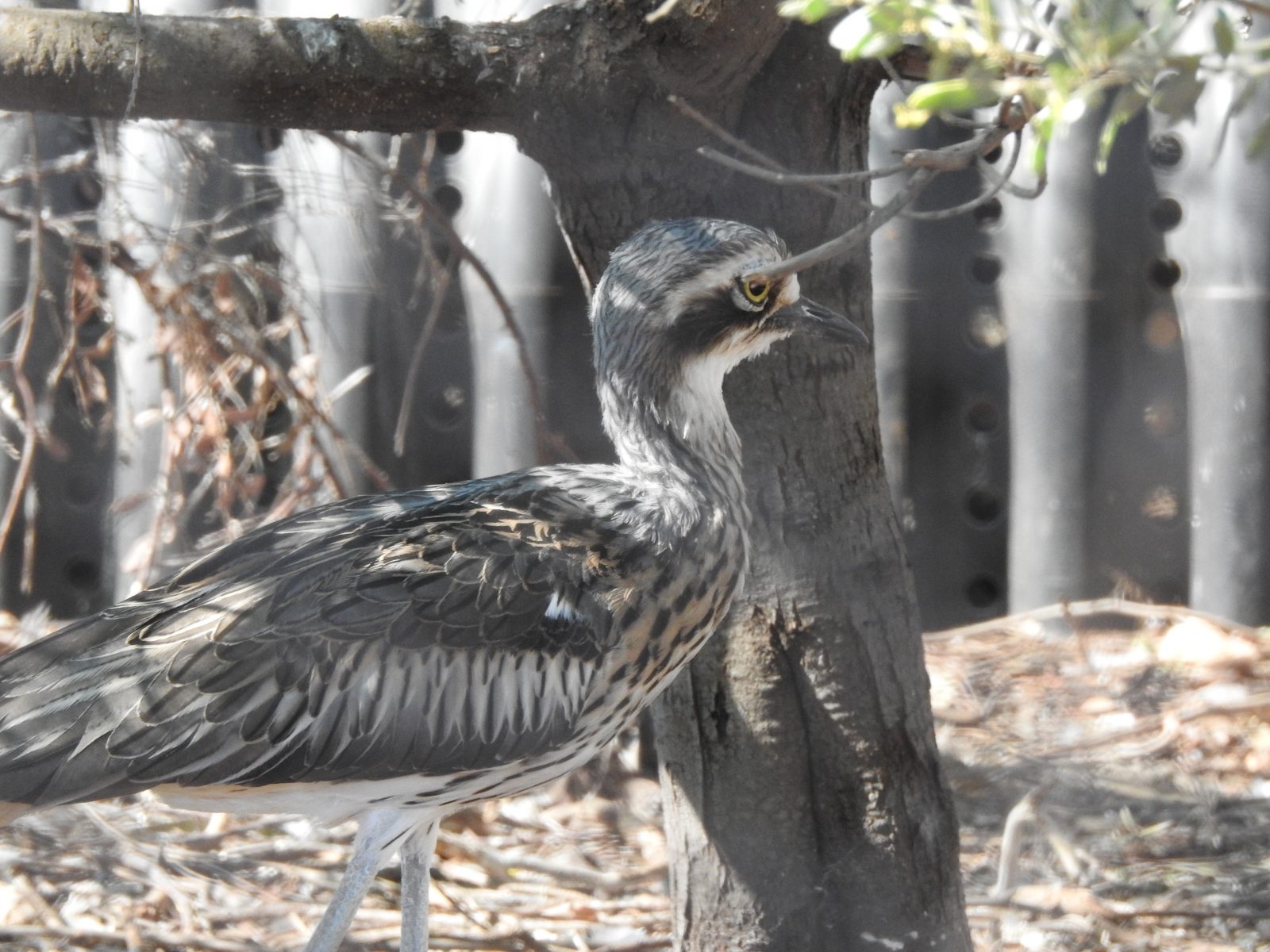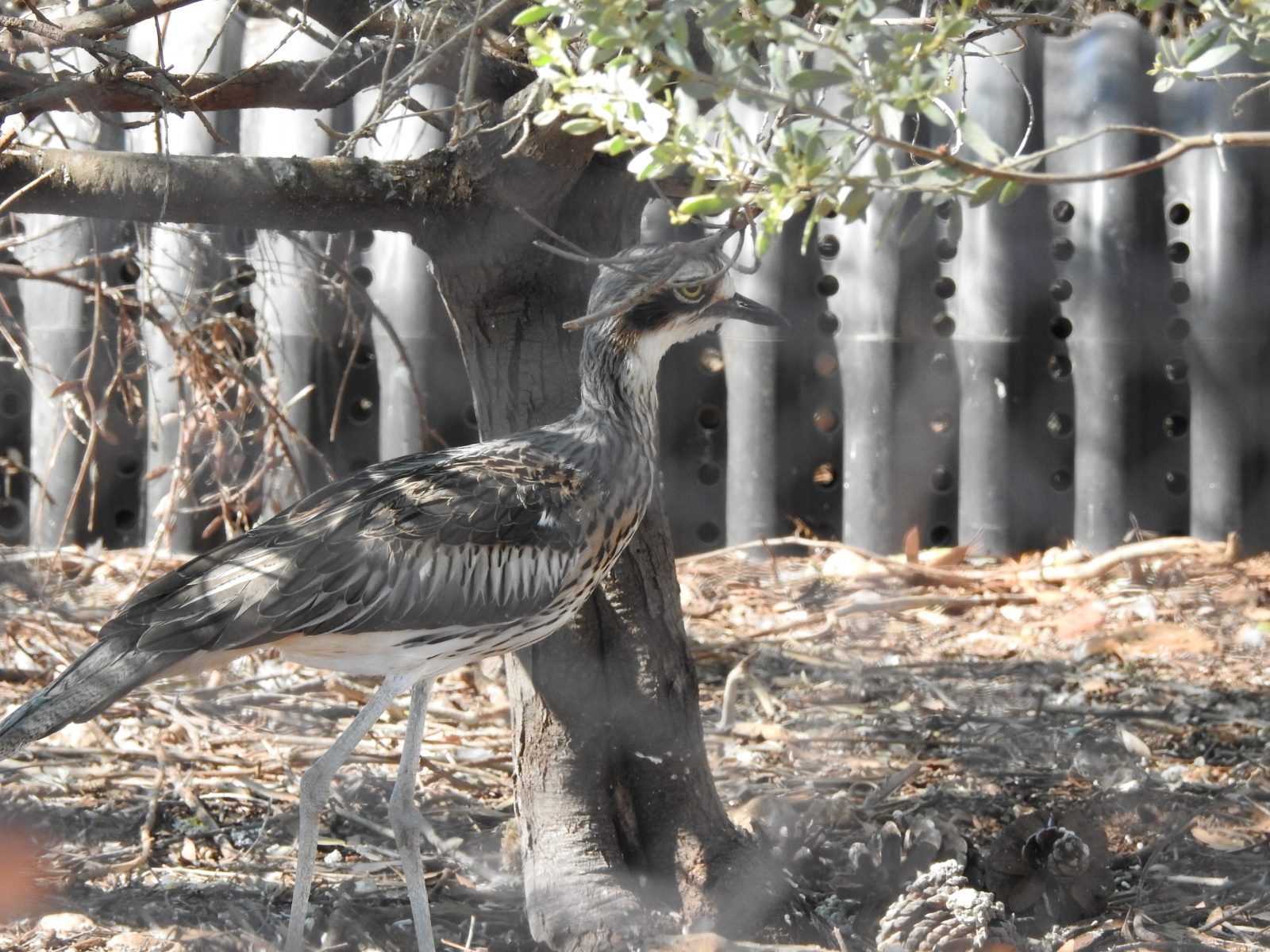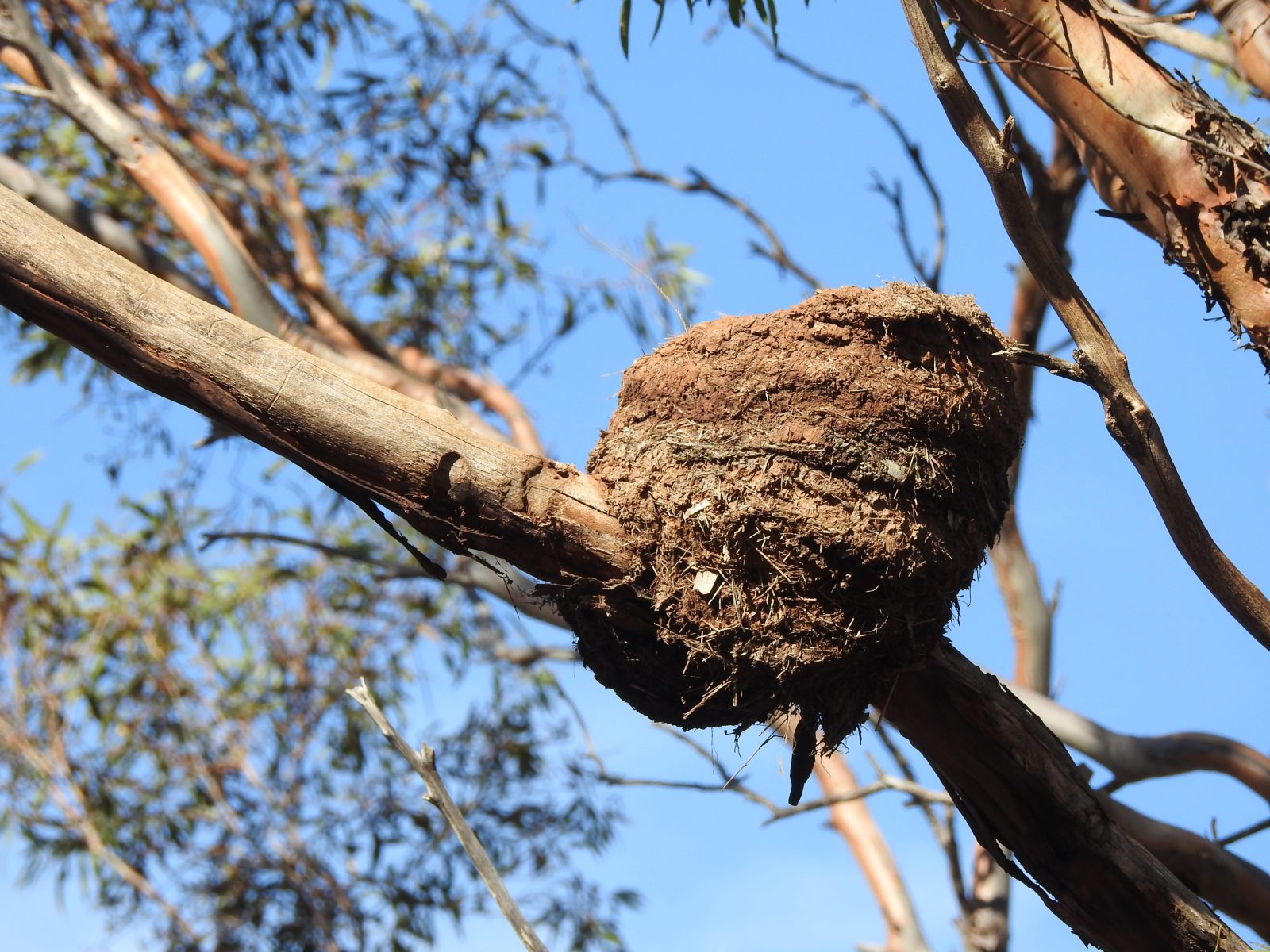 This Scaly-breasted Lorikeet in one of the aviaries at the Australian Reptile Park made certain I managed a good photo of it up close. He posed in a number of different ways, squawking loudly as if to ask how it looked.
It is getting photos like this one that I like visiting zoos, and especially zoos with aviaries. While it is great if the zoo has walk-through aviaries, I have proved that one can take reasonable shots through the wires of the cage. Sometimes you just get lucky – like on this occasion – and the bird poses really well.
Scaly-breasted Lorikeets are found along the coastal regions of eastern Queensland and in north-east New South Wales. It is a species I have yet to observe in its natural environment – another reason for getting photos in a zoo. I think I am well overdue for a trip to Queensland.
The Major Mitchell Cockatoo has to be one of Australia's most beautiful birds. I also do not yet have a great photo of this species. The individual shown in today's photo was in one of the aviaries at the Australian Reptile Park, near Sydney. Just seconds before I took this photo it had its crest up. I waited and waited, but it didn't lift the crest again and we had to move on.
I think I will have to camp out on the farm where I grew up. That is where I last saw this species in the wild, but I was too slow with my camera before they flew off. You can see several other photos of captive birds here.
The photo below I took of two cockatoos during the Bird Show at Taronga Park Zoo some years ago. These are trained birds, not wild ones.
I think that the title of this post says it all.
The quizzical look this male Eclectus parrot is giving me speaks volumes.
If only we could tell what he was thinking.
The photo was taken at the Australian Reptile Park near Gosford, north of Sydney.
Further reading:
Last month my family and I visited the Australian Reptile Park north of Sydney. As well as a great collection of reptiles the park also boasts a good collection of birds in aviaries. I have featured some of these over recent posts and have still a few more to add in the coming days.
The setting of the park near the town of Gosford is in the heart of forested areas of the Blue Mountains (part of the Great Dividing Range in eastern Australia). Because of its location the natural birdlife is quite prolific. Some of the wild birds take advantage of the food provided for some of the animals, including the caged birds.
The Red-browed finch featured in today's photos is one such species. They were able to fly in and out through the wire of the aviary holding much larger parrots. This gave them easy access to the seed trays. It might have been easy for the birds, but taking their photo was not easy for me; I had to avoid getting the  wire in the photo. Shooting through the wire of an aviary is always a challenge.
On this occasion there was an added challenge to getting these birds in focus: the finches were a little coy and keep just out of view behind the parrot feeding tray. I'm not sure if they were just a little shy, or that the parrots had spilled all the best seeds out of the tray.