Archive for the 'Aviaries' Category
Aqua Turquoise Lovebird mutation
A few days ago I wrote about the Rosy-faced Lovebird which visited my garden recently. My property is on the north-western edge of Murray Bridge, South Australia. It is a long way to the natural habitat of the lovebird in south-western Africa. However, lovebirds are a commonly kept aviary and cage species here in Australia and in many other countries.
I suspect that that visitor, and the individual seen in my garden just over a year ago, had escaped from someone's cage or aviary. I know that there are many keen aviculturists (keepers and breeders of birds) here in this district. I have been a guest speaker at their meetings on several occasions in recent years.
Different colours
Today's visitor was quite different. I immediately noticed that the colours were much lighter. Just a little research turned up a variant known as the Aqua Turquoise mutation. Lovebirds, like Budgerigars, have many colour variations when bred in captivity.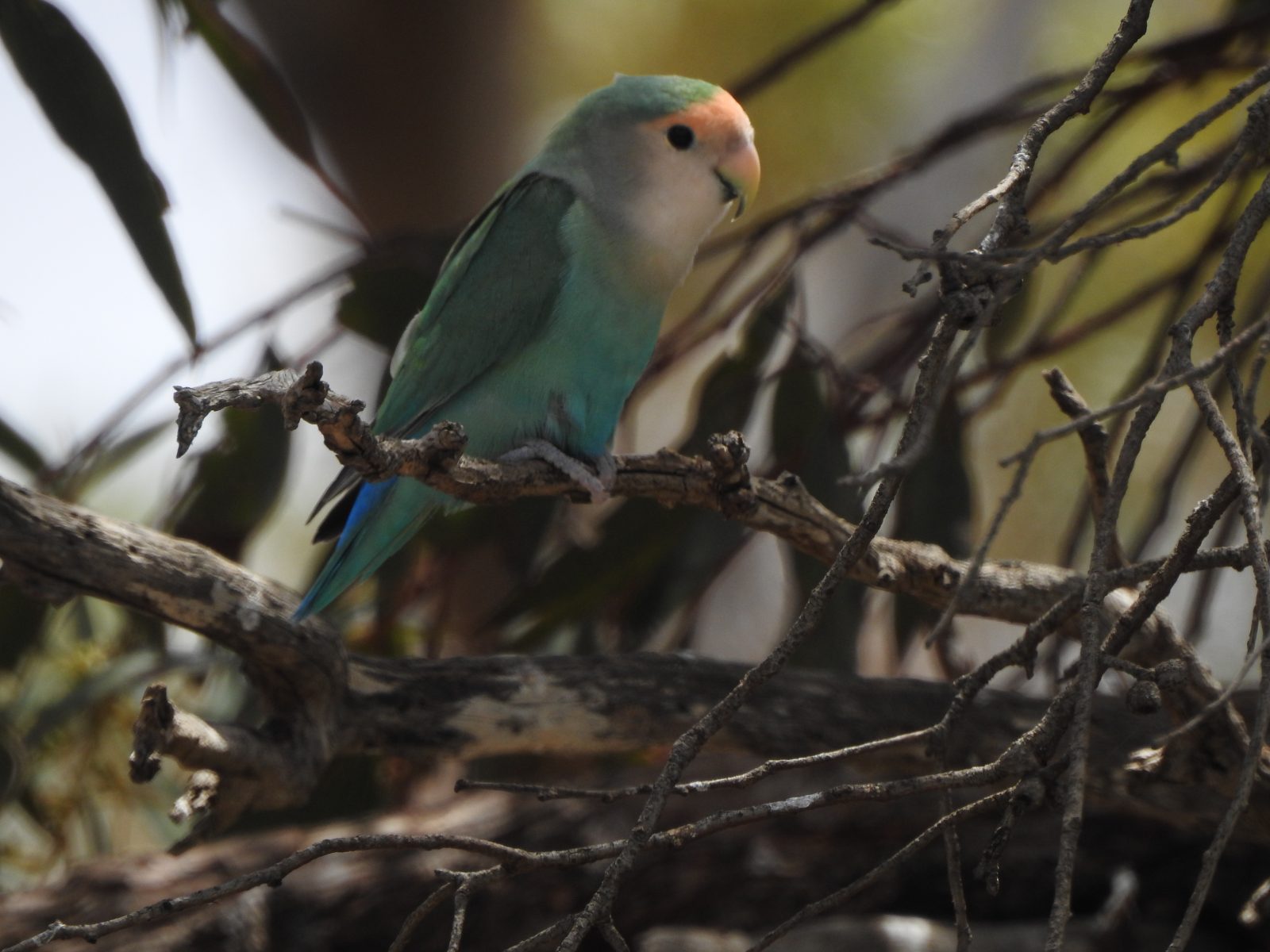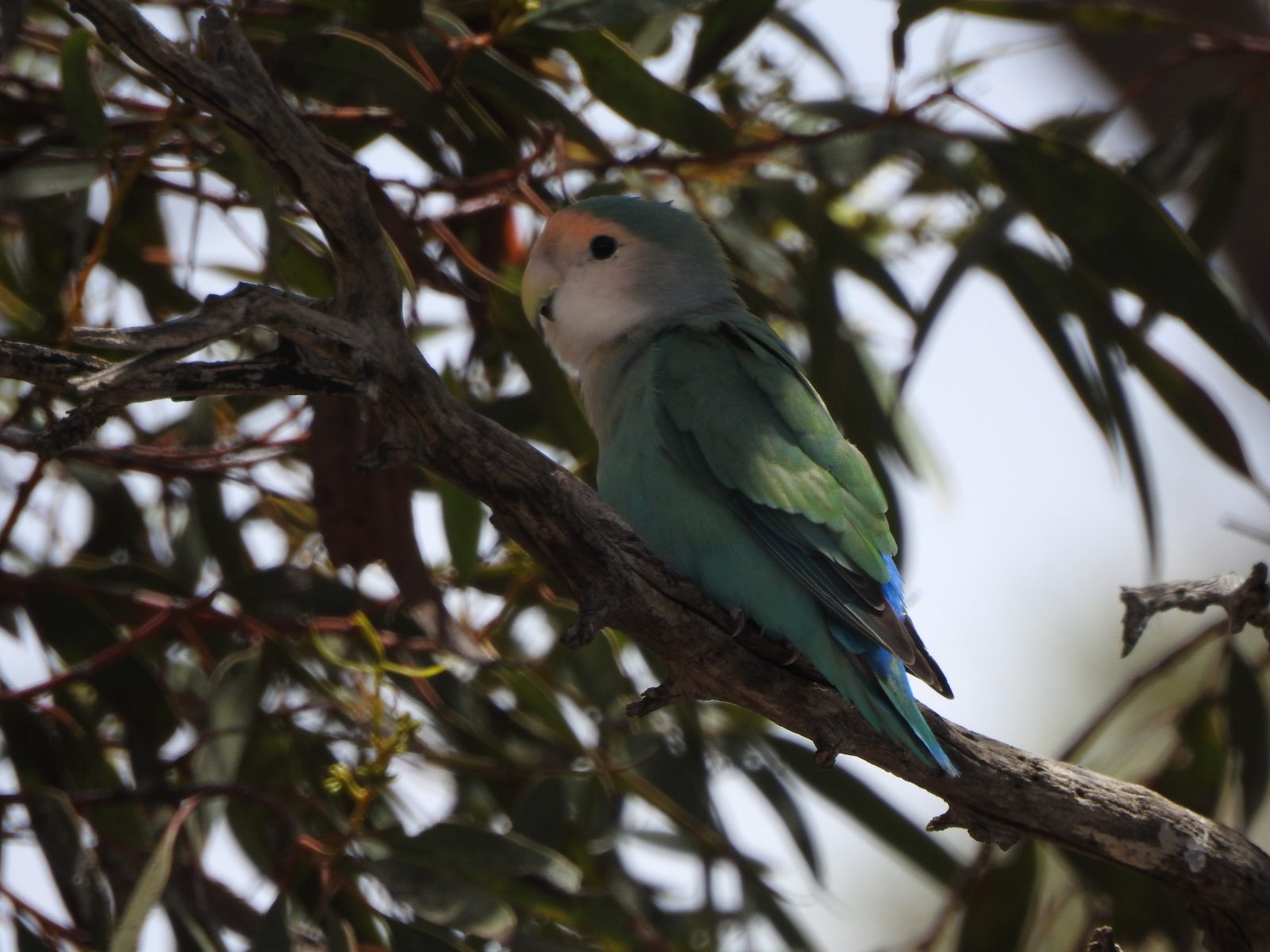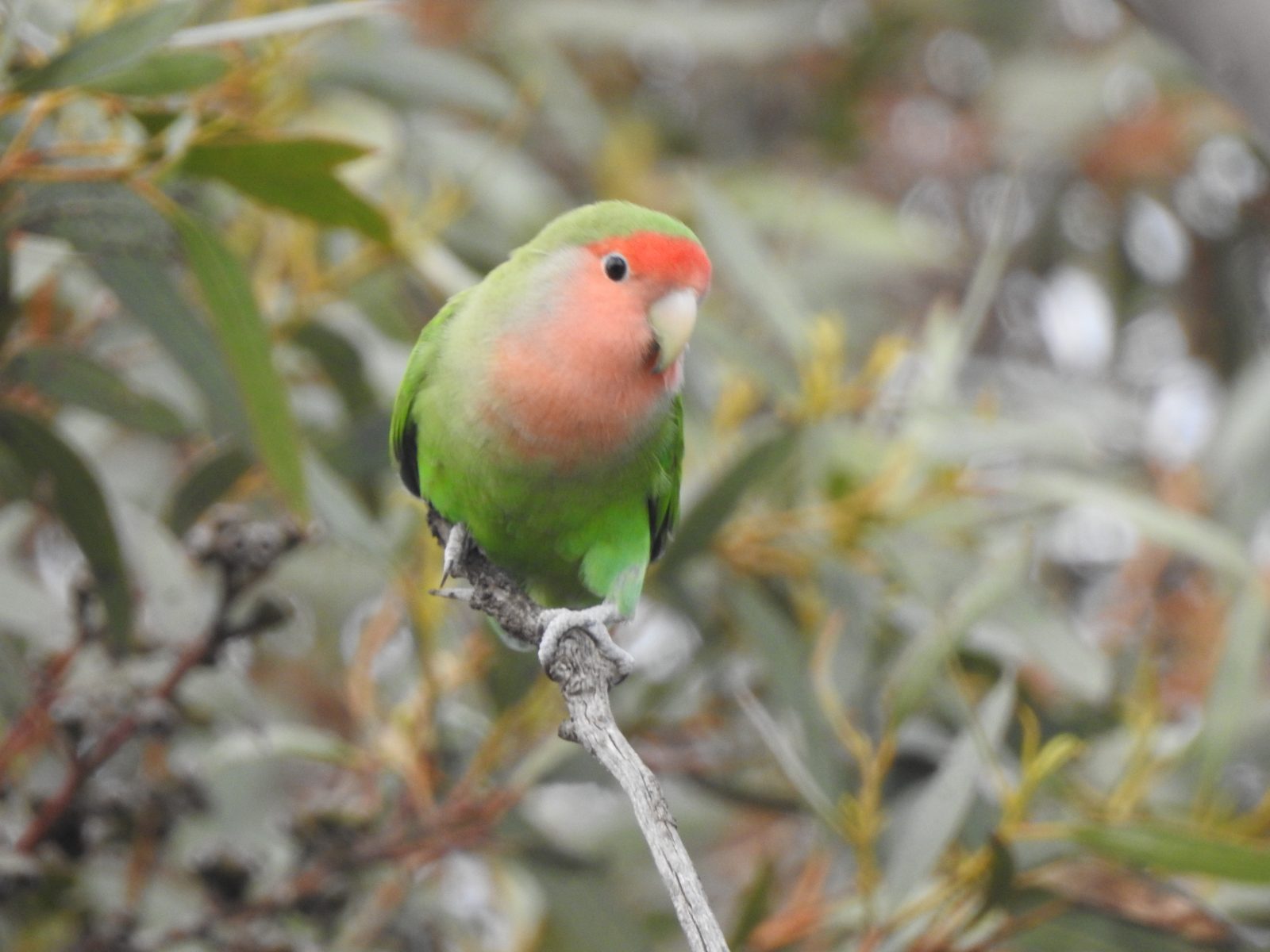 Yesterday I wrote about a visit from a Rosy-faced Lovebird to my garden here in Murray Bridge, South Australia. This is not an Australian native bird. Their natural habitat is in southwestern Africa, mainly Namibia, Angola and South Africa. This species is commonly kept in cages and aviaries around the world, including here in Australia. The bird I saw recently in my garden quite likely escaped from someone's cage or aviary.
I also mentioned that I had previously recorded this species in my garden just over a year ago. Today I wanted to show the photos I took on that occasion. It looks almost as if this individual is just a little guilty about having escaped. As I speculated yesterday, this could well be the same bird I saw a few days ago, though that is unlikely given the number of birds of prey lurking all around.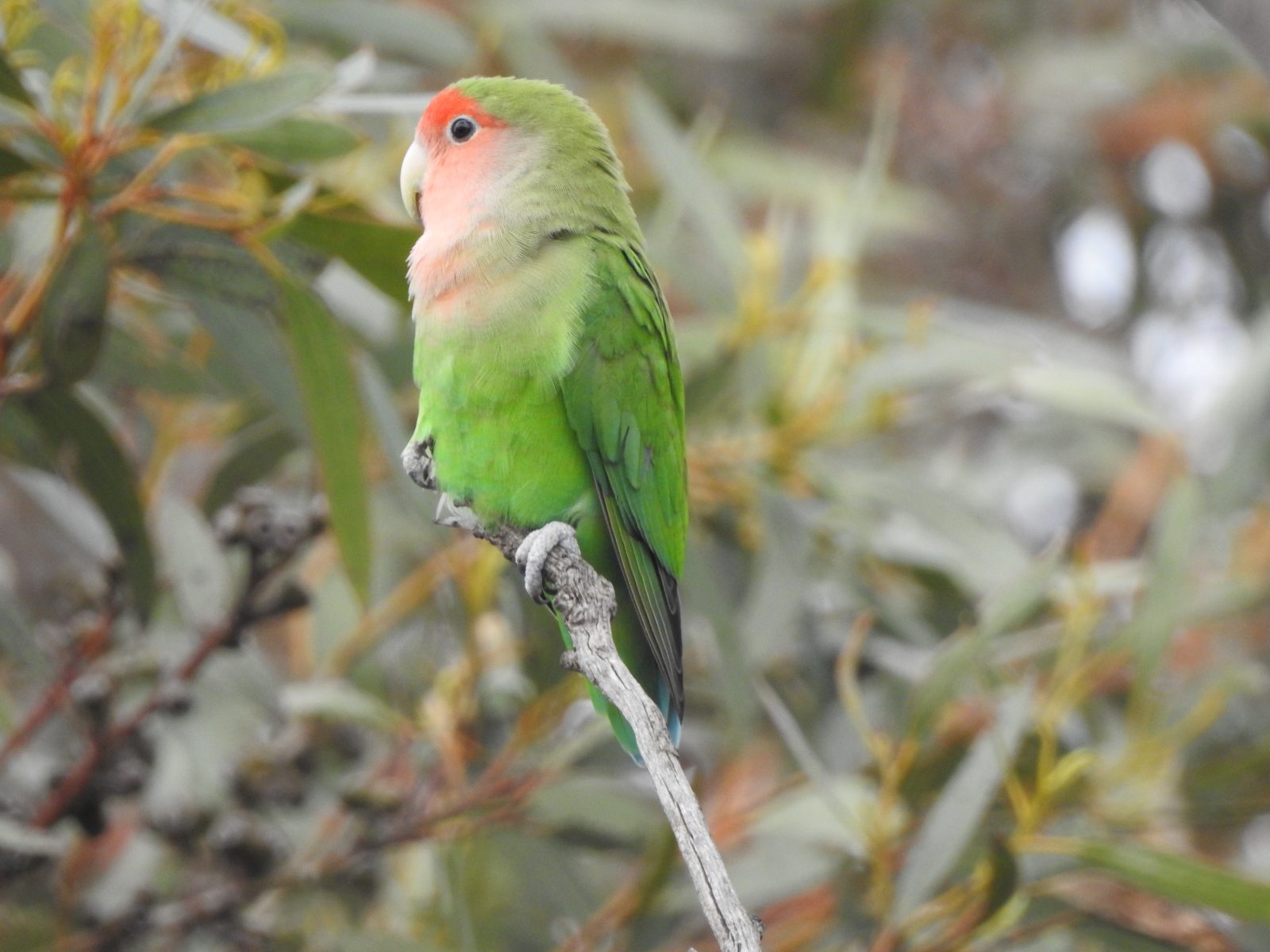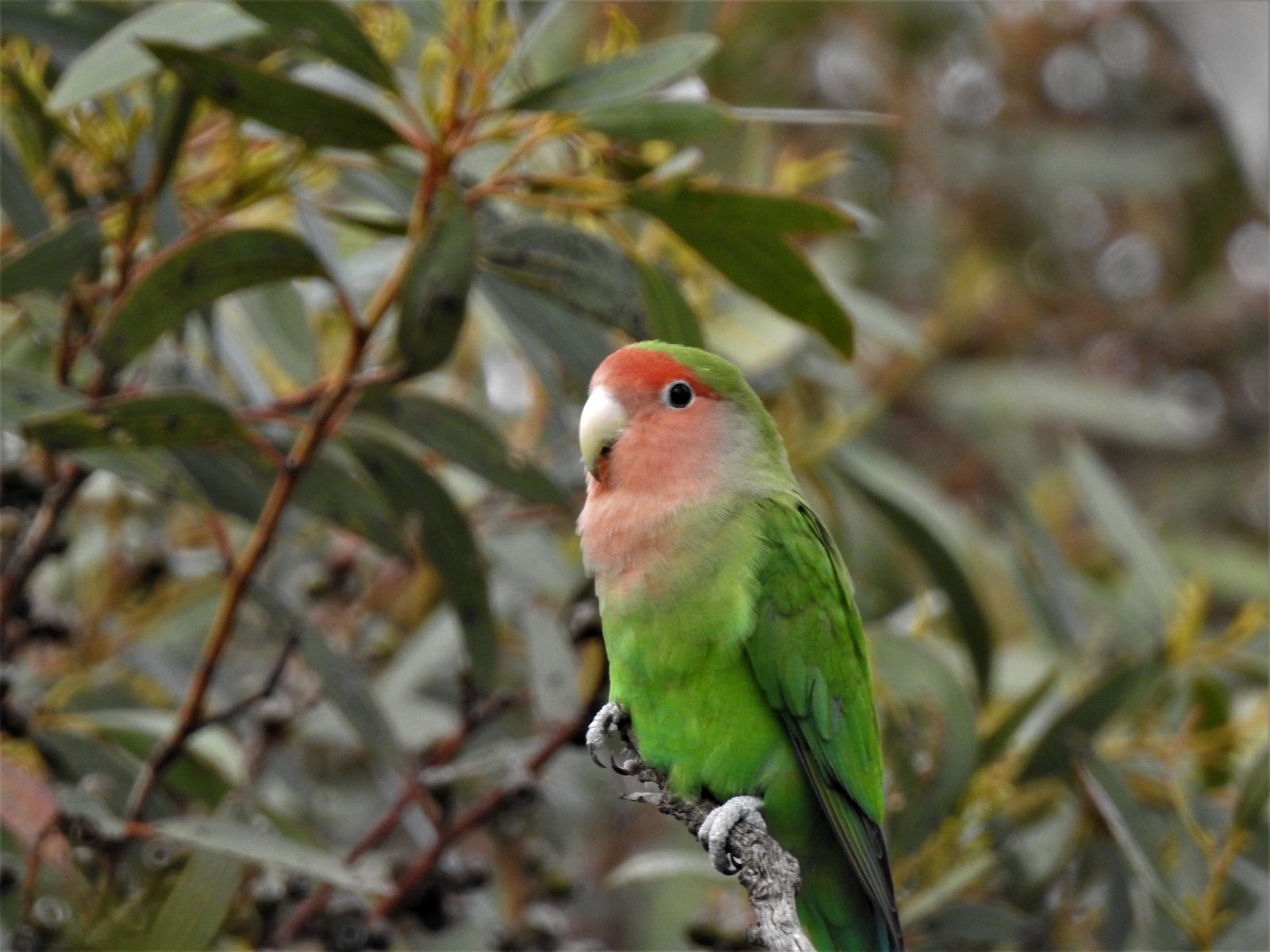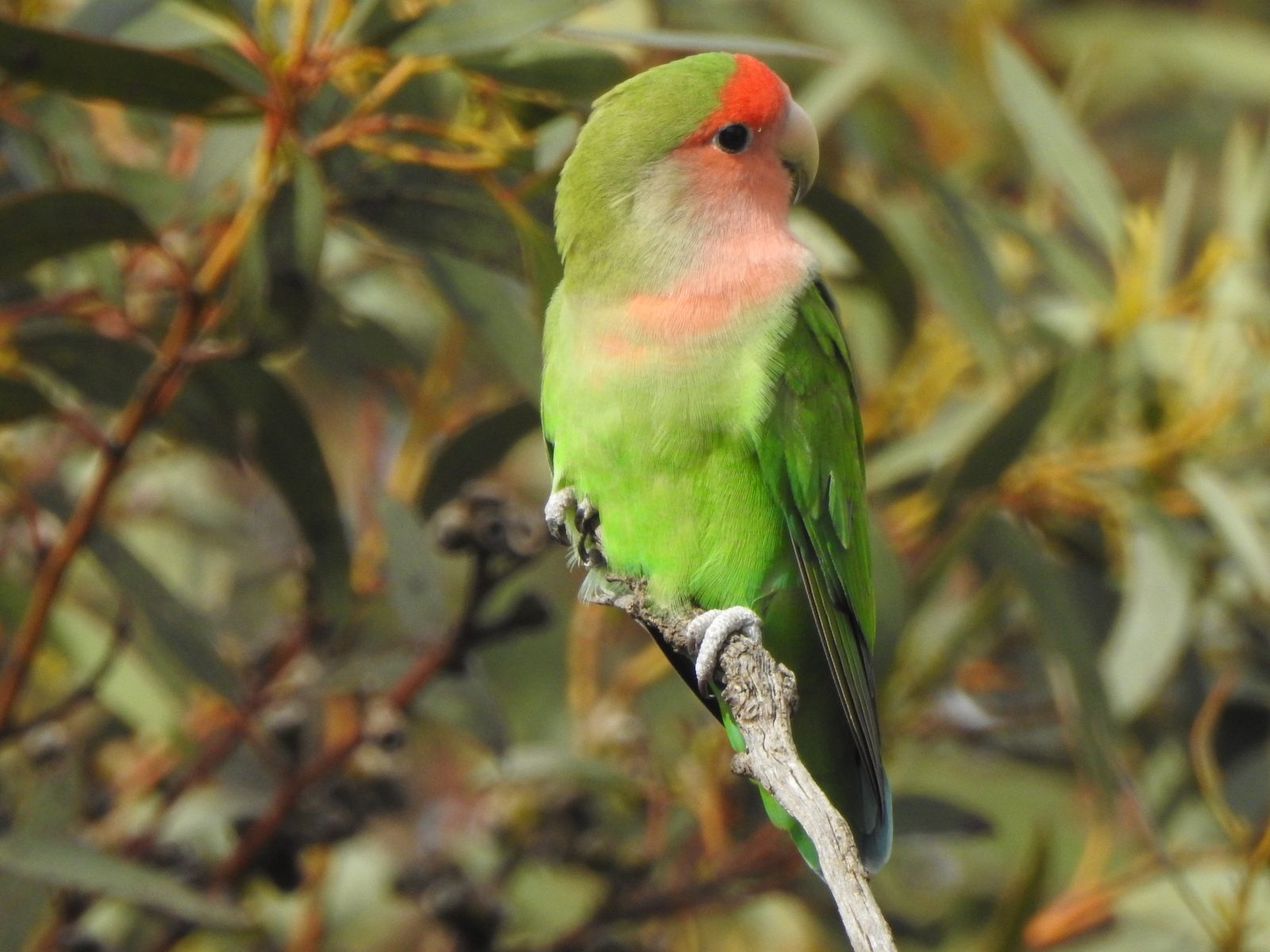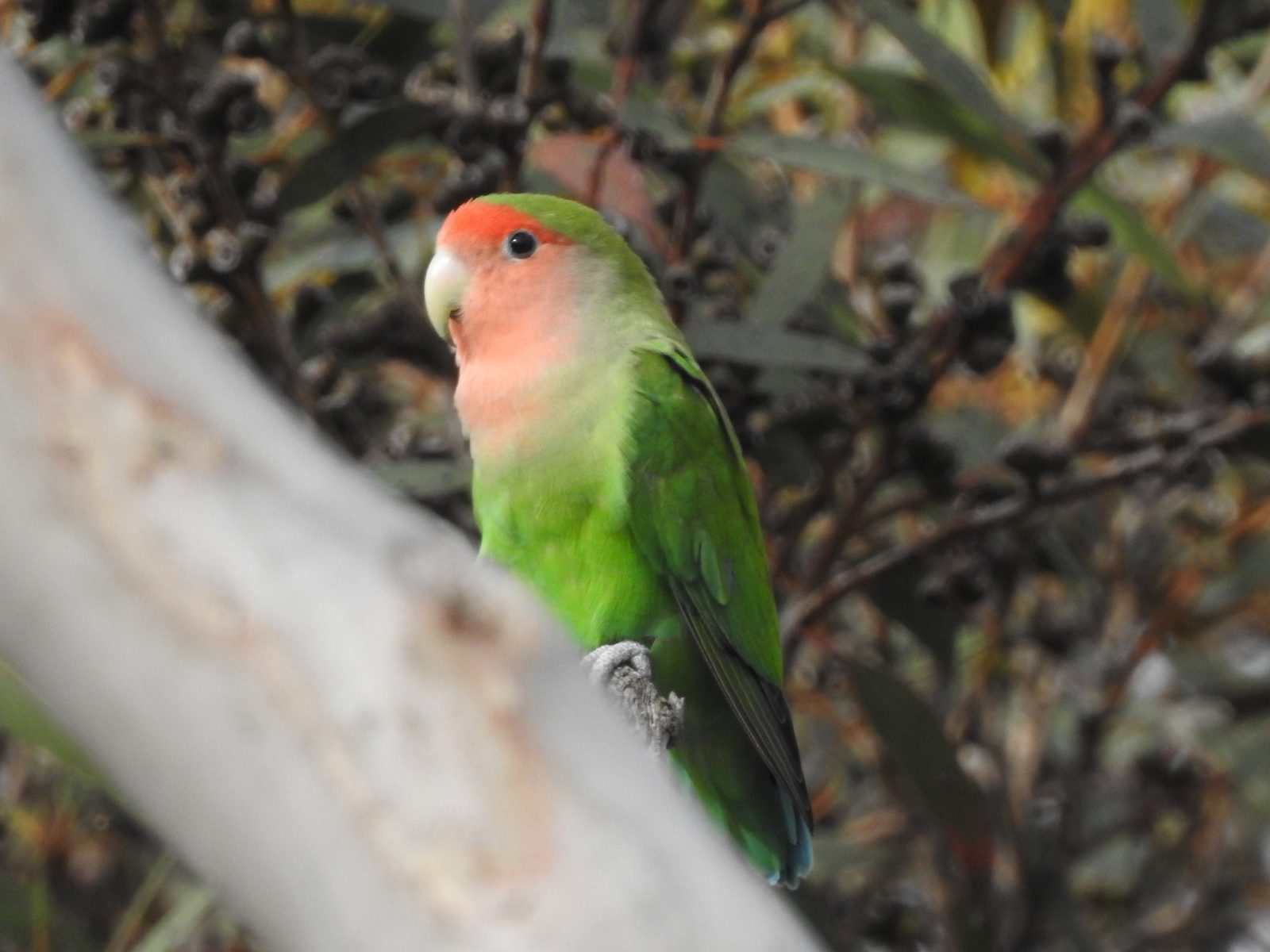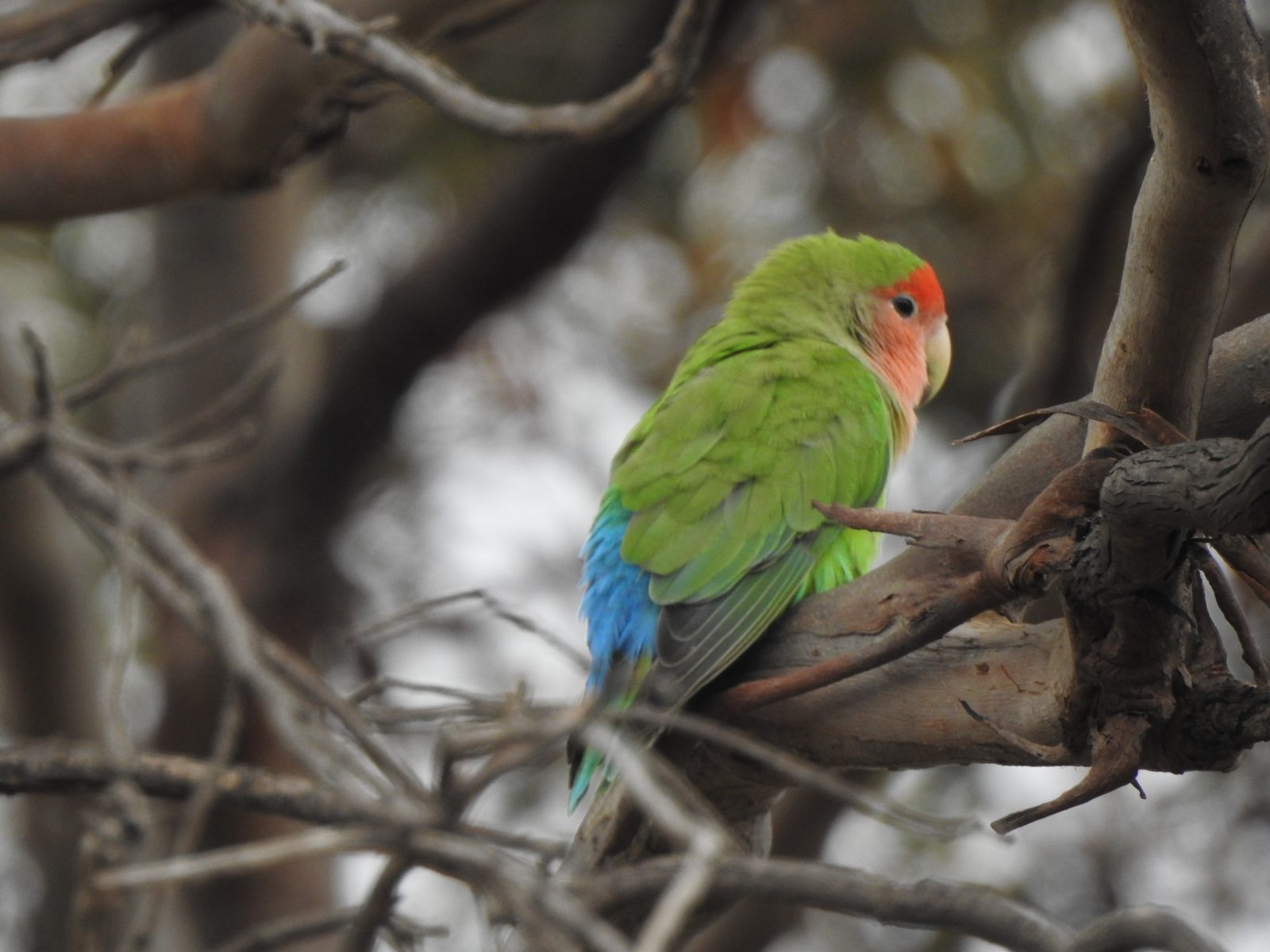 I had an unusual visitor to my garden last week. I was walking out to my car in the driveway when I saw a Rosy-faced Lovebird in the tree near the car. This not an Australian native bird but it is commonly kept in cages and aviaries. I suspect that this individual has escaped from a cage somewhere nearby.
I also recorded and photographed this same species in my garden just over a year ago. There is a distinct possibility that this is the same individual though I would be surprised it this was the case. There are many birds of prey around my home and I would say that this colourful bird would be an easy lunch for a falcon, hawk or kite hovering around.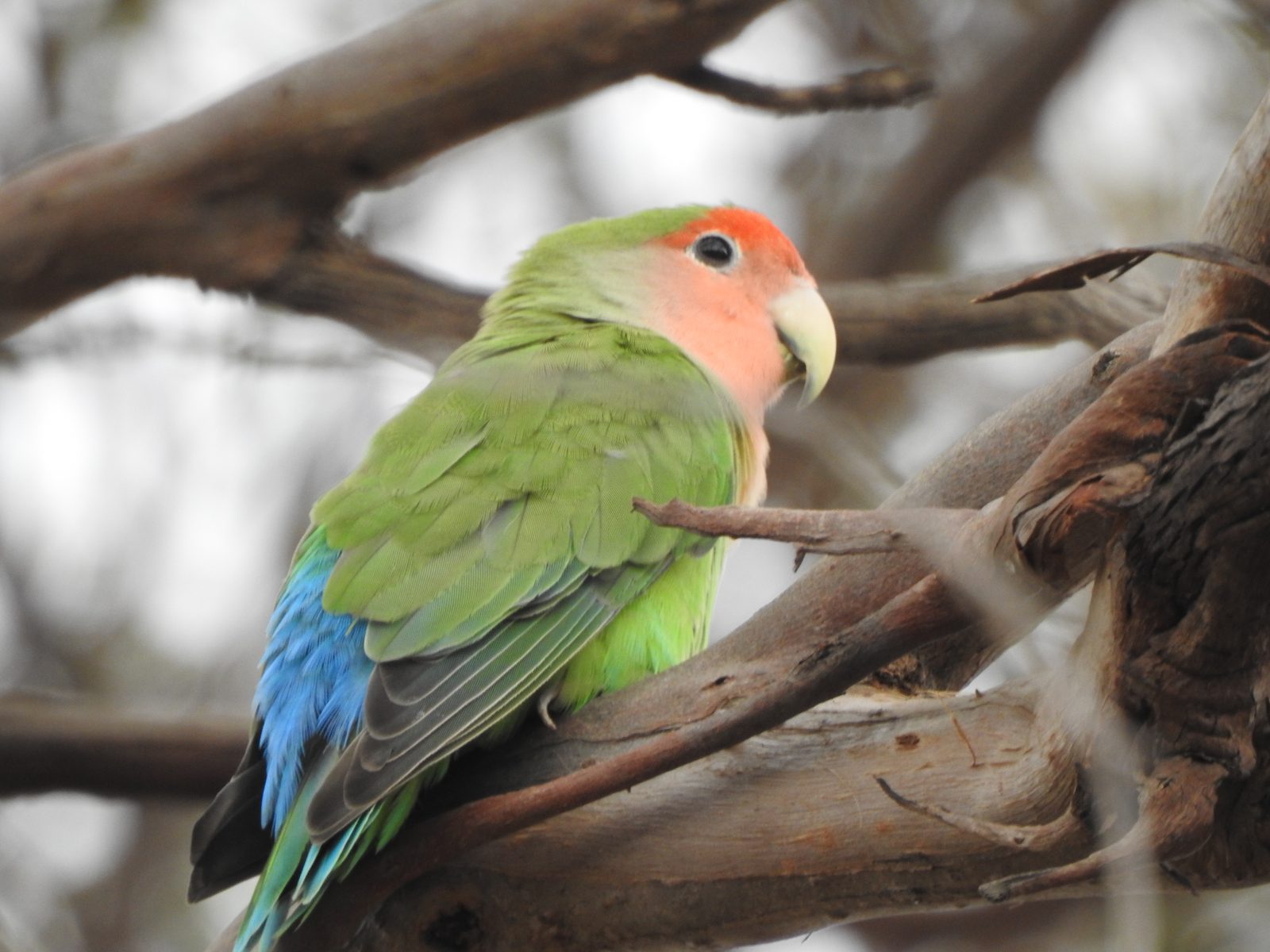 African species
The Rosy-faced Lovebird – also known as the Peach-faced Lovebird – is native to the southwestern parts of Africa, primarily in Namibia, southern parts of Angola and north-western parts of South Africa. Its main diet consists of seeds and berries. In some areas where feed is plentiful, they can be a pest when feeding on cereal crops. Both male and female look the same.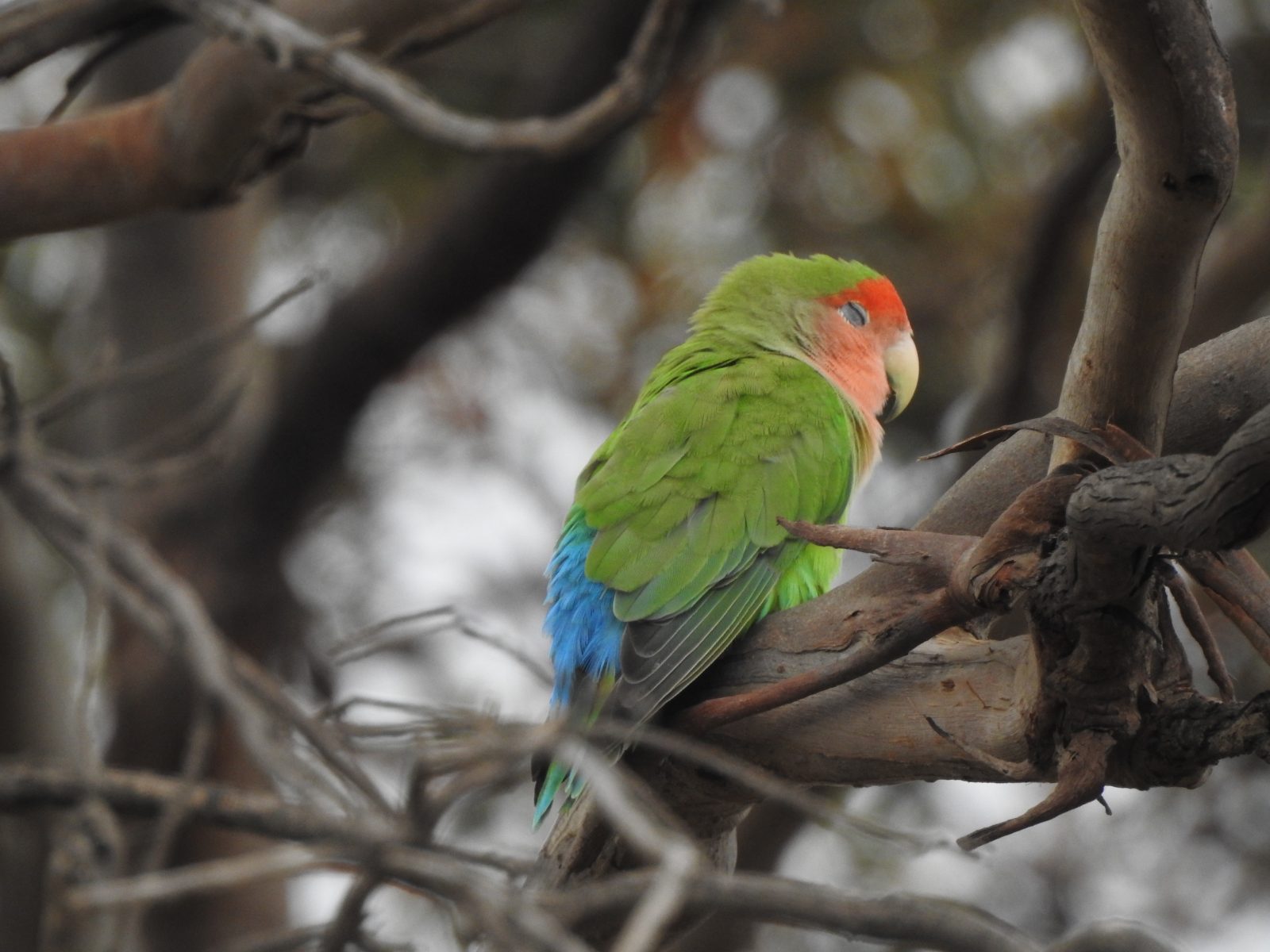 Aviculture
The Rosy-faced Lovebird is a very common bird held in captivity around the world, including here in Australia. This has resulted in enthusiasts breeding a range of colour variations.
Captive birds
My local zoo is the Monarto Safari Park just fifteen minutes from my home in Murray Bridge, South Australia. This zoo is a part of the Adelaide Zoo which is about an hour's drive from here. I am a Life Member and try to visit often. One of my recent visits was last year when I went for one of the many walks in the park. On one of these walks, there is a large aviary which has a few captive birds in it, including the Tawny Frogmouths shown above.
Tawny Frogmouths are a widespread nocturnal species in this area and it is found throughout Australia, including Tasmania. From time to time I occasionally hear or see this species in my garden. My family and I love hearing the soft call of this bird and we have fond memories of hearing and seeing them on various camping trips.
Bush Stone-curlew
Another mostly nocturnal species in the aviary at Monarto is the Bush Stone-curlew, shown in the photos below. Again, this widespread species is found in many parts of Australia except Tasmania. Campers in our more remote areas may have heard its haunting call at night. On the other hand, in some areas, the Bush Stone-curlew has adapted to life in towns and cities, especially in Queensland where it is commonly seen on golf courses and reserves.
Annoyingly, this is one species I have yet to see in its natural environment and I only have photos like those shown below which have been taken in zoos. I must get out and travel more.
Non-captive birds
As visitors to Monarto Safari Park join the many bus tours through the large park, it is possible to see many of our local native bird species. These include Emus, Australian Magpies, Little Ravens, Brown Falcons, Black Kites, Wedge-tailed Eagles, various parrot species, as well as smaller bush birds like the Willie Wagtail, woodswallows, thornbills, wrens and a variety of water birds when there is water in the creek flowing through the park.
The best way of seeing and photographing these birds is to stroll along the many walking trails through the mallee scrub land. Warning: try not to wander into the African Lion enclosure, or you might find yourself invited to lunch – with you on the menu. By the way: the zoo has four new lion cubs born only recently and they are now on display.
One easily seen species is the White-winged Chough which is about the size of our magpies and ravens. They are often seen in family groups of 10 – 15 and as they fly the white on their wings can easily be seen. On my walk to see the aviary birds I also saw one of their mud nests (see the last photo below).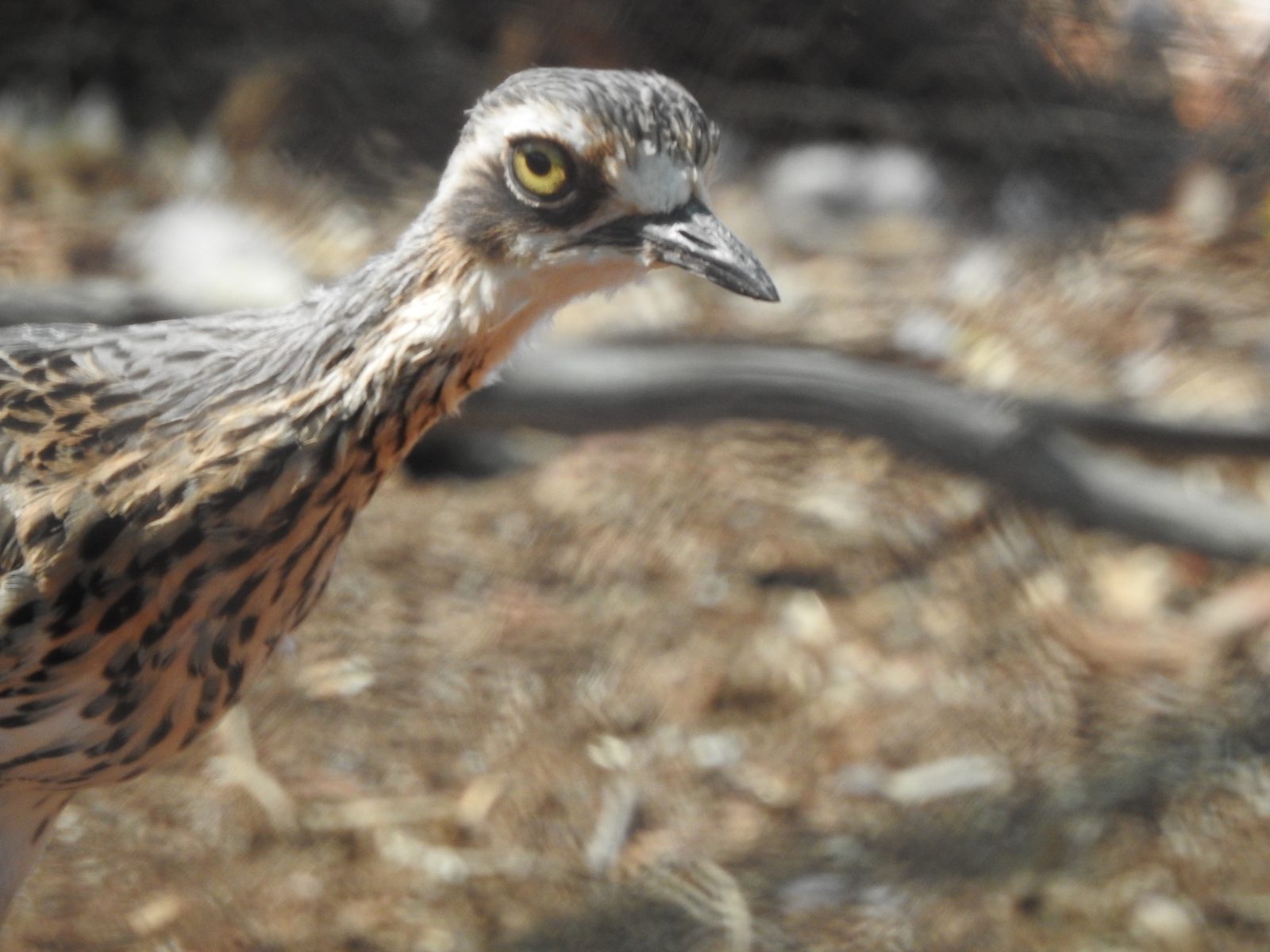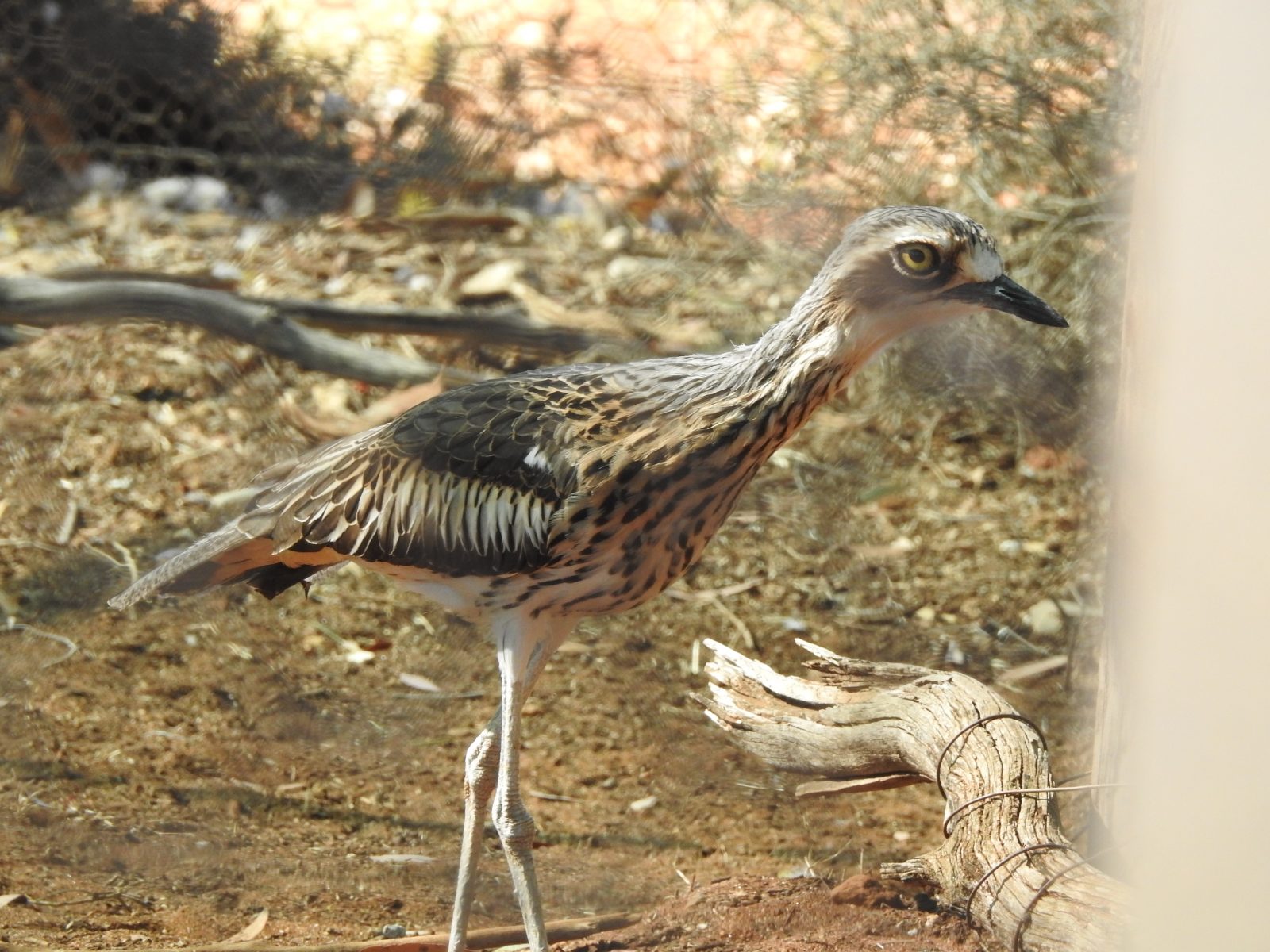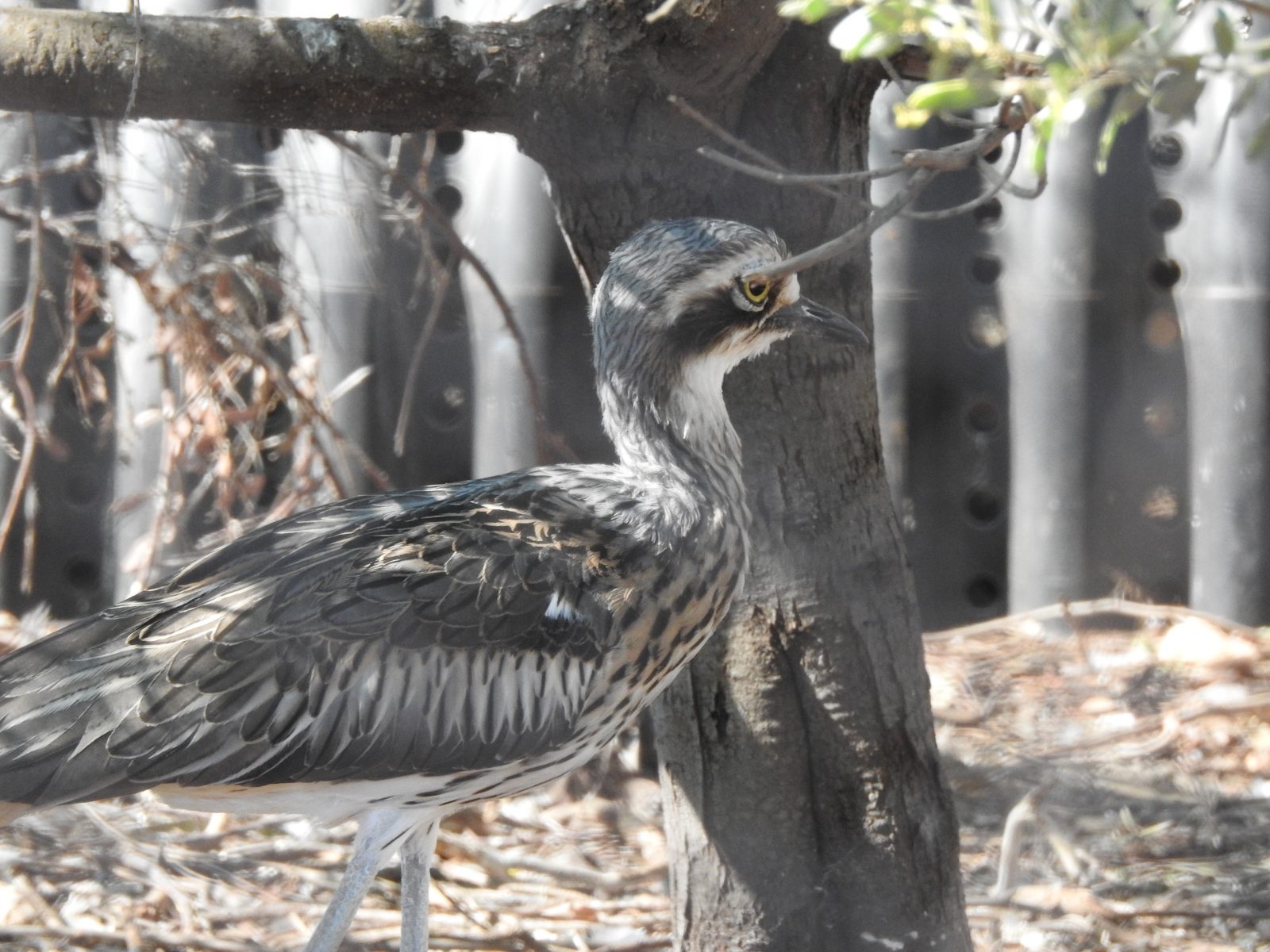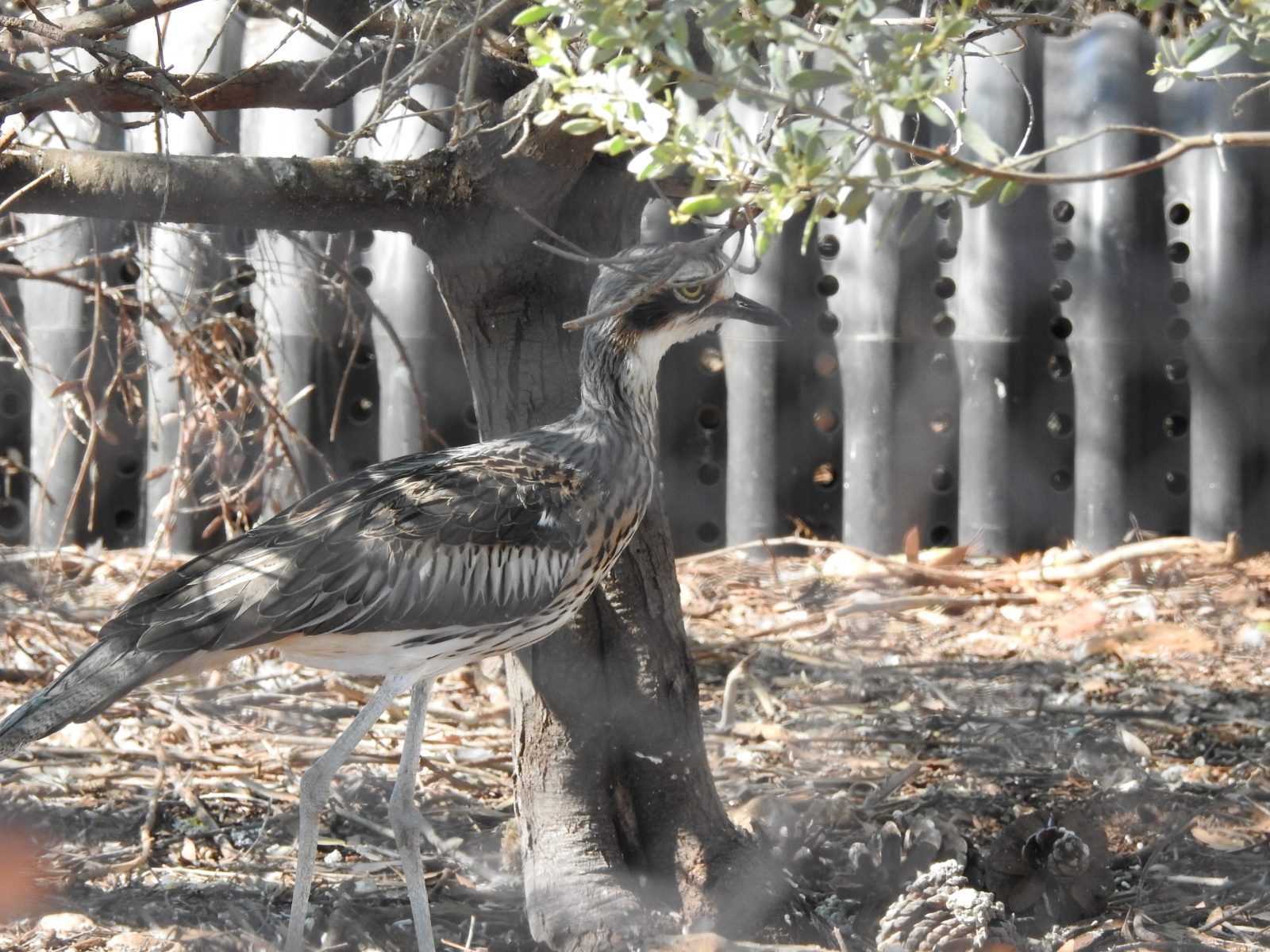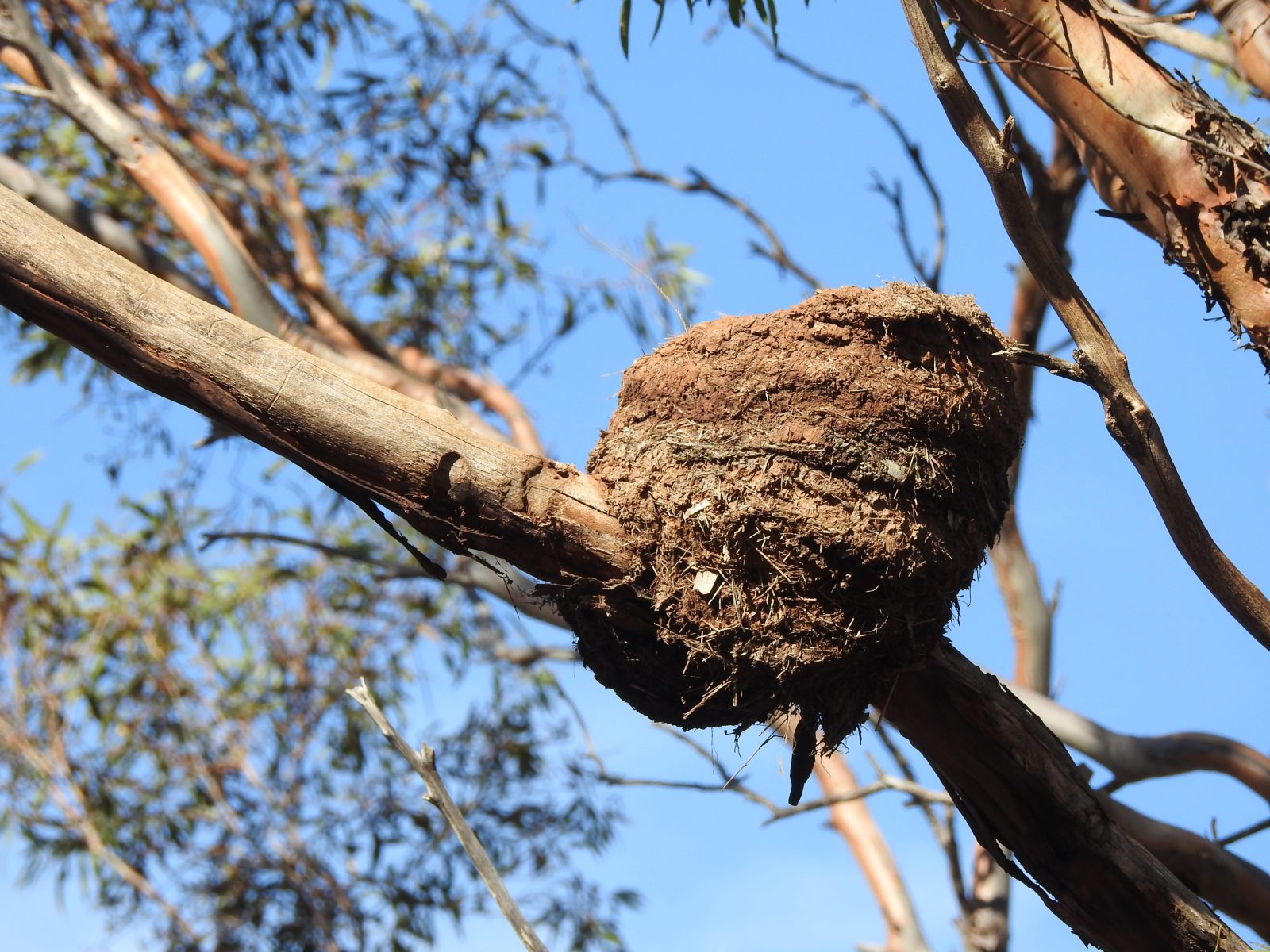 This Scaly-breasted Lorikeet in one of the aviaries at the Australian Reptile Park made certain I managed a good photo of it up close. He posed in a number of different ways, squawking loudly as if to ask how it looked.
It is getting photos like this one that I like visiting zoos, and especially zoos with aviaries. While it is great if the zoo has walk-through aviaries, I have proved that one can take reasonable shots through the wires of the cage. Sometimes you just get lucky – like on this occasion – and the bird poses really well.
Scaly-breasted Lorikeets are found along the coastal regions of eastern Queensland and in north-east New South Wales. It is a species I have yet to observe in its natural environment – another reason for getting photos in a zoo. I think I am well overdue for a trip to Queensland.