Archive for the 'Murray Bridge' Category
Aqua Turquoise Lovebird mutation
A few days ago I wrote about the Rosy-faced Lovebird which visited my garden recently. My property is on the north-western edge of Murray Bridge, South Australia. It is a long way to the natural habitat of the lovebird in south-western Africa. However, lovebirds are a commonly kept aviary and cage species here in Australia and in many other countries.
I suspect that that visitor, and the individual seen in my garden just over a year ago, had escaped from someone's cage or aviary. I know that there are many keen aviculturists (keepers and breeders of birds) here in this district. I have been a guest speaker at their meetings on several occasions in recent years.
Different colours
Today's visitor was quite different. I immediately noticed that the colours were much lighter. Just a little research turned up a variant known as the Aqua Turquoise mutation. Lovebirds, like Budgerigars, have many colour variations when bred in captivity.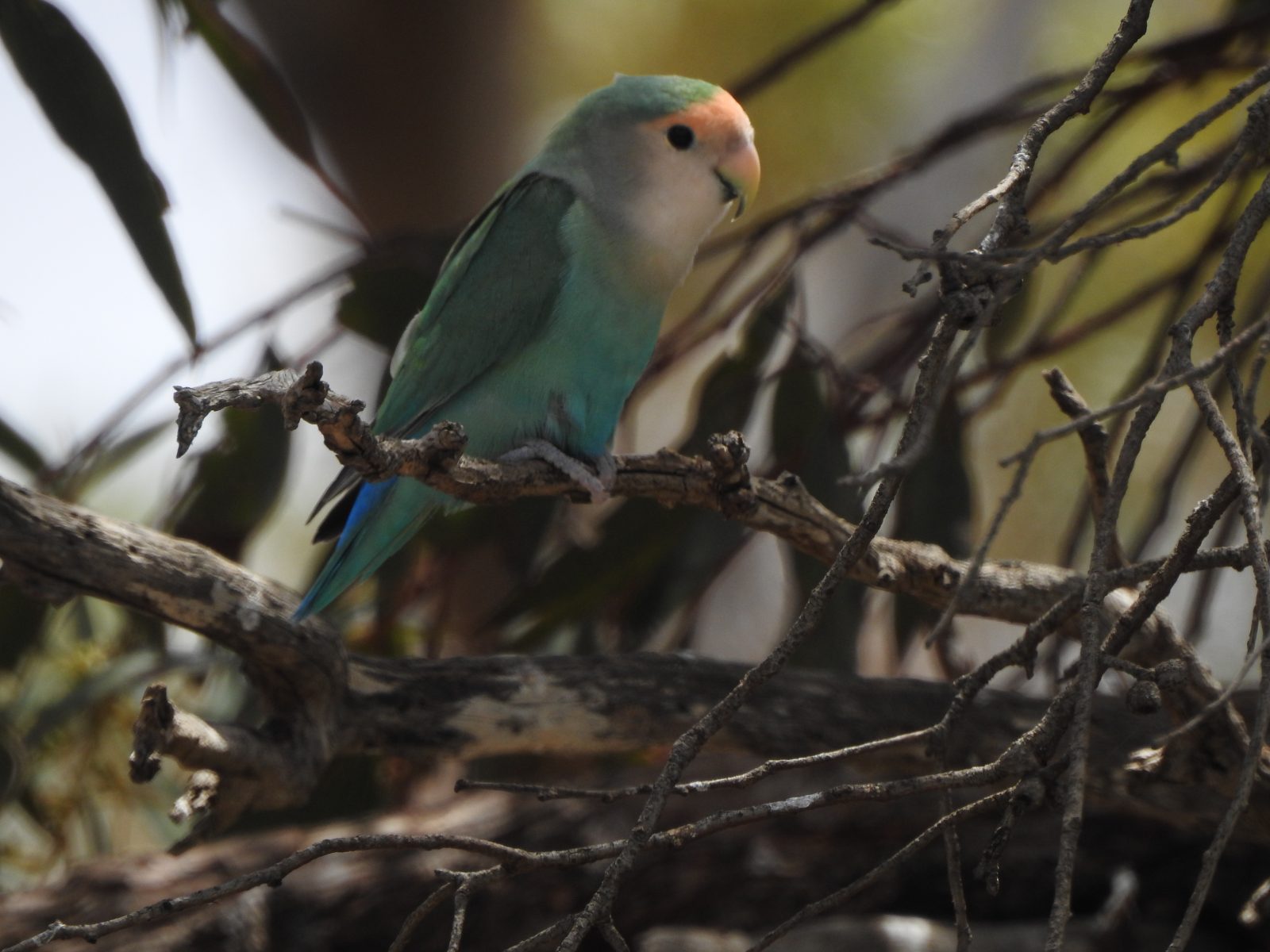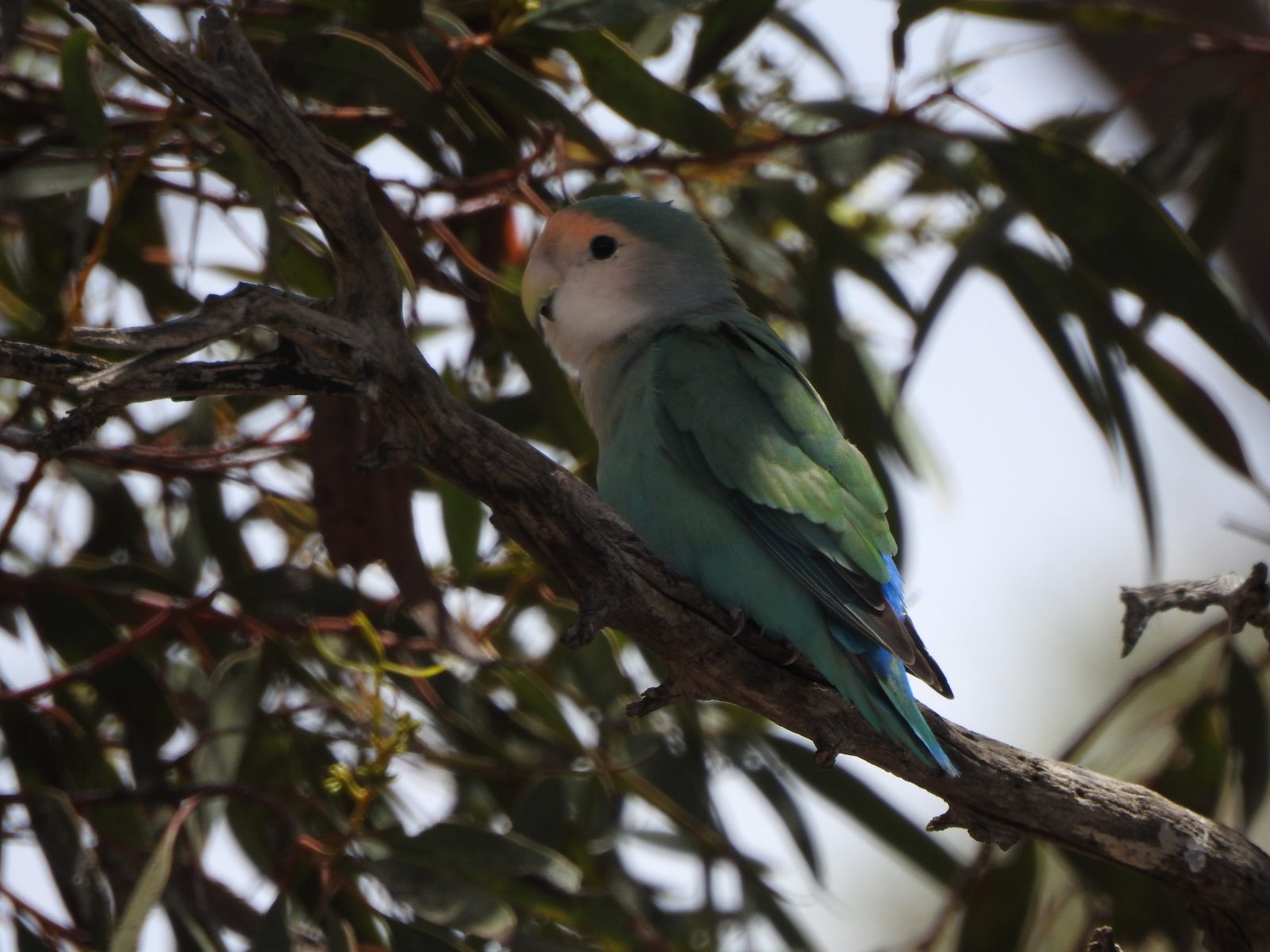 Captive birds
My local zoo is the Monarto Safari Park just fifteen minutes from my home in Murray Bridge, South Australia. This zoo is a part of the Adelaide Zoo which is about an hour's drive from here. I am a Life Member and try to visit often. One of my recent visits was last year when I went for one of the many walks in the park. On one of these walks, there is a large aviary which has a few captive birds in it, including the Tawny Frogmouths shown above.
Tawny Frogmouths are a widespread nocturnal species in this area and it is found throughout Australia, including Tasmania. From time to time I occasionally hear or see this species in my garden. My family and I love hearing the soft call of this bird and we have fond memories of hearing and seeing them on various camping trips.
Bush Stone-curlew
Another mostly nocturnal species in the aviary at Monarto is the Bush Stone-curlew, shown in the photos below. Again, this widespread species is found in many parts of Australia except Tasmania. Campers in our more remote areas may have heard its haunting call at night. On the other hand, in some areas, the Bush Stone-curlew has adapted to life in towns and cities, especially in Queensland where it is commonly seen on golf courses and reserves.
Annoyingly, this is one species I have yet to see in its natural environment and I only have photos like those shown below which have been taken in zoos. I must get out and travel more.
Non-captive birds
As visitors to Monarto Safari Park join the many bus tours through the large park, it is possible to see many of our local native bird species. These include Emus, Australian Magpies, Little Ravens, Brown Falcons, Black Kites, Wedge-tailed Eagles, various parrot species, as well as smaller bush birds like the Willie Wagtail, woodswallows, thornbills, wrens and a variety of water birds when there is water in the creek flowing through the park.
The best way of seeing and photographing these birds is to stroll along the many walking trails through the mallee scrub land. Warning: try not to wander into the African Lion enclosure, or you might find yourself invited to lunch – with you on the menu. By the way: the zoo has four new lion cubs born only recently and they are now on display.
One easily seen species is the White-winged Chough which is about the size of our magpies and ravens. They are often seen in family groups of 10 – 15 and as they fly the white on their wings can easily be seen. On my walk to see the aviary birds I also saw one of their mud nests (see the last photo below).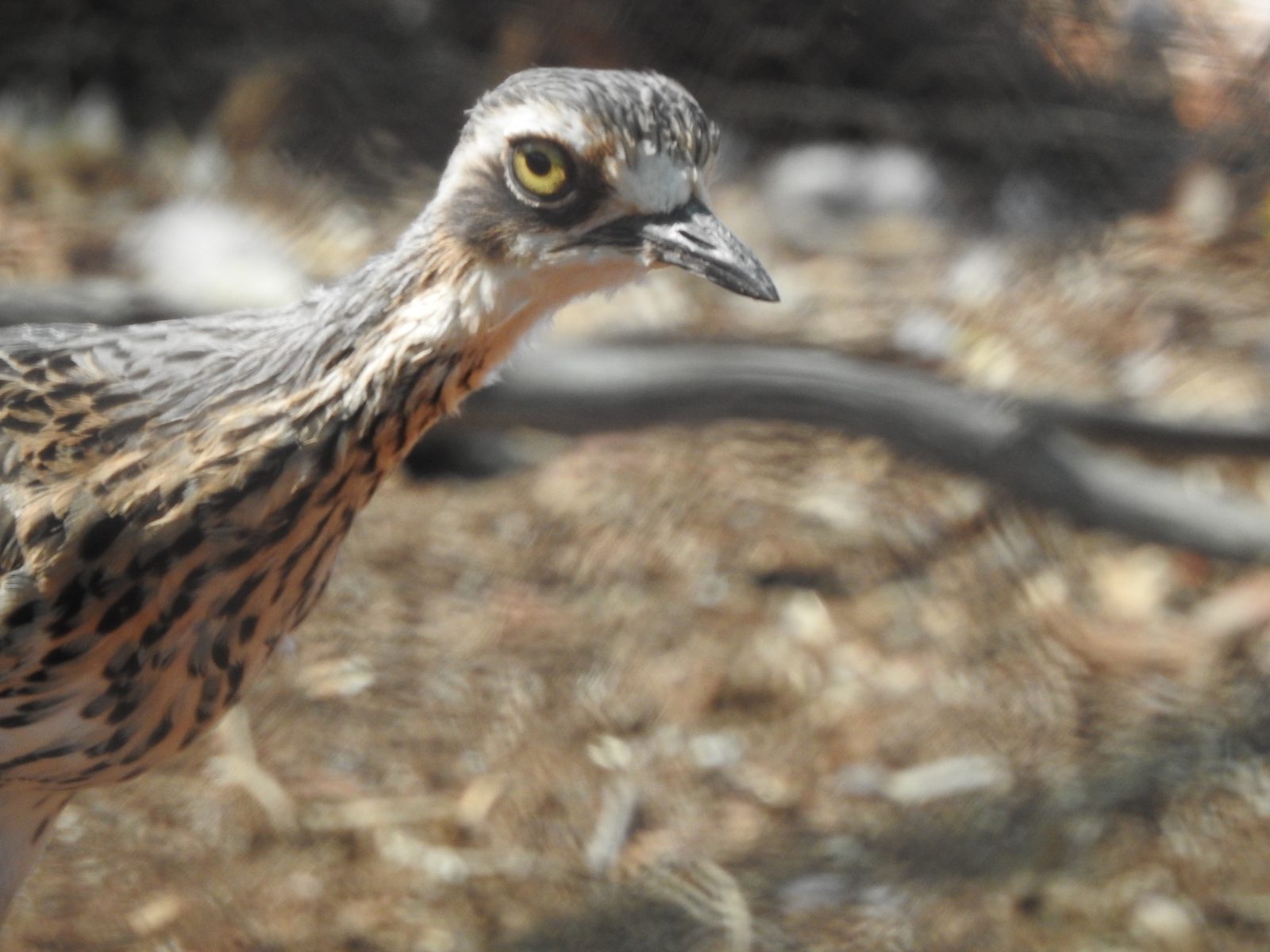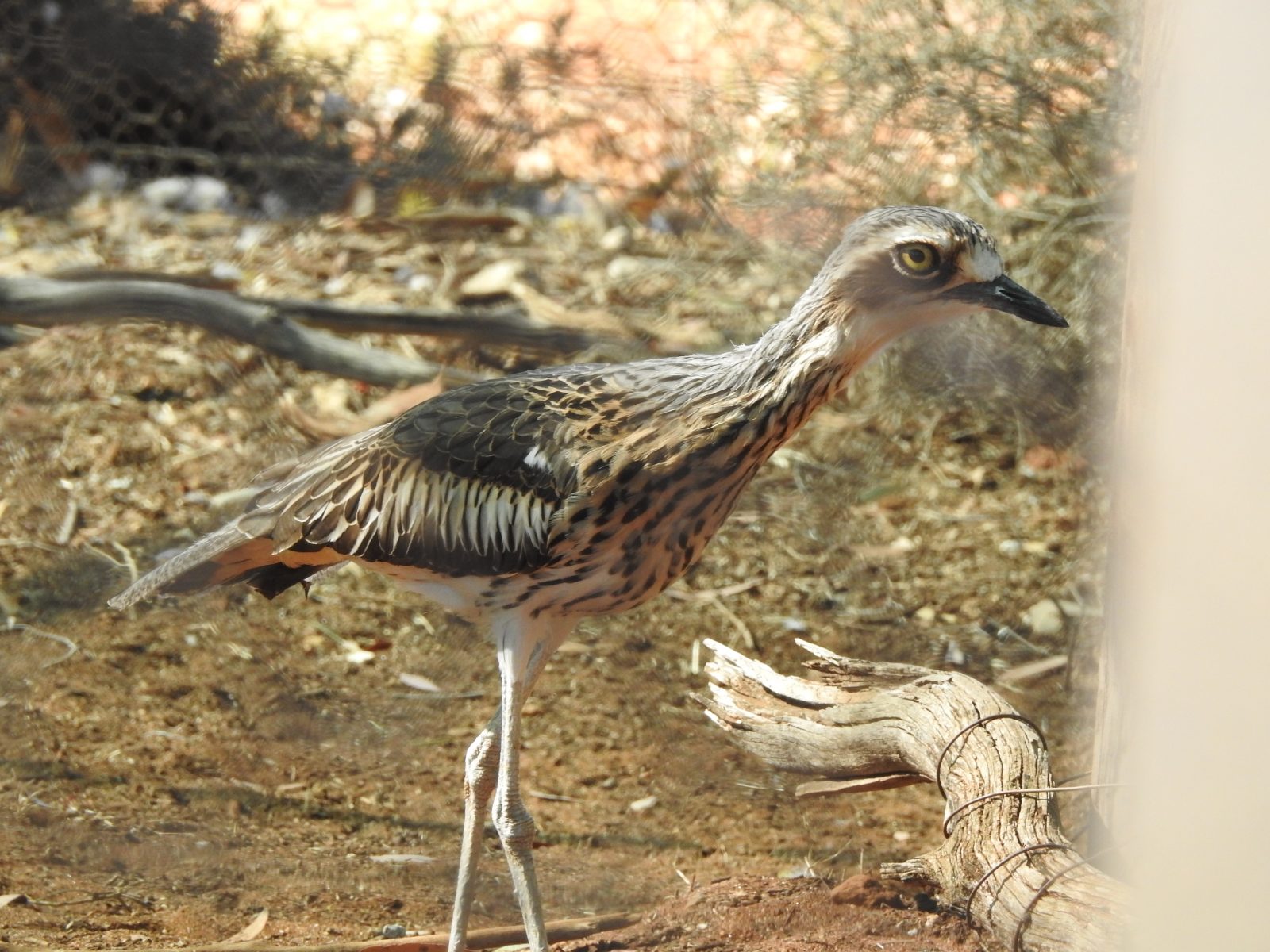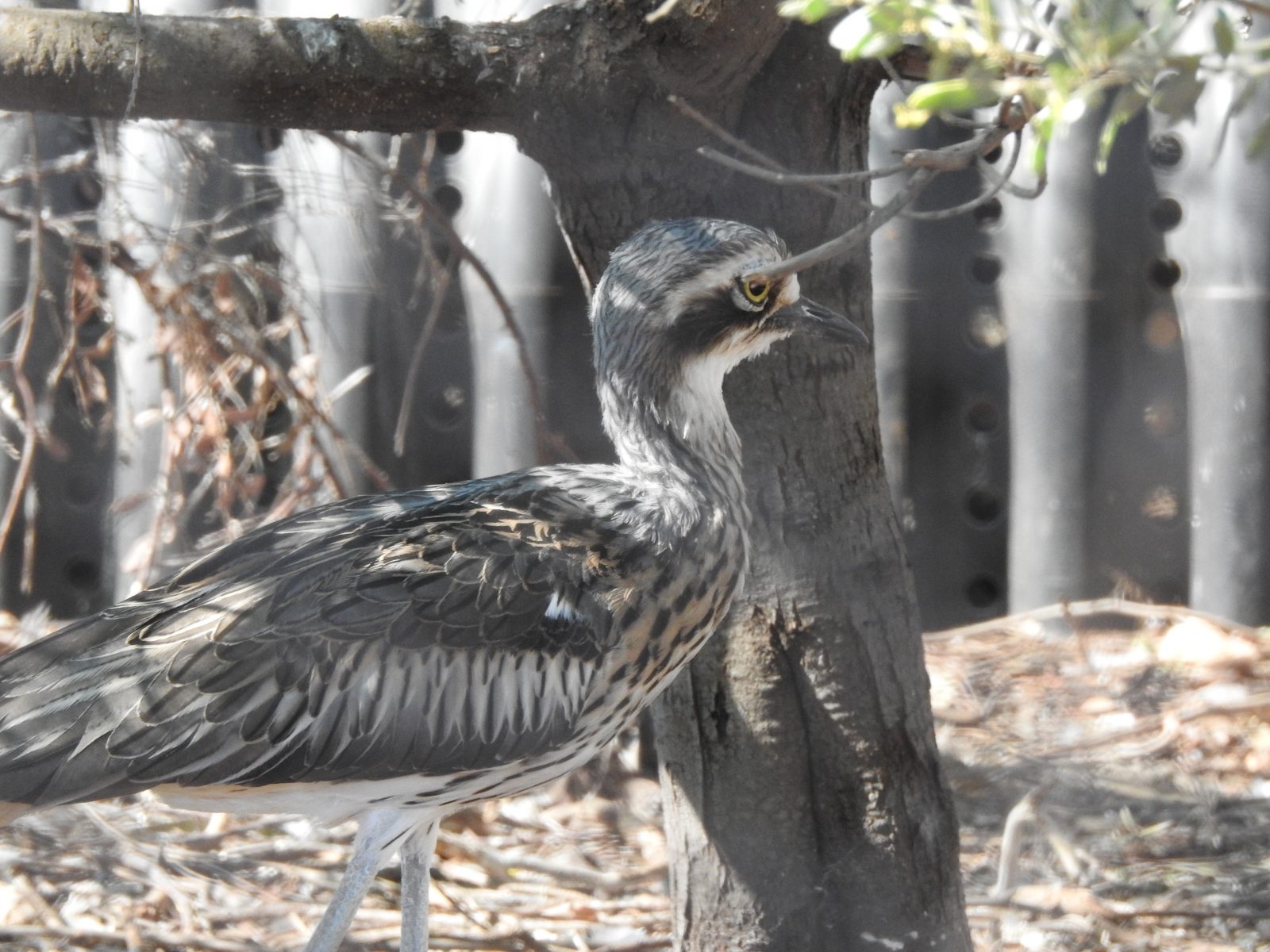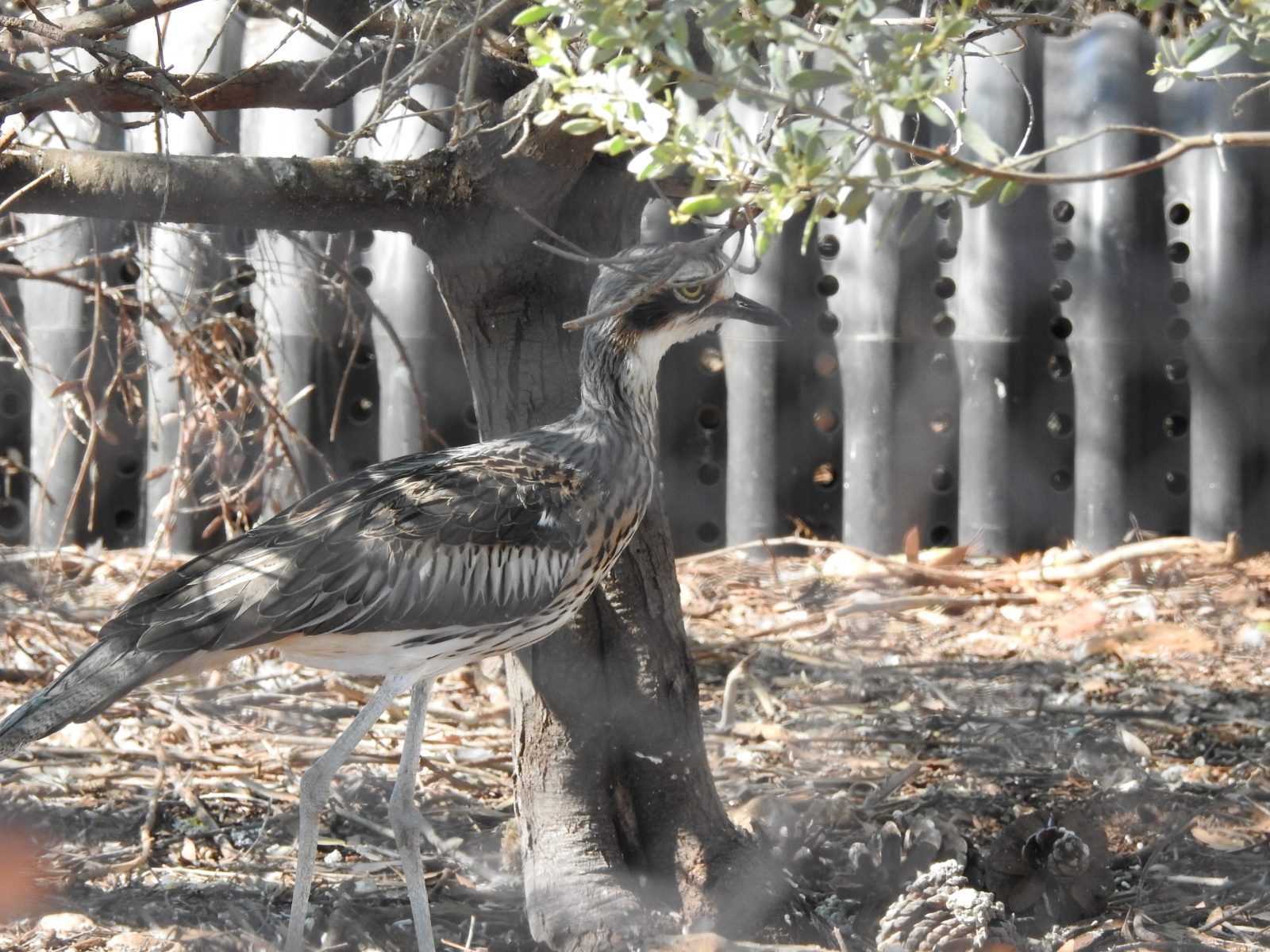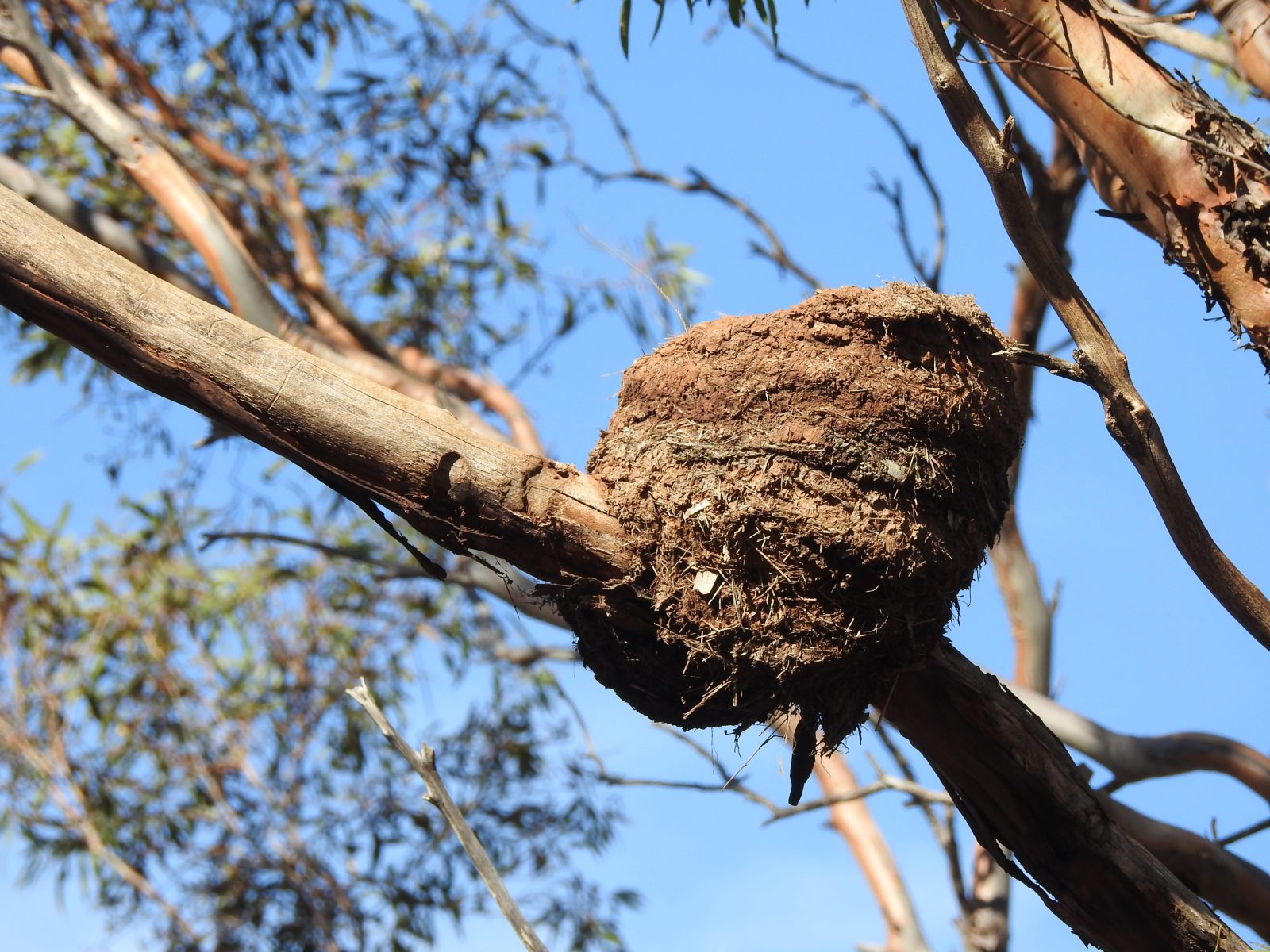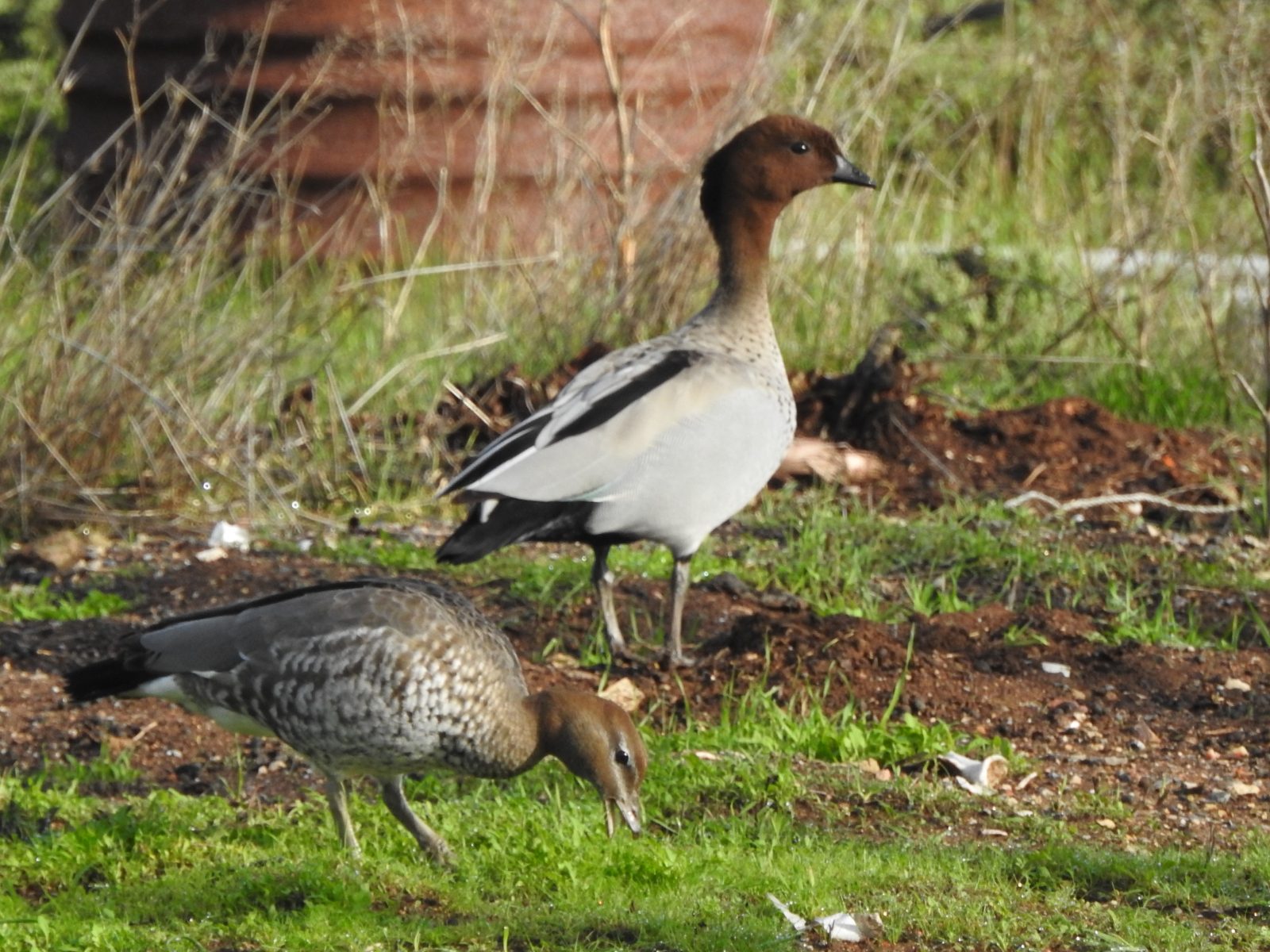 I had a pleasant surprise this morning. As I opened the curtains in my bedroom I saw two Australian Wood Ducks feeding on the grass in my garden. I quickly grabbed my camera and moved outside and a little closer to them, hoping to get some good photos. They were very cooperative and stayed grazing on the grass for a few minutes before flying off. I have included below a selection of the photos I took while they lingered there nearby.
New sighting
Australian Wood Ducks are quite common in the Murray Bridge area in South Australia. They can often be seen along and near the banks of the Murray River here, as well as in pastures some distance from water. In the Adelaide Hills to the west, and in other parts of the state, this species can often be observed in grassy pastures and around farm dams.
What is unusual about my sighting this morning is that I haven't recorded Australian Wood Ducks on my property for the last 15 years. In fact, I cannot recall ever seeing them here on my 5-acre block in over 35 years that I have lived here. My database of records only goes back to sightings since 2005. I still have many sightings from earlier years to enter on my database so I am trusting my memory on this one. And my memory is not as good as it used to be. (Sigh.)
From time to time I see Pacific Black Ducks flying overhead. Over ten years ago I also took photos of a mother Pacific Black Duck with her ducklings swimming in my swimming pool. This happened a number of times but now that I have a cover over the pool, they don't seem to be interested in coming down for a swim.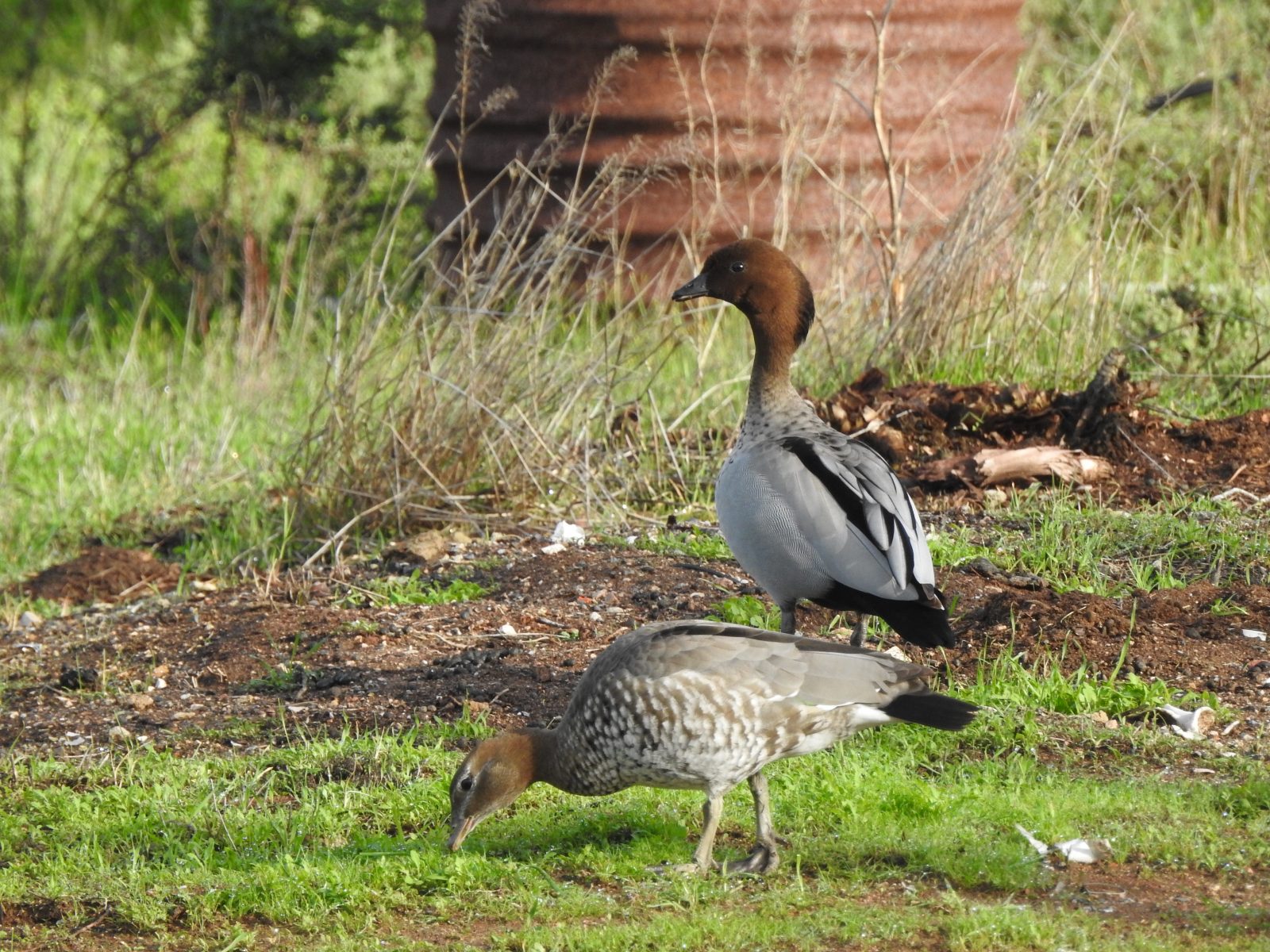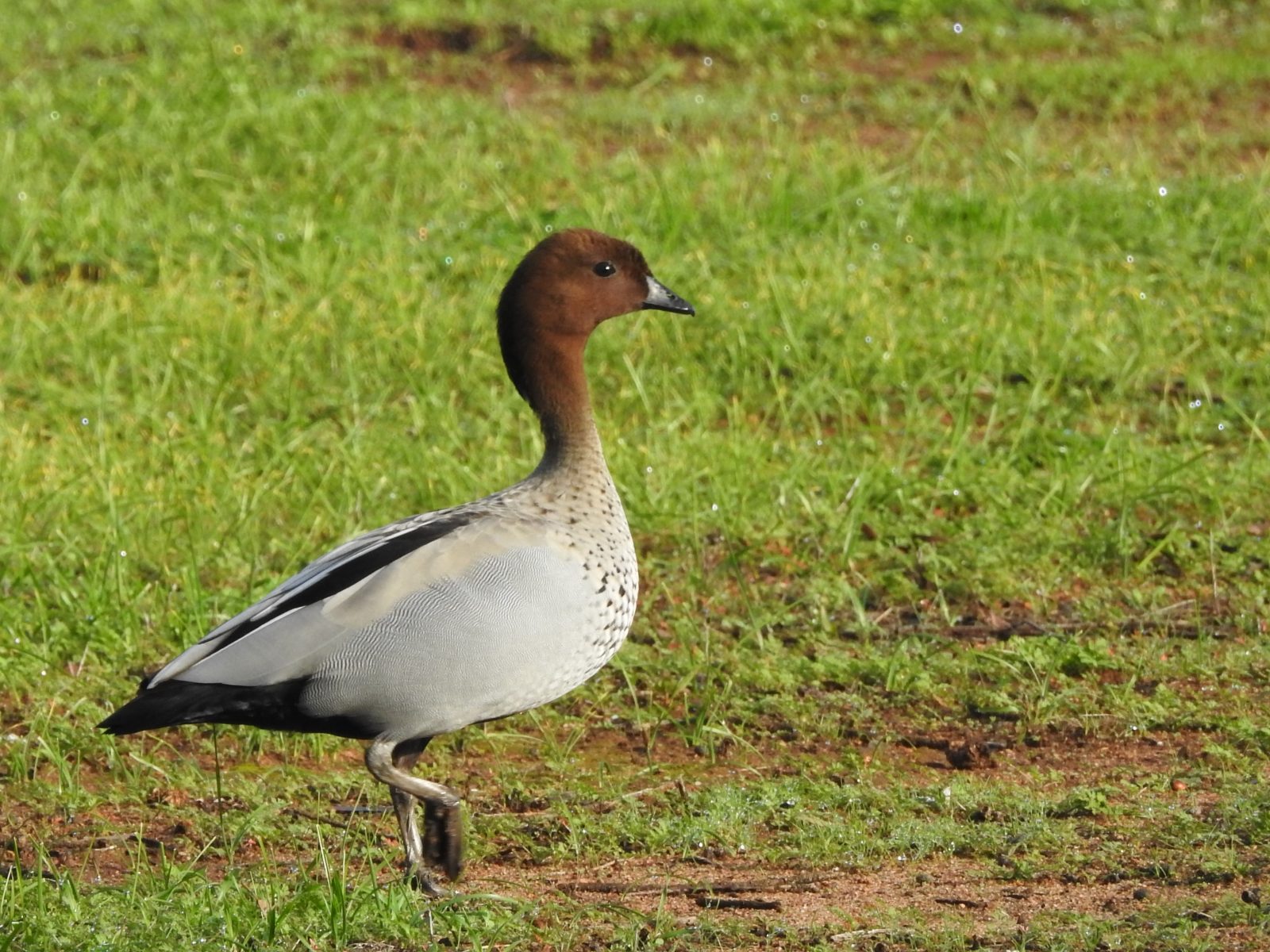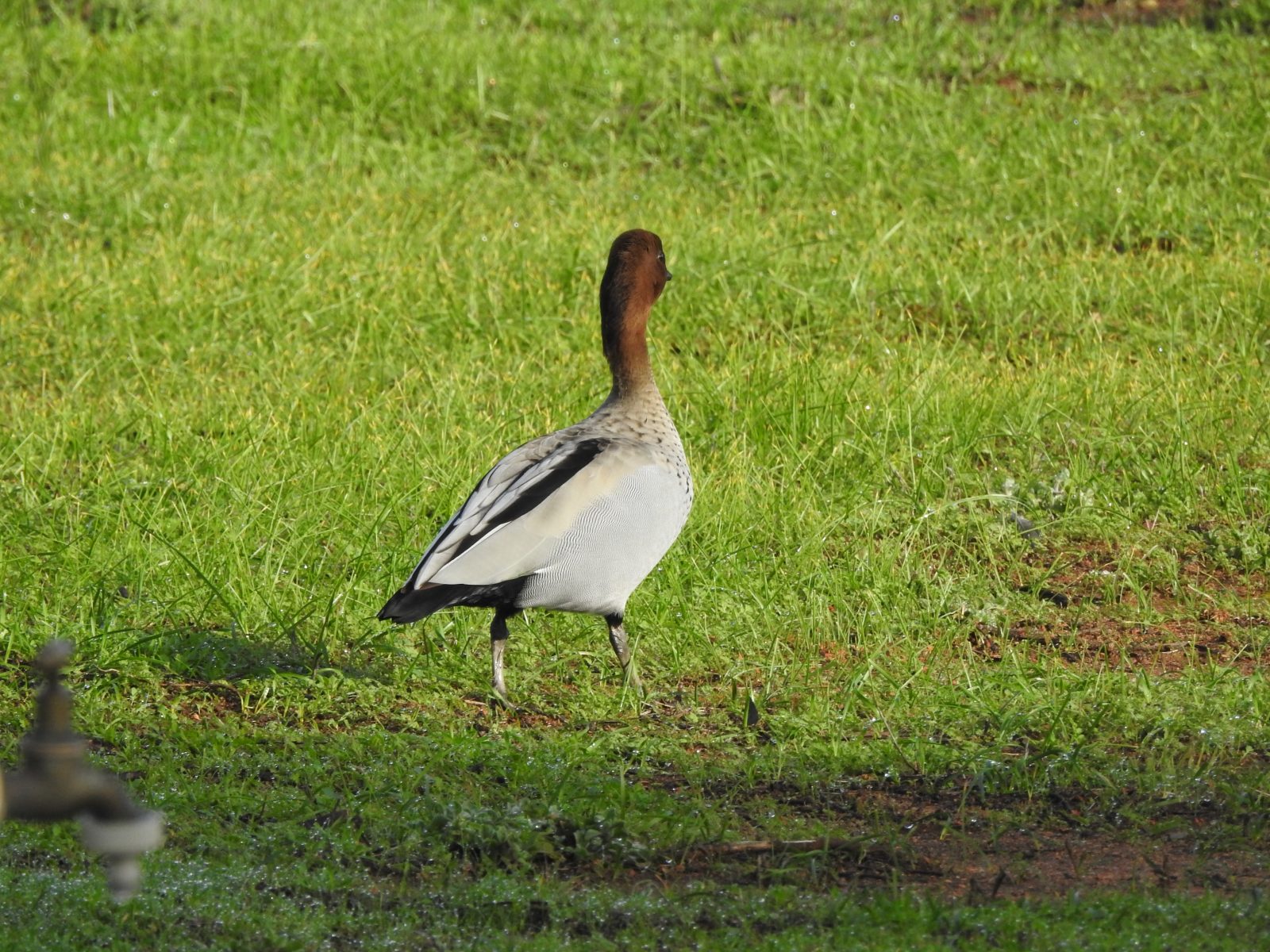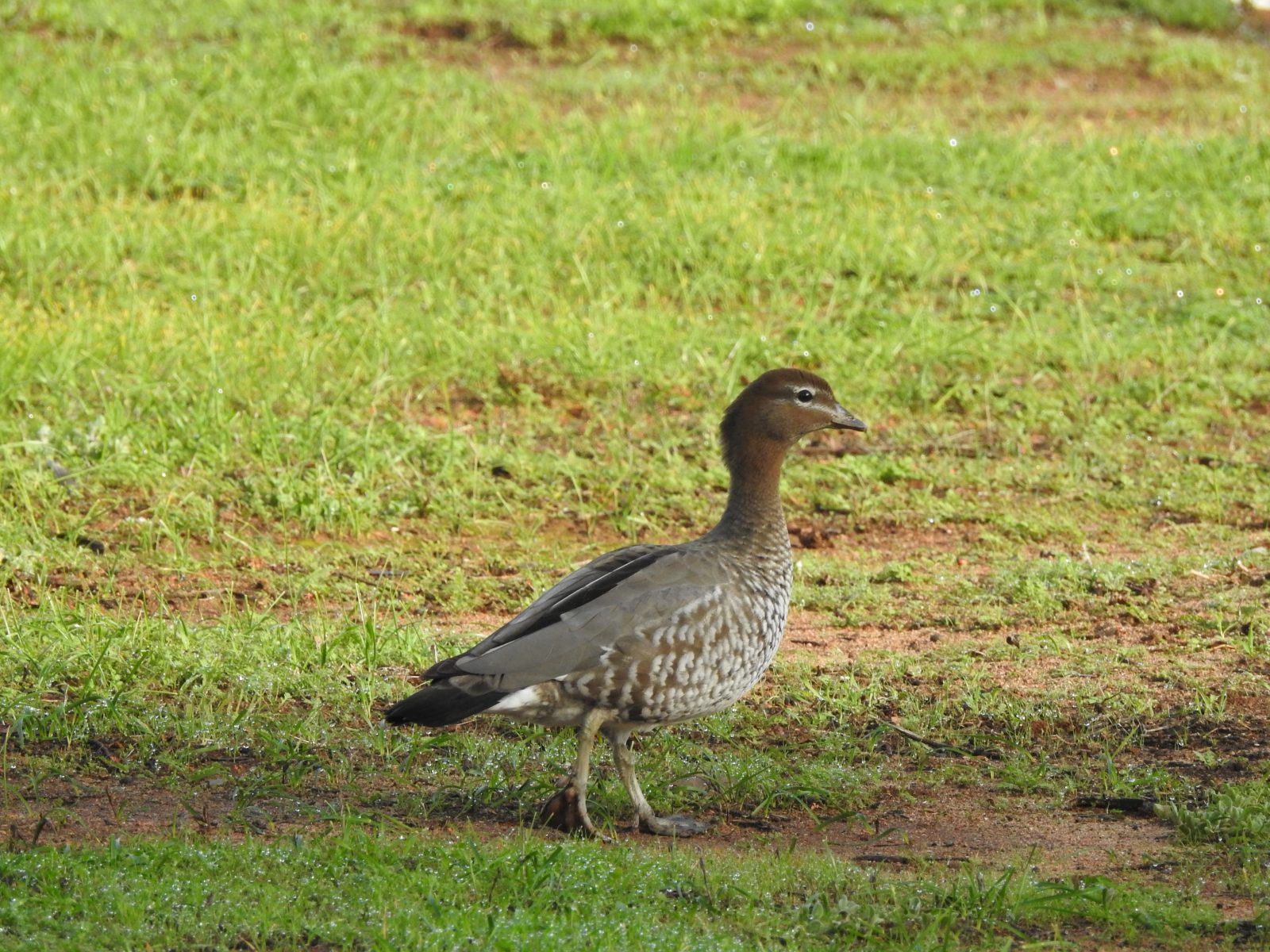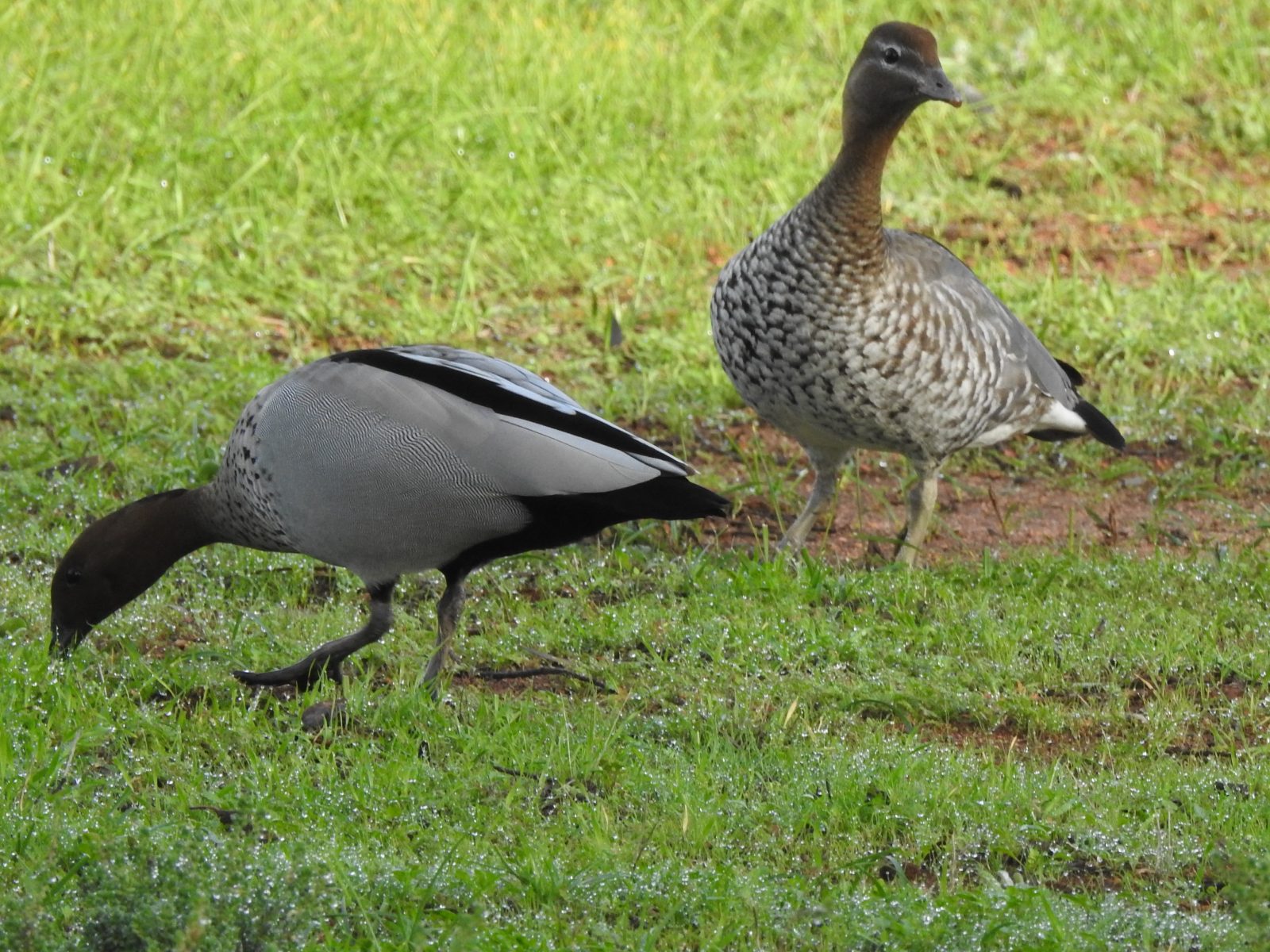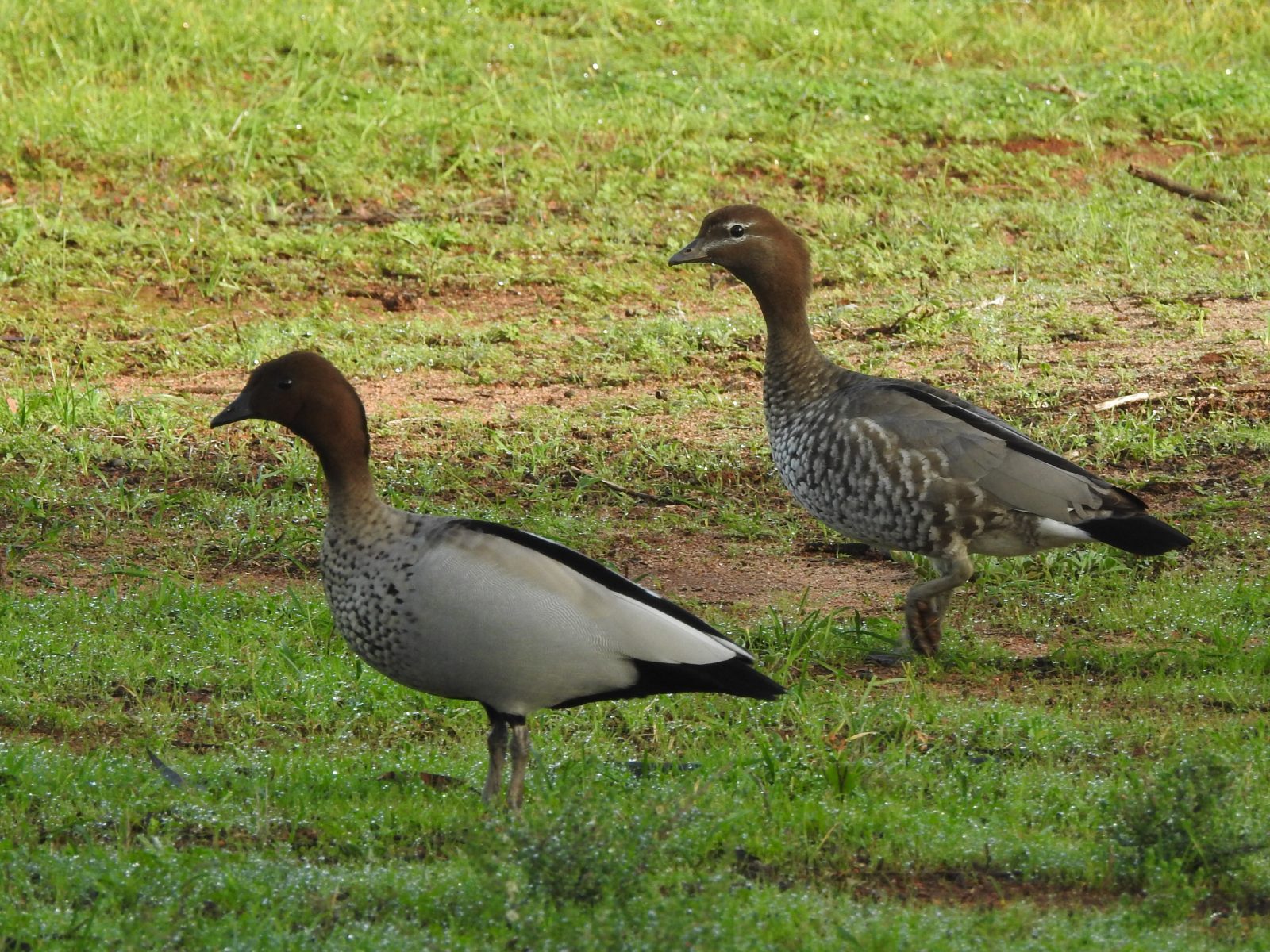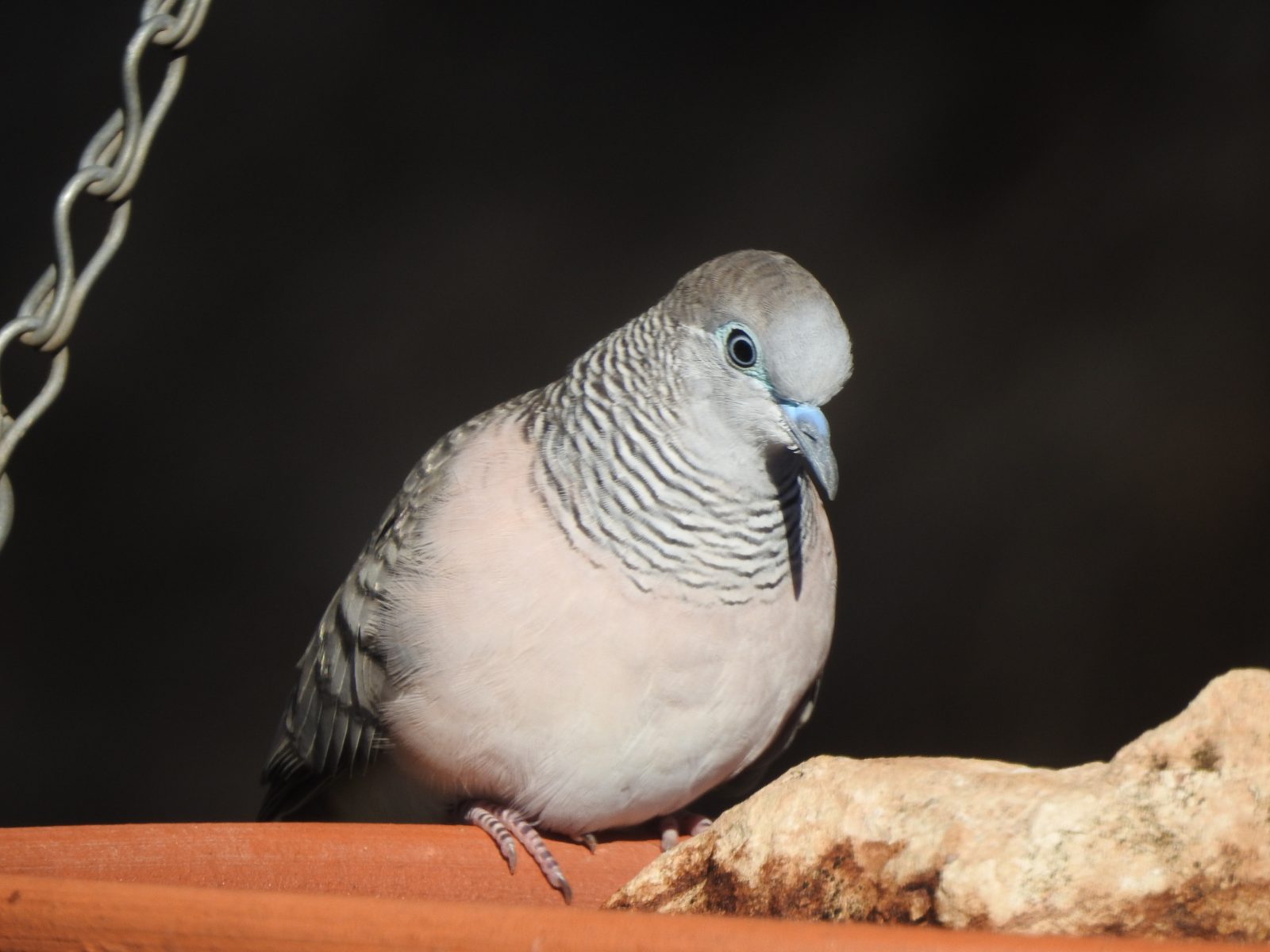 One bird species that I love seeing and hearing in my garden here in Murray Bridge, South Australia, is the Peaceful Dove as shown in today's photos. I live on the western edge of the rural city of Murray Bridge on a five-acre (two-hectare) block of land.
As well as a large variety of Australian native plants and trees, I have a small orchard and some remnant mallee scrub. My property adjoins several other mallee scrub areas, including Kinchina Conservation Park about a kilometre to the west.
Because there is so much native vegetation remaining in this area, the bird life can be prolific. I have lived here for over 35 years and have kept monthly lists of birds observed over that period, except for a few periods when I was away. This includes many holidays interstate and several trips overseas.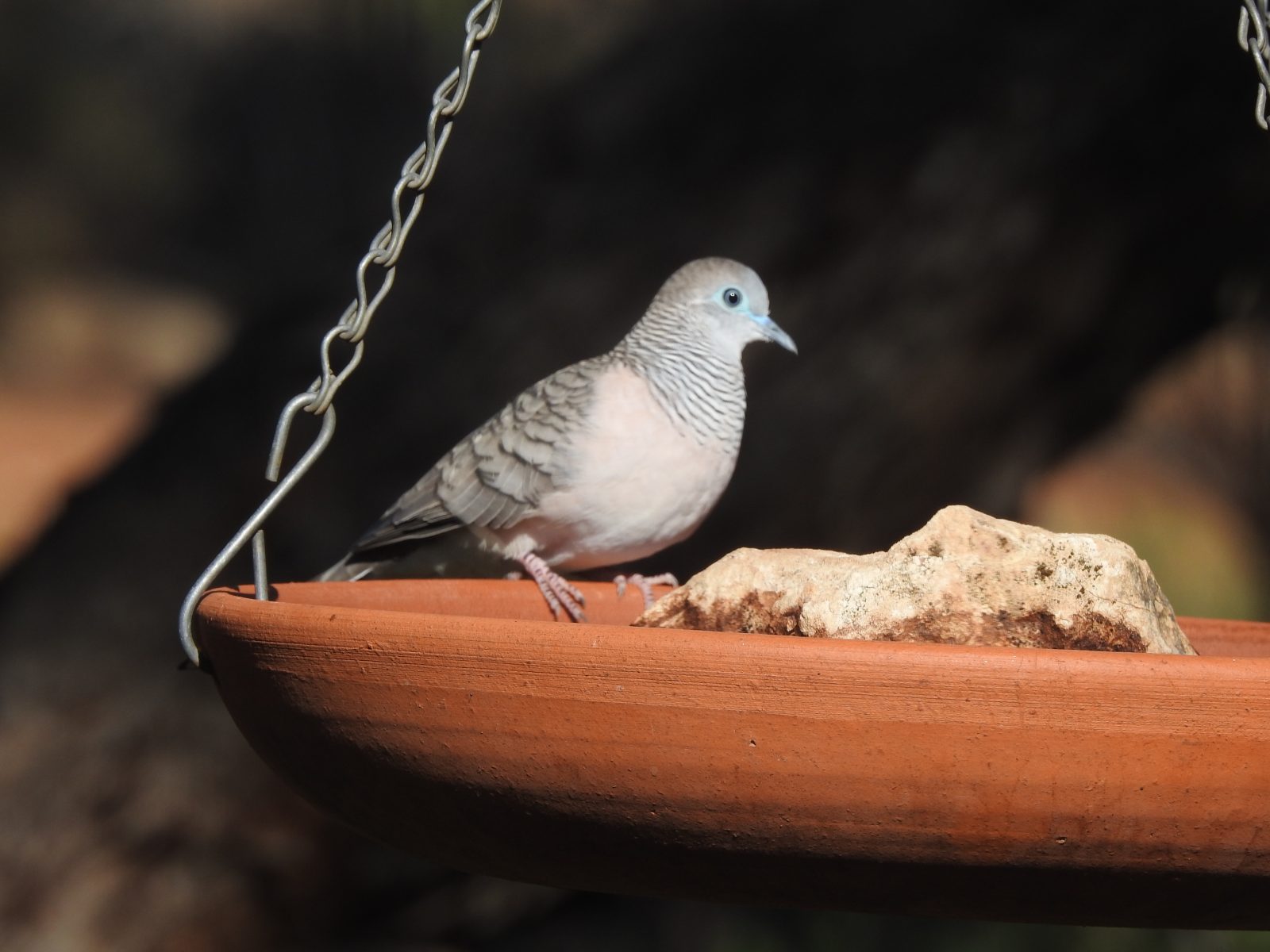 Doves and Pigeons
The most common species in this family of birds is the Crested Pigeon. They are a resident breeding species, meaning that they are seen every day and have been recorded breeding on my land.
For many years I have recorded Spotted Turtledoves (Spotted Doves) almost every day as well, but in the last few years, I have only seen this species here occasionally. The same applies the Rock Doves (Feral Pigeons) which are now only recorded occasionally. One other species, the Common Bronzewing, has only been sighted here on a handful of occasions.
In the first 20 years living here I only occasionally sighted Peaceful Doves. Then an individual would sometimes move down the hills to the west and visit my garden for an hour or two. On checking my database of records, I started seeing them regularly from late 2009. Over the next decade, they have become resident and I hear and see one or more every day.
At first I only saw one of two until more recently when I have recorded up to six in close proximity to each other. Only a few days ago I looked out the window to see four of them sunning themselves all within a square metre. It has become one of my favourite birds and I feel so privileged to see and hear them regularly here at home.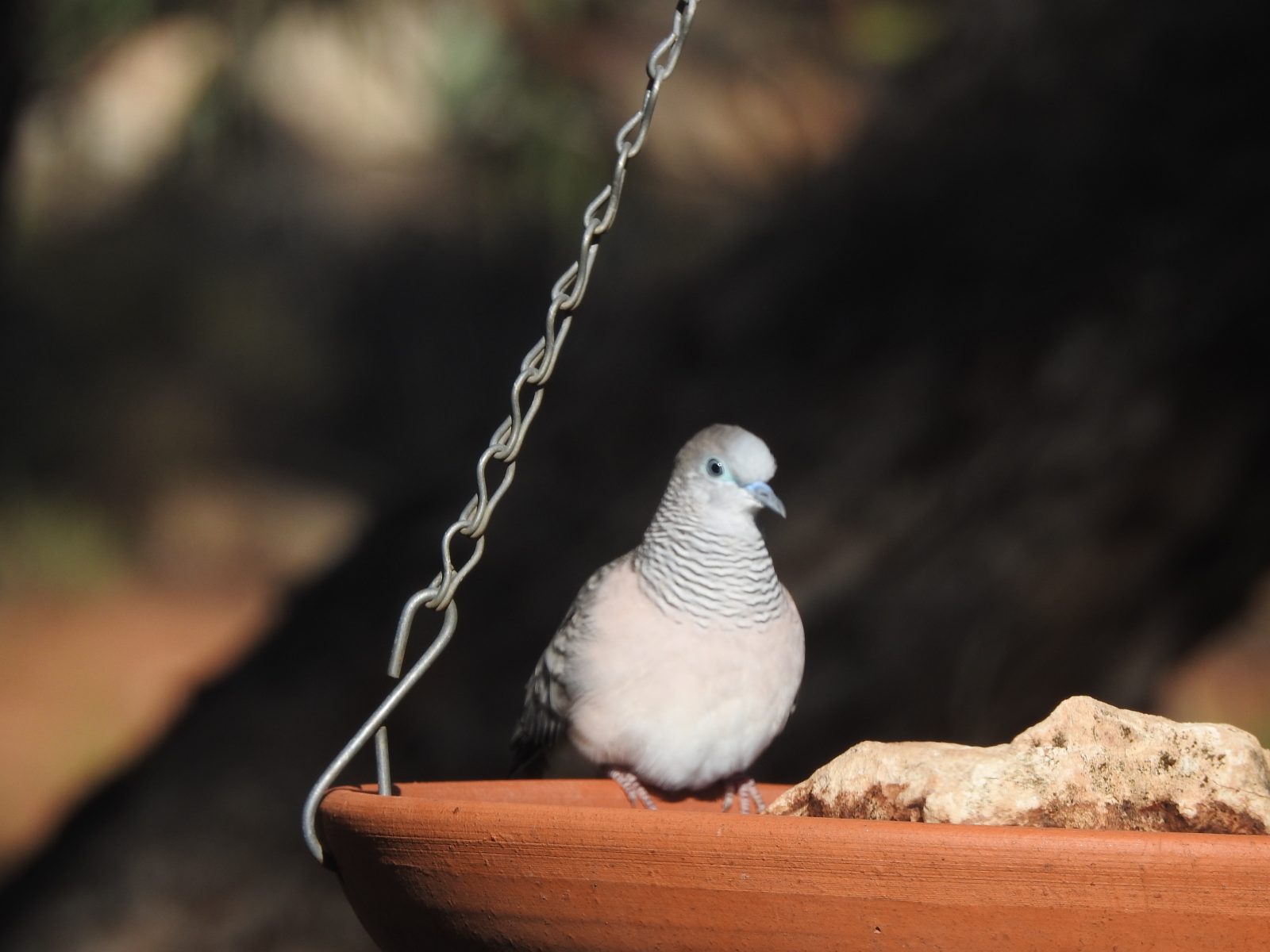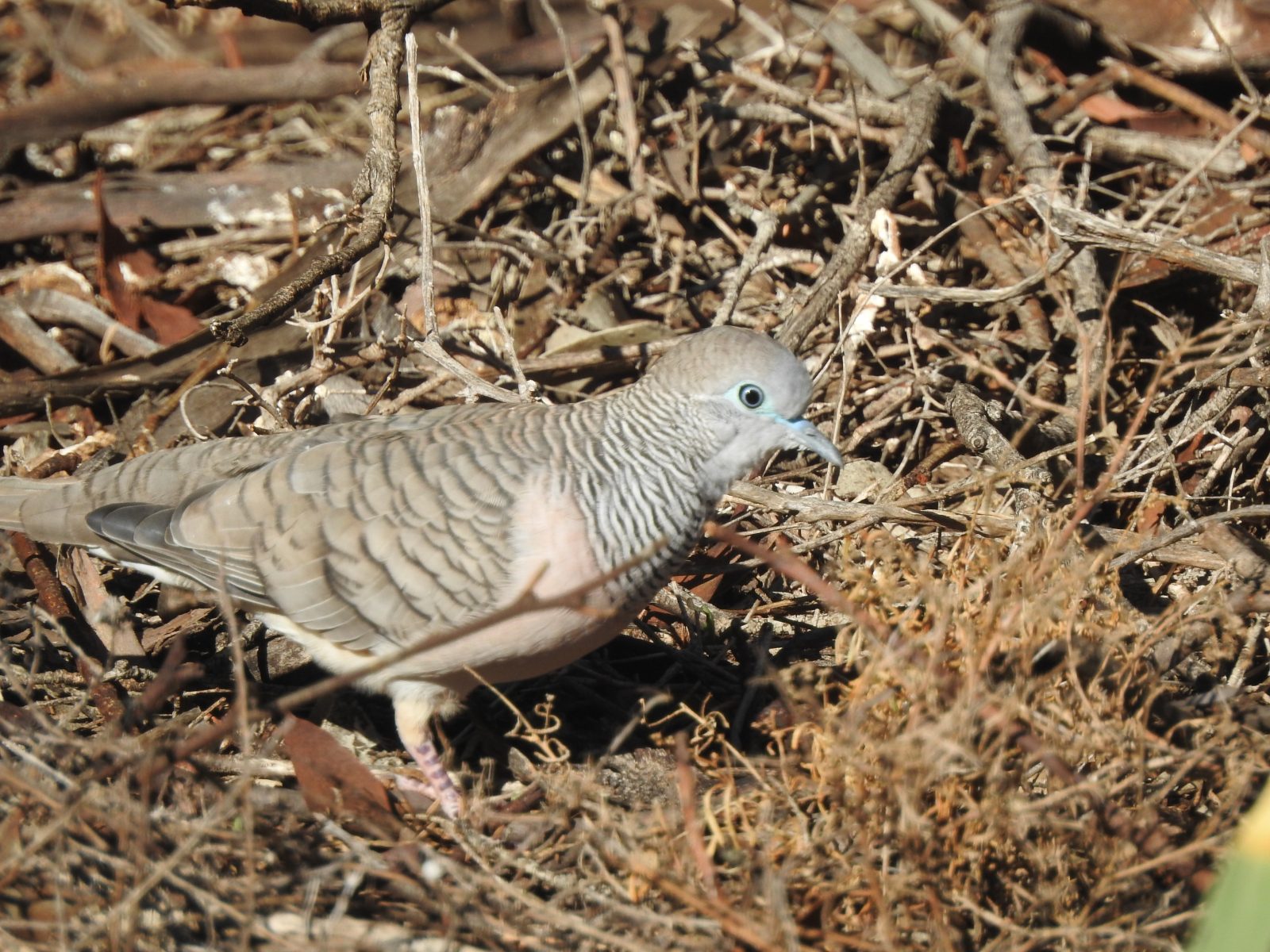 The beauty of our Australian parrots never fails to impress me. One of the most beautiful to my eyes is the Eastern Rosella which I have featured in today's photos. All of the photos shown in today's post were taken in my garden on the outskirts of Murray Bridge which is about 80 kilometres south-east of Adelaide in South Australia.
This particular individual has been resident in my garden for several years now. I usually see it every day but I am sure that it roams over a much greater area than my 2 hectare (5 acre) property. One of the odd things about this bird is that it continues to keep the company of a family of Mallee Ringneck parrots. The ringnecks are also a resident species and they also roam away from my property most days. Some days they will hang around feeding in my trees for most of the day, sometimes creating quite a din with their noisy chatter.
One of the odd things about this rosella is that I am quite confident that it is the same one I am seeing all the time. They are not normally found in this part of South Australia. Their usual range is the extreme south-eastern part of our state. They are also quite common in the Adelaide region and the adjacent Adelaide Hills (Mt Lofty Ranges) where they have been introduced.
This leads me to two possible conclusions about this particular bird:
It has escaped, or been released, from someone's cage or aviary. (They are a common pet in Australia.)
The species is extending its range, either from the south, or from the west.
I lean towards the first conclusion, mainly because I have not seen any more of this species anywhere around this area. Whatever the reason, I am delighted that it has decided to call my garden "home". I am also pleased that it frequently visits the bird baths I have close to my sunroom. This enables me to get good photos of it every so often.
Up until this series of photos were taken, I hadn't fully appreciated the beautiful markings on the back. The photo below shows these markings really well.
Good birding.
Further reading: