Archive for the 'Non-Australian birds' Category
Aqua Turquoise Lovebird mutation
A few days ago I wrote about the Rosy-faced Lovebird which visited my garden recently. My property is on the north-western edge of Murray Bridge, South Australia. It is a long way to the natural habitat of the lovebird in south-western Africa. However, lovebirds are a commonly kept aviary and cage species here in Australia and in many other countries.
I suspect that that visitor, and the individual seen in my garden just over a year ago, had escaped from someone's cage or aviary. I know that there are many keen aviculturists (keepers and breeders of birds) here in this district. I have been a guest speaker at their meetings on several occasions in recent years.
Different colours
Today's visitor was quite different. I immediately noticed that the colours were much lighter. Just a little research turned up a variant known as the Aqua Turquoise mutation. Lovebirds, like Budgerigars, have many colour variations when bred in captivity.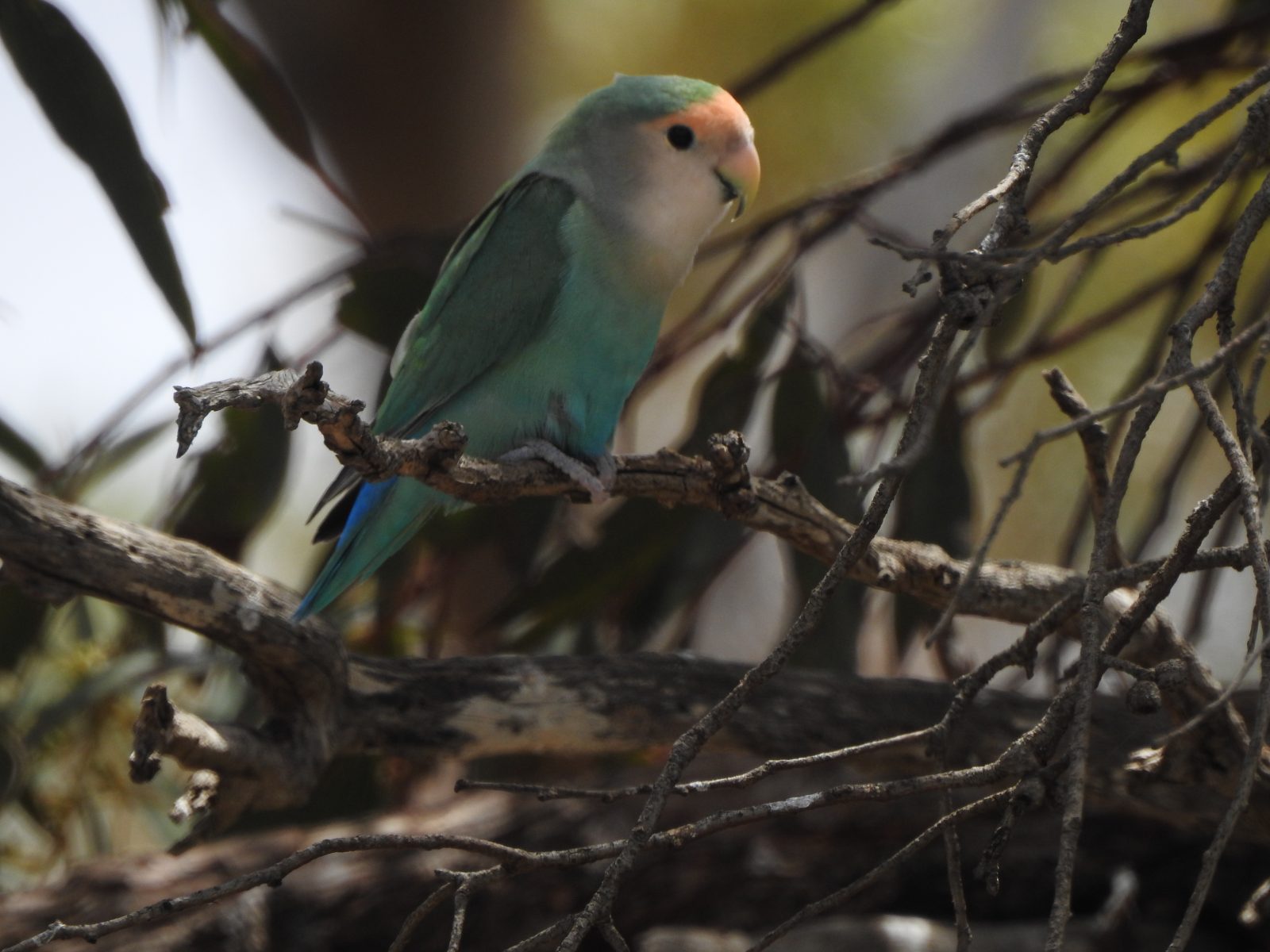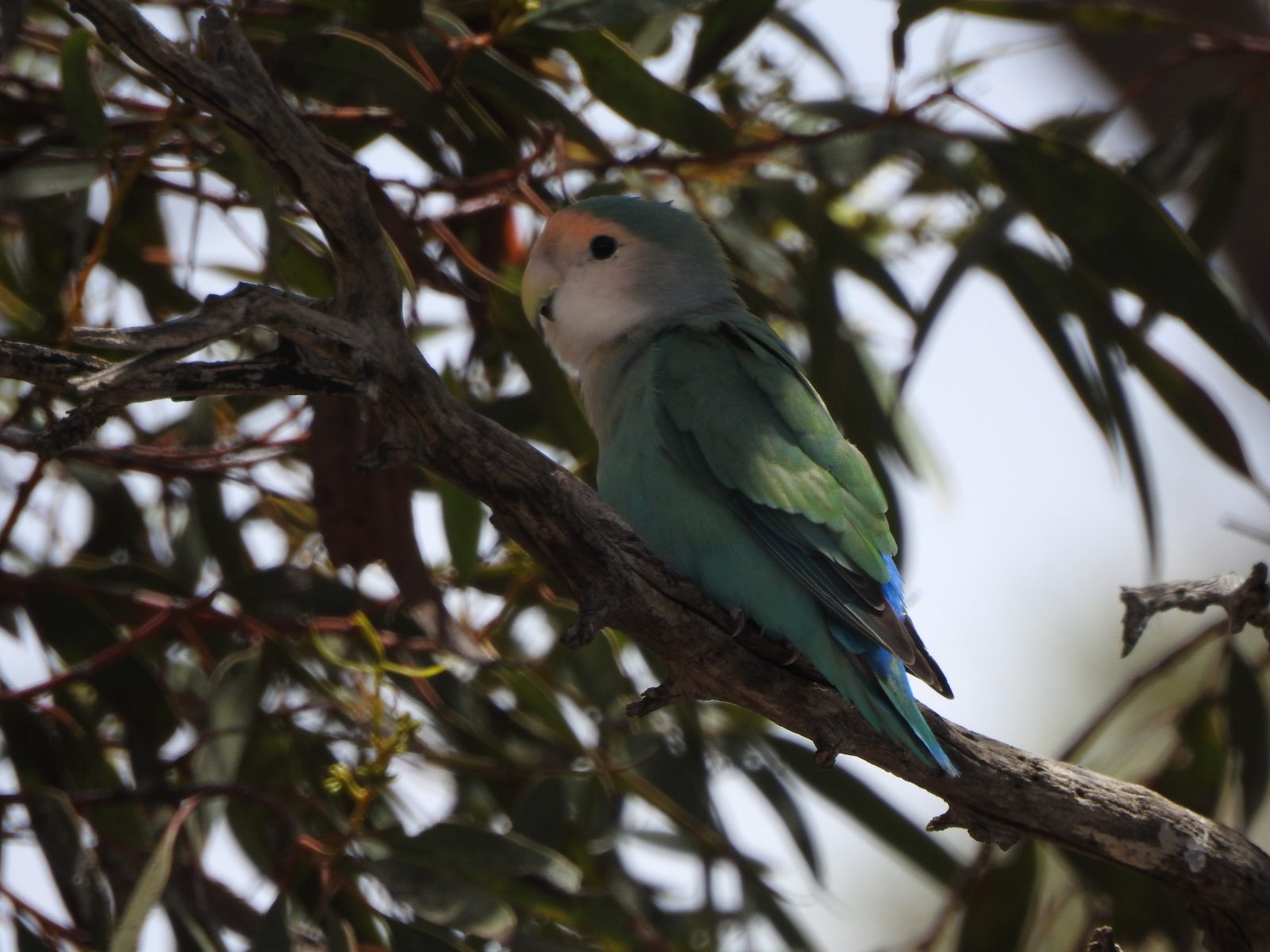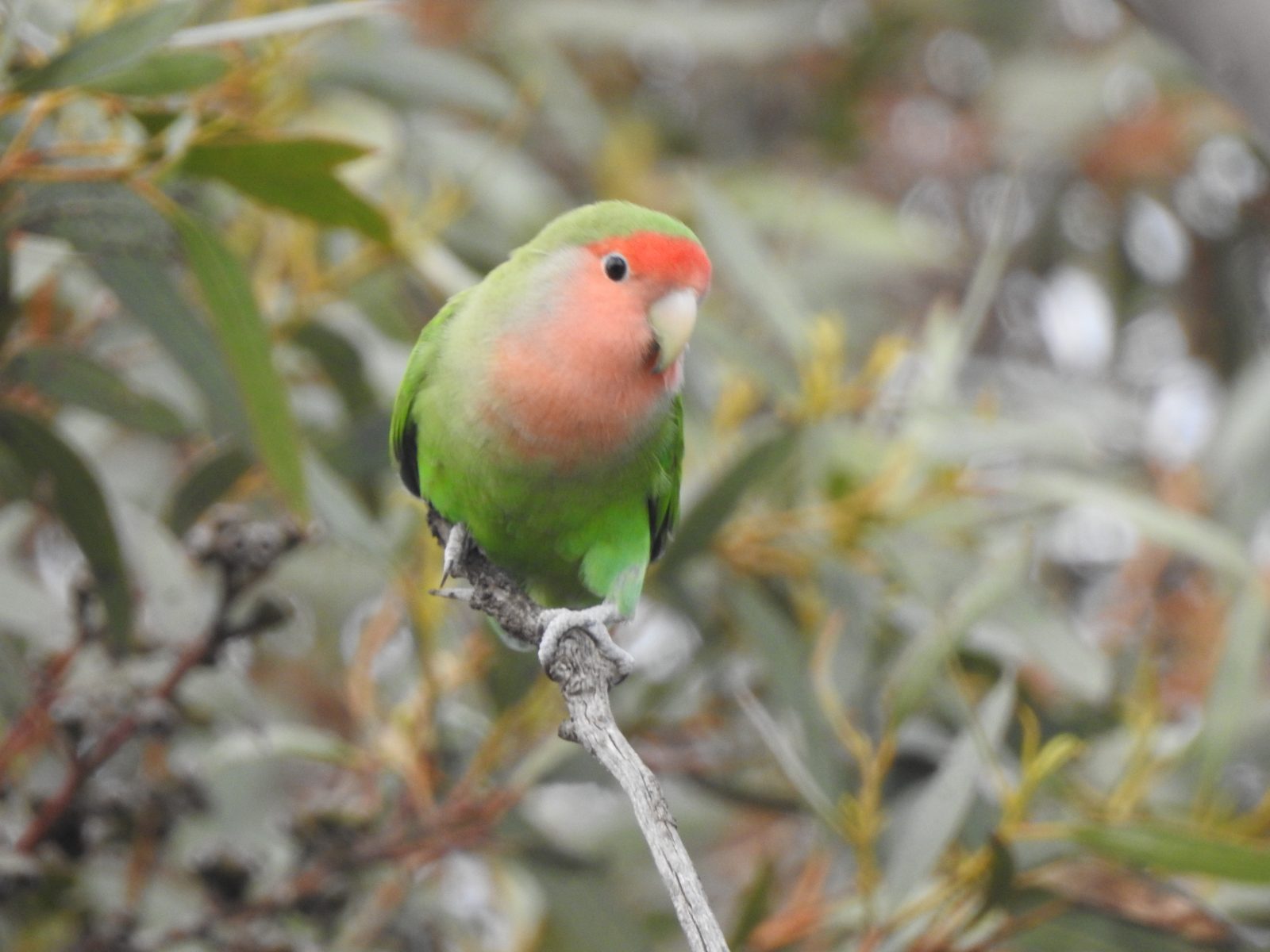 Yesterday I wrote about a visit from a Rosy-faced Lovebird to my garden here in Murray Bridge, South Australia. This is not an Australian native bird. Their natural habitat is in southwestern Africa, mainly Namibia, Angola and South Africa. This species is commonly kept in cages and aviaries around the world, including here in Australia. The bird I saw recently in my garden quite likely escaped from someone's cage or aviary.
I also mentioned that I had previously recorded this species in my garden just over a year ago. Today I wanted to show the photos I took on that occasion. It looks almost as if this individual is just a little guilty about having escaped. As I speculated yesterday, this could well be the same bird I saw a few days ago, though that is unlikely given the number of birds of prey lurking all around.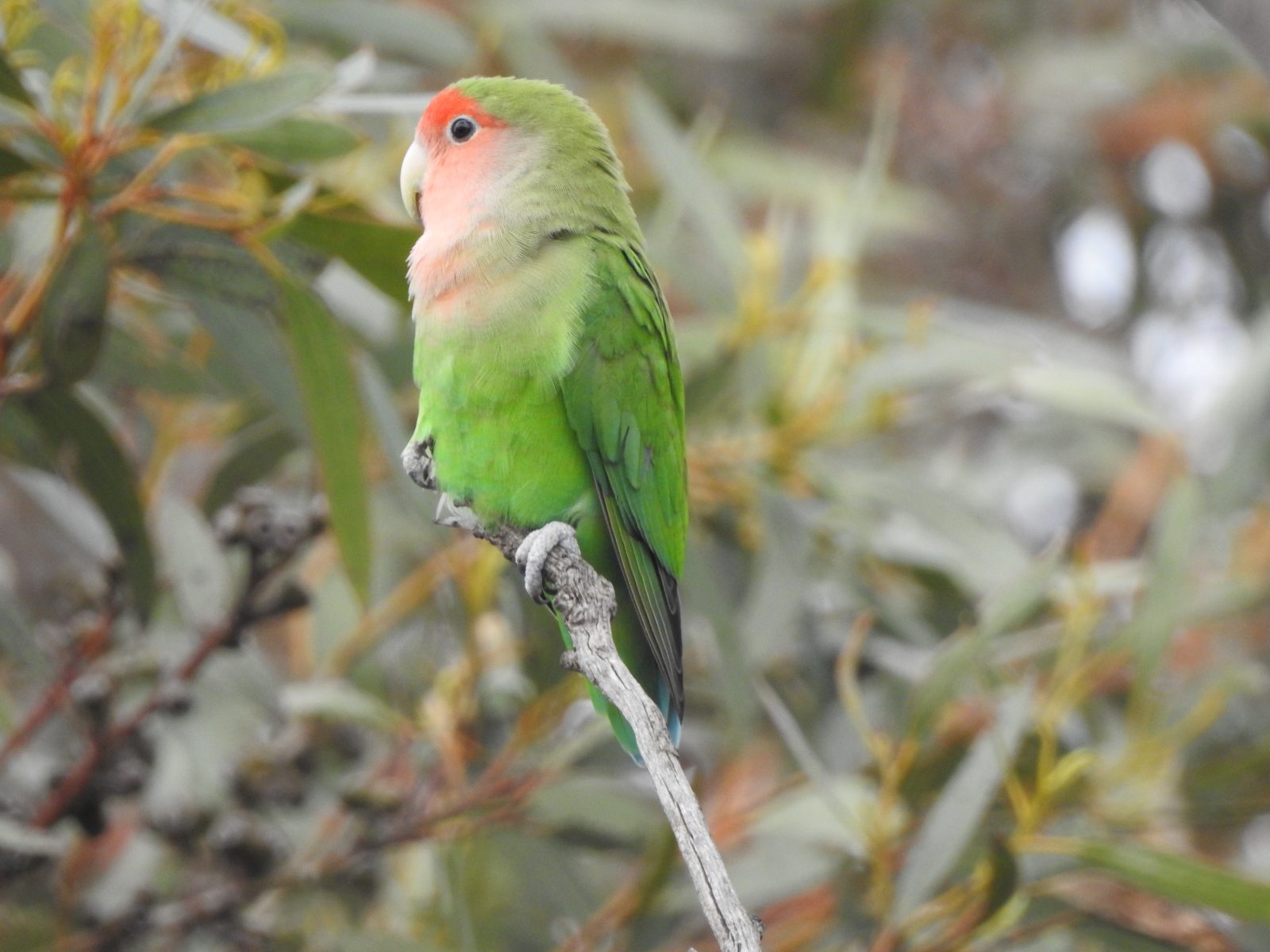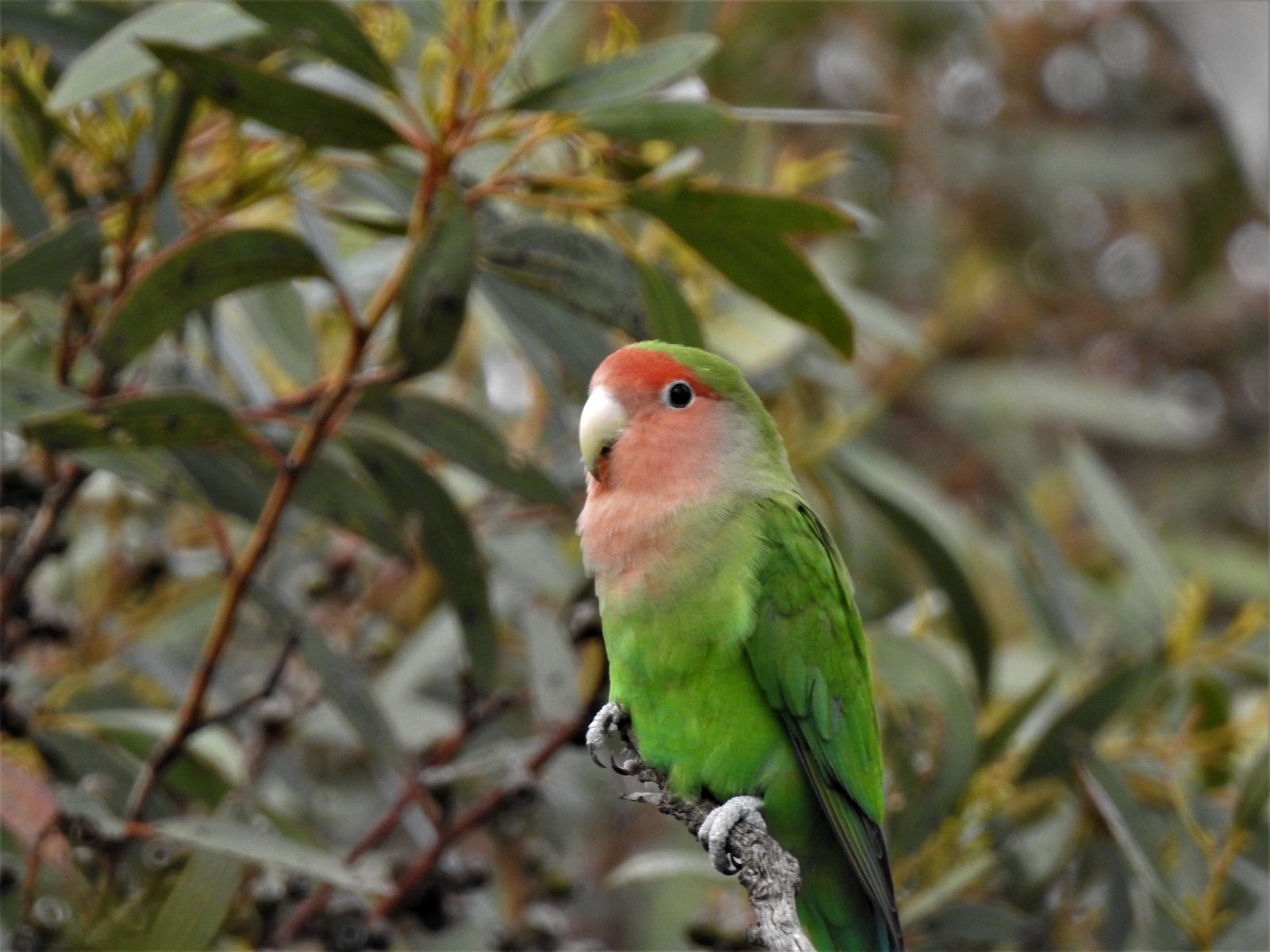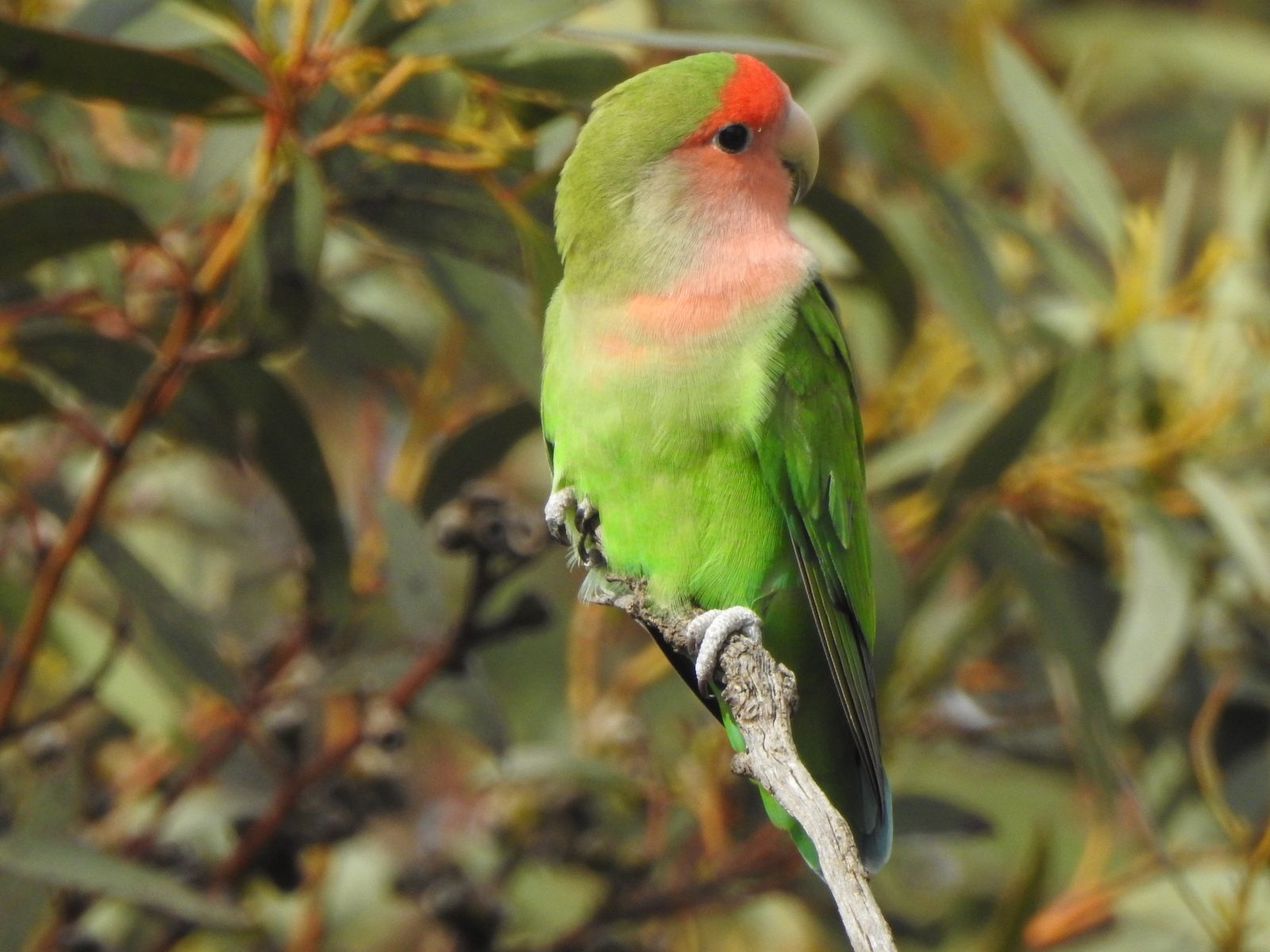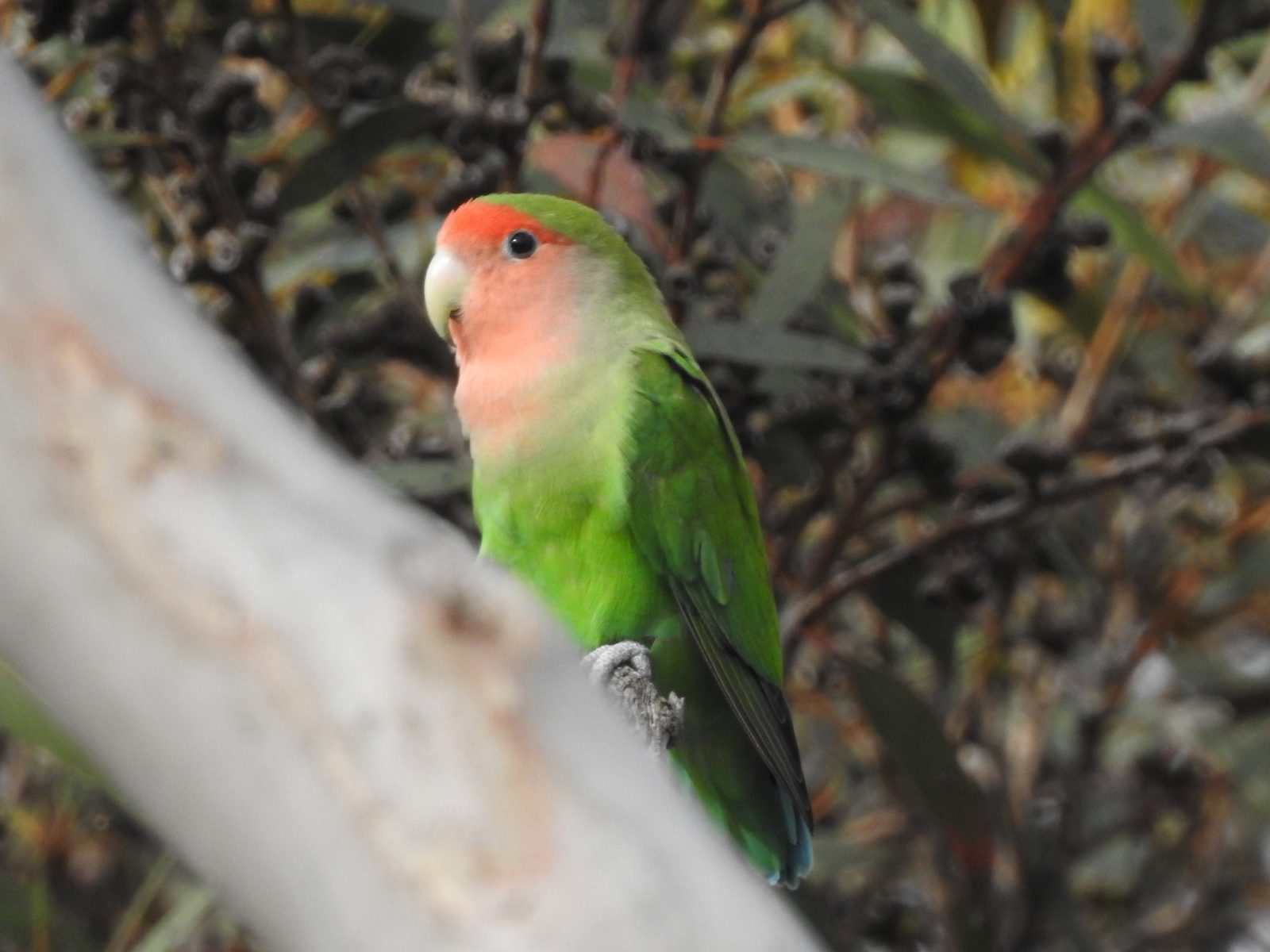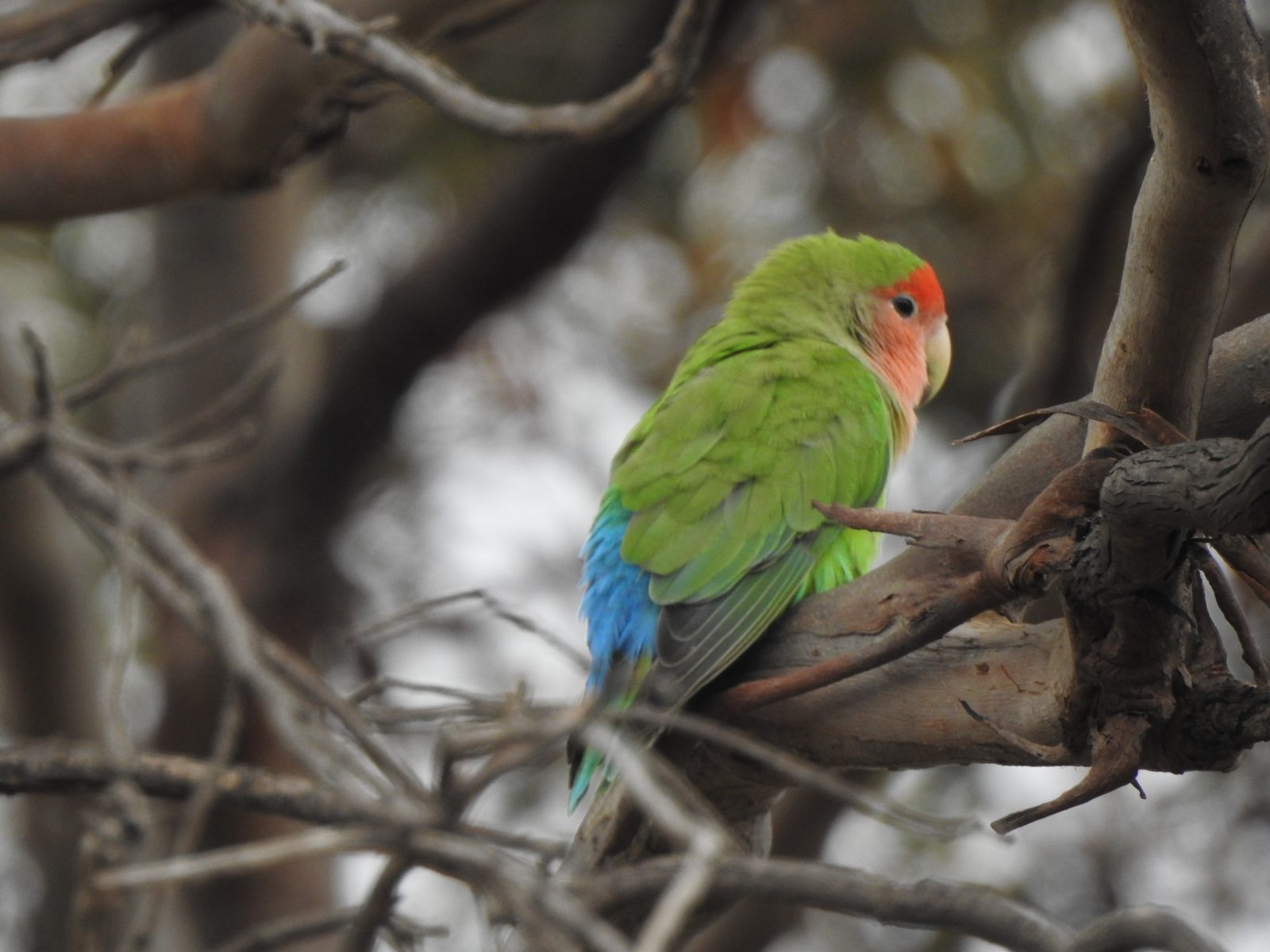 I had an unusual visitor to my garden last week. I was walking out to my car in the driveway when I saw a Rosy-faced Lovebird in the tree near the car. This not an Australian native bird but it is commonly kept in cages and aviaries. I suspect that this individual has escaped from a cage somewhere nearby.
I also recorded and photographed this same species in my garden just over a year ago. There is a distinct possibility that this is the same individual though I would be surprised it this was the case. There are many birds of prey around my home and I would say that this colourful bird would be an easy lunch for a falcon, hawk or kite hovering around.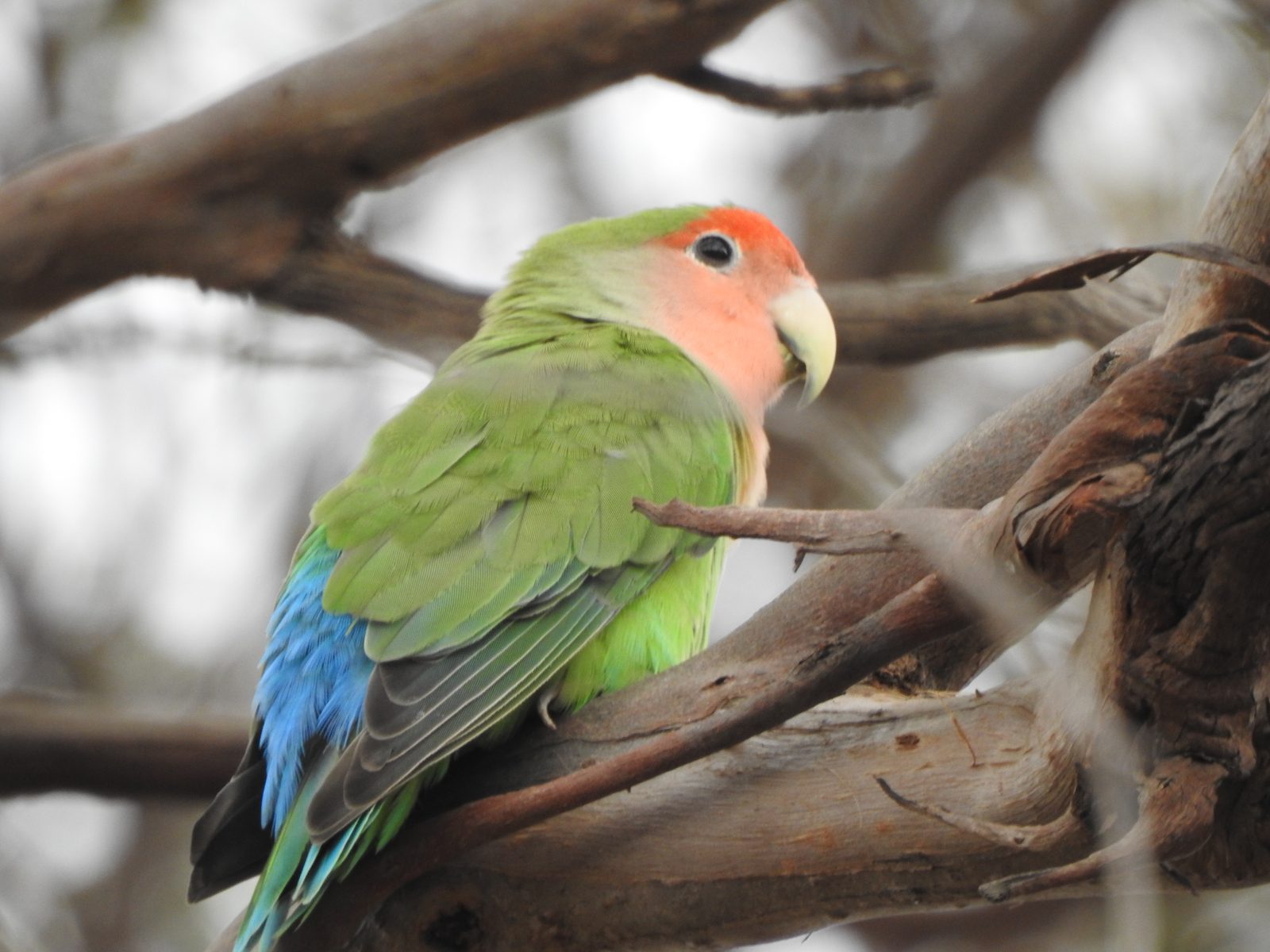 African species
The Rosy-faced Lovebird – also known as the Peach-faced Lovebird – is native to the southwestern parts of Africa, primarily in Namibia, southern parts of Angola and north-western parts of South Africa. Its main diet consists of seeds and berries. In some areas where feed is plentiful, they can be a pest when feeding on cereal crops. Both male and female look the same.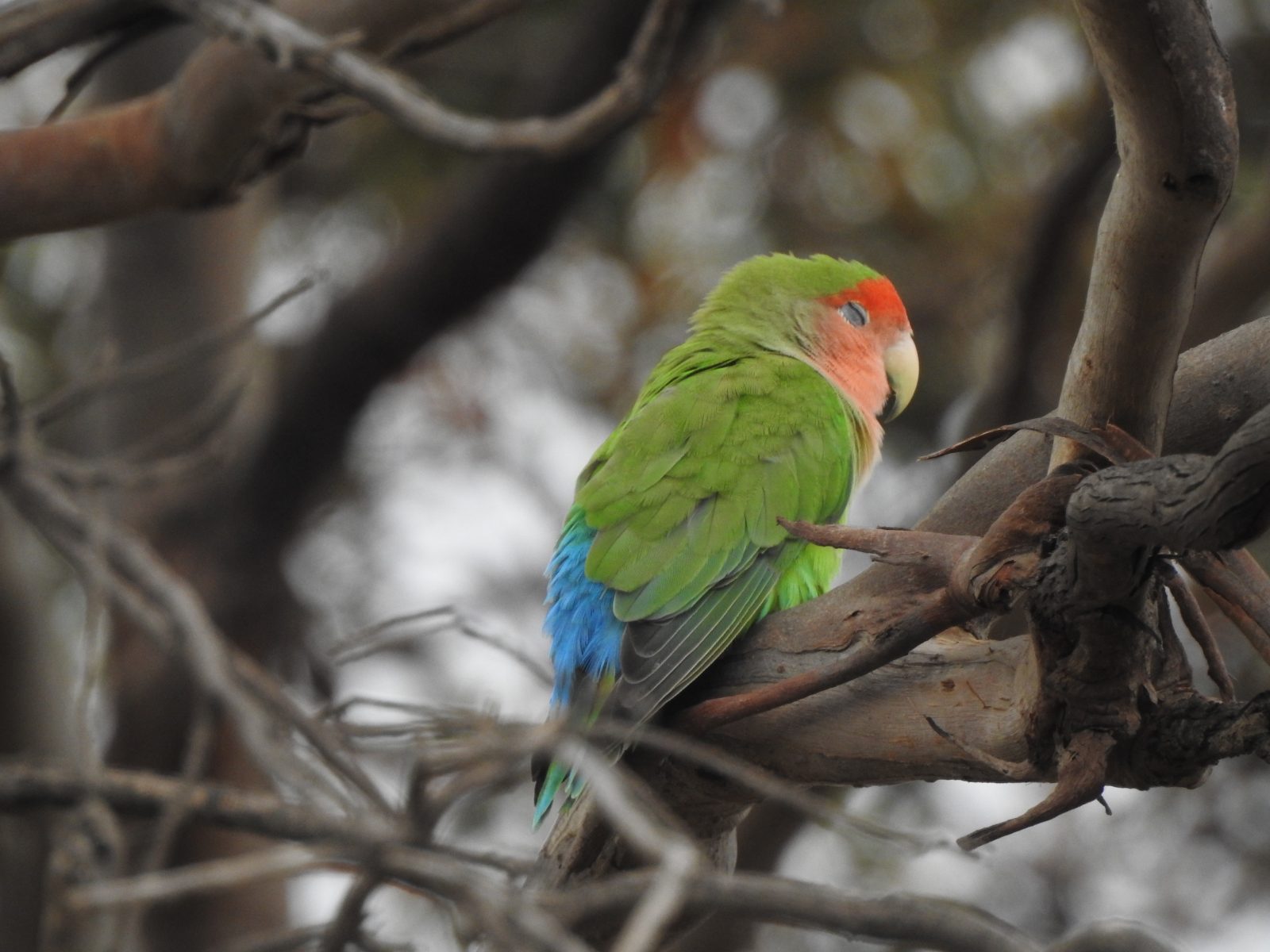 Aviculture
The Rosy-faced Lovebird is a very common bird held in captivity around the world, including here in Australia. This has resulted in enthusiasts breeding a range of colour variations.


I have been a birder for many decades and over the last few years, I have been hooked by bird photography. I have also had my struggles with my health, so the title of this book attracted me at once.

Author Joe Harkness has endured bouts of depression as well as the stresses of the life of a teacher. I, too, have struggled with depression and the stress of teaching forced me to retire earlier than I had planned. 

The author gently explains how getting out birdwatching and into the fresh air, getting exercise and taking his mind off those stressors in his life literally has saved his life. Birdwatching and being out enjoying the natural environment has been to him more therapeutic than any medications or counselling could ever achieve. 

This book, although it is based on birdwatching in the UK, is applicable in any country. Only the bird species will be different. The author has included many practical hints at the end of each chapter. It is a timely publication in view of the enormous stressors the vast majority of people are experiencing these days. I highly recommend it.

Note to self: get out birding more often.

Further reading:
Bird Therapy blog written by Joe Harkness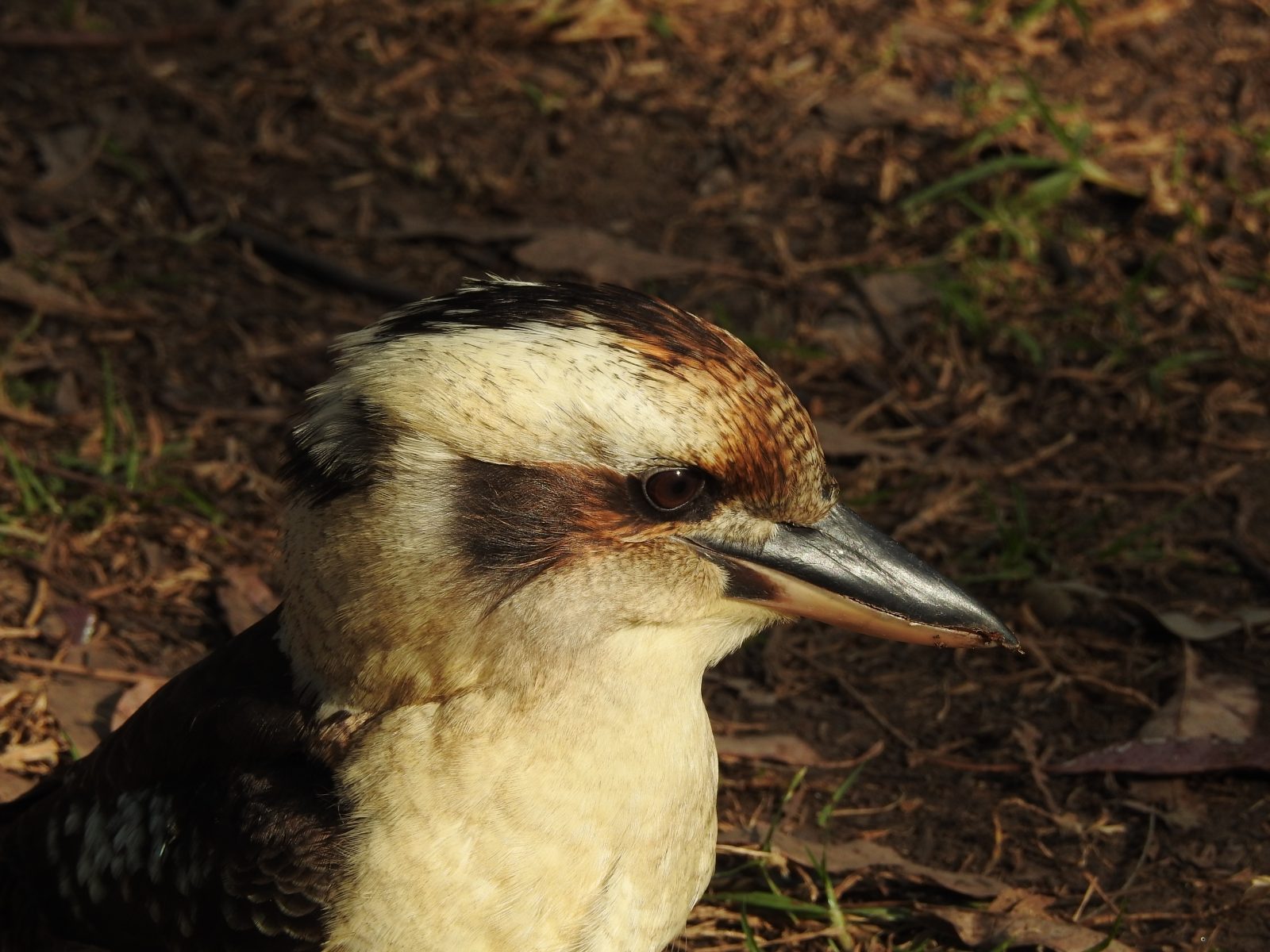 In yesterday's Advertiser paper here in South Australia, they featured a story about the recent reports of Red-whiskered Bulbuls. This is an introduced species from the India, and potentially a major pest species here in our state. It is a threat to several significant agricultural industries, including wine grapes, the citrus and strawberries.They are also a major threat to our native bird species.
I have known about some reports late last year from Mt Torrens in the Adelaide Hills region, one of our major fruit growing areas. More recently, the article claims that there has been a recent sighting in Eudunda, a mid-north town very close to the world-renowned wine growing region of the Clare Valley.
The article goes on to say that Biosecurity SA has spent $60,000 in their attempt to capture and destroy 10 known birds in the region. That seems a great price to pay for so few birds, but the threat to a 400 million dollar fruit industry is very real. There is a hefty fine for anyone releasing this species into the environment, a practice sometimes undertaken at weddings or anniversaries. Even keeping this species in captivity is banned here in South Australia.
There is an ever-present threat that some may inadvertently or deliberately be released here. The species is present in both the Melbourne and Sydney regions. The photo above was taken on a walk I did some years ago in Sydney. This was along the Flat Rock Creek to Middle Harbour walking track. The only other place I have seen this species was at the Australian Botanic Gardens at Mt Annan, also in the Sydney region.
I wanted to link to the article in The Advertiser but it is a restricted article; one needs to take out a digital subscription to the paper.