Archive for the 'Parrots and Lorikeets' Category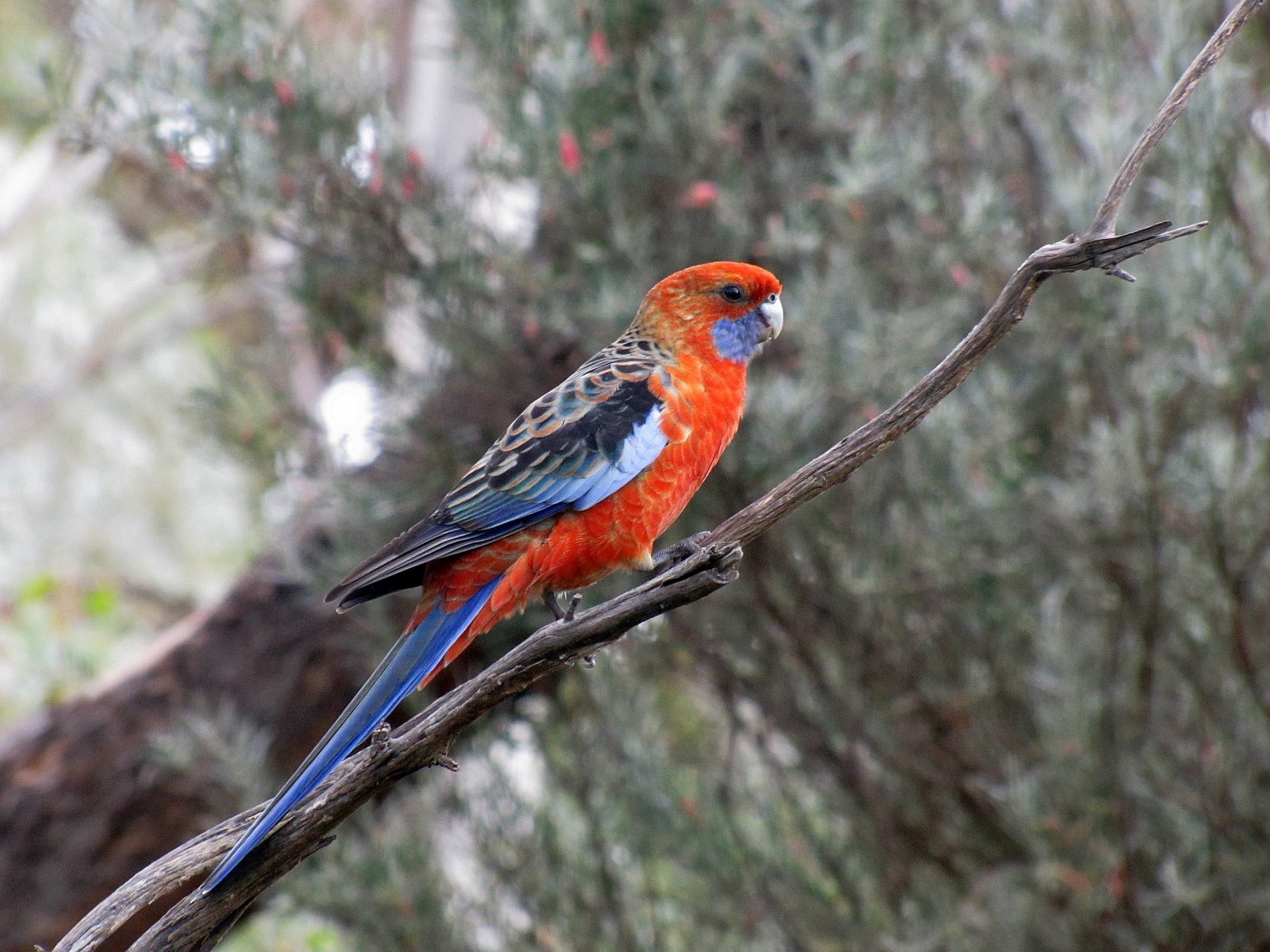 Earlier this week I spotted several birds coming in to land on the swimming pool cover in my garden. I keep the cover on the pool during the winter months to stop twigs from nearby trees falling into the water. The cover also stops excessive evaporation of the water.
During recent months, however, the winter rains have been quite good here where I live in Murray Bridge, South Australia. Other regions have been in serious drought conditions. Whenever it rains, small, shallow puddles of water gather on top of the pool cover. These pools are very inviting to the local birds and any others passing by.
When I stealthily crept closer to the pool I discovered three Adelaide Rosellas had landed on the pool cover and they were having a lovely time splashing around in the shallow pools of water. I crept quietly back into the house to get my camera, but by the time I came out again they were ready to leave. I didn't get a chance to take some photos.
When I first moved to my home on the western edge of town over 30 years ago, I never recorded Adelaide Rosellas in my garden. Over the last ten to 15 years, their visits have become more and more frequent. Sometimes several months go by without sighting them, and then I will see some several months in a row. I guess you could say that their visits are somewhat sporadic. I certainly cannot call them a resident species like the Mallee Ringnecks which are always around somewhere on my five-acre block.
The Adelaide Rosella is a sub-species of the Crimson Rosella, common here in the southern parts of South Australia, as well as throughout the eastern states. I have also seen the Yellow Rosella nearby, another sub-species.
Because I didn't get a chance to get a photo of the three visitors this week, I have used a photo of one taken some years ago (see above).
Last month I drove from home in Murray Bridge to my son's home in Sydney. At just over 1300 kilometres, it is a drive which can be easily done in two days. In more recent trips over there, I have chosen a variety of routes in order to see more of this wonderful land in which we live. On my most recent trip, I took four days to get there, planning to do some birding along the way.
I stayed for two nights in a cabin in the lovely Lake Cargelligo Caravan Park. This town is situated in the mid-west of New South Wales. It is, in fact, almost mid-way from anywhere in the state. The town caters for most needs of travellers but the area has suffered during the recent years of drought. By way of contrast, the area around Lake Cargelligo had received good falls of rain in the few weeks leading up to my visit. Water was lying everywhere, particularly on the sides of all roads. I hope that this good rain will help the farmers recover from their recent drought.
On the day after my arrival, I had planned to do a whole day of birding in the area. My first stop was at the small community of Euabalong which is about a half-hour drive north. The Lachlan River flows through town (see photo below) and it was certainly worth a stop to observe the local bird population.
I found a dirt track leading to the banks of the river and stopped for a while to make a list of the birds I could see and hear. The local Sulphur-crested Cockatoos (photo below) were making a terrible racket. They were screeching loudly and flying around erratically. I then spotted the cause of the upset. A Little Eagle and a Wedge-tailed Eagle were swooping low over the eucalypt trees where the cockatoos had been perched. They must have been looking for a mid-morning snack. I only saw the two eagles momentarily before they glided out of view. There was no opportunity to get a photo or two. Some Little Corellas (photo below) and Galahs (photo above) were also a part of the ruckus.
After leaving the picnic area next to the Lachlan River, I drove slowly around the small town (population less than 200) to add to my list of birds seen or heard. I could easily have added to this list by stopping elsewhere in the town, but other places were calling me to keep going.
Here is a list of birds I listed:
Australian Raven (several)
Crested Pigeon (2)
Magpie-lark (2)
Red-rumped Parrot (4)
Galah (about 30)
Sulphur-crested Cockatoo (100+)
Little Eagle (1)
Wedge-tailed Eagle (1)
Black-backed Magpie (2)
Peaceful Dove (1 heard)
Apostlebird (5)
House Sparrow (30)
Welcome Swallow (2)
Pied Butcherbird (1)
Little Corella (2 photographed but there would have been more in the flying flock)
My next stop was Euabalong West, just several kilometres to the west. There I added the following species:
Superb Parrot (1)
White-winged Choughs (15)
Noisy Miner (5)
Spiny-cheeked Honeyeater (1)
White=plumed Honeyeater (5)
Happy birding,
Trevor
The beauty of our Australian parrots never fails to impress me. One of the most beautiful to my eyes is the Eastern Rosella which I have featured in today's photos. All of the photos shown in today's post were taken in my garden on the outskirts of Murray Bridge which is about 80 kilometres south-east of Adelaide in South Australia.
This particular individual has been resident in my garden for several years now. I usually see it every day but I am sure that it roams over a much greater area than my 2 hectare (5 acre) property. One of the odd things about this bird is that it continues to keep the company of a family of Mallee Ringneck parrots. The ringnecks are also a resident species and they also roam away from my property most days. Some days they will hang around feeding in my trees for most of the day, sometimes creating quite a din with their noisy chatter.
One of the odd things about this rosella is that I am quite confident that it is the same one I am seeing all the time. They are not normally found in this part of South Australia. Their usual range is the extreme south-eastern part of our state. They are also quite common in the Adelaide region and the adjacent Adelaide Hills (Mt Lofty Ranges) where they have been introduced.
This leads me to two possible conclusions about this particular bird:
It has escaped, or been released, from someone's cage or aviary. (They are a common pet in Australia.)
The species is extending its range, either from the south, or from the west.
I lean towards the first conclusion, mainly because I have not seen any more of this species anywhere around this area. Whatever the reason, I am delighted that it has decided to call my garden "home". I am also pleased that it frequently visits the bird baths I have close to my sunroom. This enables me to get good photos of it every so often.
Up until this series of photos were taken, I hadn't fully appreciated the beautiful markings on the back. The photo below shows these markings really well.
Good birding.
Further reading:
WORLD ENVIRONMENT DAY 2018
World Environment Day is celebrated on the 5th June every year. I cannot remember posting anything about this day in all of the years I have been writing on this site. This is a first for me.
I live on the edge of a large country town in South Australia. My property is about 2 hectares (5 acres) in size, with over half of it either natural scrubland (mallee trees), or planted trees and shrubs. I have lived on this property for well over 30 years and have kept a bird list for all of that time. The current list has reached 112 different species, the high number due in part to the presence of suitable habitat for a wide range of species.
Over those years we have planted many hundreds of trees and shrubs in addition to those occurring naturally. Not only have we taken delight in the wide range of birds that visit or are resident, we also enjoy the many flowering species of plants. Planting is one easy and very rewarding way of improving the environment. Even if you only have a small courtyard for a garden, having a few plants – both native and exotic – will attract our native birds for you to enjoy. The same could be said for those who live in a high-rise apartment with a balcony. Even having five or six plants in pots improves the environment, as well as helping your own well-being.
Another way I like to encourage the birds in my garden is to have several bird baths. I have placed these within close viewing distance from our sunroom. Over the years this has given me much pleasure. On really hot days, the birds flock to the baths in large numbers, either to drink or to bathe. Today I have included some recent photos taken of birds which have visited my bird baths. These were all taken when the weather was much cooler than our hot summer days, so even in cool weather, we have the delight of many birds coming to visit the bird baths.
Enjoy.
Over recent years we have had a family of Australian Ringneck parrots move into our garden. Before that, they were only occasional visitors, but now we see – or hear – them every day. They can be raucous at times. I now consider them to be a resident breeding species in our garden. In fact, only last week I witnessed two of them mating, so we could have even more around in the next few months. They have been constantly investigating a large hollow in one of our mallee trees. The birds we have here are the sub-species Mallee Ringnecks.
At first, we only had two birds, but after breeding, there were more, and now we often count up to about eight birds in our garden, or in the nearby mallee scrub. They chatter away noisily in the nearby trees, often disturbing the peacefulness of our edge of town block of land. We don't really mind because we love having them around. That is – until they attack our ripening pears, chewing around the stems of each piece of fruit. Each summer I have to drape netting over the trees to minimise the damage.
Last week I was going out the sliding door on to our back veranda. I was heading out to sit in the weak winter sun to do some reading. One of the parrots flew from the nearby tree towards the house just as I came out of the door. It was flying directly towards me, wings and tail spread out fan-like as it came to a stop, landing on the edge of the roof guttering. As the feathers spread out, I glimpsed the beautiful colours of this lovely bird. Sadly, I didn't have my camera – it happened far too quickly, anyway.
The photo at the top of this post shows the colourful feathers of one of our birds which accidentally flew into my office window last year. It sat on the ground quite stunned for a few minutes before flying off again. The photo below shows another shot of the same bird.
Further reading: