Archive for the 'Botanic Gardens' Category
Yesterday was my wife's birthday.
To celebrate we went out to lunch with friends, and then drove south to Wellington on the River Murray. After crossing the river on the ferry we drove the short distance to the Pangarinda Botanic Gardens (formerly known as the Pangarinda Arboretum). My wife enjoys exploring places where native Australian plants are the feature. You can check out her site about Australian plants here.
We found a shady spot in the middle of the gardens, complete with a table and seats. The garden all around us was alive with birds, especially dozens of New Holland Honeyeaters. We also saw White-browed Babblers, Red Wattlebirds and Little Wattlebirds, along with dozens of Tree Martins soaring on the breeze hawking for insects (photos to come in a few days' time).
As we were having a cuppa and some delicious birthday cake, we heard an interesting call nearby. It wasn't long before we spotted a quail-like bird skulking through the garden about 50 metres away. I checked my bird app on my phone and immediately recognised the call of the Brown Quail. I knew that I didn't have a photo of this species, so I set off in pursuit. I actually managed only two photos which I have cropped and shown here today. They are not brilliant photos, but they are the best I have.
This is the first time I have seen this species, even though they are relatively widespread in the region where I live. They can be quite shy birds, hiding in grasses and bushy areas. I guess that they have found these gardens to their liking and are getting used to people being around quite often. I was amused when my friend Keith started imitating the call – and both birds answered him from nearby. They also answered the call from the app on my phone. Neither Keith's call, nor that from my phone made them come closer to investigate. At one point one of them did fly low over the table where we were sitting, but it went straight into a bushy area and out of sight.
As far as I can tell from my memory and records, this sighting is a "lifer", that is, it is the first time in my life I have seen this species.
Further reading (click on the title):
Below I have included several flower photos taken yesterday.
After nearly three weeks visiting family in Sydney and playing with our delightful grandchildren, we are on our way home again. We have reached Narrandera in the Riverina region of New South Wales. This is one of our regular stops on our way to and from Sydney.
We treated ourselves to a wonderful meal for dinner at the Hing Wah Chinese Restaurant in the main street. The food was delicious and the service excellent. I highly recommend this eatery. On our way back to our cabin in the caravan park we nearly hit an owl as it crossed the road in front of our car.
I am not sure what species it was but from its colour – mostly brown – and size it was possibly a Tawny Frogmouth or a Boobook Owl. It certainly did not have the lighter colours of a Barn Owl, and it was too big to be an Owlet Nightjar. It made a good ending to a rather poor birding journey today. Between Sydney and here we saw very few birds, except for a half hour stop for afternoon tea at the Wagga Wagga Botanic Gardens.
UPDATE: at 5:30am the next morning I heard the call of a Southern Boobook Owl just outside our cabin in the caravan park where we were staying for the night. It was good to have my initial identification confirmed.
Over recent years we have often visited family in Sydney, a two day drive from home. Whenever we have the chance we visit local bushland, parks and botanic gardens. Today was one such opportunity. For nearly two hours this afternoon my wife and I visited the Ku-ring-gai Wildflower Gardens in St Ives. My wife is interested in Australian native plants and areas featuring our native plants also attract a wide range of our native birds as well.
Over the years I have had mixed results birding at these gardens. On some occasions the birdlife is so prolific I have trouble keeping up with identifying what I am seeing, writing down a list of birds seen, and photographing birds as they come into camera range. On other occasions the birdlife seems almost non-existent.
Like today.
During the eating of our picnic lunch I heard only 4 individual birds: Australian Raven, Noisy Miner, Black-faced Cuckoo-shrike and a Red Wattlebird. I actually only saw the last two in that list. It was not a good start. Little did I know how our time in the gardens would end.
After lunch we went on one of the walks through the natural bushland near where we had lunch. This walk has proved quite productive birding on a few occasions. During the walk we saw a few native plants in flower and this sustained our interest. I've shown several of these flowers on this post.
Other bird species encountered include an immature Grey Butcherbird, several Silvereyes, Sulphur-crested Cockatoos, Rainbow Lorikeets and a Little Wattlebird. I think I saw a small flock of Red-browed Firetails fly across the road as we left, but they flew too quickly for a positive identification.
Just moments before we were about to leave, however, I had one of those wonderful experiences I have called Great Birding Moments on this site. I saw a male Scarlet Honeyeater – for the very first time in my life! A "lifer"! This has been one species I have wanted to see for a long time but it has eluded me so far. What is more, I managed several very poor photos. I hesitate to show one here because it is not up the standard I like to show here, so please  forgive me. I will try to get a better one someday soon.
I should add that this photo was taken in poor light – it was very overcast – against dark clouds and at full zoom on my camera at a distance of about 40 metres. And the bird was sitting at the top of a 20 metre tree. So, all things considered, I was really pushing the limitations of my camera. The image is slightly cropped as well.
Further reading:
One of our favourite places to visit when in Sydney staying with family is the Ku-ring-gai Wildflower Gardens on Mona Vale road at St Ives. These gardens are adjacent to the Ku-ring-gai National Park, another great place to visit. These gardens are about a half hour drive from my son's home so it is a convenient place to visit when we are in Sydney.
The gardens are typical bushland of the area with some areas set aside for picnic grounds. The Friends of the Gardens group also plant and maintain a few small areas displaying plants of the area but not actually present in the gardens. The group frequently put on a display of plants in flower in the Visitor Centre.
I have found that the bird life in the gardens can vary greatly according to the season and what is flowering at the time. On occasions I have been very disappointed with my list. On our most recent visit in July of this year I was pleasantly surprised. The only downside was getting only one good bird photo – that of the Australian Brush-turkey shown above. So instead, I have included some of my flower photos instead.
Here is a list of the birds I saw or heard, in the order recorded:
Australian Brush-turkey
Eastern Whipbird
Weebill
Rainbow lorikeet
Noisy Miner
Pied Currawong
Grey Butcherbird
Silvereye
Striated Pardalote
Grey Fantail
Variegated Wren
Eastern Yellow Robin
Yellow-faced Honeyeater
Striated Thornbill
Spotted Pardalote
Laughing Kookaburra
White-browed Scrubwren
White-throated Treecreeper
Brown Cuckoo-dove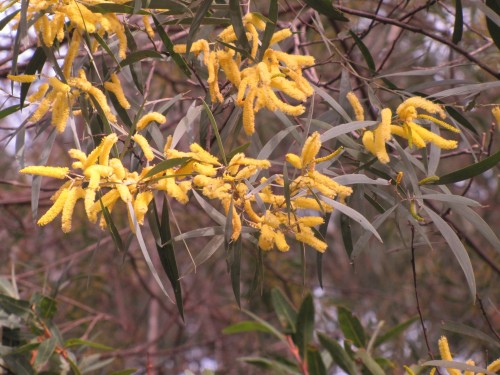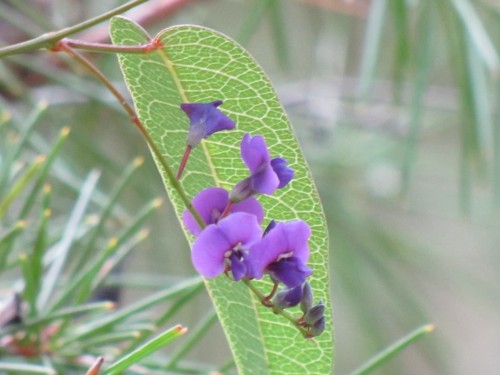 I just had to stop and take a photo of this special tree in the Mt Annan Botanic Gardens in Sydney. Many of the trees in Australia are in the eucalyptus family, commonly known as "gum trees". One group of them is also known as "blue gums". The staff here in the gardens must have a good sense of humour.
The sign in the foreground explains the message they are trying to get across: "Dead trees provide beautiful homes with perfect views."
Collectively, the gum trees of Australia provide homes for countless numbers of creatures. A single large tree – like the one in the photo – can be home to many species of insects, beetles, spiders, lizards as well as birds, bats, possums and many others. The trees provide shelter, roosting spots, nesting sites, nesting hollows, food and perching spots.
On the down side, millions of dead, mature trees like the one in the photo, have been chopped down for building materials, railway sleepers, firewood and for fence posts. Even a dead tree can provide a home for many creatures, especially if the tree has good nesting hollows. Owls and parrots especially like these hollows, and so do possums and bats. While large stands of mature trees do remain, the popularity of open fires and slow-combustion fires has accelerated the demise of many older dead trees.
Disclosure: I must confess to liking a wood fire myself, and so I am in a small way probably guilty of destroying some of these beautiful old trees. To partially lessen my guilt, only yesterday we arranged for a heating consultant to inspect our home to advise us on alternative methods of heating. Installing a reverse cycle air conditioner is the way to go, powered largely by our solar panels on the roof.