Archive for the 'Non-Australian birds' Category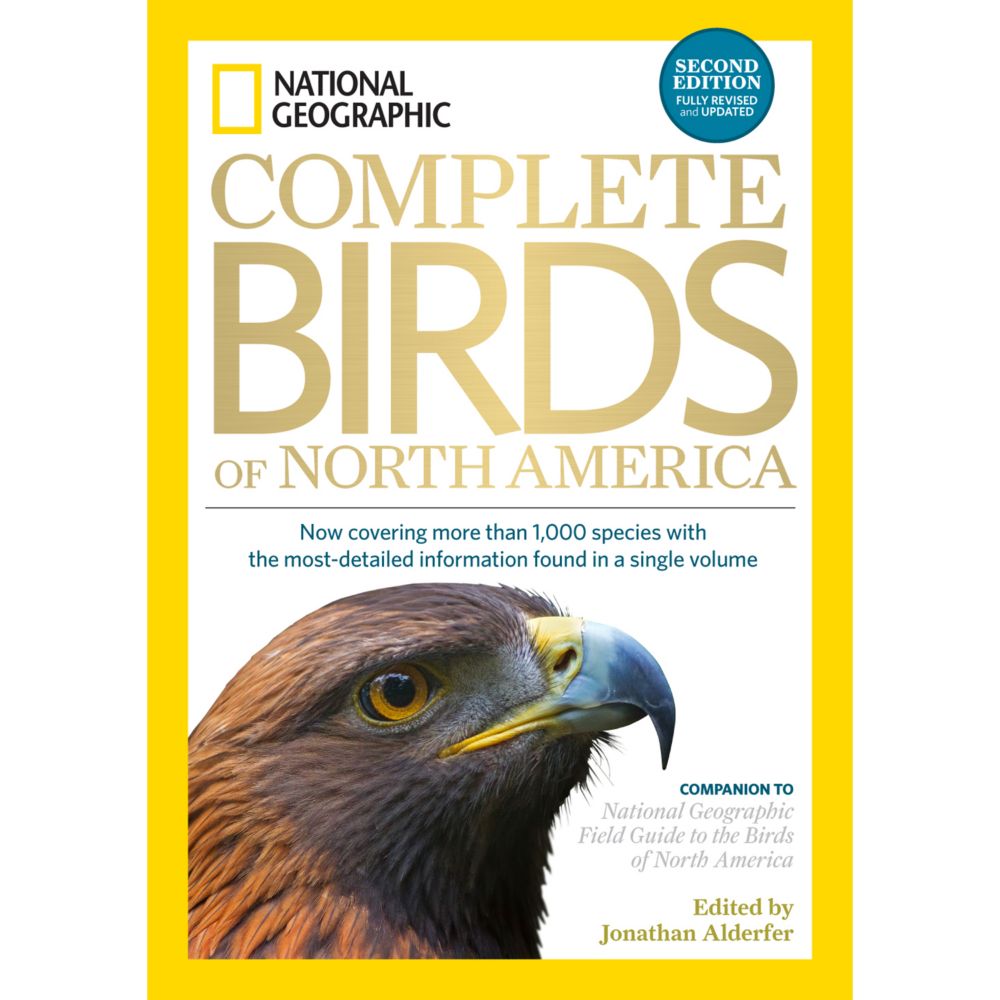 National Geographic Complete Birds of North America, 2nd Edition: Now Covering More Than 1,000 Species With the Most-Detailed Information Found in a Single Volume,
Edited by Jonathan Alderfer, with Jon L. Dunn, maps by Paul Lehman
National Geographic Society, October 2014.
ISBN-10: 1426213735; ISBN-13: 9781426213731
744pages;  10.1 x 7.2 x 1.8 inches
This is a truly magnificent volume and one I am pleased to add to my library. Although I live in Australia and do most of my birding here I have been birding in a number of non-Australian countries. Sadly, I have yet to spend any time birding in the North American continent, a state I would like to correct sometime soon. This wonderful volume just adds a keen impetus to that desire.
I did not buy the first edition of this great work, so I cannot make comparisons. It has been "fully revised and updated" so I will have to take the editor's word for that. There has been a significant increase in the number of species covered, now numbering over 1000. Edited by Jonathan Alderfer, this volume is a natural companion to the National Geographic Field Guide to the Birds of North America.
Look at the numbers
This monumental work stacks up well as far as the numbers are concerned:
a total of 744 pages
Over 1000 species featured (compared with 962 in the 1st edition and 990 in the Field Guide)
Over 800 distribution and migration maps
150 full colour photographs
9 photographers
Over 4000 illustrations
21 artists
89 family groups included
An interesting group of rarities discussed
The text draws on the combined expertise of 25 birding authorities
Two pages of references to Additional Reading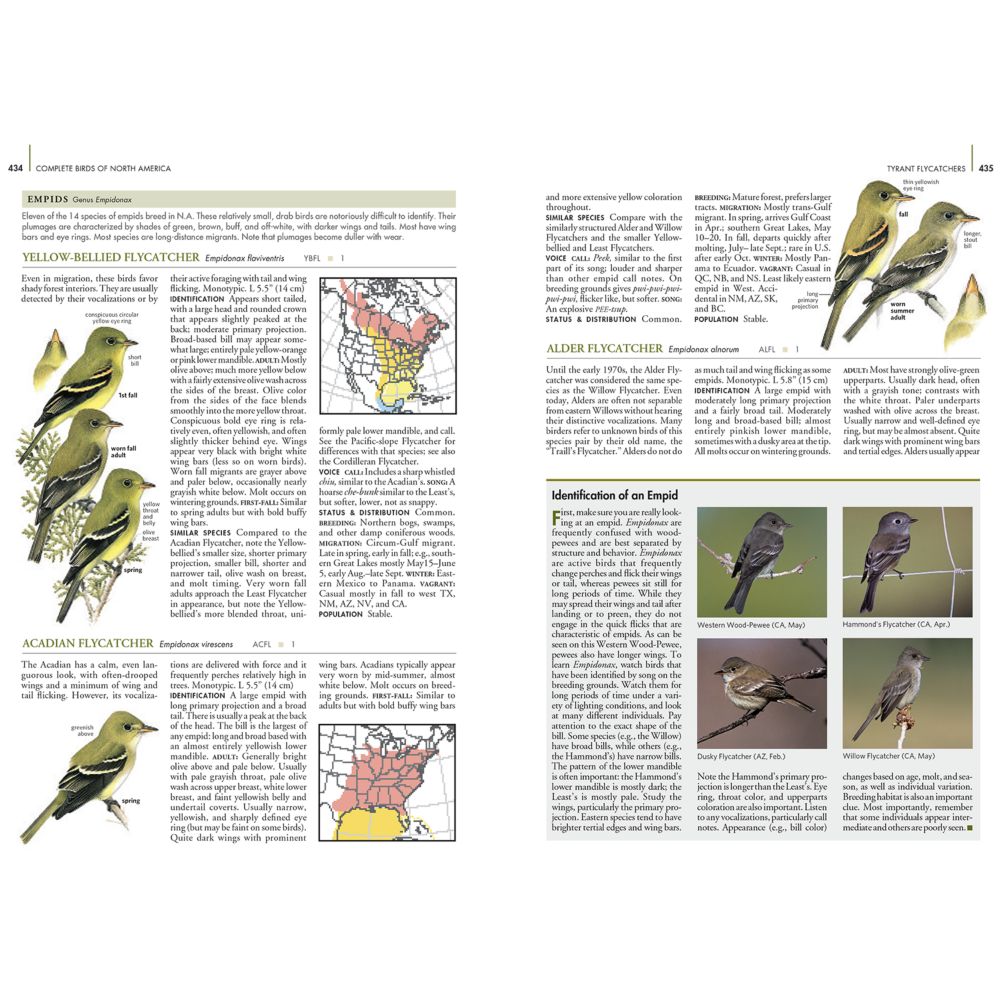 Format and layout
Each family of birds has a short introductory essay, followed by thorough coverage of each species in that family. Each species is then given a thorough coverage in the main body of the text, including:
a general introductory paragraph
Identification details (including male/female, juvenile and plumage variations)
Geographic variation (where appropriate)
Details of similar species
Voice
Status and distribution
Population notes, including changes in numbers
Range maps
A small, field guide type illustration
A photograph (selected species)
Range maps
The colour-coded range maps are very detailed and include:
breeding range (salmon)
year-round range (purple)
winter range (blue)
migration range spring and autumn (orange)
migration range mainly in spring (green)
migration range mainly in autumn (yellow)
a range of other symbols (eg arrows showing direction of migration – see below)
Birds in flight
One of the useful details include the illustrations showing different aspects of a species in flight. This is particularly handy for those species birders see more often in flight rather than sitting or perching.
Concluding comments:
Overall, this is not only an impressive publication, it is immensely useful and helpful. It is by no means a thorough scientific handbook featuring and summarising all the current knowledge on each species; other handbooks do not far more effectively. (As an aside, it is nothing like our Handbook of Australian, New Zealand and Antarctic Birds (HANZAB) which is in 7 volumes, each of over 1000 pages of small print.) It doesn't pretend to be an exhaustive authority on all things birds in North America. However, it succeeds admirably in being a single-volume reference to all the species of one continent, easy to read, easy to use and a delight to read – or just browse. It will delight all birders, from casual and inexperienced backyard birders through to field-hardened experts.
All I have to do now is:
Find space on my bookshelf for this new volume
Save up for a birding trip to North America.
Simple.
Good birding.
Disclosure: I would like to thank National Geographic for kindly providing a review copy of this book.
Further reading:
Sun Conures (also called Sun Parakeet) are native to north-eastern South America. They are spectacular in their bright colours and it is not surprising that they are a popular aviary bird.
The birds shown in today's photos are a part of the wonderful collection of birds in the Adelaide Zoo in South Australia. The zoo has a very strong collection of Australian birds with a small selection of non-Australian birds as well.
I am quite pleased with the photos shown today, taken as they were through the wire netting of the aviary.
You can read about another species of conure in the zoo, the Brown-throated Conure, by clicking here.
The Adelaide Zoo has an excellent collection of Australian and exotic birds in their aviaries and I enjoy the challenge of photographing them, especially where I have to shoot through the wire netting. The photo of a Yellow-collared Lovebird  above turned out quite well, despite the netting in the way. It is much easier in the walk-through aviaries of course.
The various species of lovebirds available through pet shops and those that specialise in just birds make them quite popular here in Australia. My opinion of lovebirds is somewhat unfavourable, I must admit. Many years ago our neighbours when we were living in another town had quite a number of lovebirds in a smallish cage right next to our fence. All I can remember is that they were constantly squabbling and screeching.
On a more positive note, I will acknowledge that they are beautiful birds. I can see the attraction of having them as pets, either in a cage or in a bigger aviary.
They are native to Tanzania in southern Africa.
I have written about this species on another occasion (click here).
There are few more striking birds than the magnificent Gold and Blue Macaw.
Today's photos again feature a non-Australian species and yet another that I'd love to see in its natural habitat, South America. At this stage there is little hope of seeing this species in the wild – unless my grandchildren – who were born Colombia – insist on me taking them to visit their birth country! (I can dream, can't I?)
This individual is a part of the great bird collection at my home zoo in Adelaide, South Australia. It is featured in a small bird show at the zoo every day. The keeper allows the bird to fly freely around inside the perimeter of the zoo, all the while giving a talk about the species and other parrots. It's a great educational experience to have a large, spectacular parrot flying just centimetres above the audience seated on the lawn in front of a low stage.
And somewhere I have a print of me holding this bird; it was taken at the zoo some years ago. (I don't think that they allow the public to hold the bird these days.)
Today I feature another species I have not yet seen in its natural habitat, the White-breasted Ground Dove. Today's photos were again taken in the Adelaide Zoo, South Australia. This zoo has an excellent bird collection on display.
As this species is found in Papua New Guinea, a country I have yet to visit, it's not surprising that I have not seen this bird in the wild. Visiting a zoo is not quite the same, but is a good way of seeing birds I may not otherwise get to see.
As the name suggests the White-breasted Ground Dove is a species that spends a lot of time feeding while on the ground. It eats seeds, berries and insects and can be found in the dense undergrowth of the rainforest. Sounds like it might be a bird hard to find in its natural habitat.
I'm not absolutely certain, but I think that the photo above shows a male, while the one below is of a female which has duller colours than the male.