Archive for the 'Plants' Category
On my recent visit to the Lane Cove National Park in Sydney a spent a half hour or so slowly walking along one of the roads through the park, trying to find and photograph some of the birds present in the park. It was a rather frustrating time and although I managed to add a few birds to my list, I wasn't very successful at getting many photos.
The above shot of a White-throated treecreeper – a poor shot at that – was the only one I can use here. So instead of returning to the car without any photos, I turned my attention to some of the flowers.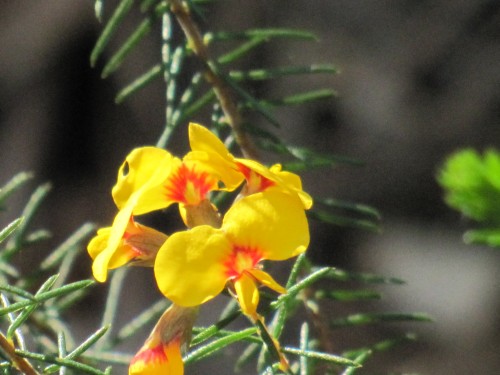 On our recent trip to visit family in Sydney we were determined to visit the Australian Botanic Gardens Mt Annan at Campbelltown in the south eastern part of greater Sydney. In recent visits to our son it has never worked out to take a day trip to these gardens. In fact, our last – and only visit – was in April 2000. Our memories of that visit were getting very hazy, though I do remember seeing Double-barred finches there – my one and only sighting of this species.
The Australian Botanic Gardens Mt Annan are part of the Royal Botanic Gardens Sydney and are run by the same Trust. The gardens are 416 hectares in size and include hills, fern gullies and creeks, and lakes. One section even boasts a decent mountain bike track. About 4000 Australian plants are on display in these gardens. Unfortunately, very few were flowering at the time of our visit. We could only imagine what it would look like in the spring. (Note to self: organise a visit in spring!)
Despite the lack of flowers I was still pleased to record about 40 bird species during our stay. One of them was a shy Superb Fairy-wren shown above. He was skulking around in the undergrowth in the fern gully, just where the light was too poor for photos. His brief appearance in a lighter spot was not quite long enough for a good photo.
Below I've shown one of the plants in flower on show during our visit.
I will write more about the birds I saw in coming days.
I have been trolling through a few photos taken over two years ago, looking for some I haven't shared here on this site. On this occasion I took John Tongue and family birding to a site about 15 minutes' drive from home. Brown's Road, near Monarto just west of Murray Bridge here in South Australia is something of a birding mecca for birders in this locality. The Birds SA people, as well as individuals, often arrange field trips to this locality.
Strange as it may seem, after living so close for over 25 years, this was my first visit. It was quite a warm day and the birding was a little slow but we did see a few good species, including the Purple-crowned Lorikeets shown in the photos today. Below I have also shown the vegetation typical of this area. While it is predominantly mallee eucalypt, there are also consideration native pine stands (Callitris spp) and quite a few introduced plant species due to the area being planted up several decades ago.
Last Saturday I had a meeting in Gawler which is just over an hour's drive from home. I had a little time on my way home, so I stopped for a hour at Hale Conservation Park near Williamstown in the Mt Lofty Ranges. We often drive past this park going to or from our daughter's home in Clare, but we've only ever stopped a couple of times. This time I had a hour of birding on a lovely sunny winter's afternoon.
The birding was a little slow with only a handful of species obvious, mostly calling. A few days ago I showed a photo of a Scarlet Robin (click here) that obligingly posed near me. I saw quite a few Yellow-faced Honeyeaters flitting around in the tree tops, but none settled close enough for a decent photo. The best of a poor set of photos is shown below. This is the best photo I have of this species, which probably means that I need to get out birding more often seeing it is quite a common species.
The final photo on today's post is a close-up of some of the wildflowers growing in the park. I must visit again in the springtime when plenty of native plants will be in flower.
Yesterday I wrote about a Hooded Vulture (Necrosyrtes monachus) with missing feathers (click here to read).  As promised I have several more photos to show today, including some much closer up than those shown yesterday. These photos were taken on the campus of Bingham Academy, Addis Ababa, the international school where my daughter was teaching last year. We went to visit her in December.
Hooded Vultures are found over a large part of sub-Saharan Africa. They are often found near human habitation and are not slow to clean up after human rubbish is dumped. I guess the school oval was an interesting and fruitful place for them to visit, especially after the students had finished eating lunch.
While this species can be locally abundant it has recently (2011) been placed on the IUCN Red List as an endangered species, with fewer than 200,000 individuals left. There has been a rapid decline in numbers in recent years due to poisoning by poachers not wishing the birds to attract attention to their kills. Some are taken for food and sold as chicken meat while others are victims of avian influenza. A further decline has been caused in some areas due to more hygienic waste disposal methods by abattoirs. This species mainly eats carrion but also feeds extensively on insects.
As an interesting side note, observant Australian readers will note that the tree this bird in perching in happens to be an Australian eucalypt. Many have been planted in the school grounds. There are also very extensive eucalypt forests surrounding Addis Ababa, many of them planted in the late 1800s. It is now used extensively for firewood and on construction sites.
Reference: BirdLife International 2011. Necrosyrtes monachus. In: IUCN 2011. IUCN Red List of Threatened Species. Version 2011.2. <www.iucnredlist.org>. Downloaded on 07 February 2012.