Search Results for 'close encounters'
2007 Australian Capital Territory trip report # 11
In the afternoon of the day we went to visit the Australian National Botanic Gardens in Canberra we had a short break. We'd been walking for hours and we were a little leg weary. We stopped at a convenient picnic table to have a light snack and a drink.
We'd hardly sat down when a Red Wattlebird decided we might be an easy touch for a snack of his own. Like so many birds in Australian parks and picnic grounds, this individual knew that humans meant food. So he came and sat on the table next to us.
He didn't seem at all threatened by my camera whirring and clicking less than a metre away. It is times like this that I love having a camera in my hand all ready to shoot.
The male Golden Whistler is one of Austrlai's most stunningly beautiful birds. When sitting perched in the early morning sun the golden yellow feathers almost glow. The colour of the breast feathers shine like a beacon lighting up the sometimes drab mallee or woodland habitats in which it lives.
Female Whistlers

The whistlers can be quite confiding birds in a garden setting. Earlier this week, as we sat in the plant nursery having a well deserved cuppa, a female golden whistler came to visit us. Now the female is as drab as the male is colourful. Plain brown at first glance, and rarely worth a second look in the presence of her amazing mate. True, I always do try to get a second look – just to check out if it is a female Golden Whistler and not a female Rufous Whistler. Both are common in this part of Australia but fortunately easily identified. The female Rufous Whistler has a streaked front.
Close Encounter
This individual allowed me to sneak closer and closer until I was about four metres away. Then I tried making kissing sounds and she became very curious. Eventually she came to within a metre of where I stood near a bush. Up close one is forced to overlook the apparent drabness of the female. She is, in fact, finely marked and just as beautiful, in her own right, as the male.
It was indeed a wonderful close encounter.
And of course – I didn't have my camera with me. Still, I managed to get a reasonable photo of the female last week.
We later heard the male calling but he didn't show himself.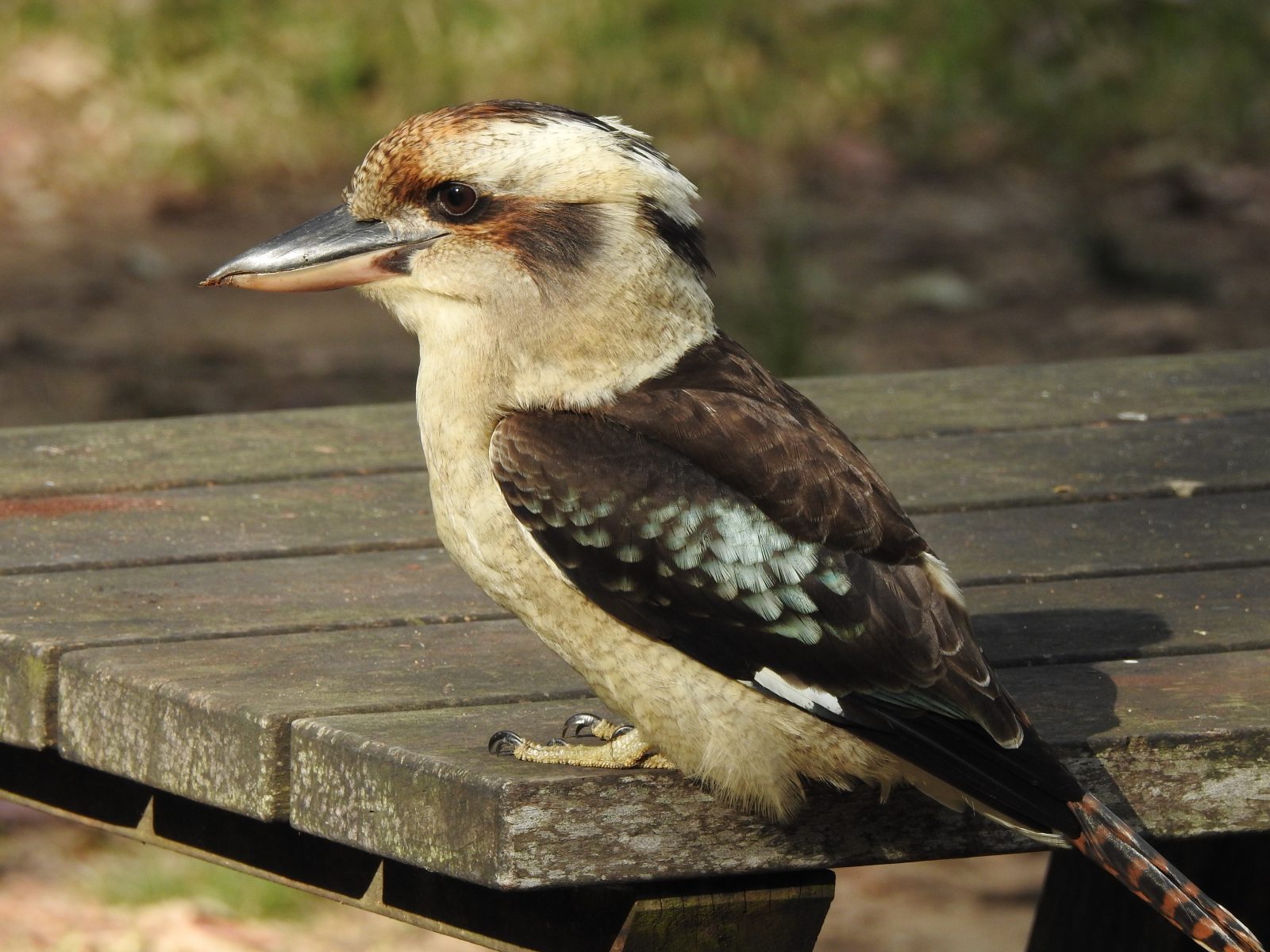 On many other occasions, I have written about my visits to Lane Cove National Park. This beautiful park is close to the Chatswood CBD just a short distance north of the Sydney Harbour Bridge. My son and his family live just a few minutes' drive from the park, so I have taken many opportunities to visit and take photos of the birdlife, the flora and other interesting sights along the Lane Cove River which flows through the park.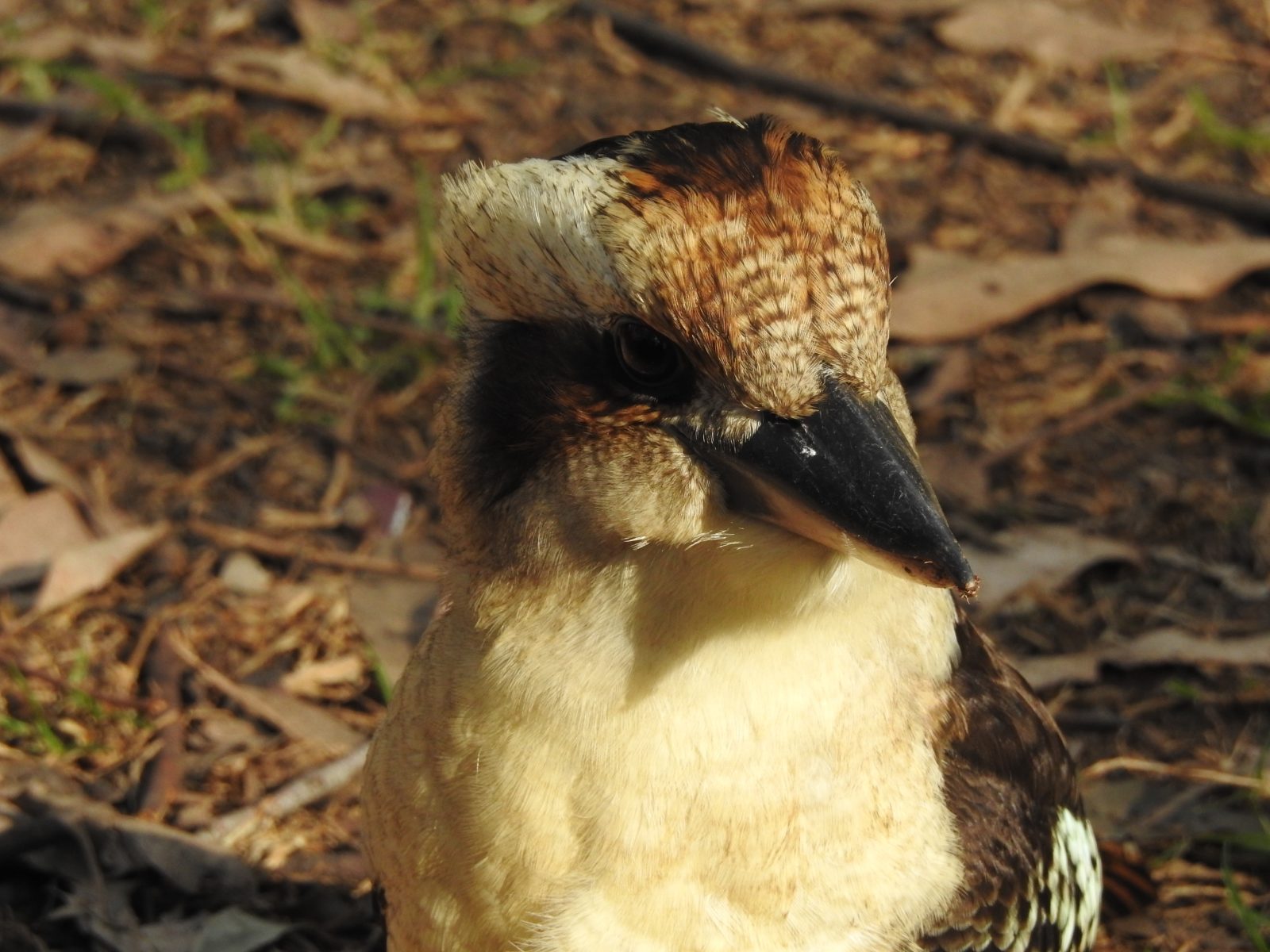 On a visit earlier this year, I spent most of one day exploring the park and taking photos of anything that took my attention. At one point I lingered near a picnic table. There are many such tables in the park for the convenience of visitors. Two Laughing Kookaburras were attracted to something on the ground but I couldn't work out exactly what they were so interested in – perhaps it was a beetle or some other insect. Or the remnants of a picnicker's lunch.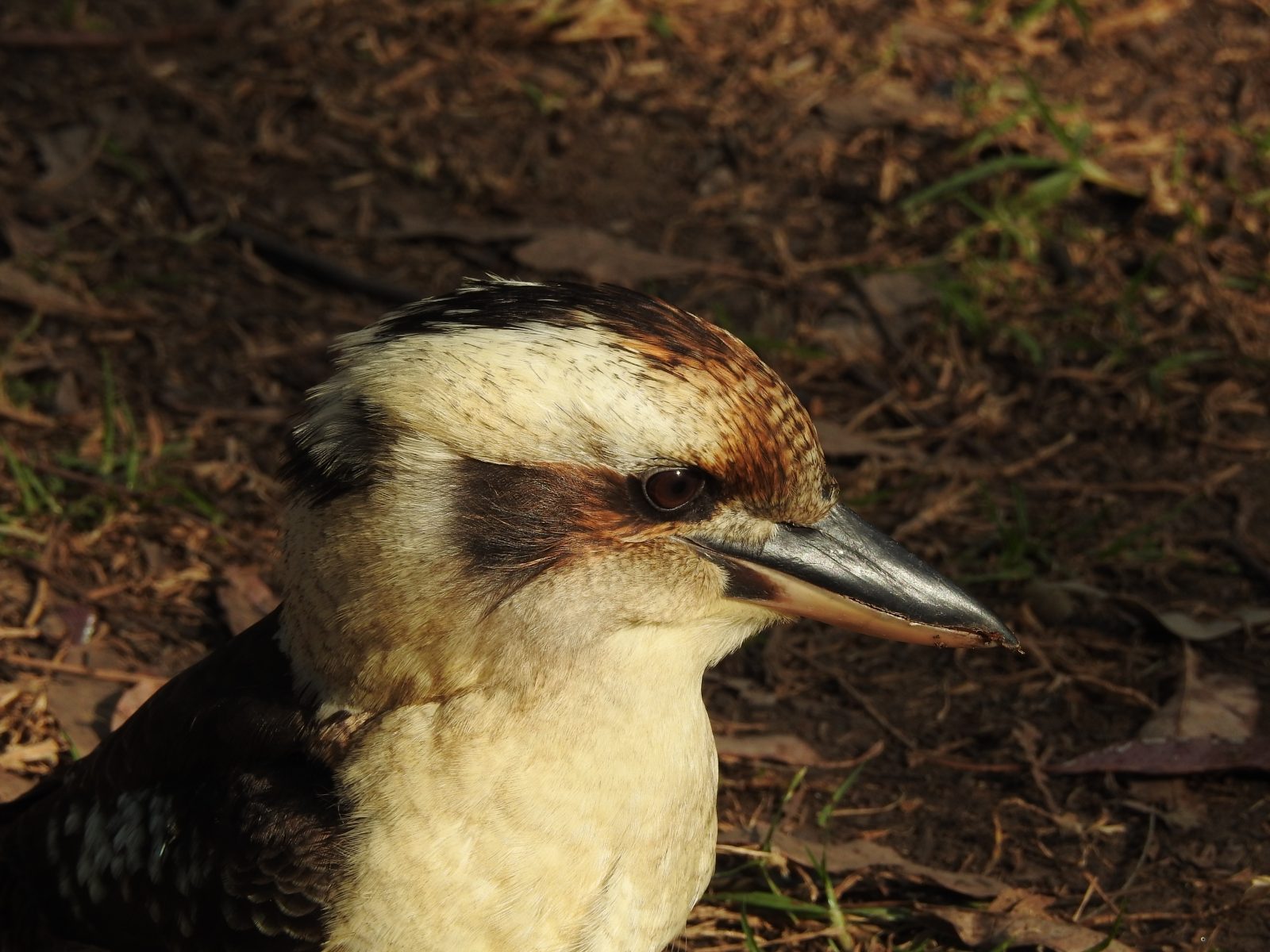 The two kookaburras kept squabbling over whatever had attracted their attention and consequently I was able to take quite a few closeup photos as shown in today's post. I was able to get to within a metre or two of the birds so I really didn't need the wonderful zoom facilities of my camera.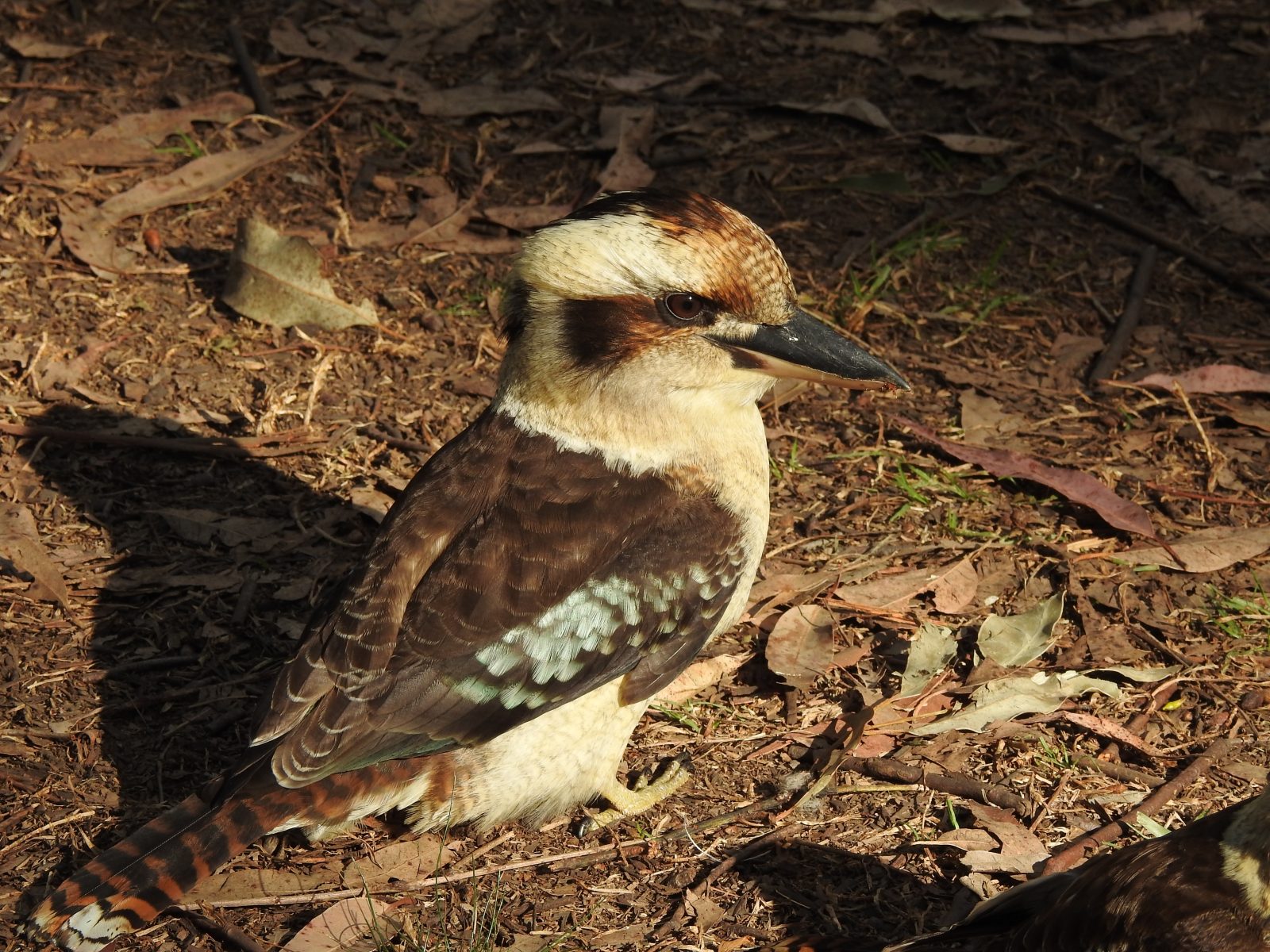 I kept on shooting until they decided to fly off. Visitors need to watch carefully for the kookaburras in this park, especially if they have food on their table or barbecue. On one occasion a kookaburra snatched part of a sandwich from alongside my wife while we were eating lunch.
On another occasion, my grandchildren were stunned when a kookaburra snatched a cooked sausage right off of the hot plate of a barbecue. They certainly are both opportunistic and cheeky.
Please leave any comments about your encounters with kookaburras or close encounters with other bird species.
Happy birding,
Trevor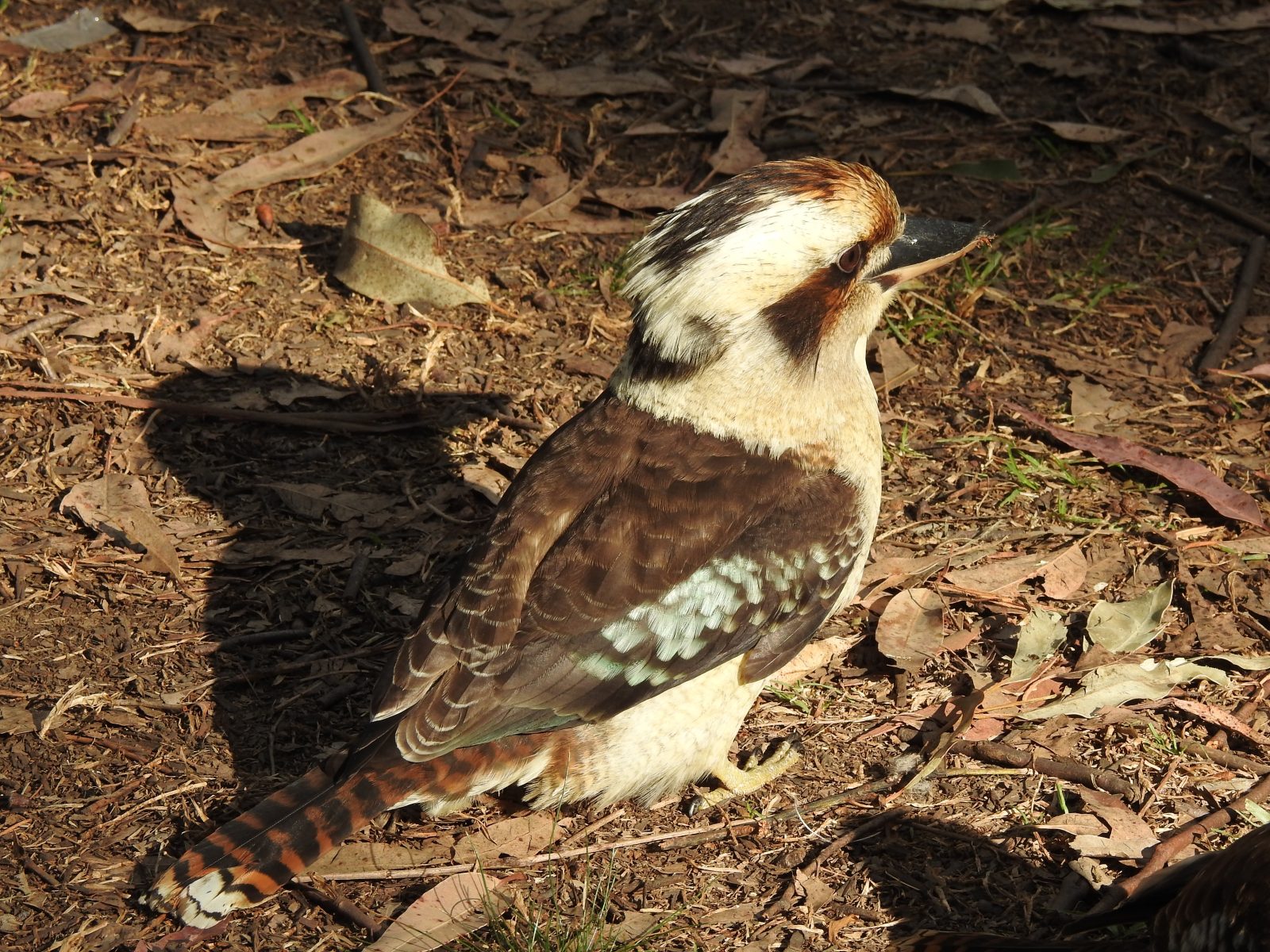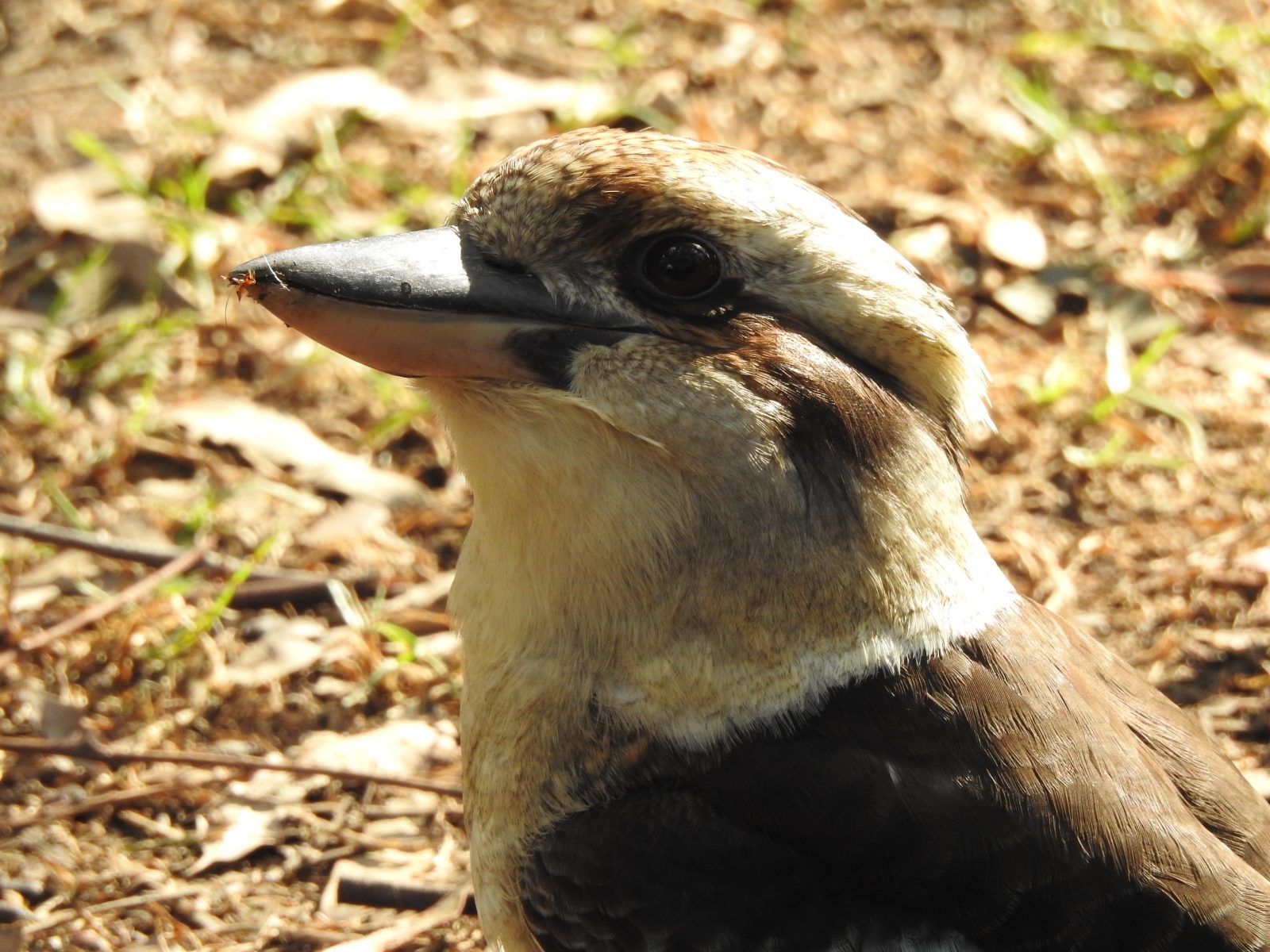 Quite frequently I have close encounters with our bird life, especially those which are resident in our garden and on our five acre block on the outskirts of Murray Bridge in South Australia. Sometimes I have the camera with me, sometimes I have to race off and get the camera. And then… there are those occasions when the bird flies off immediately.
Yesterday morning I was just finishing having breakfast, reading the daily paper and doing the cryptic crossword (yes, I solved it). I just looked up to check the bird bath – the one shown in the photo above – when a White-plumed Honeyeater landed on the window sill less than 50cm from where it was sitting. After staying for all of 5 seconds it flew off. No time to get the camera.
Then this morning the same thing happened, but this time a small movement on my part sent the bird flying off without actually landing.
Mmm… that makes me think. I wonder if this particular bird is coming to the window on a regular basis? I wouldn't be surprised if it was coming to snaffle an insect or a spider lurking around the window frame. Or perhaps it was after some spider's web to softly line a new nest?
(Embarrassed silence.)
I probably – no definitely – need to clear all the spiders' webs around the house – but then, I am trying to be 'bird friendly'. (Notice how I neatly side-stepped doing some house maintenance?)
For more articles about my close encounters with birds click here.
I have included a few more photos of close encounters with birds below.
I had another close encounter with one of the resident birds in our home garden this morning.
I had just finished watching a long parade of birds coming to either drink from our bird baths, or to have an early morning splash before a warm day. The various visitors had quite depleted the water, so it was time to get a bucket of water from the rainwater tank and then clean and refill the bird baths.
After cleaning the containers I went to fill them up again with fresh water but was distracted by a little Spotted Pardalote coming in for a drink. It gradually approached closer and closer until it was about 50cm away from me. It watched me intently for about ten seconds, obviously waiting for me to refill the bird baths.
I love these close encounters. Pity I didn't have my camera with me – the photo above was taken some time ago and also shows another regular visitor to our garden, a Silvereye.
Other species seen while having breakfast include:
Brown-headed honeyeaters
Red Wattlebirds
New Holland honeyeaters
Spotted Turtledove
Crested pigeon
Australian Magpie
House sparrow
Striated Pardalote
Yellow thornbill