Archive for the 'Kingfishers' Category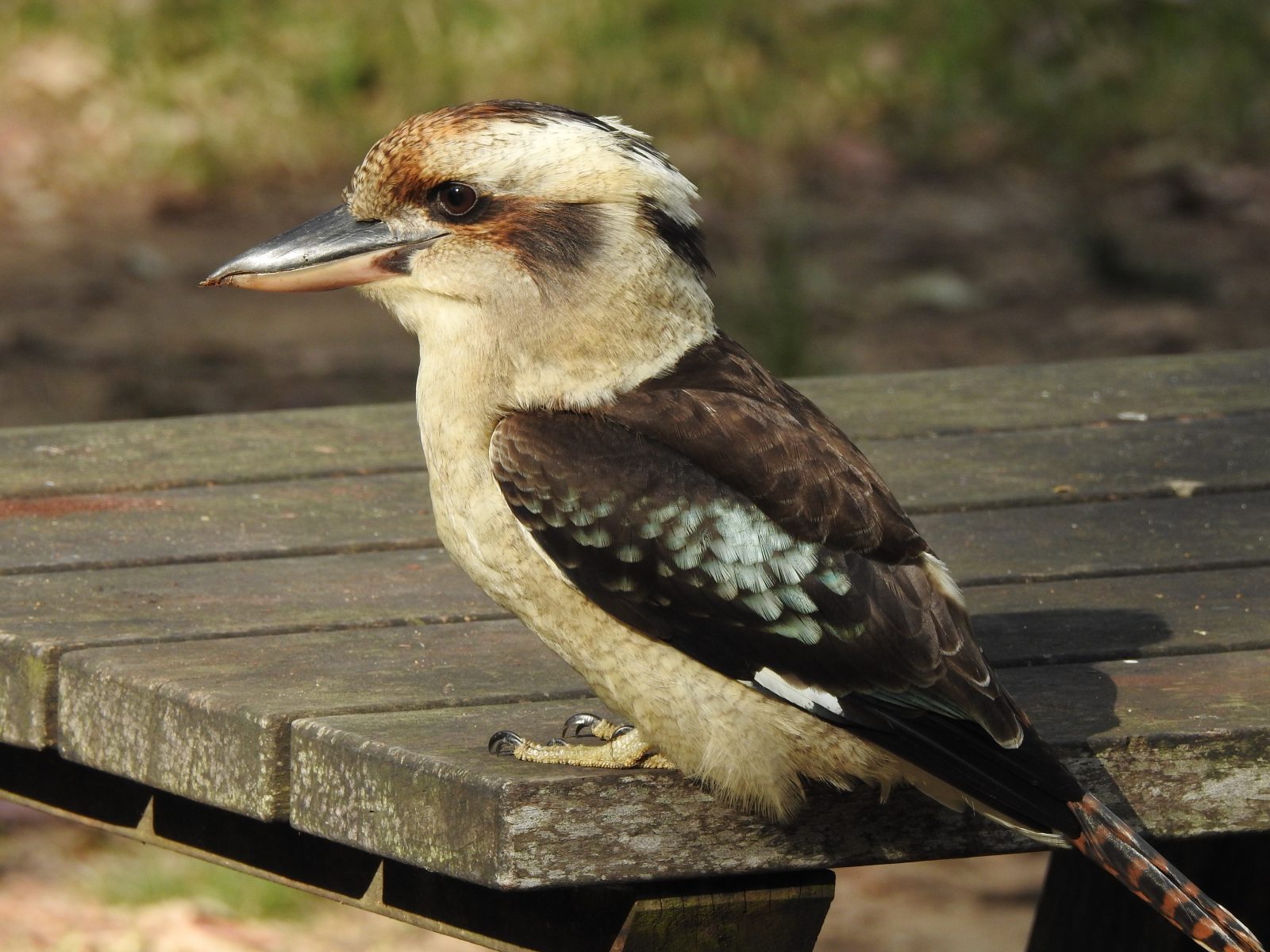 On many other occasions, I have written about my visits to Lane Cove National Park. This beautiful park is close to the Chatswood CBD just a short distance north of the Sydney Harbour Bridge. My son and his family live just a few minutes' drive from the park, so I have taken many opportunities to visit and take photos of the birdlife, the flora and other interesting sights along the Lane Cove River which flows through the park.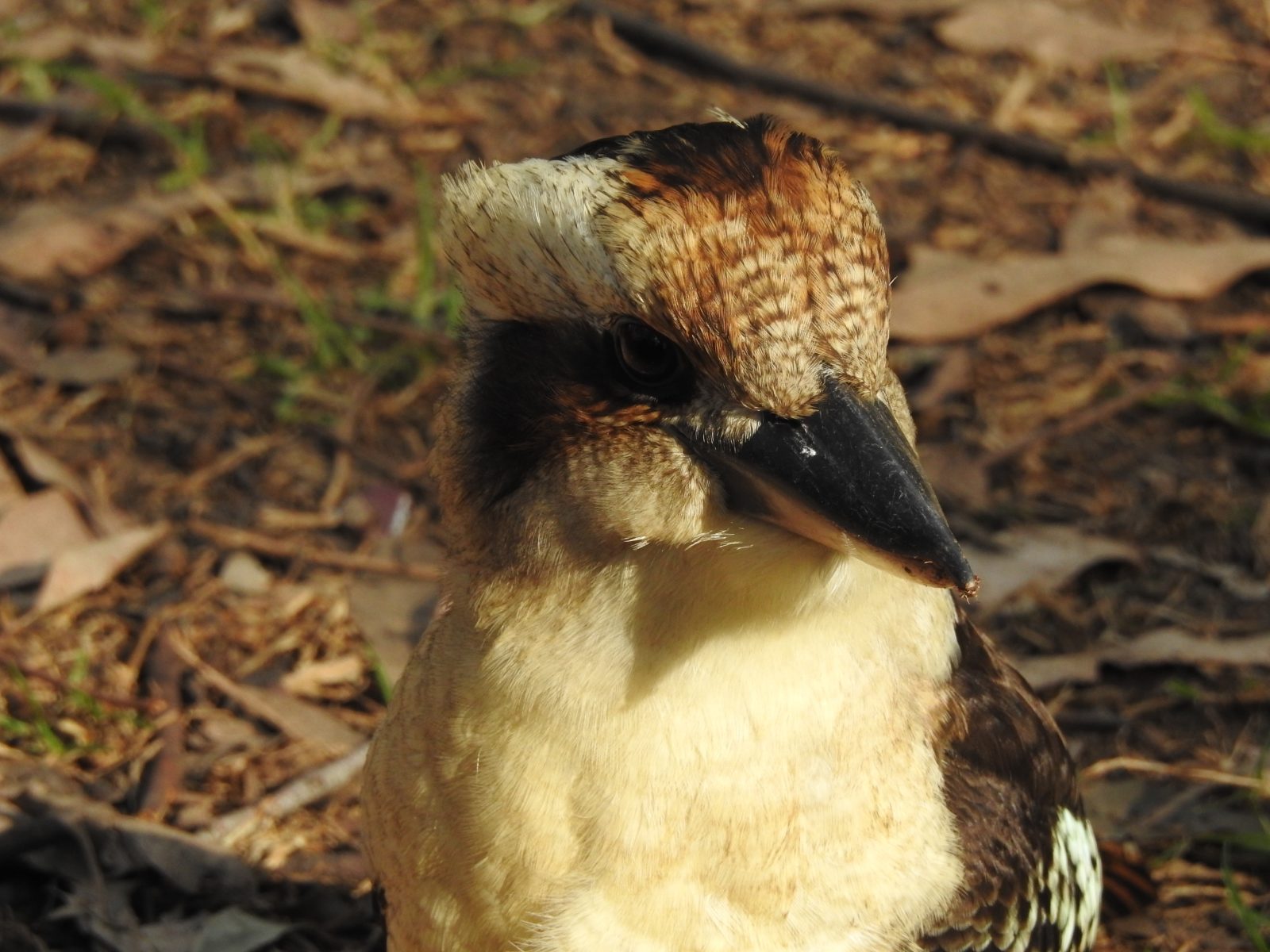 On a visit earlier this year, I spent most of one day exploring the park and taking photos of anything that took my attention. At one point I lingered near a picnic table. There are many such tables in the park for the convenience of visitors. Two Laughing Kookaburras were attracted to something on the ground but I couldn't work out exactly what they were so interested in – perhaps it was a beetle or some other insect. Or the remnants of a picnicker's lunch.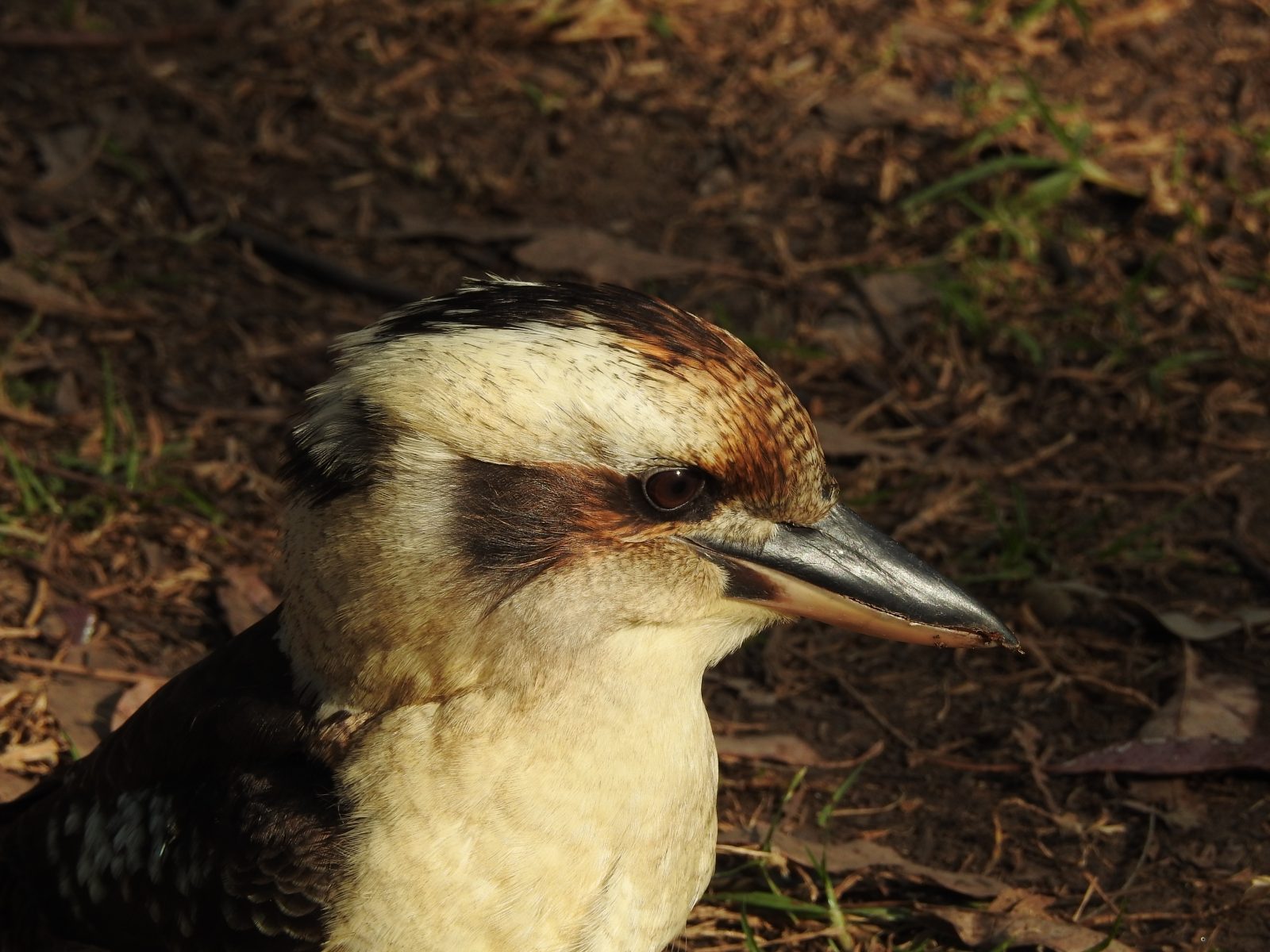 The two kookaburras kept squabbling over whatever had attracted their attention and consequently I was able to take quite a few closeup photos as shown in today's post. I was able to get to within a metre or two of the birds so I really didn't need the wonderful zoom facilities of my camera.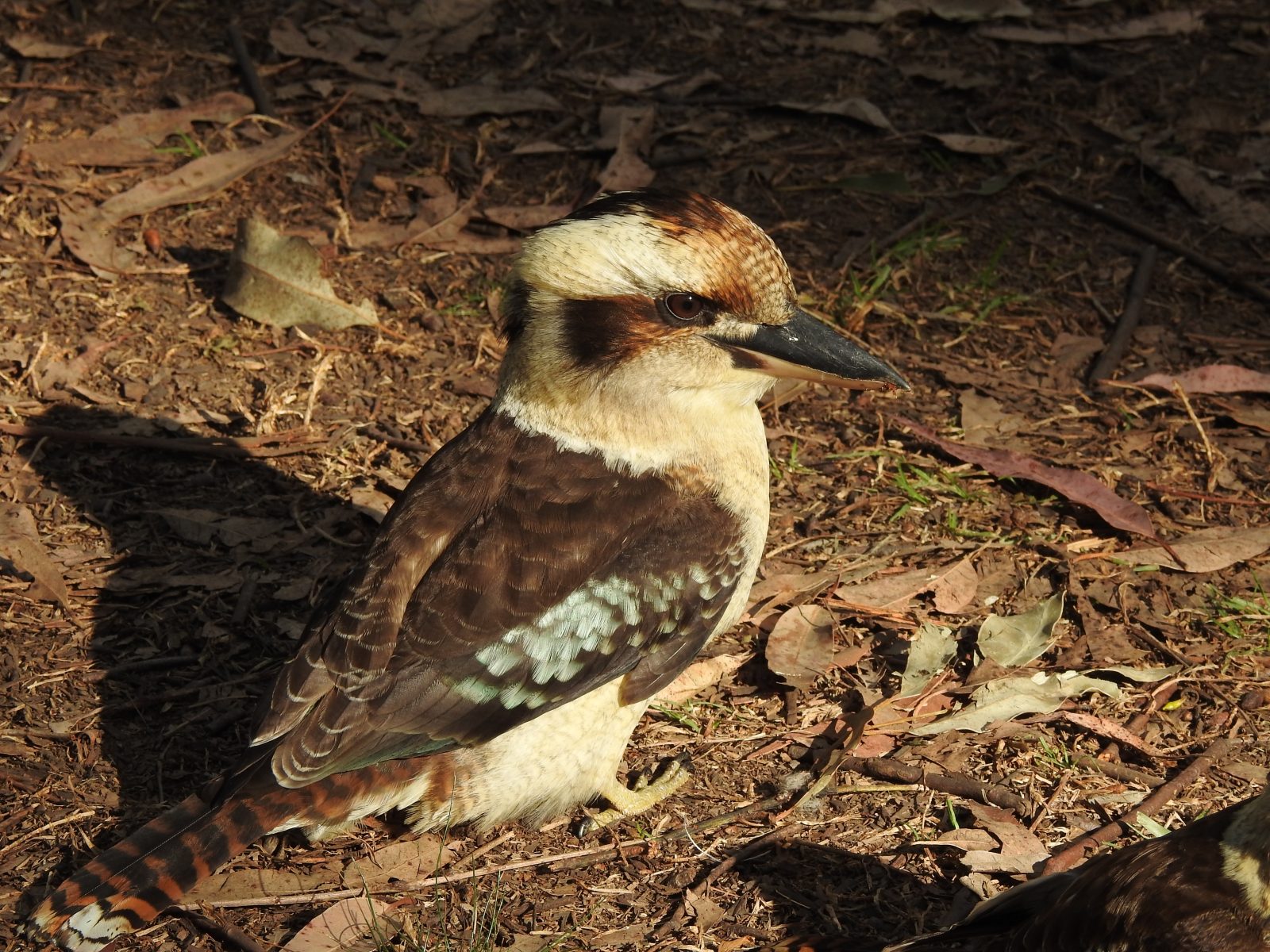 I kept on shooting until they decided to fly off. Visitors need to watch carefully for the kookaburras in this park, especially if they have food on their table or barbecue. On one occasion a kookaburra snatched part of a sandwich from alongside my wife while we were eating lunch.
On another occasion, my grandchildren were stunned when a kookaburra snatched a cooked sausage right off of the hot plate of a barbecue. They certainly are both opportunistic and cheeky.
Please leave any comments about your encounters with kookaburras or close encounters with other bird species.
Happy birding,
Trevor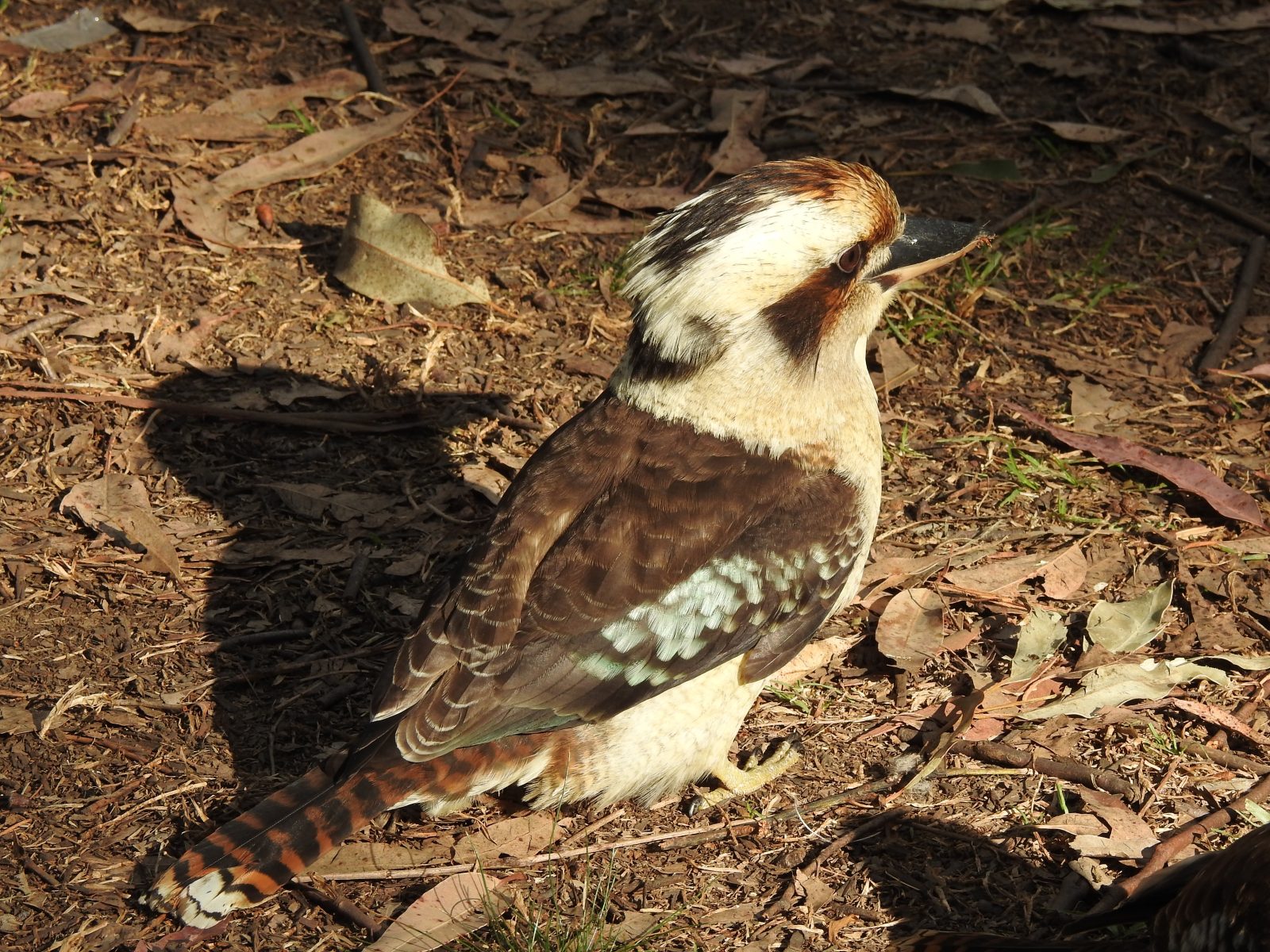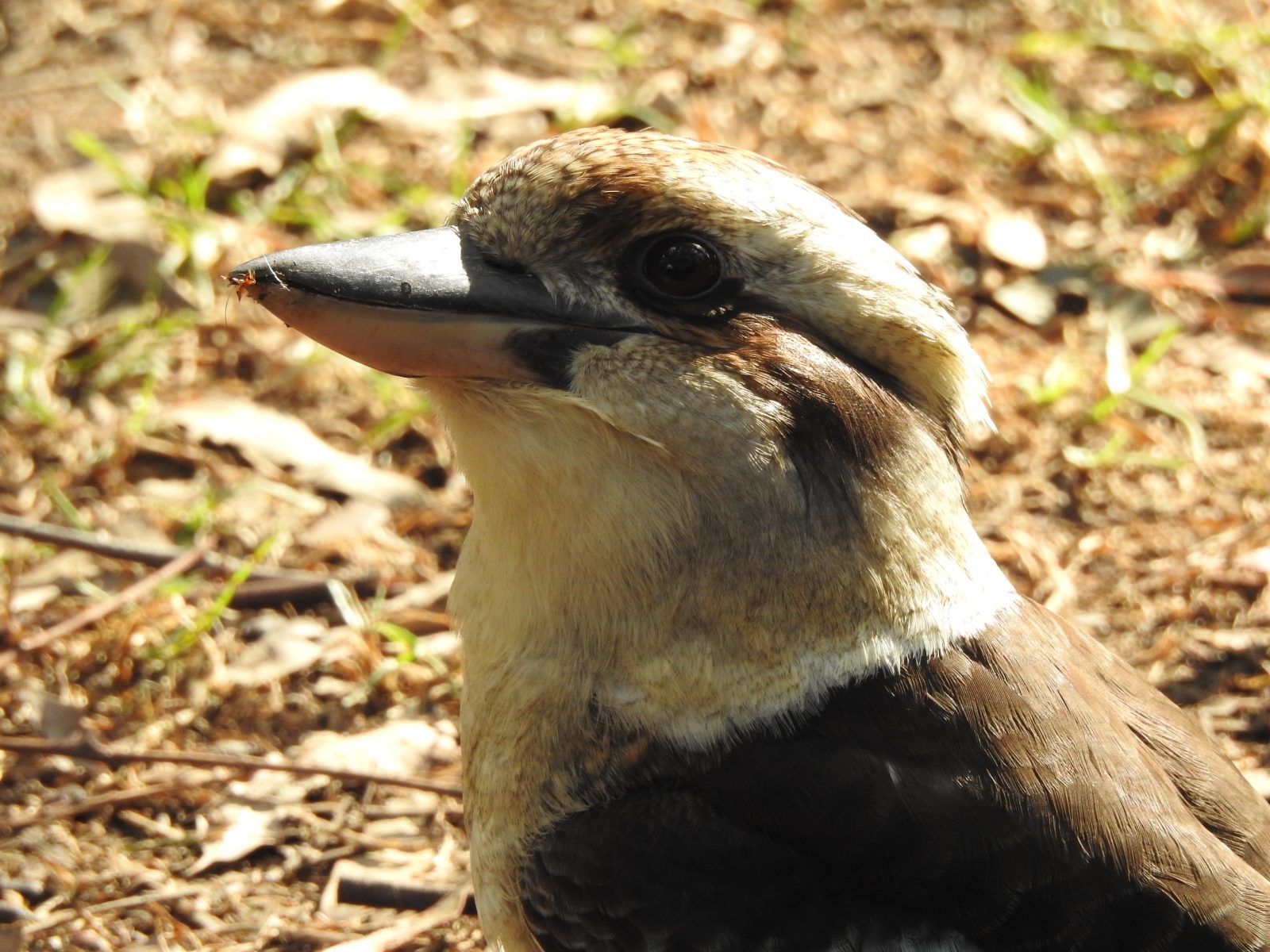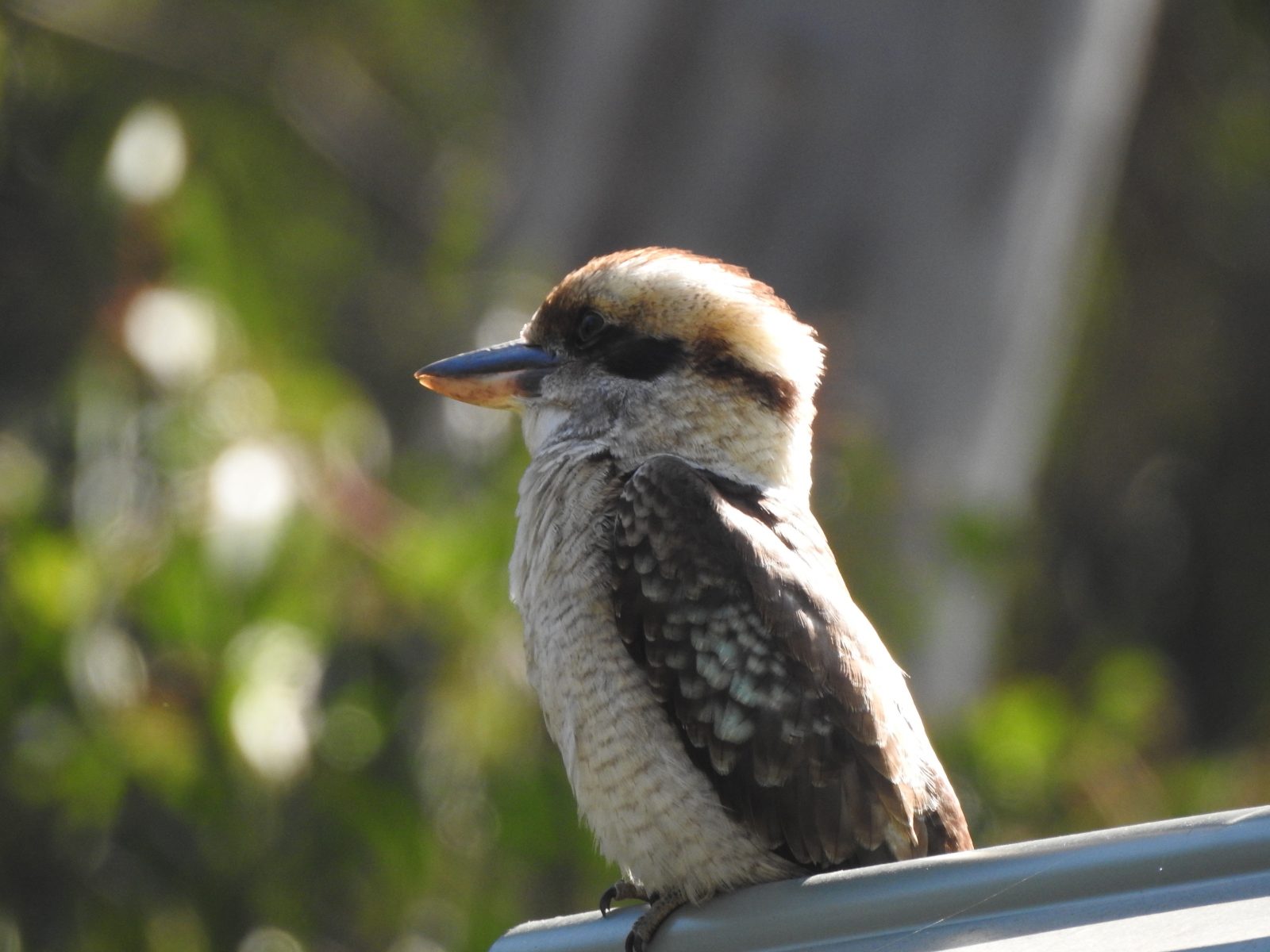 Laughing Kookaburras
Earlier this year I stayed with family in Artarmon for a while. This is a suburb in northern Sydney. During that time I took the opportunity to spend a few hours birding in the Lane Cove National Park, just a ten-minute drive from where I was staying. This has become one of my favourite birding spots and it is also a great place to get photos of some of the flora and fauna found right in the heart of a busy city.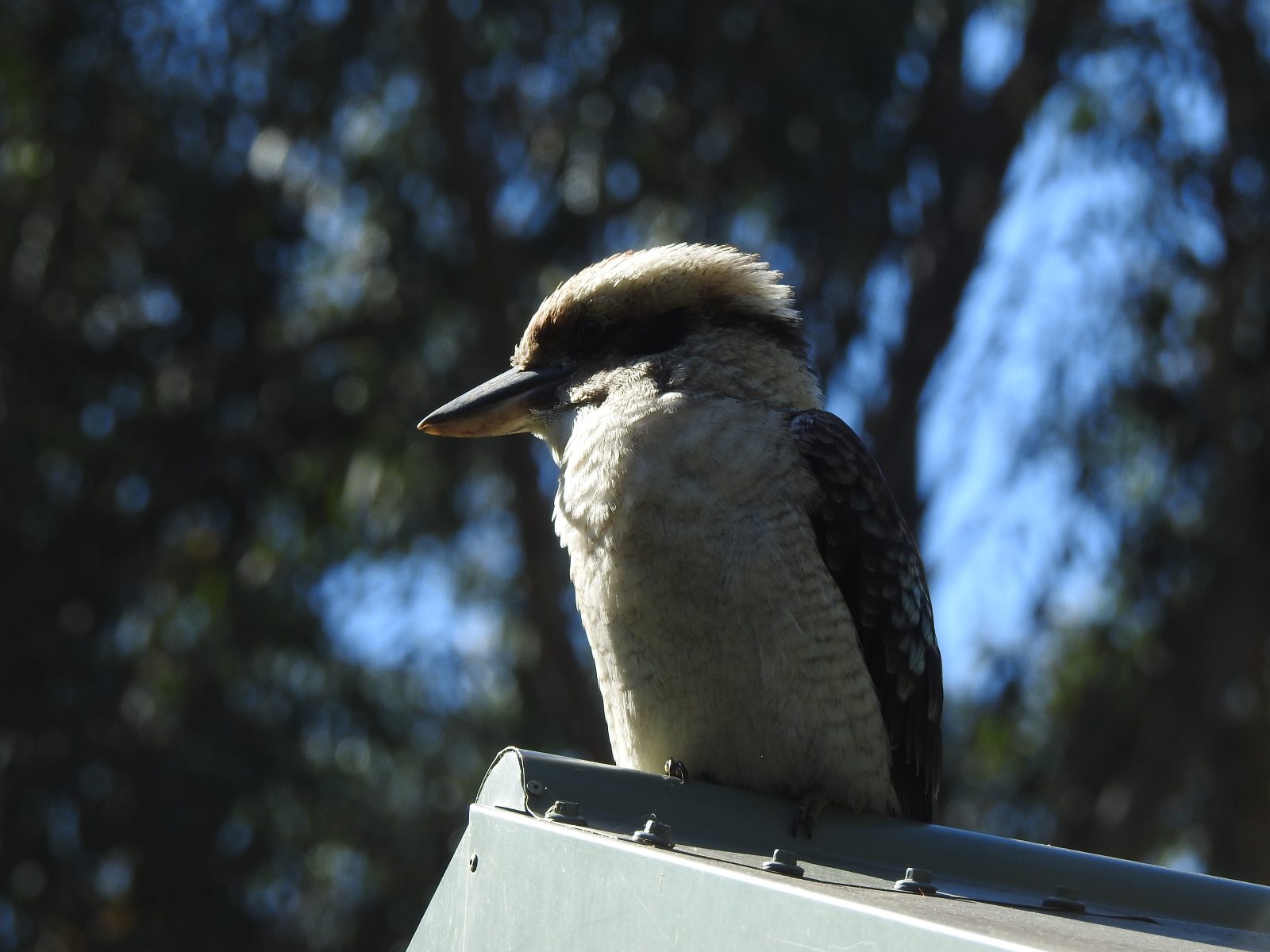 One of the common birds in this national park would have to be the Laughing Kookaburra, shown in today's photos. They are seen and heard all over the park, especially in and near to the many picnic areas. As we found out last year, the resident kookaburras are not slow at attempting to snatch food off picnic tables. one one occasion my wife had a sandwich on a plate on the side table of her folding chair and a cheeky kookaburra flew down and snatched it right off her plate. On another occasion, we were having a barbecue and a bold kookaburra swooped down and grabbed a sausage right off the hot plate where it was still cooking. It was promptly chased by several other kookaburras as it flew off into the forest in the midst of much squawking and carry-on.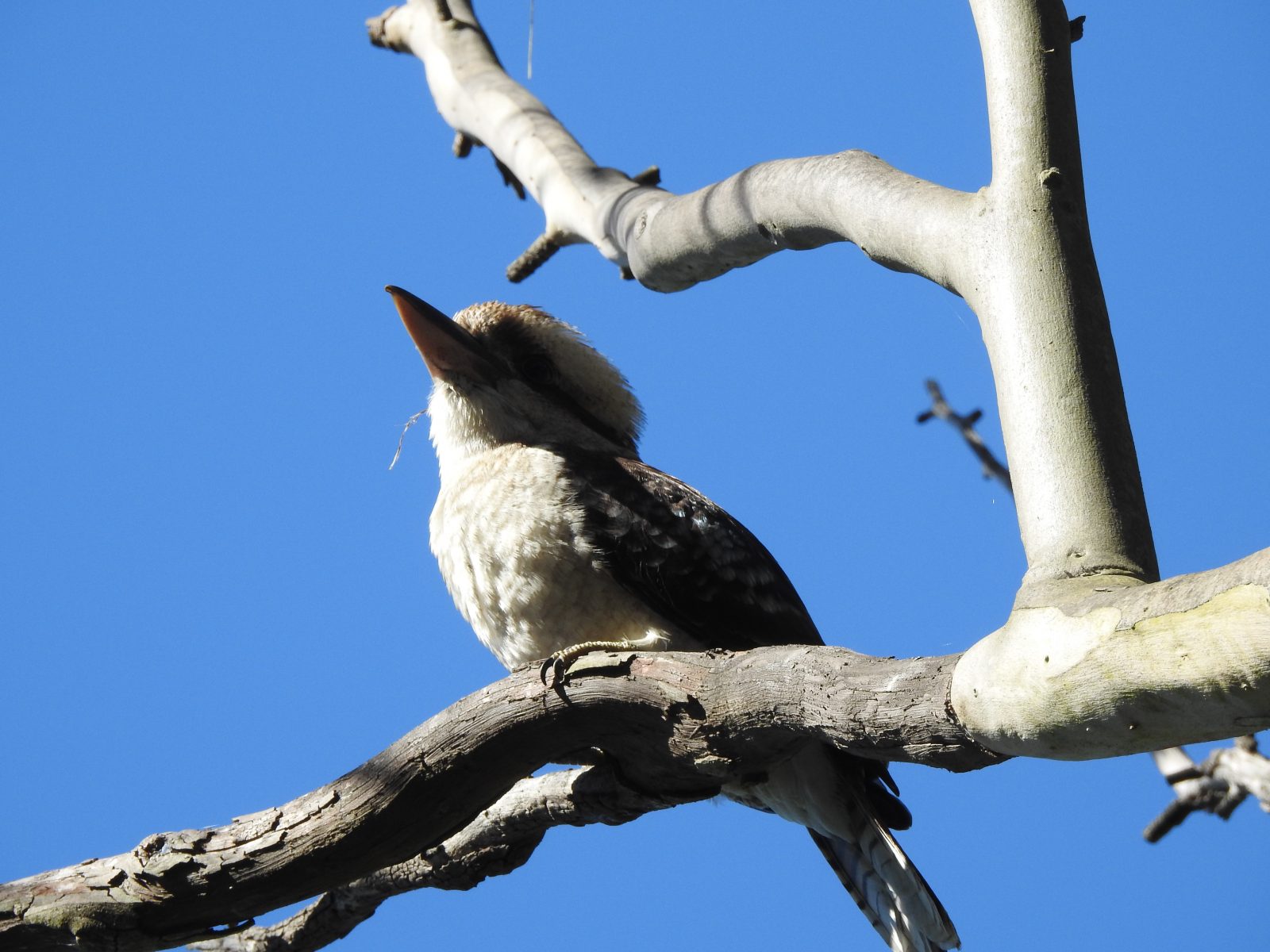 At the northern part of the park, there is a short track leading to Tunks Hill Picnic Area. From here one can get good views over the national park in the direction of the Chatswood CBD. The picnic area has a shelter shed for picnics in wet weather, as well as well-kept toilets, barbecues and picnic tables.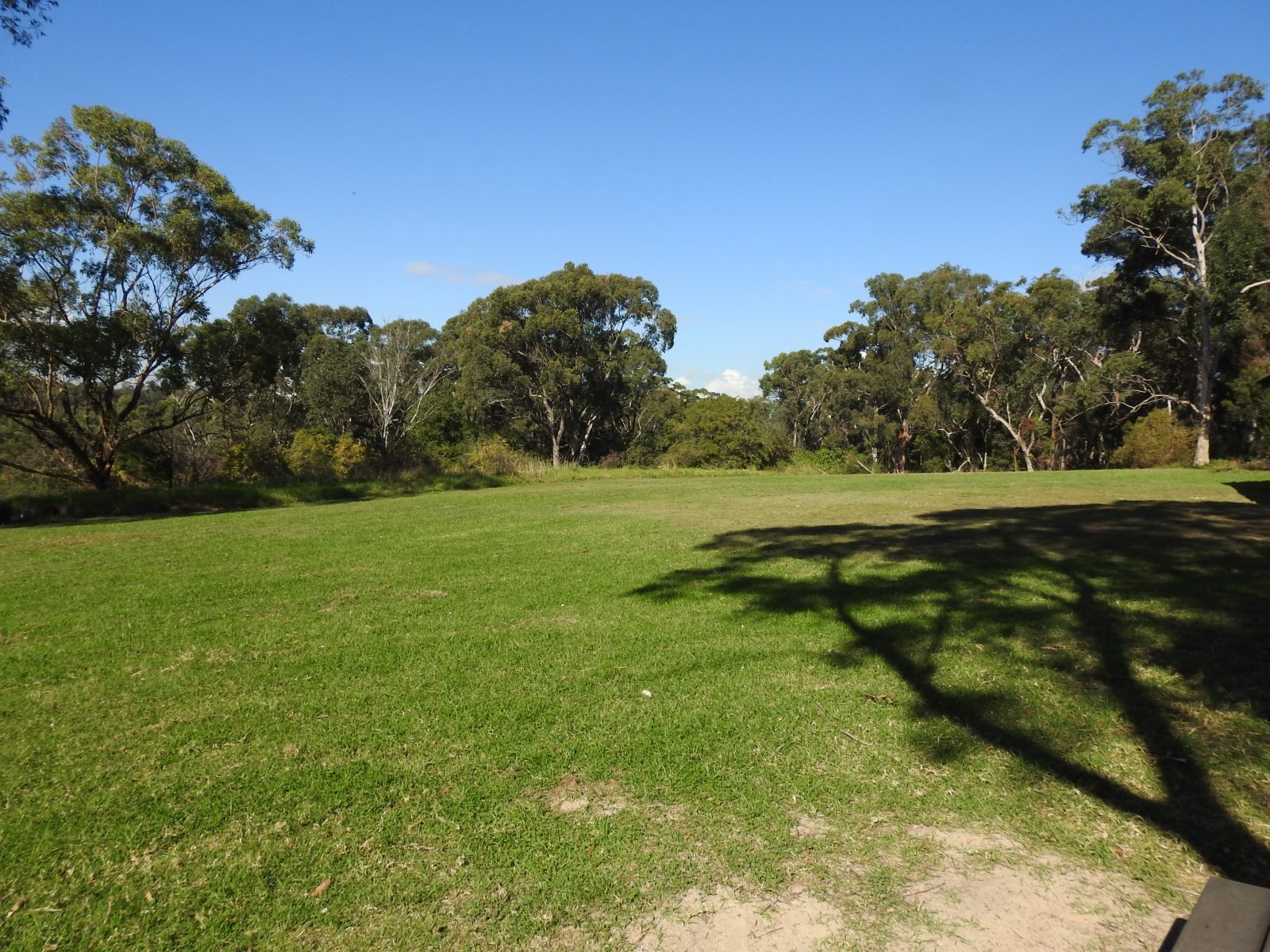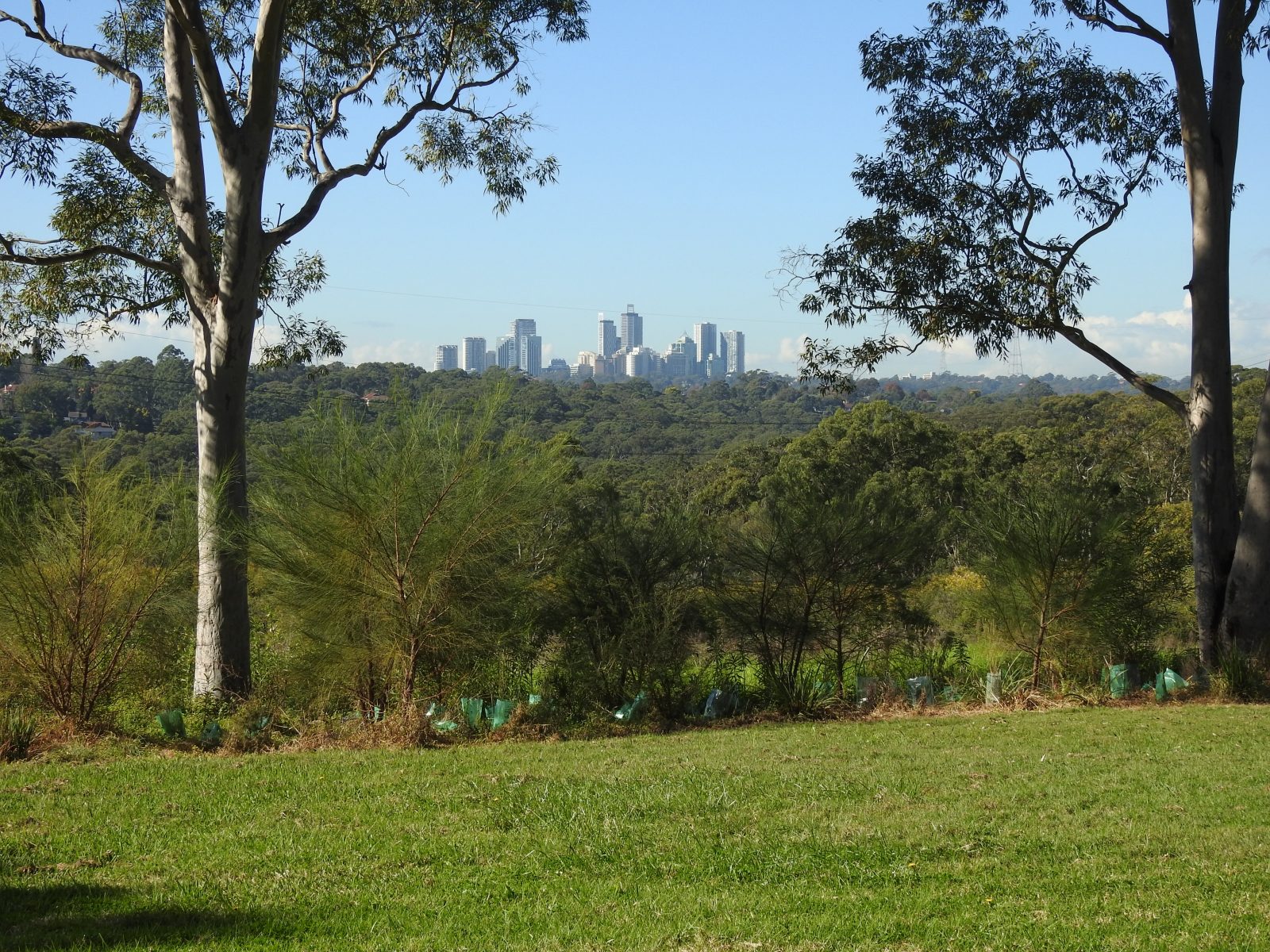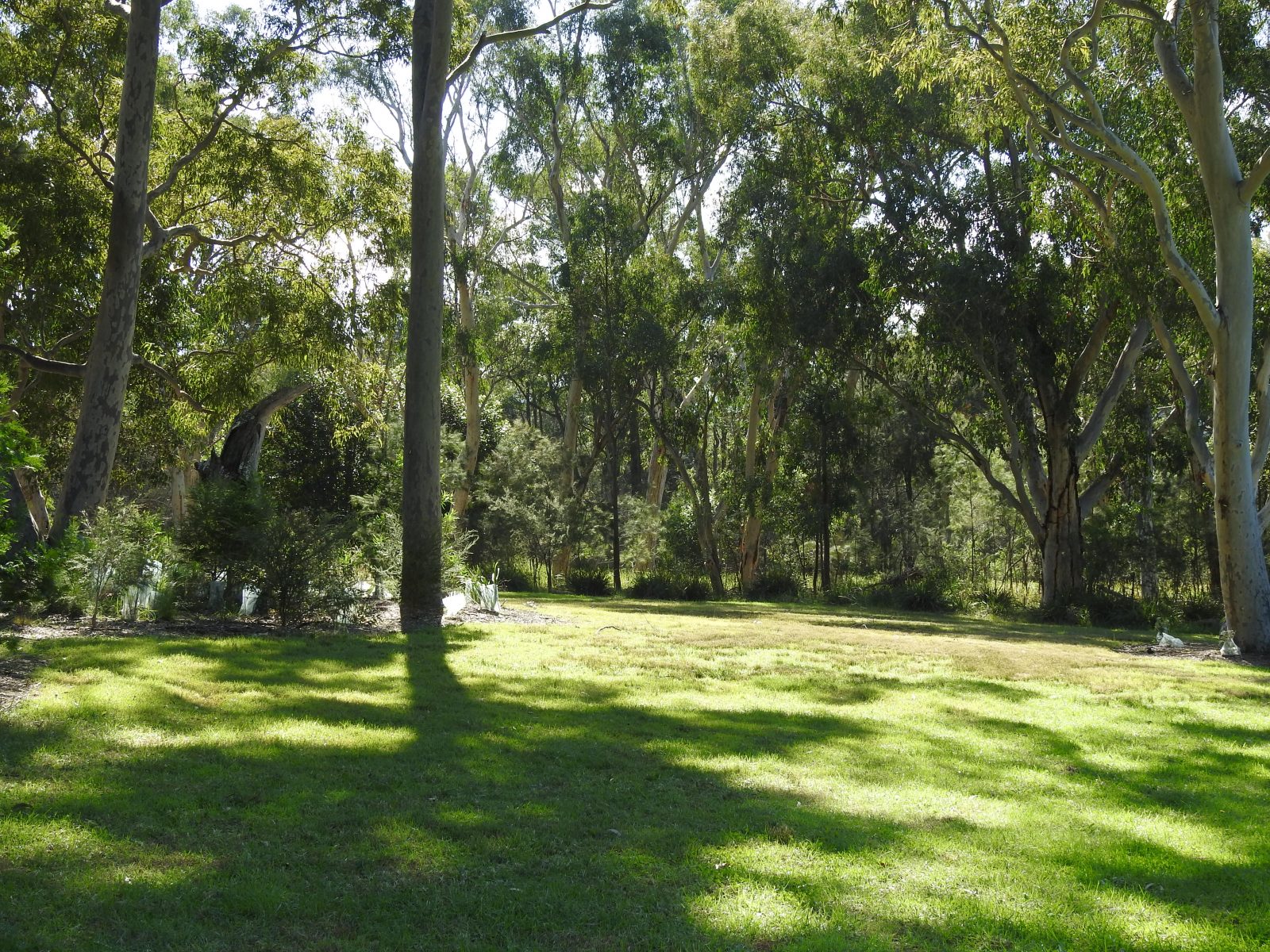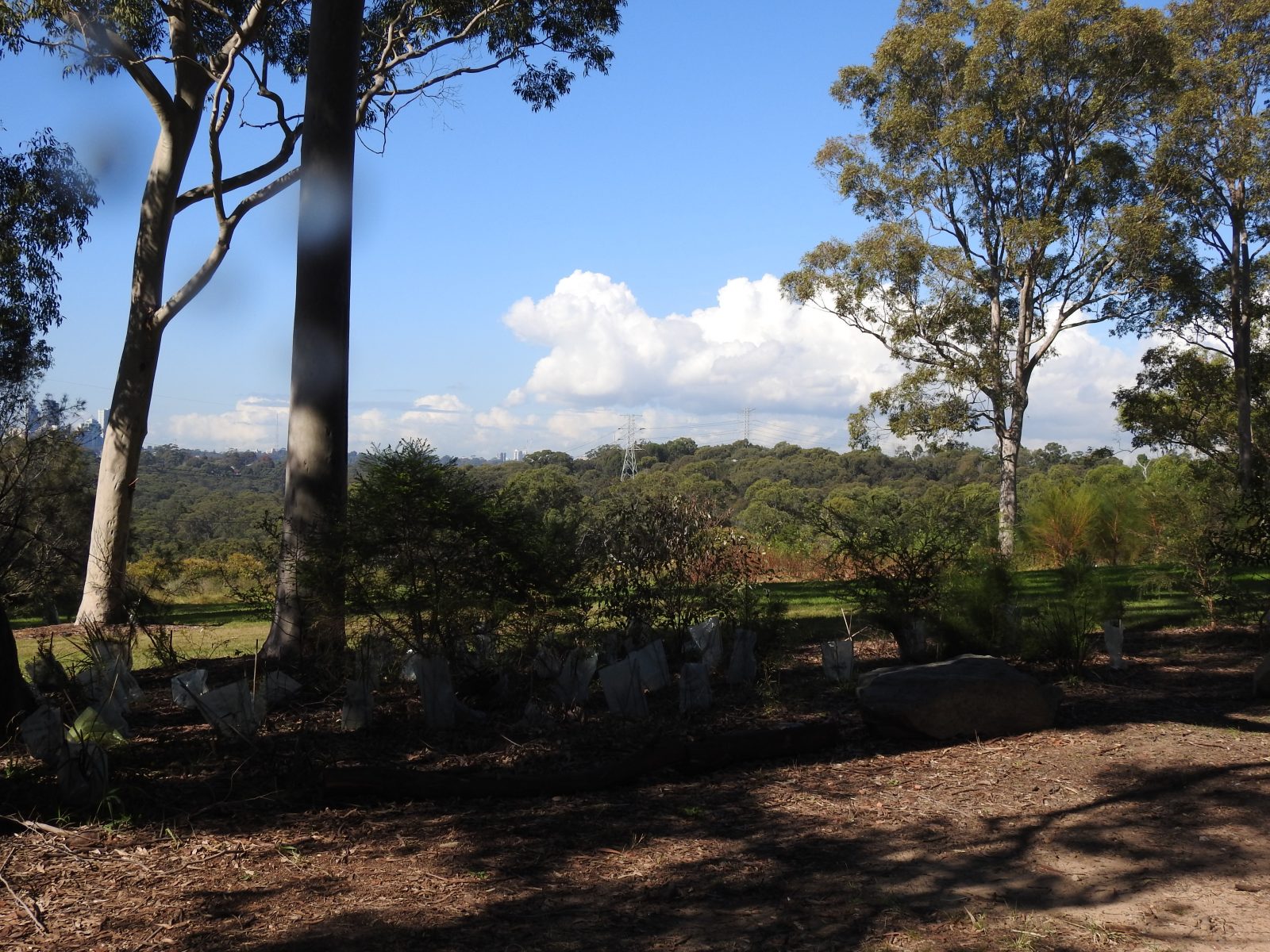 Garden Birds
On my database, I record the birds I see in our garden, or on our five-acre block, or flying overhead. I have done this every month for well over 30 years now. In more recent times, I have started recording them on a weekly, and sometimes daily, occasions. This has built up a great base of information about the birds we have resident (present every day), regular visitors (every few weeks or months) and occasional (perhaps one or two sightings a year). So far, the tally is over 110 different species. (I don't know the exact figure because my database is not quite up to date.)
Rare Visitors
Surprisingly, one of the rarer occasional visitors is the Laughing Kookaburra. This species is widespread throughout southern and eastern Australia and is common in many places. It is a widespread species here in the Murray Bridge region of South Australia too, especially along the Murray River. Despite that, it is a rare visitor to our garden. In fact, until a few weeks ago, our last sighting was just over ten years ago.
Harassment
The individual which paid us a recent visit did not have a good time. As I was getting some photos – shown on today's post – a Grey Currawong kept on harassing it until it flew off in disgust at the poor welcoming party. I guess that the Currawong chased the kookaburra away to discourage it from visiting its nest, though I have not seen any evidence of the Grey Currawongs nesting so far this year. The Currawong itself is not slow about robbing the nests of other birds, either.
Further Reading:
On our recent visit to Sydney, we took our two grandchildren on a picnic to Lane Cove National Park. It is a short ten-minute drive from my son's home. This park has also become one of our favourite picnic spots in Sydney.
Whenever I go to parks, especially national parks, I always take my binoculars and my camera. Spots like Lane Cove National Park always have a good range of birds to watch, and photograph. Because the children see me using my camera frequently, they often ask if they can take a few photos as well. Their ages are eight and five, so I let them use the camera. These days, they know how to handle my camera correctly. I think I have taught them well.
When my eight-year-old grandson was taking photos, he took the photo above. Many Australians, even if they are not birders, would easily recognise it as a Laughing Kookaburra. It is one of our most recognisable birds. My grandson has captured the bird well – good enough for this site, in my opinion. I love the silhouette effect.
My grandson also took the second photo (above) in this post. He has everything right: focus, composition, lighting – except that the bird is looking away! Sometimes you get everything just right – and other times one little thing doesn't quite go to plan. Below are a few more photos I took that day.
Further reading:
Here are links to other picnics we enjoyed at the same spot:
Recently I have written about our trip to Sydney last month. I am a bit behind with sharing my sightings and photos on that trip, so I had better rectify that in the coming days. Actually, it will probably be over the coming weeks because I have so many photos and experiences to share, especially on the trip home.
On the second last day of our visit to stay with our son, we all decided to have a family picnic at the nearby Lane Cove National Park, about a ten-minute drive from my son's home – depending on the traffic. My wife and I had taken the grandchildren there a few days earlier. They were keen to have barbequed sausages and try their hand at cooking marshmallows on the coals after lunch.
All was going well. We found a lovely spot with no other people around. We were able to easily get a fire going. Soon the sausages were cooked and we enjoyed our lunch.
"Keep an eye on those kookaburras," warned Nanna.
There were about five or six Laughing Kookaburras perched in the trees nearby. they were all watching our movements keenly. One of the birds was perched right above our picnic table. We were annoyed when one of them decided to "decorate" the table below. Thankfully, his efforts missed our food.
Just as my son was about to take the last sausage off the plate, one of the birds swooped down and deftly snatched the last sausage. It had obviously done this cheeky manoeuvre many times before, never hesitating and expertly snatching the sausage off the very hot plate in its downward swoop. It didn't stop but continued off into the forest, hotly pursued by the rest of the "gang" of thieves. We didn't see where they went to devour the food, but we certainly heard plenty of protesting and squabbling as they fought over their ill-gotten gain.
While we were annoyed by their theft, it was wonderful for our grandchildren to be there to witness nature in the raw like that.
Despite our loss, we had all eaten well and enjoyed our picnic on a lovely sunny autumn day.
Good birding,
Trevor