Archive for the 'Animals' Category
After leaving Sydney and our family with some sense of sadness – the grandchildren wanted us to stay –  we travelled to Dubbo. As we entered the rural city we unfortunately had a little bingle in our near new car. Trying to negotiate a round-about I side-swiped another car. I must admit I was at fault; I was in the wrong lane. Happily no-one was hurt, just a little shaken, and both cars were still drivable. I exchanged details with the other driver for insurance claims and we were on our way again 20 minutes later. (Postscript: back home some weeks later the car looks like new again. Our local repairer did a great job.)
By the time we had settled into our cabin in the caravan park it was dark, so any bird watching in the area had to wait. We had a delightful dinner with cousins of my wife that evening, and next morning we gathered at the local crematorium for the funeral of a cousin. While it was a sad occasion, we were pleased to be able to catch up with so many of the family. After lunch together we had a few hours of daylight left, so we drove the short distance to the Western Plains Zoo on the southern edge of Dubbo. This zoo was set up many years ago as an adjunct of Taronga Zoo in Sydney. We had long desired to visit but this was our first opportunity.
We didn't enter the zoo proper – just the picnic area near the entrance. There is no charge to visit this lawned area. The extensive picnic grounds look over an artificial lake (see top photo above). There are two islands in the lake, each one home to some animals. The closest caters for a family of Ring-tailed Lemurs (see photo above) while the other is home to a group of Black-handed Spider-monkeys (see photo below).
It was feeding time for the monkeys and lemurs, so we sat there in the calm, balmy evening light watching the animals on the islands. As we watched I was able to get a few photos of some of the local bird life, including the Sulphur-crested cockatoo (see photo below) who was obviously a regular visitor to the islands to benefit from any food scraps the animals might overlook. The ropes in the photo are actually there for the entertainment of the lemurs. They also make good perches for a cockatoo.
Just below the cockatoo was a Purple Swamphen, also on the lookout for a free handout. These two birds are wild birds which have come in to the zoo grounds because there is abundant food for the taking. Both probably also check out the picnic grounds for food scraps left behind by people visiting.
The Australian White Ibis (see below) is another species which takes over picnic grounds in search of an easy meal. This individual was alone at the time, but when the zoo is crowded it is probably joined by many more. On our visit the next day we saw large numbers of this species, some of them nesting in the grounds of the zoo (I will show photos of this on another post soon).
In some parks in many places in Australia, the White Ibis has become a serious pest species, harassing people having a quiet picnic by snatching food from them, even to the point of jumping on to a picnic table loaded with human food. Being 65 – 75cm (about 2 feet) in height they can be very intimidating to young children, especially if the children are walking around with food – an ice-cream for example.
Another bird which can be intimidating is the Black Swan (see photo below). This was the only individual we saw that evening, but it came towards where we were sitting in a very determined manner, then waddled up the bank and right up to about a metre from us. When we produced no food it started grazing on the abundant grass all around us. This is another species which is a pest in some parks and picnic grounds. Their beaks can give a nasty bite and their wings, if used, can give some unsuspecting person an nasty whack.
Don't feed the birds
I've written on this topic many times before, but it is worth saying it again, just to educate new visitors to this site. PLEASE DO NOT FEED OUR NATIVE AUSTRALIAN BIRDS. Human food is actually dangerous and even deadly to many of our birds. Added to that risk is what is happening with birds like ducks, ibises and swans: they look to people for free handouts and very quickly become major pests.
If you want to encourage Australian native birds into your life – and into your garden – provide 3 or 4 or more bird baths for them. Plant Australian native plants so they have their natural food, places to shelter and sites for their nests. Read more about this topic here and here.
Of course there are many birds which do not bother people and just get on with their lives. One such species is the Great Cormorant shown below. It is just having a break from searching the lake for fish, frogs and tadpoles.
So this was our first taste of the zoo. We returned the next day for a whole day visit. Photos of the birds we saw – and a few animals too – in the coming days.
Stayed tuned.
During our recent family visit to the Australian Reptile Park near Gosford north of Sydney, we had some interesting lunch companions. In the very well appointed picnic grounds several Australian Brush Turkeys moved amongst the picnickers picking up scraps. They didn't come too near to us; they wouldn't have been given any of our pies, potato chips or hot dogs – well, maybe the grandchildren might have been tempted to feed them.
Our other lunch time companions were far more daunting, if the photos below are any indication.
Thankfully they are only models of extinct species.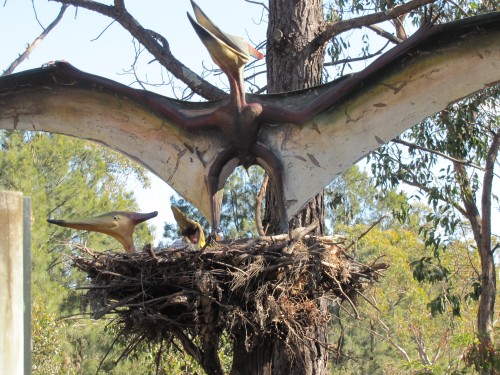 During our visit to the Australian Reptile Park near Gosford, NSW last Sunday, we heard a very entertaining talk about reptiles given by one of the keepers. All through the talk I kept an eye out for any birds flying overhead or perched on nearby branches, such as the Rainbow Lorikeet shown above. This species of lorikeet was probably the most common bird in and around the park, their constant screeching giving a noisy background for all the talks. Another common species was the Sulphur-crested Cockatoo, also very raucous all around the park.
Featured in the presentation was the keeper's pet alligator, Rosie, shown below. Rosie was well trained and very well behaved. Another animal shown by this keeper was the Lace Monitor, also shown below. The markings on the monitor, a large Australian lizard, are quite remarkable. The Lace Monitor, often called a goanna, is the second largest lizard in Australia. On one occasion I have seen this species in the bushland not far from my son's home in inner North Shore Sydney.
Last Sunday we went on a family outing to the Australian Reptile Park near Gosford on the central NSW coast. Before going I thought that this was my first visit, but over lunch my son informed me that he could remember going there as a child. How the memory fades at this time of life.
Our grandchildren were particularly keen to go, having visited on other occasions in recent years. It was a fine treat for the last day of the school holidays. We arrived mid-morning in time for an informative talk about turtles and tortoises, including the Galapagos Tortoise shown below.
Just to keep faith with my bird loving readers I've also included a photo of a Cape Barren Goose below. This individual, the only one in the park, is a long way from its normal home. It is a resident of the park. In fact, it is more of a pet than an exhibit.
Over Christmas last year we stayed with family in Artarmon on the north shore in Sydney. Almost every day we heard Laughing Kookaburras somewhere near the house, usually around 4:30am every morning. It was a pleasant wake-up call, albeit a little early.
From time to time my family enjoys seeing a kookaburra visit their back yard, often perching on the clothes line. I guess that they enjoy visiting and picking up for lunch any small skink (a small lizard – see photo below) that is a little tardy in moving to shelter out of sight.
Update Oct 1st 2015: I have recently been talking on the phone with my 7 year old grandson several times a week in recent weeks. He has developed an interest in the local birds (I wonder where he developed that interest?). He has told me that he regularly sees and hears the kookaburras in his garden, in the street where they live and in nearby parks where he goes riding his bike. On enquiring about the resident skinks, he told me that they see many of them every day they are in the garden, but the blue-tongue lizard which used to live under their front steps is no longer there.
For a discussion on the identification of the skink, please read the comments.
Further reading:
Article updated 1st October 2015.