Archive for the 'Favourite Birding Spots' Category
A few days ago my wife and I took advantage of a lovely sunny winter's day. We've had some very gloomy overcast weather in the last month or so, and some sunshine was an event to celebrate. We went for a drive to Monarto Conservation Park which is about a 15 minute drive from our home in Murray Bridge. Monarto CP is about 60km south east of Adelaide in South Australia.
Mind you, the sun may have been shining, and there were no clouds in the sky, and we were well rugged up, but the breeze was still chilly. Never mind, we packed the folding chairs, a Thermos of hot water, some tea bags and some biscuits for afternoon tea. We were prepared.
Before indulging in our treats we went on the walking trail through the park. This is an easy, almost level sandy track through several different habitats. Despite the recent poor weather we were delighted to see so many native plants in flower. I have included a few photos below. While my wife has a good working knowledge of our native birds, her main interest is in the native plants (you can read about her interest on her site here).
I have found over the years that birding in the Monarto Conservation Park can be rather hit or miss. Sometimes the birds can be singing and busily feeding and flying around. On other occasions the bird life can be quiet and inactive. Much of this is due to two main factors: weather conditions and what is flowering.
On this occasion there seemed to be a great deal of activity but, wouldn't you know it – the birds were not showing themselves all that much. In fact, I only managed reasonable – certainly not brilliant – photos of one species: the Tawny-crowned Honeyeater as shown in the photo above. I should be pleased; the photos taken were the first I have managed of this species.
This honeyeater is a widespread species of southern Australia, from coastal NSW and Tasmania, much of Victoria, southern South Australia and south-western Western Australia. Its preferred habitats include mallee, heathlands, eucalyptus woodlands and street trees. It can easily be confused with the similar looking Crescent Honeyeater – which initially I did.
Further reading:
Bird list:
Spiny-cheeked Honeyeater
Red Wattlebird
Mallee Ringneck parrot
Silvereye
Grey Shrike-thrush
Australian Magpie
Southern Scrub-robin
Grey Currawong
Weebill
Grey Fantail
New Holland Honeyeater
Brown-headed Honeyeater
Grey Butcherbird
Tawny-crowned Honeyeater
Little Raven
Willie Watail
Black-faced Cuckoo-shrike
Shy heathwren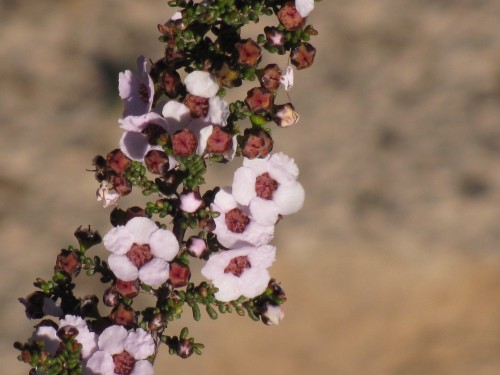 A few weeks ago I took off a few hours from my writing to take my wife to Pangarinda Arboretum at Wellington East, about a half hour drive south of our home in Murray Bridge, South Australia. This is one of our favourite picnic spots, so we packed a lunch and the makings for a cuppa.
The arboretum has been set up by the local residents in conjunction with the local council. Many thousands of trees and shrubs have been planted over the last decade or so. Many of these plants are now flowering. I enjoy taking photos of the native plant flowers as well as the birds. ON this occasion the birds were rather quiet and were not being very cooperative about posing for my camera, so I turned my attention to the flowers instead.