Archive for the 'Good Birding Sites' Category
A few days ago my wife and I took advantage of a lovely sunny winter's day. We've had some very gloomy overcast weather in the last month or so, and some sunshine was an event to celebrate. We went for a drive to Monarto Conservation Park which is about a 15 minute drive from our home in Murray Bridge. Monarto CP is about 60km south east of Adelaide in South Australia.
Mind you, the sun may have been shining, and there were no clouds in the sky, and we were well rugged up, but the breeze was still chilly. Never mind, we packed the folding chairs, a Thermos of hot water, some tea bags and some biscuits for afternoon tea. We were prepared.
Before indulging in our treats we went on the walking trail through the park. This is an easy, almost level sandy track through several different habitats. Despite the recent poor weather we were delighted to see so many native plants in flower. I have included a few photos below. While my wife has a good working knowledge of our native birds, her main interest is in the native plants (you can read about her interest on her site here).
I have found over the years that birding in the Monarto Conservation Park can be rather hit or miss. Sometimes the birds can be singing and busily feeding and flying around. On other occasions the bird life can be quiet and inactive. Much of this is due to two main factors: weather conditions and what is flowering.
On this occasion there seemed to be a great deal of activity but, wouldn't you know it – the birds were not showing themselves all that much. In fact, I only managed reasonable – certainly not brilliant – photos of one species: the Tawny-crowned Honeyeater as shown in the photo above. I should be pleased; the photos taken were the first I have managed of this species.
This honeyeater is a widespread species of southern Australia, from coastal NSW and Tasmania, much of Victoria, southern South Australia and south-western Western Australia. Its preferred habitats include mallee, heathlands, eucalyptus woodlands and street trees. It can easily be confused with the similar looking Crescent Honeyeater – which initially I did.
Further reading:
Bird list:
Spiny-cheeked Honeyeater
Red Wattlebird
Mallee Ringneck parrot
Silvereye
Grey Shrike-thrush
Australian Magpie
Southern Scrub-robin
Grey Currawong
Weebill
Grey Fantail
New Holland Honeyeater
Brown-headed Honeyeater
Grey Butcherbird
Tawny-crowned Honeyeater
Little Raven
Willie Watail
Black-faced Cuckoo-shrike
Shy heathwren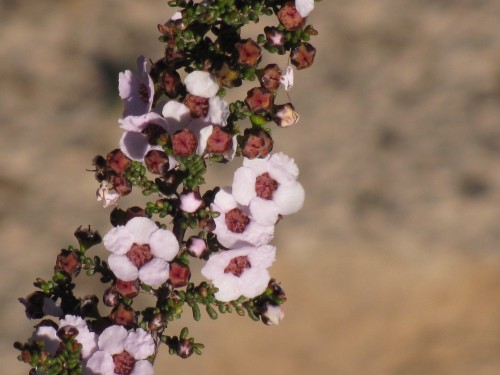 Nearly 9 years ago I wrote the following article:
A few days ago I had a new comment on this post with an observation about the lack of Mallee Fowl in the park. Here is the comment:
I visited Ferries MacDonald CP on Tuesday 23 June and noticed that 1080 poison baits have been used to attempt to eradicate foxes. There were signs on the boundary fences warning dog owners. I did not see any mallee fowl despite spending several hours wandering through and around the park. I suspect there are none left unfortunately. I last visited the park thirty years ago and saw one there at that time as well as a few active nests. The park is not large and is surrounded by farmland. It may be too small to provide a suitable habitat for mallee fowl. I hope I am wrong. David.
The following was my reply:
As a result of your comments my wife and I briefly visited the park last Sunday. We actually spent more time in the nearby Monarto Conservation Park.
The poison baits programme has been ongoing for quite some time, probably years, and is a common practice in many parts of Australia. I have walked through both of these parks on numerous occasions over the last 30 years (I live in Murray Bridge) and have only ever seen Mallee Fowl on one occasion, two together on the side of the road near where the two roads intersect.
Last Sunday I checked on one of the Mallee fowl nest mounds that I have checked regularly since finding it some 10 years ago. It was active as recently as about 3 years ago, but sadly it now looks as if it hasn't been used in at least the last two years, possibly longer. I know of at least 3 other mounds but I would be hard pressed to find them now. Extensive surveys of nesting sites have been conducted but I do not know when the last was done, nor the results.
On a related matter, national parks rangers were, I believe, removing eggs from the active nests, taking them to Monarto Zoo for hatching artificially and then returning the birds to the wild, including this park. Some birds were released with radio tracking devices and the failure rate was near to 100%, probably due to fox predation.
On a brighter note, a friend who lives less than a kilometre from the park saw a Mallee Fowl wandering through his garden only last year, so there is hope that some are surviving in this area. There are also regular reports of sightings east of the Murray River, and from the south east parts of the state.
Further reading:
Narrandera birding
On our current trip to Sydney we stopped overnight at Narrandera. This is just over half way from home to our son's place, our destination. I've often wished we could stay for more than a night, because the town environs and the broader district offer a great deal for the birder looking for a large range of species. As an added bonus, the countryside is quite beautiful too.
We couldn't stay at the local caravan park because all of the cabins were booked, so we opted for one of the motels. We settled in just on sunset so I was able to record a few species before it was dark. Early next morning I added more species to the list while I was packing the car.
As we departed the town stopped for about ten minutes at the wetlands on the southern boundary of the town. While the water birds were largely absent I did manage to get quite a list of bush birds.
Bird list
Galah
Sulphur-crested Cockatoo
Eastern Rosella
Yellow Rosella
White-winged Chough
Australian Magpie
Clamorous Reed-warbler
Silvereye
Laughing Kookaburra
Grey Teal
Black-faced Cuckoo-shrike
Crested Pigeon
Sacred Kingfisher
Weebill
White-plumed Honeyeater
Rock Dove
Blue-faced Honeyeater
On our holiday to Yorke Peninsula last week we took a short detour off the main road. We always seem to be doing this. It gives my wife a chance to look at the local flora (see her site about plants here) and it gives me more opportunities to go birding, and perhaps get some photos. As an aside, when our children were young they would always make sure they had at least one book to read whenever we went for a drive.
Near Pt Vincent on the east coast of the peninsula there is a small plant reserve we had visited many years ago. We couldn't even remember many of the details of what was there, and we had the time to check it out. Mulbura Park – we'd even forgotten the name – is a remnant block of native plants set aside as an example of the vegetation of the area. This part of the peninsula has very little in the way of bushland like this, so it is rather precious – and a good habitat for the local fauna, including birds.
We didn't wander far into the reserve but near the entrance gate we saw a good variety of local vegetation present in this area, including casuarina, goodenias, dampiera, daisies, pea bushes, pimelia and correas.
Being mid afternoon – and quite windy – the birds were not very forthcoming. When various plants were in flower, and when conditions are right, and when one had a few hours to wander right through the patch of scrub, I'd anticipate seeing at least 30 or more species here. Not so on our short 15 minute visit. I did record Singing Honeyeater, Spiny-cheeked Honeyeater, Australian Magpie and Little Raven.
The highlight however was hearing a Crested Bellbird, always a nice species to record. It was some distance off and I couldn't get close enough for a photo. Some other time I'll capture this species on my camera.
Other species I'd expect to see here include Galah, Blue Bonnet, Mulga and Red Rumped parrots, Yellow-rumped Thornbills, Weebills, Brown Falcon, Nankeen Kestrel, Black-shouldered Kite, Bronzewing pigeons, Crested Pigeon, Grey Fantail, Willie Wagtail, White-browed Babblers, Grey Shrike-thrush, several species of cuckoos, owls and nightjars and even perhaps Variegated Fairy-wrens.