Archive for the 'Photos' Category
Last night I was looking through some of my photos from a few years ago. I am not sure if I ever used the above photo of a White-faced heron taken at Victor Harbor on the south coast of South Australia, but it caught my eye as I scanned the photos taken on that day. (Mmmm… yes I did use it here.)
What an elegant looking bird.
Sometimes the birds we see, and photograph, almost look as if they are deliberately posing for the shot. I like that.
This also proves that even our most common birds can make wonderful subjects for our cameras.
Good birding.
Further reading: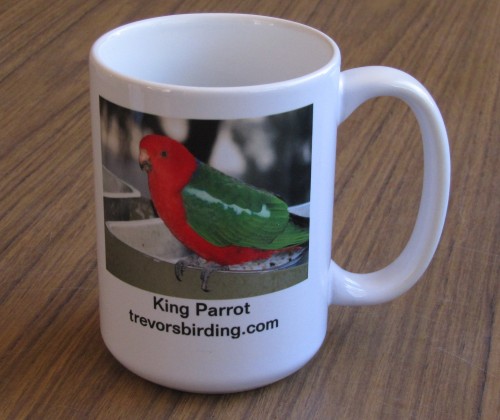 Over the last 9 years I have written over 1600 articles here about Australian birds, many of them illustrated by photos I have taken of the birds I have seen. I love sharing the best of my photos with my many readers.
Now I am happy to announce that selected photos are now available for purchase on a range of products such as the coffee mugs shown on today's post. This has been made possible by my association with a company called Zazzle. The products also include shopping bags, puzzles, badges, posters, aprons, cards, caps, stickers, note books, key chains, ornaments and tee shirts. Plus many many more – 100s in fact.
Why not have a look – you might find just the right gift for someone in the family, a friend – or even yourself. More products and new photos are being added regularly.
Go to TrevorsPhotos here.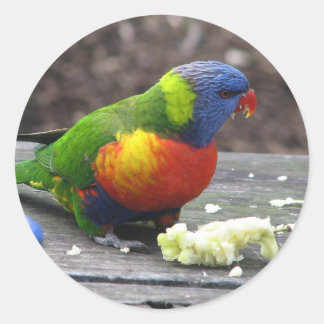 In our extensive travels in South Australia, Victoria and New South Wales in recent years I have often observed Welcome Swallows. They are a widespread and very common species throughout their range in eastern, southern and parts of western Australia. In recent  months I have often seen a dozen or more flying above our garden, indeed, more often than in many previous years.
Not often, however, have I had the opportunity to photograph them up close. They don't sit still very often, preferring to keep flying and feeding on any flying insects there might be around. More than once I have hoped for a pair to set up home under our veranda where it would be easier to get photos. They had different ideas, of course.
It was with delight then, during our visit to the Western Plains Zoo in Dubbo a few weeks ago, that one of many swallows flying around decided to settle for a few moments on the edge of the African Wild Dog enclosure. Just a few metres from me. Well within easy camera range. Too easy.
After a few minutes it flew off and another one came in to rest, this time a little lower on the fence. This one decided that the early morning sunshine on such a cold morning was just what it needed to be doing a little feather preening.
By the way, the fence formed the enclosure for the African Wild Dogs (see photo below).
This Scaly-breasted Lorikeet in one of the aviaries at the Australian Reptile Park made certain I managed a good photo of it up close. He posed in a number of different ways, squawking loudly as if to ask how it looked.
It is getting photos like this one that I like visiting zoos, and especially zoos with aviaries. While it is great if the zoo has walk-through aviaries, I have proved that one can take reasonable shots through the wires of the cage. Sometimes you just get lucky – like on this occasion – and the bird poses really well.
Scaly-breasted Lorikeets are found along the coastal regions of eastern Queensland and in north-east New South Wales. It is a species I have yet to observe in its natural environment – another reason for getting photos in a zoo. I think I am well overdue for a trip to Queensland.
At last – a series of photos of the Eastern Yellow Robin. It is a relatively common bird in its range. Trouble is, I have never spent much time in its preferred range. Having to travel great distances to see some bird species can be a pain at times, but when you see that elusive bird, or get a good photo of one that has eluded your lens up until that time, it becomes a special moment.
I have seen this species in many places over the years, but so far haven't managed a photo – even a reasonable shot. Those shown today on this post are not brilliant, but they are a start. Now the goal is to improve on these photos.
The Eastern Yellow Robin is found throughout eastern  Australia, from Queensland through New South Wales and southern Victoria and into south-eastern South Australia. Its close relative, the Western Yellow Robin is found in southern Western Australia and western South Australia. It has been well over 30 years since our last trip to WA. We must rectify that soon.
Today's photos were taken in the grounds of the Australian Reptile Park. The robin was a wild bird and not part of their aviary collection.
Further reading about robins: