Search Results for 'books'
In all of my birding life I have largely gone out by myself, or just with my wife and very occasionally with family such as my grand-children. Consequently, I have not been a witness to bad or questionable behaviour on the part of other birders.
I also tend to go out bush in the farming land near where I live where not many birders tend to congregate. Actually – that alone could explain why I sometimes do not get very long lists of birds observed, which could mean that I am going to the wrong spots.
Anyhow… I have just read an article in the news letter published by Birds SA. This article appeared in the August 2014 issue which indicates that I am a little behind with my reading. The then president of the association, David Paton, write in his regular letter to members an interesting article about ethical birding which is worth quoting here:
Ethical bird watching

"While bird watching, we all need to behave in ways that minimise disturbing the birds. This is particularly true in the breeding season, and many birds have already started breeding [in South Australia].

Ethical bird watching  begins by first obtaining permission to be on a property and complying with any instructions from the owner or land manager.

Once on the land and watching birds one should:

move away from any nests that are found;
refrain from playing recordings of bird calls to lure birds in;
limit the use of flash when taking pictures;
respond appropriately if the birds are giving distractive displays, by moving away and not returning to the same area;
not remove vegetation for a better view or photograph;
think about the consequences for the birds of passing on details of rarer species or species that are nesting.

All these actions are about protecting the habitats and welfare of individual birds."

David Paton, President, Birds SA in the August 2014 newsletter.
The above list gives plenty of wise advice on treating our birds with respect, and ways of caring for them and our environment.
For people living in Adelaide and other parts of South Australia, can I encourage you to become members of Birds SA? I have been a member now for over 35 years – somewhere I have a certificate to prove it.
For your membership your receive regular newsletters, journals, electronic updates, access to their weekly birding excursions, access to their monthly meetings and their extensive library of bird books. The monthly meetings always have interesting speakers, though I sadly don't get to all that many meetings because of living in the country.
You can access their website here.
Good birding.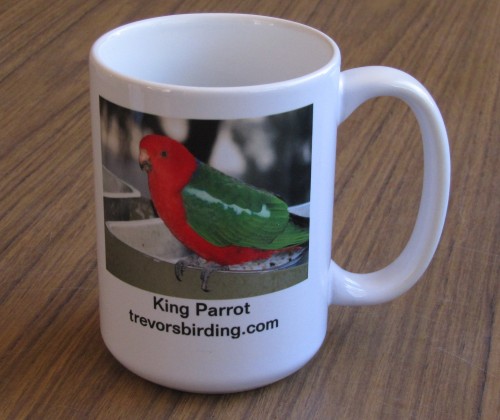 Over the last 9 years I have written over 1600 articles here about Australian birds, many of them illustrated by photos I have taken of the birds I have seen. I love sharing the best of my photos with my many readers.
Now I am happy to announce that selected photos are now available for purchase on a range of products such as the coffee mugs shown on today's post. This has been made possible by my association with a company called Zazzle. The products also include shopping bags, puzzles, badges, posters, aprons, cards, caps, stickers, note books, key chains, ornaments and tee shirts. Plus many many more – 100s in fact.
Why not have a look – you might find just the right gift for someone in the family, a friend – or even yourself. More products and new photos are being added regularly.
Go to TrevorsPhotos here.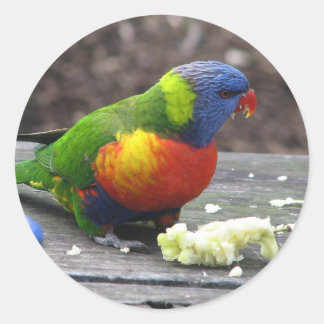 I hope that all of my readers have a safe, wonderful and joyous Christmas.
I will be spending the day quietly at home with immediate family, probably reading some books I received for my birthday recently and trying not to eat too much while still enjoying the occasion. The day here in South Australia promises to be quite pleasant – not too hot and not too cold. We are in the middle of summer, and we've already had many hot days.
Birds and hot days
Speaking of hot days – don't forget to give the birds in your garden a treat for Christmas. Replenish the water in their bird baths and they will have a great day too. Seeing all the birds coming for a drink or a bathe is an added bonus if the bird bath is easily seen from the house.
Looking ahead
Apologies to all of my regular readers. I haven't posted much here recently and over the course of the year. I have had many challenges regarding my health but in cooperation with my doctor we are gradually getting on top of these issues. I am planning a great year of sharing my bird photos and my birding experiences in the New Year. I also have some exciting developments to share here on this site.
Happy Christmas – and Happy Birding.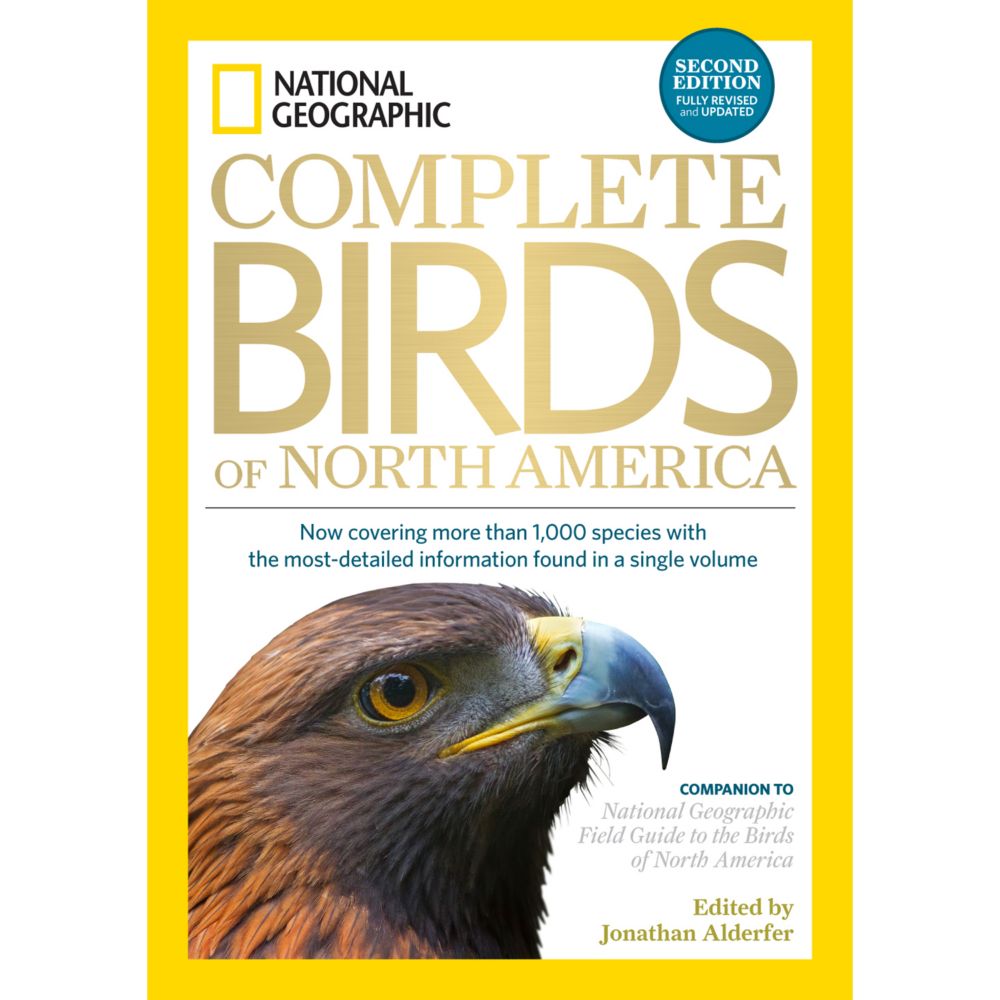 National Geographic Complete Birds of North America, 2nd Edition: Now Covering More Than 1,000 Species With the Most-Detailed Information Found in a Single Volume,
Edited by Jonathan Alderfer, with Jon L. Dunn, maps by Paul Lehman
National Geographic Society, October 2014.
ISBN-10: 1426213735; ISBN-13: 9781426213731
744pages;  10.1 x 7.2 x 1.8 inches
This is a truly magnificent volume and one I am pleased to add to my library. Although I live in Australia and do most of my birding here I have been birding in a number of non-Australian countries. Sadly, I have yet to spend any time birding in the North American continent, a state I would like to correct sometime soon. This wonderful volume just adds a keen impetus to that desire.
I did not buy the first edition of this great work, so I cannot make comparisons. It has been "fully revised and updated" so I will have to take the editor's word for that. There has been a significant increase in the number of species covered, now numbering over 1000. Edited by Jonathan Alderfer, this volume is a natural companion to the National Geographic Field Guide to the Birds of North America.
Look at the numbers
This monumental work stacks up well as far as the numbers are concerned:
a total of 744 pages
Over 1000 species featured (compared with 962 in the 1st edition and 990 in the Field Guide)
Over 800 distribution and migration maps
150 full colour photographs
9 photographers
Over 4000 illustrations
21 artists
89 family groups included
An interesting group of rarities discussed
The text draws on the combined expertise of 25 birding authorities
Two pages of references to Additional Reading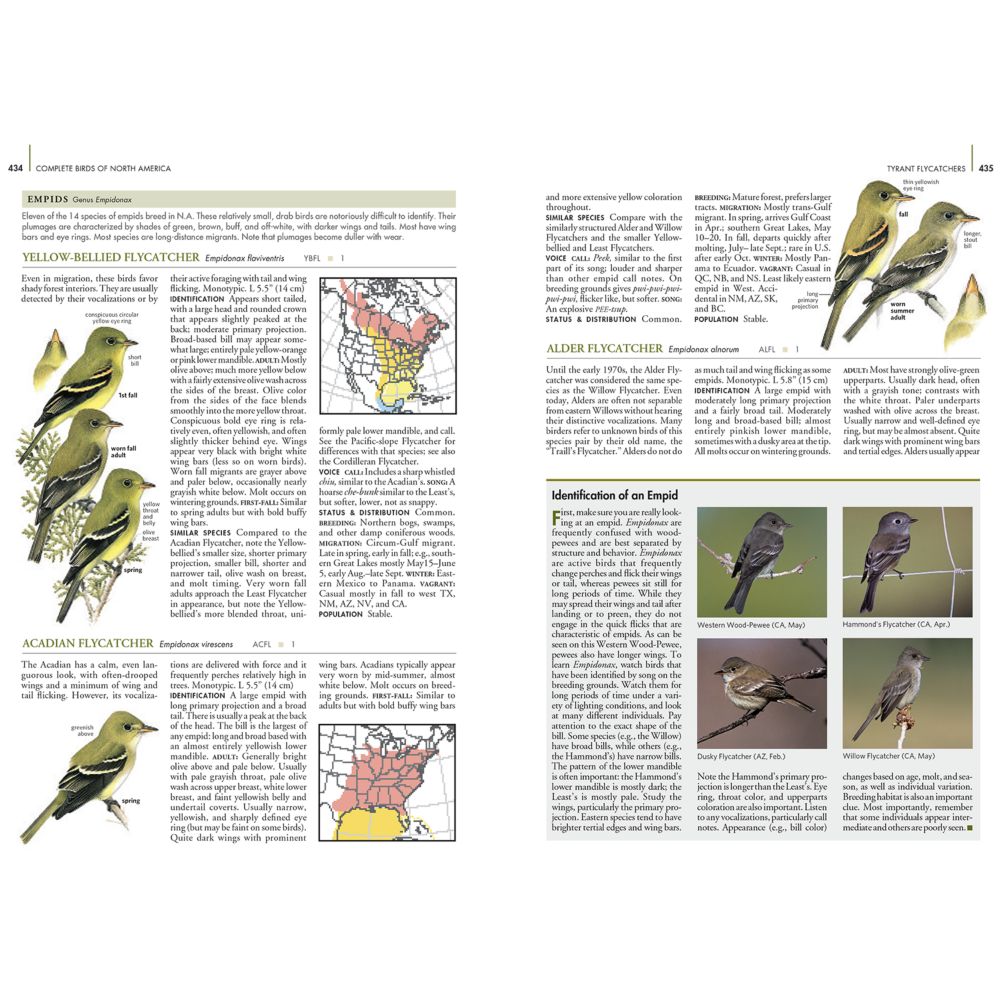 Format and layout
Each family of birds has a short introductory essay, followed by thorough coverage of each species in that family. Each species is then given a thorough coverage in the main body of the text, including:
a general introductory paragraph
Identification details (including male/female, juvenile and plumage variations)
Geographic variation (where appropriate)
Details of similar species
Voice
Status and distribution
Population notes, including changes in numbers
Range maps
A small, field guide type illustration
A photograph (selected species)
Range maps
The colour-coded range maps are very detailed and include:
breeding range (salmon)
year-round range (purple)
winter range (blue)
migration range spring and autumn (orange)
migration range mainly in spring (green)
migration range mainly in autumn (yellow)
a range of other symbols (eg arrows showing direction of migration – see below)
Birds in flight
One of the useful details include the illustrations showing different aspects of a species in flight. This is particularly handy for those species birders see more often in flight rather than sitting or perching.
Concluding comments:
Overall, this is not only an impressive publication, it is immensely useful and helpful. It is by no means a thorough scientific handbook featuring and summarising all the current knowledge on each species; other handbooks do not far more effectively. (As an aside, it is nothing like our Handbook of Australian, New Zealand and Antarctic Birds (HANZAB) which is in 7 volumes, each of over 1000 pages of small print.) It doesn't pretend to be an exhaustive authority on all things birds in North America. However, it succeeds admirably in being a single-volume reference to all the species of one continent, easy to read, easy to use and a delight to read – or just browse. It will delight all birders, from casual and inexperienced backyard birders through to field-hardened experts.
All I have to do now is:
Find space on my bookshelf for this new volume
Save up for a birding trip to North America.
Simple.
Good birding.
Disclosure: I would like to thank National Geographic for kindly providing a review copy of this book.
Further reading:
Trevor's Birding site has reached a significant milestone this morning:
5000 COMMENTS
Over the years the comments on this site have sometimes dribbled in, at other times they come in a flood. Some posts have received hundreds and comments, and others none at all. Some have been hilarious, many have been helpful – to me and my readers – and others very thoughtful. Fortunately, very few have been annoying and on only one occasion have I had to close comments on a post due to misguided people trying to post abusive or less than polite comments.
I have made good friends via this site and have even have had invites to other birders' homes and one has even stayed in my home. Most birders are wonderful people, and sharing a love of birds gives one common grounds to explore our interests.
Writing about birds on this site has also led to some unexpected side benefits:
I am in demand as a public speaker about birds.
I have received quite a number of bird books from publishers wanting me to review their books.
I have been interviewed twice by our local newspaper.
My bird photos have appeared in books, magazines, periodicals, newspapers, on pamphlets, on tourist guides and even on the cover of a CD.
This site is regularly listed as one of the top 100 birding sites worldwide. (At one point a few years ago it reached #26.)
Above all, I have been delighted with the development of a sense of community amongst my readers. They correspond with each other via the comments section, helping each other and giving advice to those with questions about birds, especially injured or orphaned birds.
But wait – there's more:
I do not intend to rest on my laurels. I have plenty more photos to share, experiences to relate and stories to tell about birds. More posts are scheduled to appear in the coming days and weeks, and as I travel around I plan to take photos of birds wherever I go – then share them here. (Why not visit Trevor's Travels, another of my sites where I share photos of my travels here in Australia and also in Thailand, Nepal, Ethiopia, Morocco and Spain. Don't forget to leave comments!)
You could also investigate the archives section (link above) or investigate any of the categories (links on the side bar) and read older posts I have written. Nearly 1500 articles about birds and birding, here and overseas. And I'd love more and more comments too.
Why not leave a comment or two here today?