Search Results for 'Lowan'
Several months ago I visited the nearby Lowan Conservation Park in South Australia. Lowan is a half-hour drive from where I live in Murray Bridge and just south of the small community of Bowhill. This small reservation is mainly mallee scrub with an understory of a great variety of plant species, including Acacias, Grevillia, Correa and many more.
It was a quiet, sunny winter's afternoon and the birding was rather slow. To my delight, however, a Restless Flycatcher was flitting around nearby while I was having an afternoon tea break. Its Latin name is Myiagra inquieta which is very apt: "inquieta" is from the Latin inquietus which means "restless". On every occasion I have seen this species it has indeed been restless. It is constantly on the move, often calling with a grinding sound which gives it one of its common names: scissors grinder.
While superficially it looks very similar to another member of the flycatcher family, the Willie Wagtail, it is easily distinguished by the white on the throat and its distinctive call. While it does occasionally wag its tail like the Willie Wagtail, it is more likely to hover just above the ground trying to disturb insects to snatch up for its next meal.
On this occasion, the bird I photographed for today's post was very obliging. It would dart down to the ground to grab an insect and then return to the same perch in a tree nearby, usually always the same branch. This enabled me to focus on the one spot and to get some nice shots of it.
This species is widespread throughout eastern and southern Australia, but in my experience, it is not common anywhere in any numbers. The Willie Wagtail is far more common. I really enjoy coming across this species on my birding travels. I am happy to have the Willie Wagtail as a resident species in my garden, but it would be nice to have the Restless Flycatcher around more often than a fleeting visit every few years. I guess it is trying to tell me to get out birding more often.
I have included several more photos of the same bird below. I'm not sure what it was looking at in the final photo.
Good birding,
Trevor
Further reading:
A few Sundays ago we had a break in our cold, wintry weather and we went for a drive to Lowan Conservation Park, a 40 minute drive north east from home in Murray Bridge, South Australia. The park is about 15 kilometres south east of Bowhill. I had visited this park on several previous occasions and found that the birding can be either a feast or a famine; it all depends largely on what is in flower, or the weather conditions.
The park is predominantly mallee woodland (see photos) with a mixture of other smaller scrubs and bushes. My wife has written about some of the plants on her site here.
On our most recent visit I didn't even bother to take any photos; I saw no birds to photograph, well, none within range. And while we had our picnic afternoon tea in the sun I heard very little. It was a real struggle to get a short list of birds – mostly heard. (PS The photos on this post were taken on another visit.)
Bird list:
Little Raven
Mallee Ringneck
Grey Shrike-thrush
Weebill
White-winged Chough
Singing Honeyeater
Australian Magpie
Grey Butcherbird
Galah
Grey Fantail
Noisy Miner? (or Yellow-throated Miner? – I only heard them)
Striated Pardalote
That is not a great list, but there was not much flowering. In a park of some 660 hectares one would expect far more honeyeaters, but the mallee has to be in flower. Honeyeater species I would expect to see – or already have seen on other occasions – include: Striped, White-fronted, White-eared, White-plumed, Spiny-cheeked, Purple-gaped, Yellow-plumed, Brown-headed, New Holland and Red Wattlebird.
In addition to the honeyeaters I would expect to see more parrots, pigeons, wrens, thornbills, chats, woodswallows, robins (I did see one, but it flew off before I could get a positive ID), owls, nightjars, frogmouths, swallows, cuckoos, eagles, kites, falcons and even a Malleefowl or two. I have seen two Chestnut Quail-thrush there many years ago; I hope that they are still around.
I guess that the best time to visit would be in the spring, when there is a chance of more flowers. I think that it might be worth camping there overnight. By the way – there is only a rough, stony and sometimes sandy track through the park and NO facilities at all.
Trevor
Further reading:
Lowan Conservation Park is a reserve of remnant mallee scrub in the midst of wheat and sheep farms. It is several hundred hectares in size with a rainfall of probably about 300mm in an average year. It is about 120km east of Adelaide in South Australia.
When the mallee trees are in flower the honeyeaters abound. I have visited when there have been no trees flowering and consequently very few honeyeaters. On other occasions I haven't know where to point my binoculars first, there are so many birds. On these exciting occasions the birding is simply wonderful. I have observed the following species in or near the park:
Red Wattlebird – resident and common
Singing Honeyeater – resident and common
White Eared Honeyeater – resident and common
Spiny Cheeked Honeyeater – probably resident
Brown Headed Honeyeater – resident and common
Yellow Plumed Honeyeater – probably resident
Striped Honeyeater – regular visitor spring, summer
White Fronted Honeyeater – possibly resident
Other species which could occur when the conditions are right include:
Purple Gaped Honeyeater
Yellow Throated Miner
White Plumed Honeyeater
New Holland Honeyeater
Black Honeyeater
Tawny Crowned Honeyeater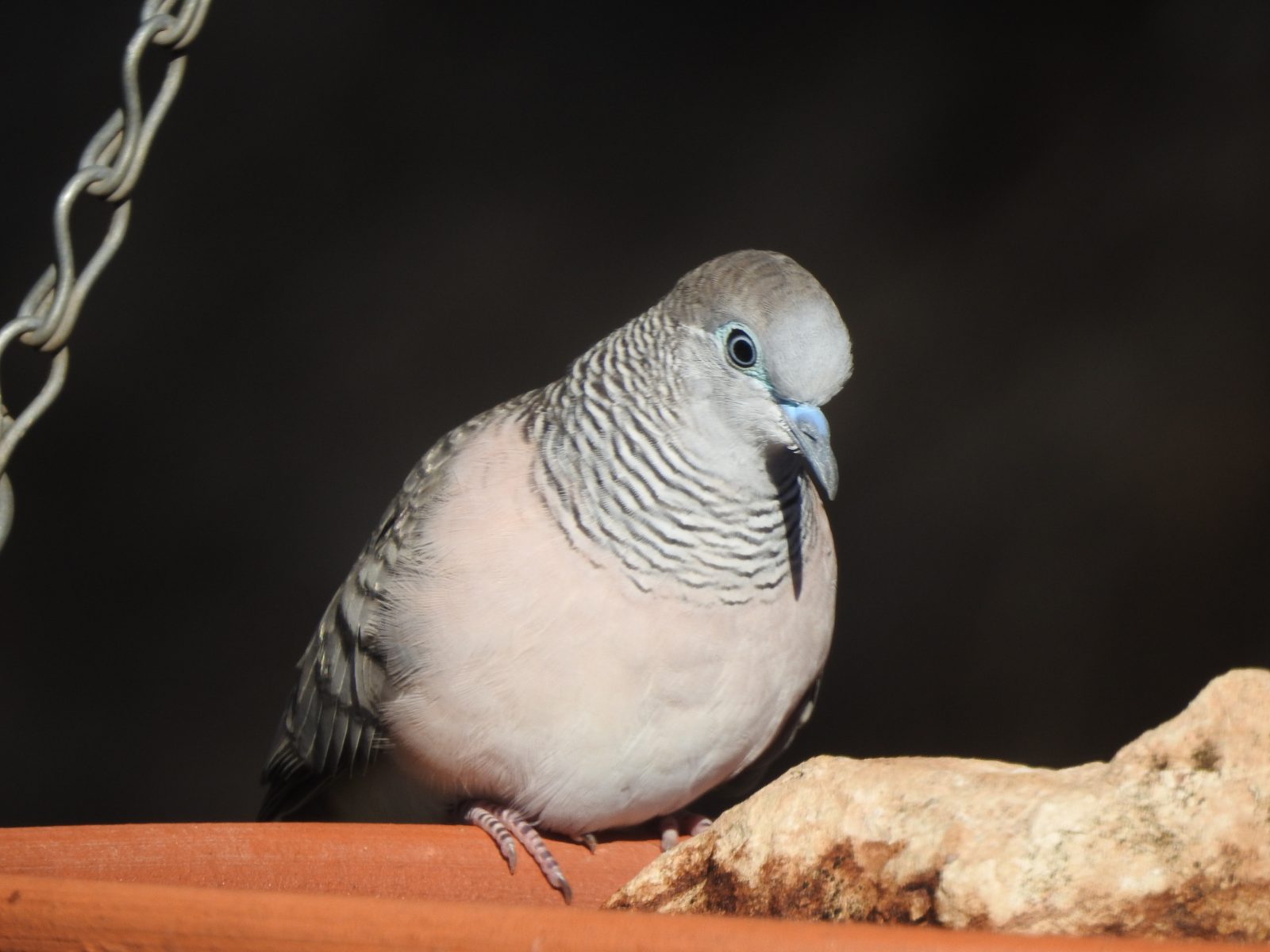 One bird species that I love seeing and hearing in my garden here in Murray Bridge, South Australia, is the Peaceful Dove as shown in today's photos. I live on the western edge of the rural city of Murray Bridge on a five-acre (two-hectare) block of land.
As well as a large variety of Australian native plants and trees, I have a small orchard and some remnant mallee scrub. My property adjoins several other mallee scrub areas, including Kinchina Conservation Park about a kilometre to the west.
Because there is so much native vegetation remaining in this area, the bird life can be prolific. I have lived here for over 35 years and have kept monthly lists of birds observed over that period, except for a few periods when I was away. This includes many holidays interstate and several trips overseas.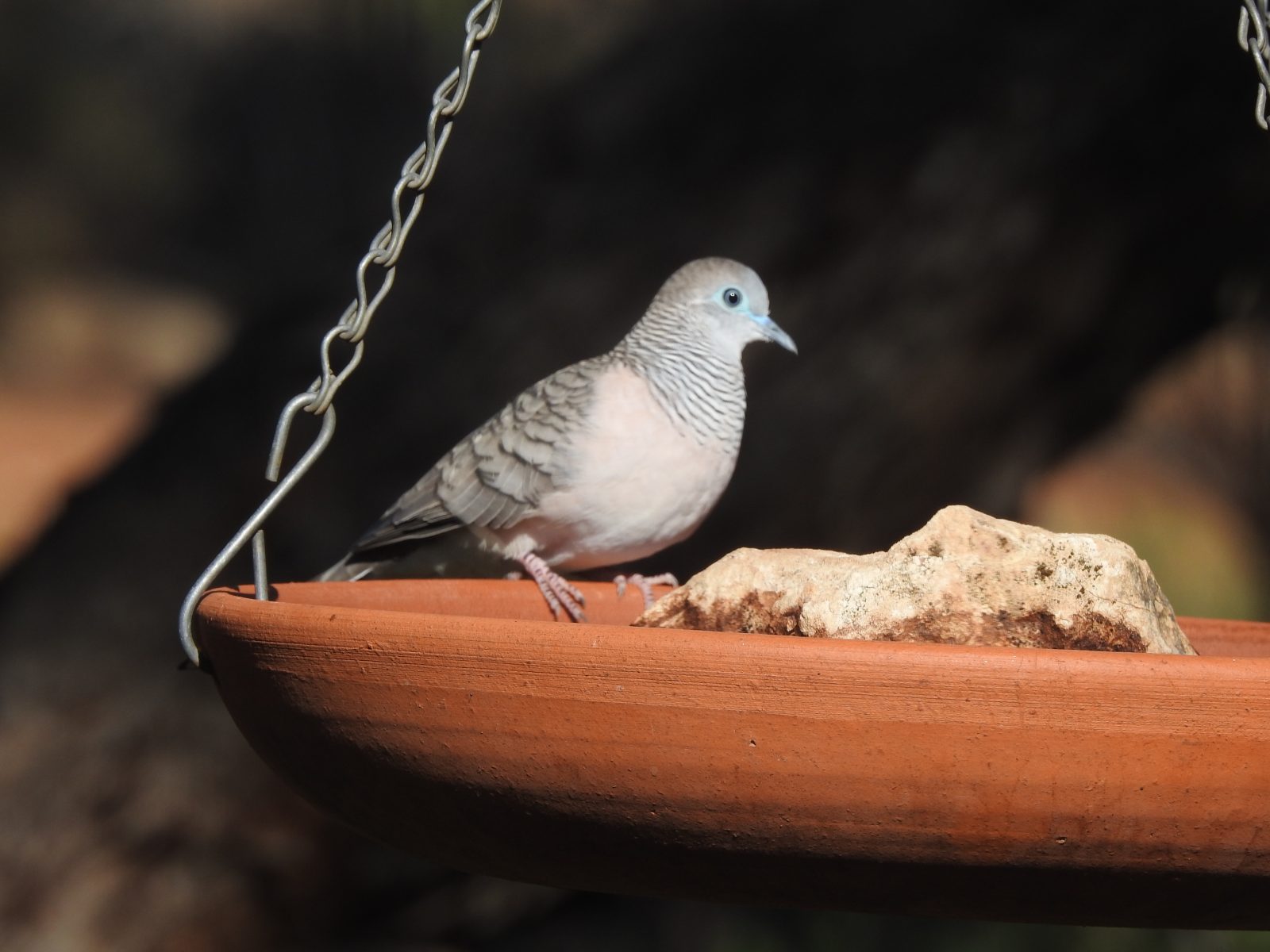 Doves and Pigeons
The most common species in this family of birds is the Crested Pigeon. They are a resident breeding species, meaning that they are seen every day and have been recorded breeding on my land.
For many years I have recorded Spotted Turtledoves (Spotted Doves) almost every day as well, but in the last few years, I have only seen this species here occasionally. The same applies the Rock Doves (Feral Pigeons) which are now only recorded occasionally. One other species, the Common Bronzewing, has only been sighted here on a handful of occasions.
In the first 20 years living here I only occasionally sighted Peaceful Doves. Then an individual would sometimes move down the hills to the west and visit my garden for an hour or two. On checking my database of records, I started seeing them regularly from late 2009. Over the next decade, they have become resident and I hear and see one or more every day.
At first I only saw one of two until more recently when I have recorded up to six in close proximity to each other. Only a few days ago I looked out the window to see four of them sunning themselves all within a square metre. It has become one of my favourite birds and I feel so privileged to see and hear them regularly here at home.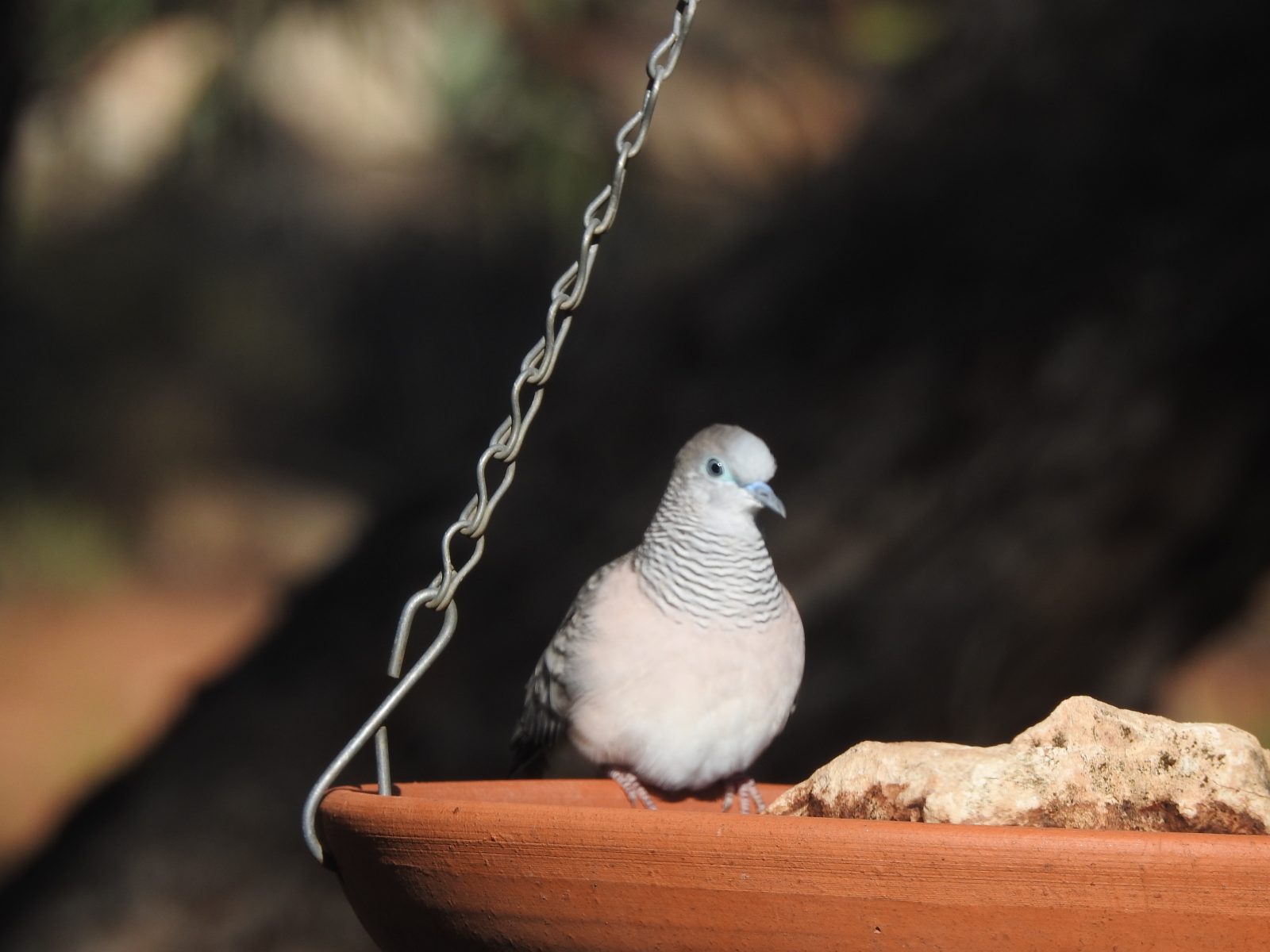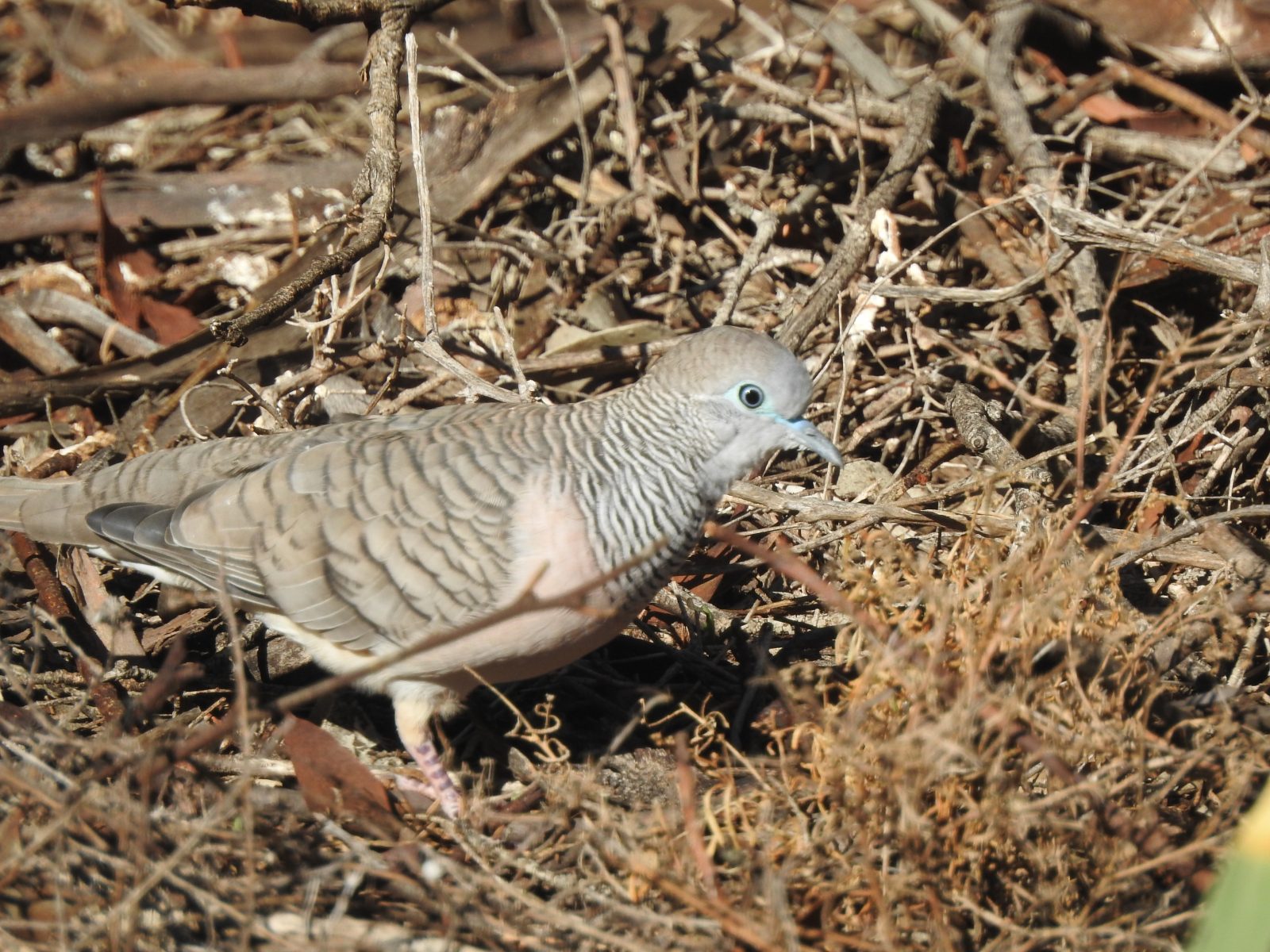 Earlier this year I went for a Saturday afternoon drive to the Lowan Conservation Park near Bowhill north-east of my hometown of Murray Bridge, South Australia. I needed to get out of the house after some cold wintery weather, and my daughter had never been to this park. She had just returned home after teaching for the last two years in Ethiopia. The day promised to be sunny and calm, ideal for a picnic and a spot of birding. Over the years I have visited this small park in the mallee areas of our state on a few occasions and it sometimes throws up a few birding surprises.
As we had afternoon tea – a cuppa and some treats from our local bakery – we sat in the afternoon sunshine. My daughter had her current book to read (Tim Winton's The Shepherd's Hut) and I had my camera and binoculars at the ready. Flitting around in the nearby mallee trees was a Jacky Winter, one of our flycatcher species. It's called a Jacky Winter possibly due to its call which sounds a bit like it is saying 'jacky winter, jacky winter.' At least, that's what it sounds like to me. Another common name is 'Peter Peter' and that is probably a closer rendition of its call. Whatever the origin of the name, the bird is a generally unassuming little bird which can often go unnoticed in the Australian bush. More often it is sighted quietly sitting on a branch, a tree stump or fence post watching the surrounding grass intently, just waiting to snatch up a tasty morsel – a passing insect or two.
On this visit to the Lowan Conservation Park, I had good views of this bird, but I had trouble getting my camera focussed on this individual. It kept flitting around, catching afternoon tea and calling all the time. Every time I would try to focus – off it would go again. The only time it sat still enough for a shot in focus it was in the shade – see the photo above.
So that you can get a better view of this species, I have posted several photos taken two years ago in the Murray-Sunset National Park in north-west Victoria. These shots include the beginnings of a nest consisting mainly of a spider web.
Further reading: