Archive for September, 2019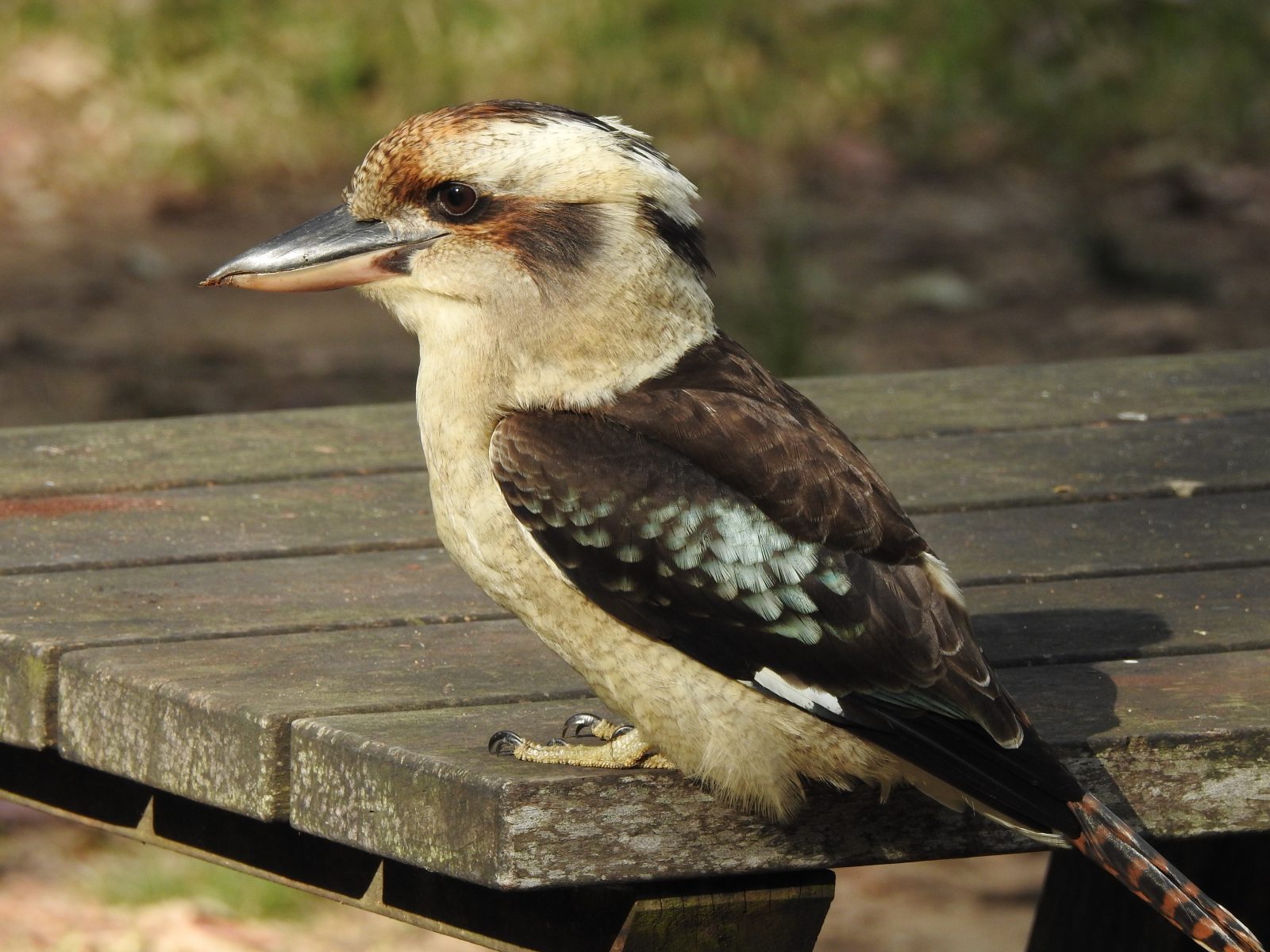 On many other occasions, I have written about my visits to Lane Cove National Park. This beautiful park is close to the Chatswood CBD just a short distance north of the Sydney Harbour Bridge. My son and his family live just a few minutes' drive from the park, so I have taken many opportunities to visit and take photos of the birdlife, the flora and other interesting sights along the Lane Cove River which flows through the park.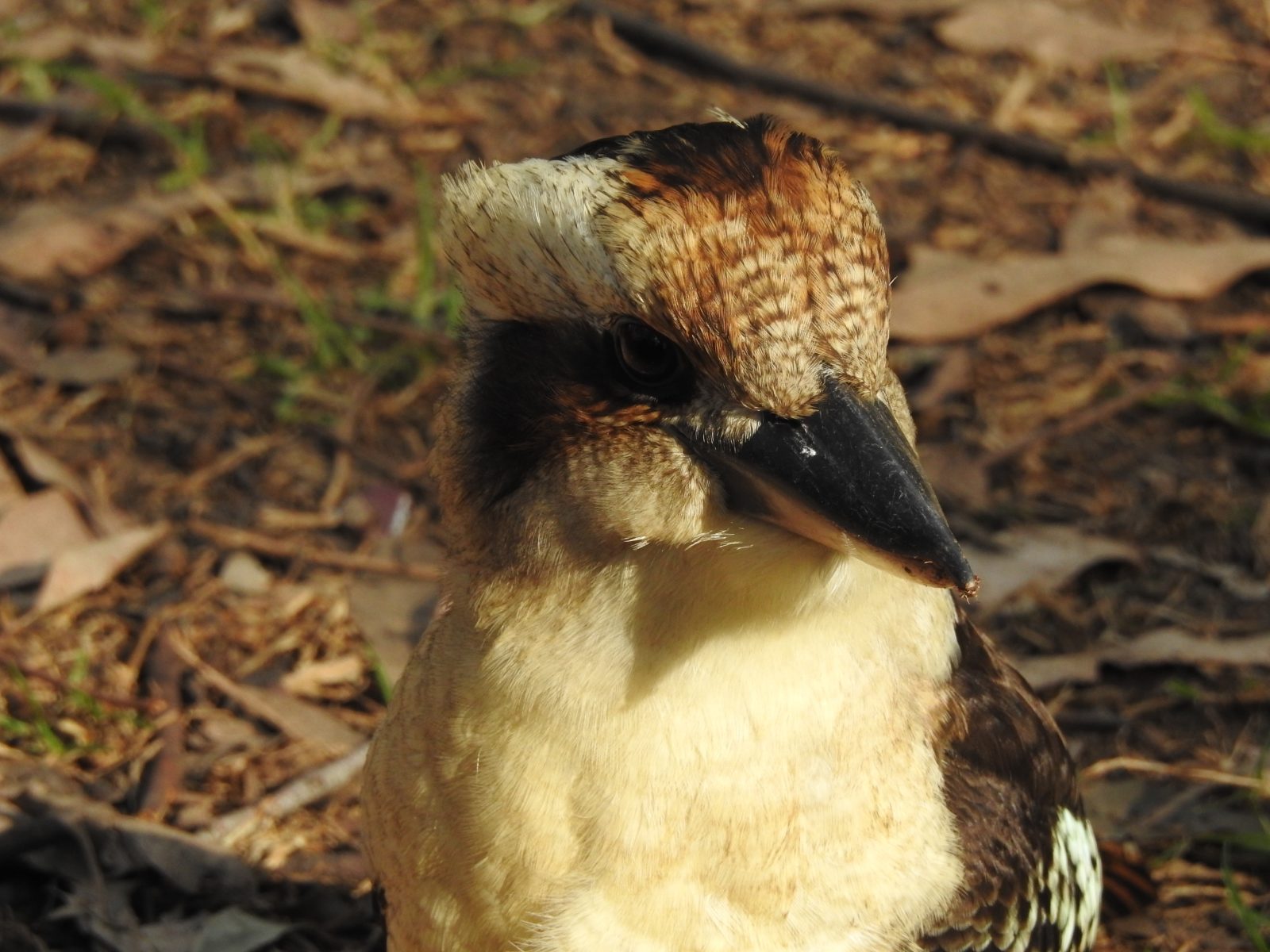 On a visit earlier this year, I spent most of one day exploring the park and taking photos of anything that took my attention. At one point I lingered near a picnic table. There are many such tables in the park for the convenience of visitors. Two Laughing Kookaburras were attracted to something on the ground but I couldn't work out exactly what they were so interested in – perhaps it was a beetle or some other insect. Or the remnants of a picnicker's lunch.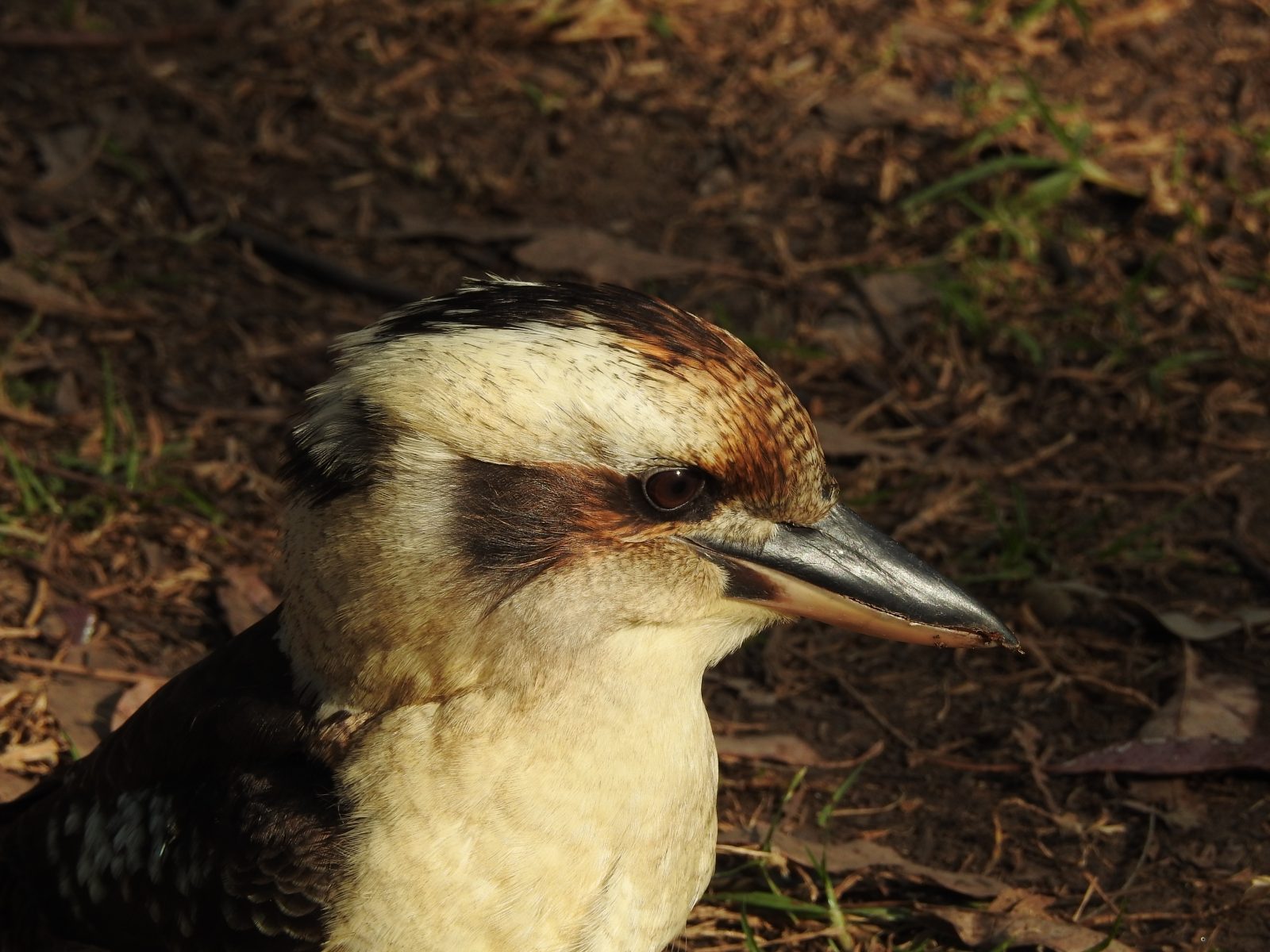 The two kookaburras kept squabbling over whatever had attracted their attention and consequently I was able to take quite a few closeup photos as shown in today's post. I was able to get to within a metre or two of the birds so I really didn't need the wonderful zoom facilities of my camera.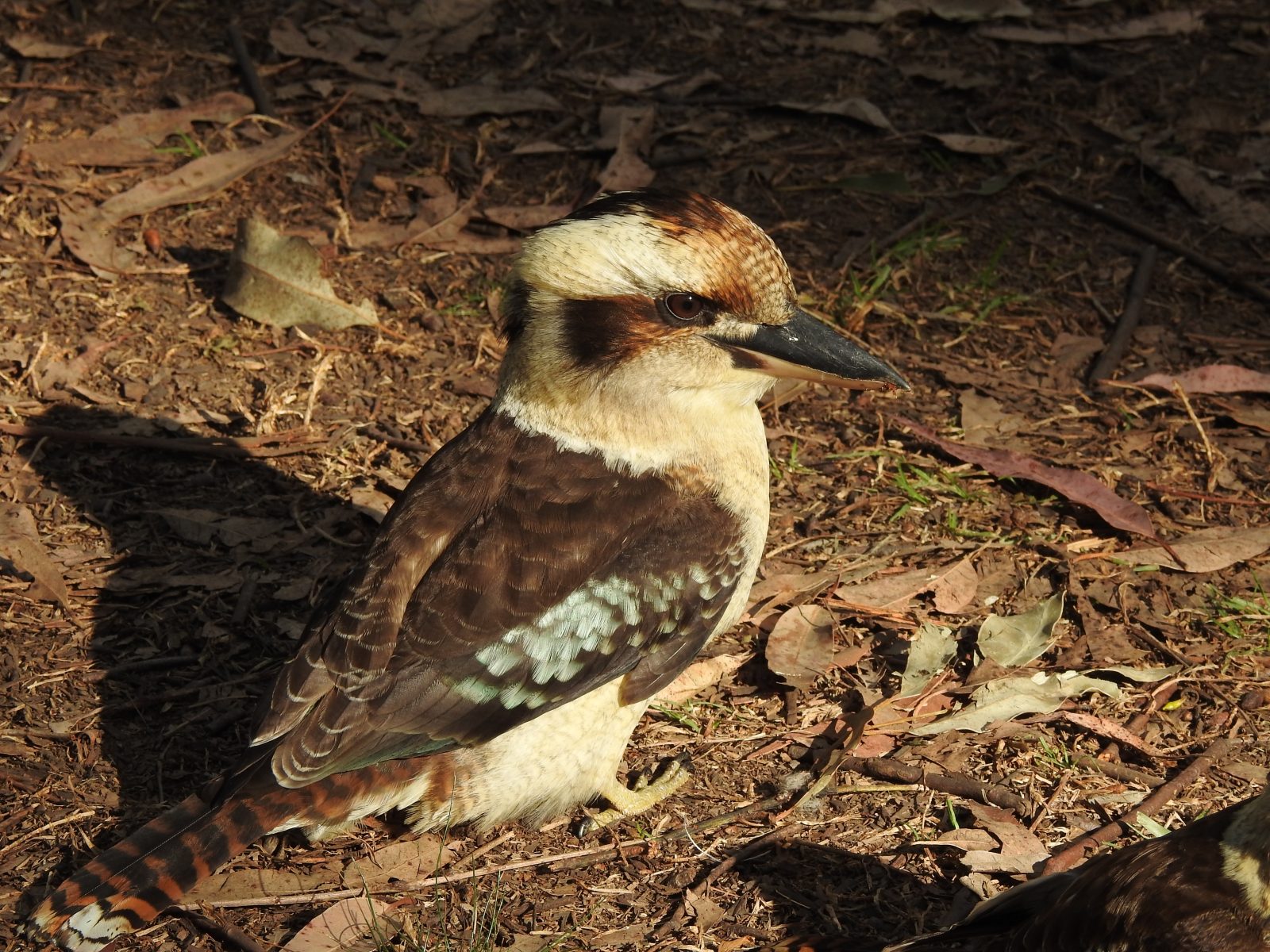 I kept on shooting until they decided to fly off. Visitors need to watch carefully for the kookaburras in this park, especially if they have food on their table or barbecue. On one occasion a kookaburra snatched part of a sandwich from alongside my wife while we were eating lunch.
On another occasion, my grandchildren were stunned when a kookaburra snatched a cooked sausage right off of the hot plate of a barbecue. They certainly are both opportunistic and cheeky.
Please leave any comments about your encounters with kookaburras or close encounters with other bird species.
Happy birding,
Trevor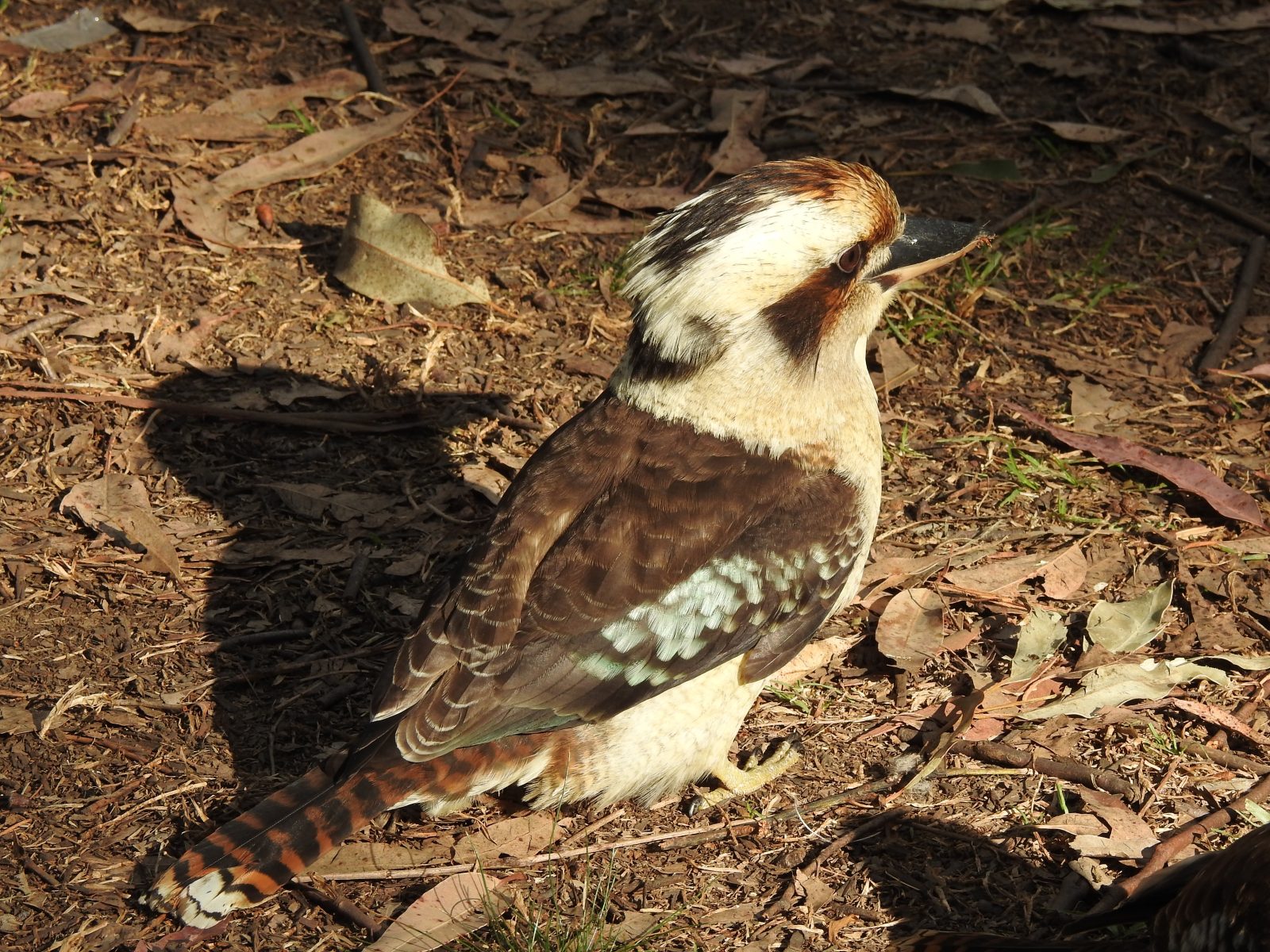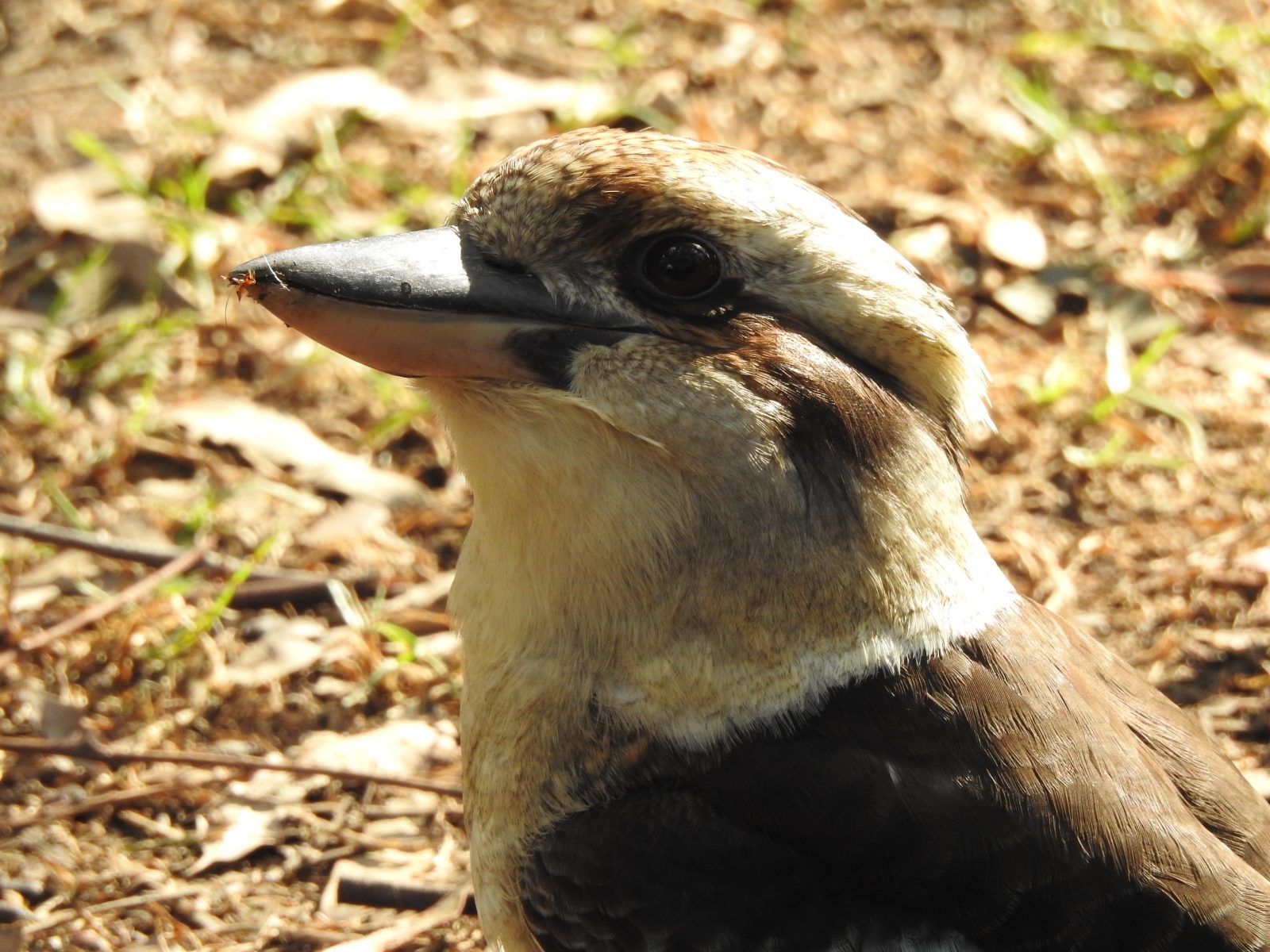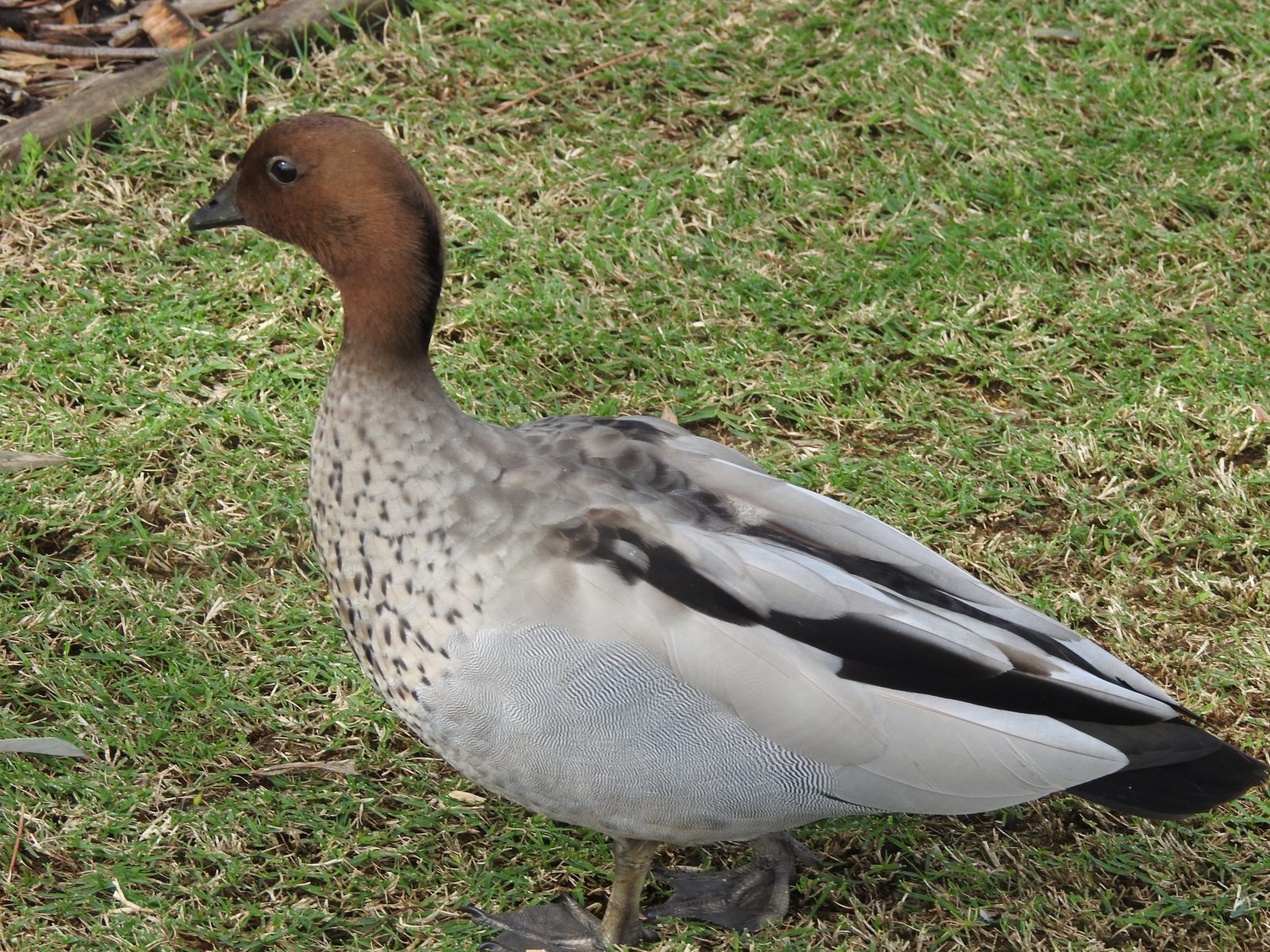 Over the many years of writing this blog and sharing my photos of Australian birds, I have often written about the Australian Wood Duck. I love seeing these birds and they are usually quite unafraid of humans, intermingling quite easily.
My most recent encounter with this species was on a visit to the Australian Botanic Gardens in Mount Annan in south-west Sydney. I spent several pleasant hours photographing the native plants in flower. I have posted a few of those photos below.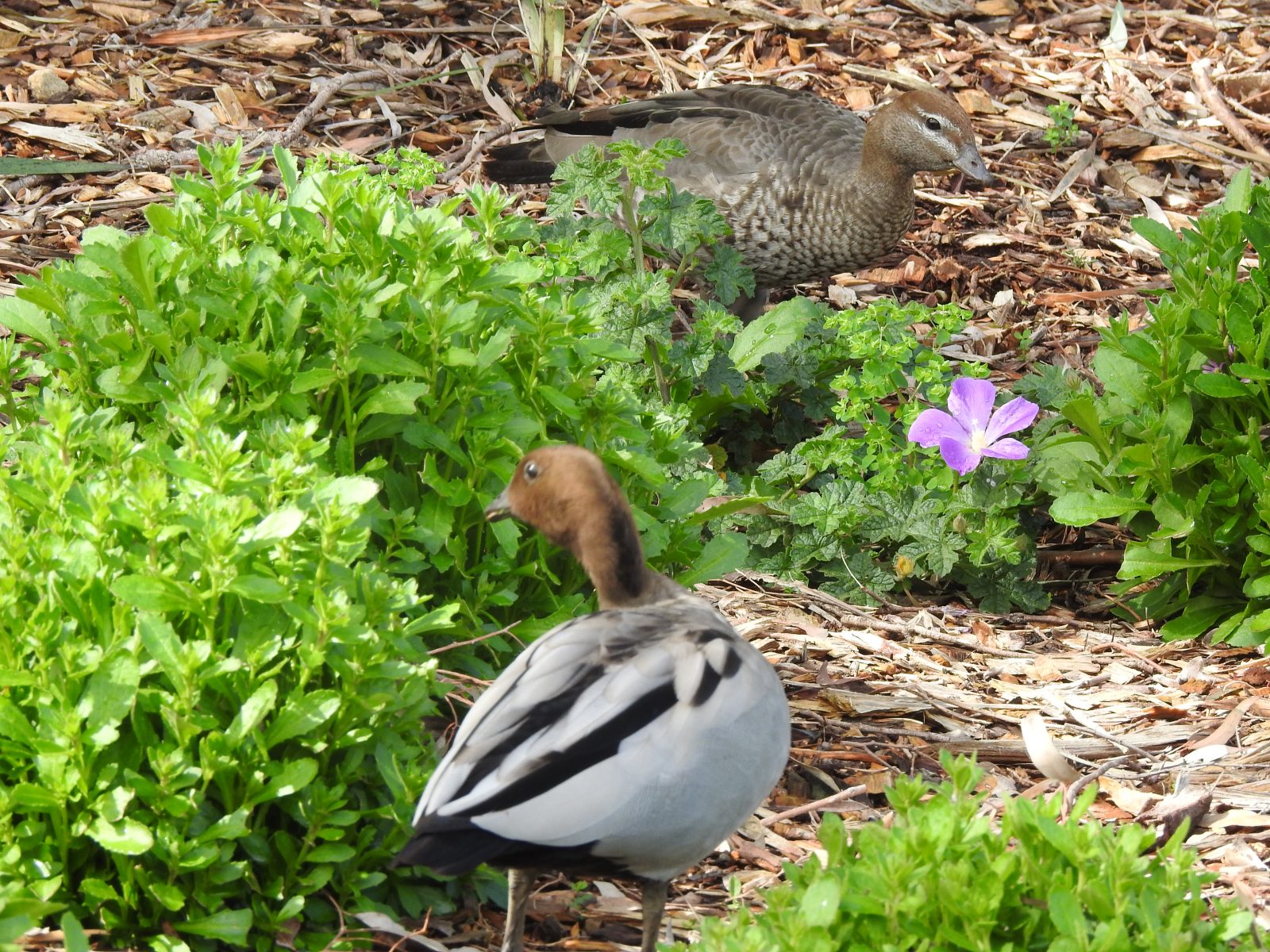 I was not surprised to see a few of this species in the gardens, especially around or near to the lakes which make up an important part of the botanic gardens. Near one of the lakes, there is an extensive area of lawn which many people use for their picnics when visiting the gardens. The various types of ducks can often be seen grazing on the lawn.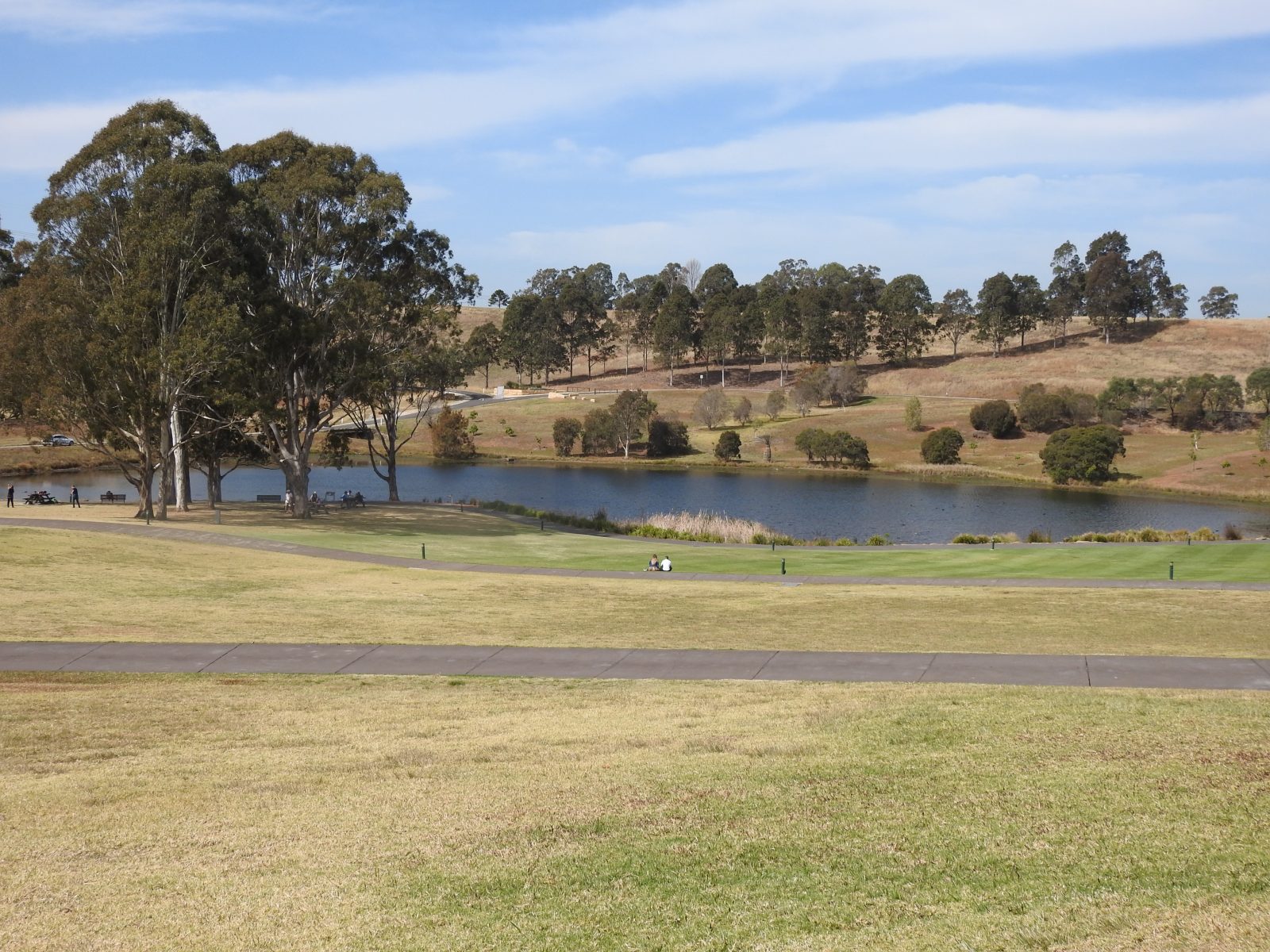 The couple of birds shown in today's photos caught me by surprise. They were right in one of the garden beds. They were actually pecking at some of the leaves of the plants in one of the beds. This species normally eats grasses, herbs and occasionally insects, so I should not have been surprised that they were eating some of the plants making up the botanic gardens.
I guess that they were just sampling the plants in case they were tasty. Or perhaps they just wanted a treat – or a change of diet.
Further reading:
Australian Museum article
Ducks in the Lane Cove National Park.
I was attacked by a duck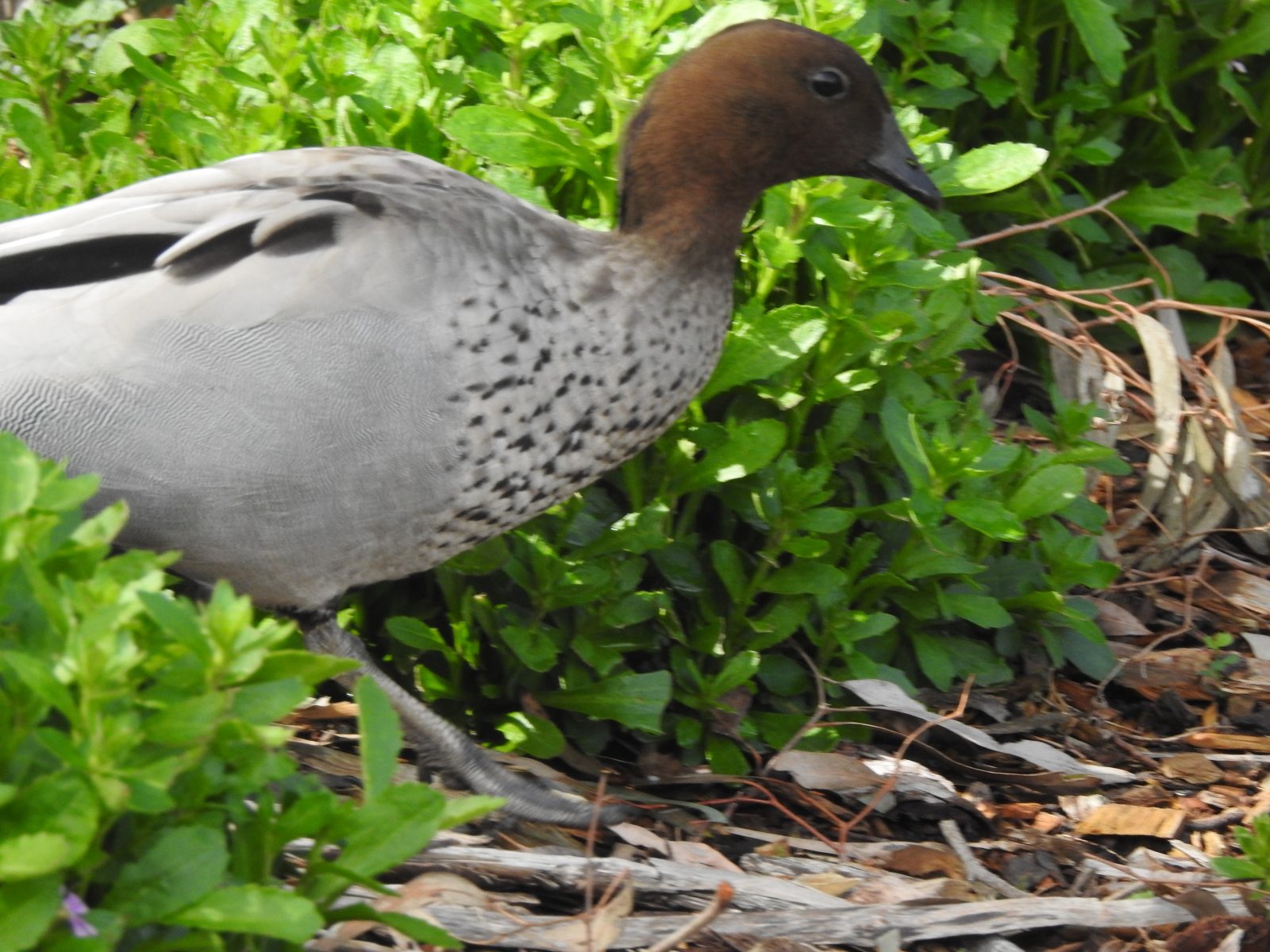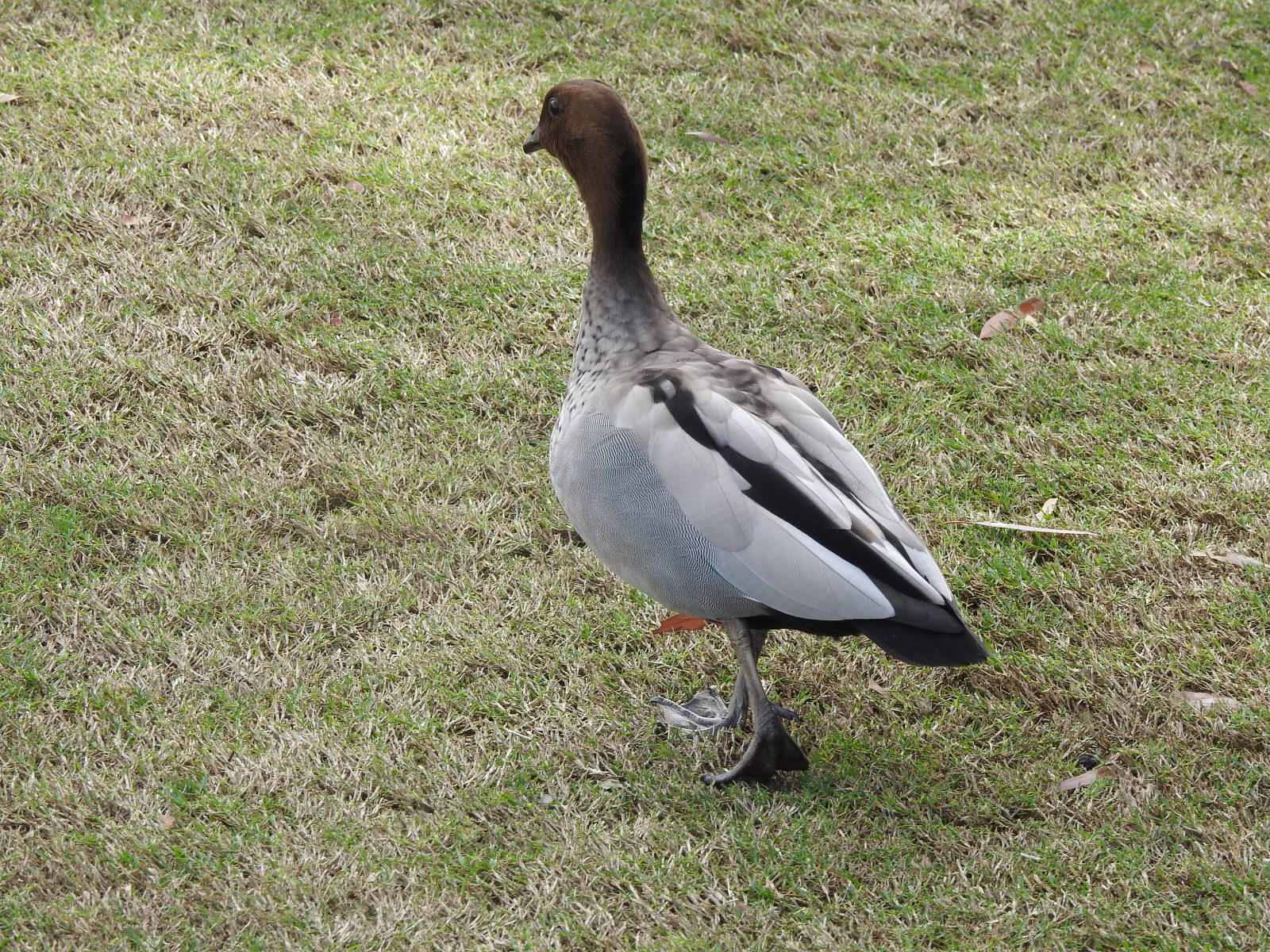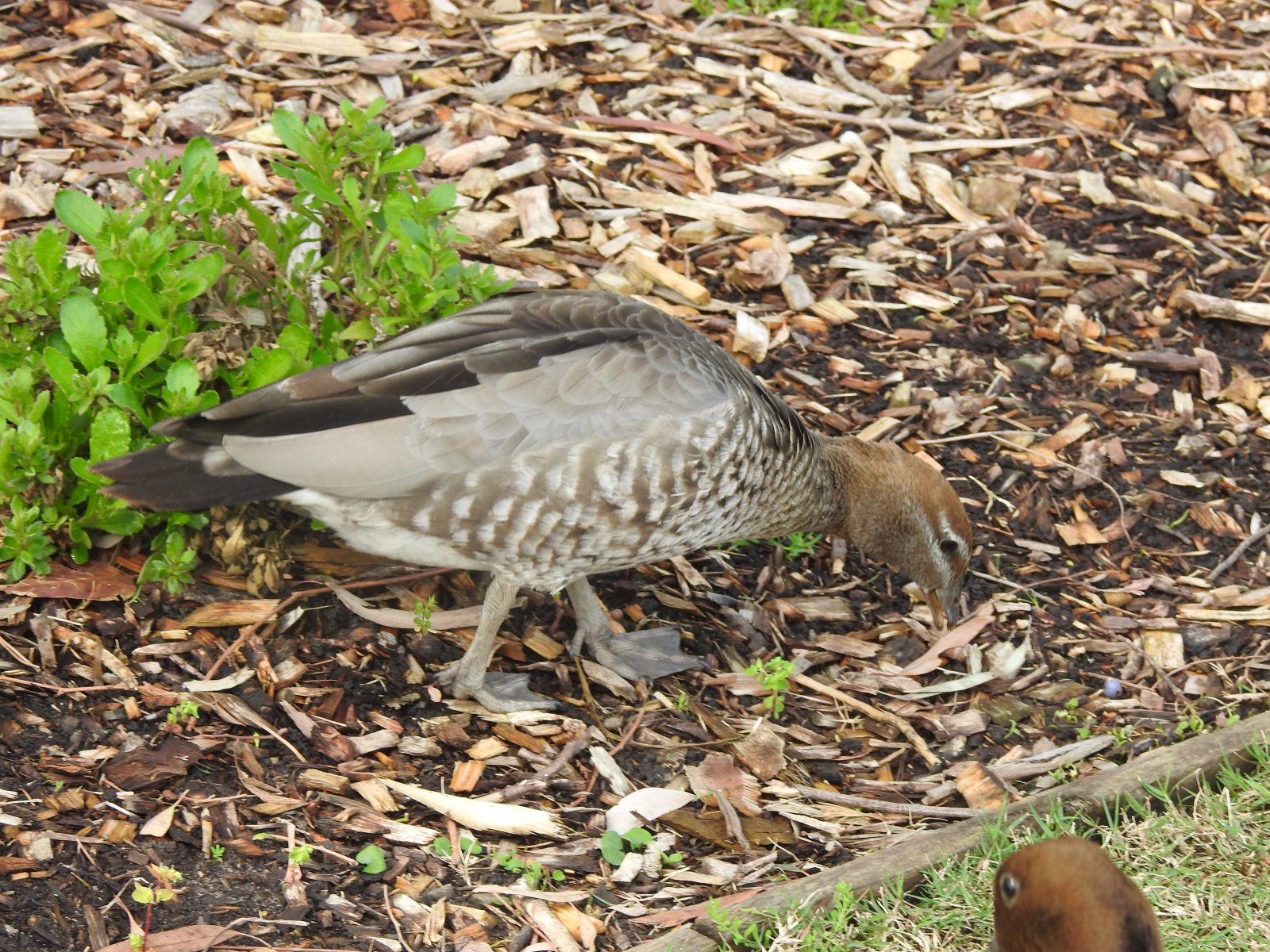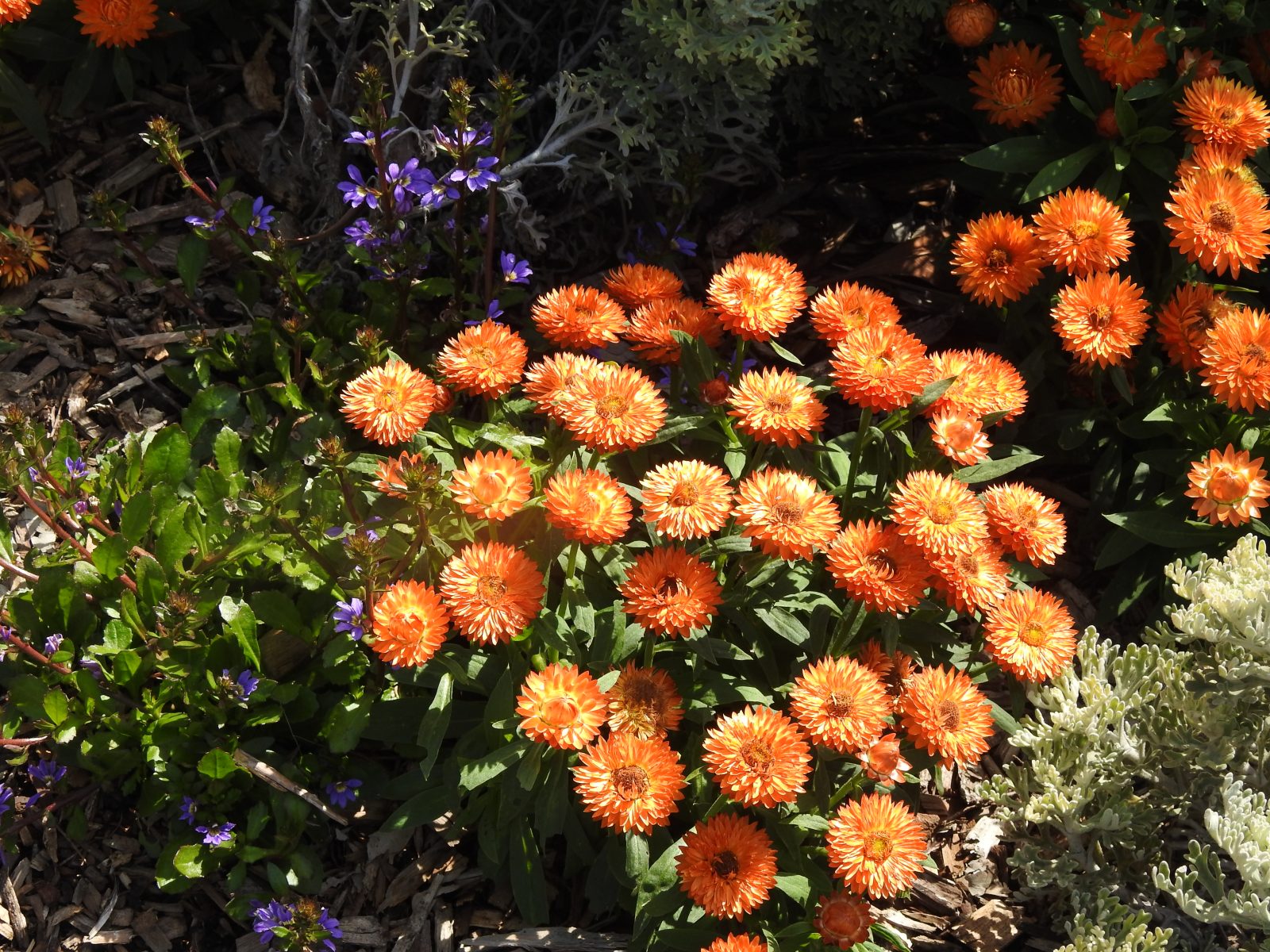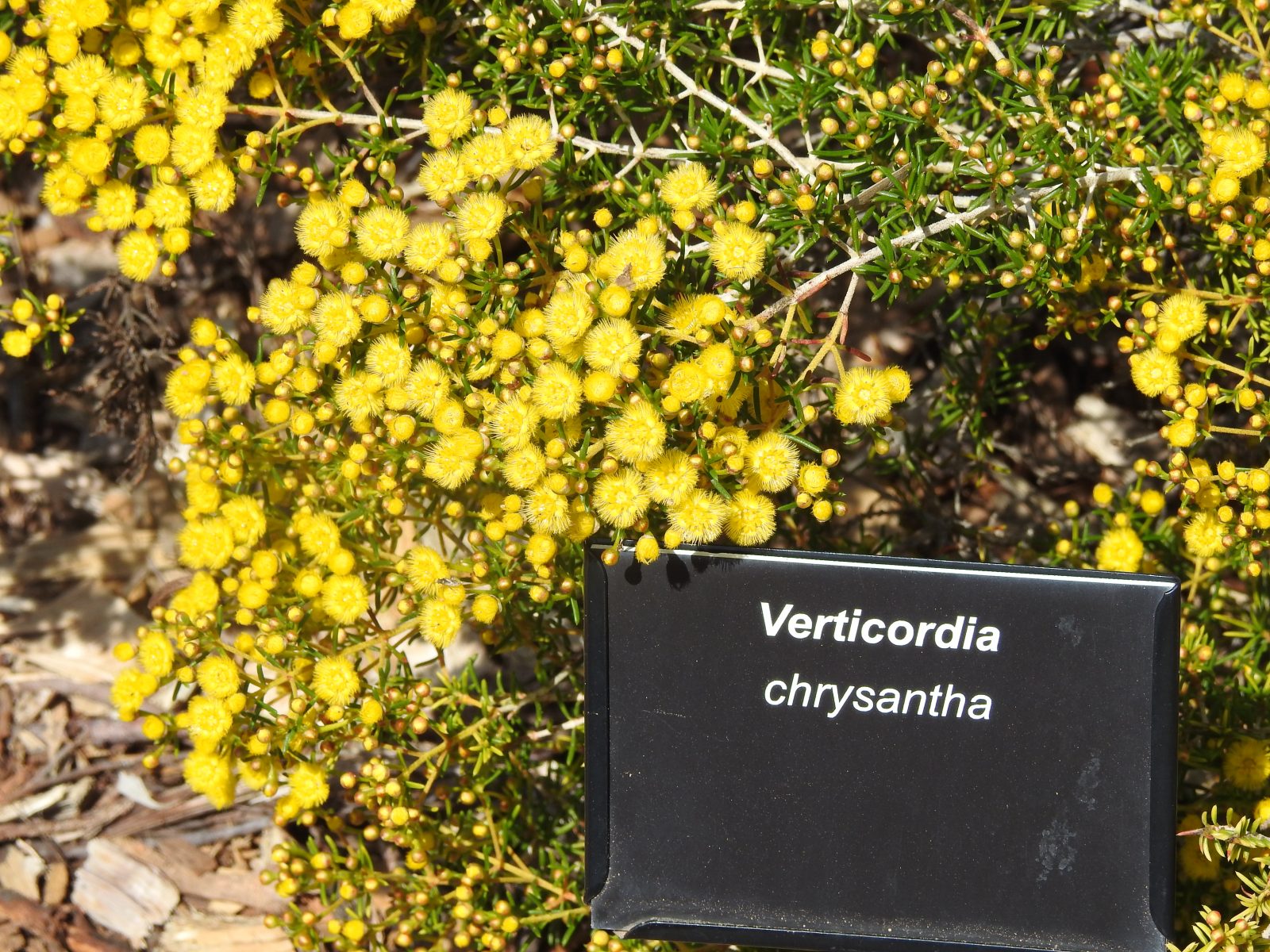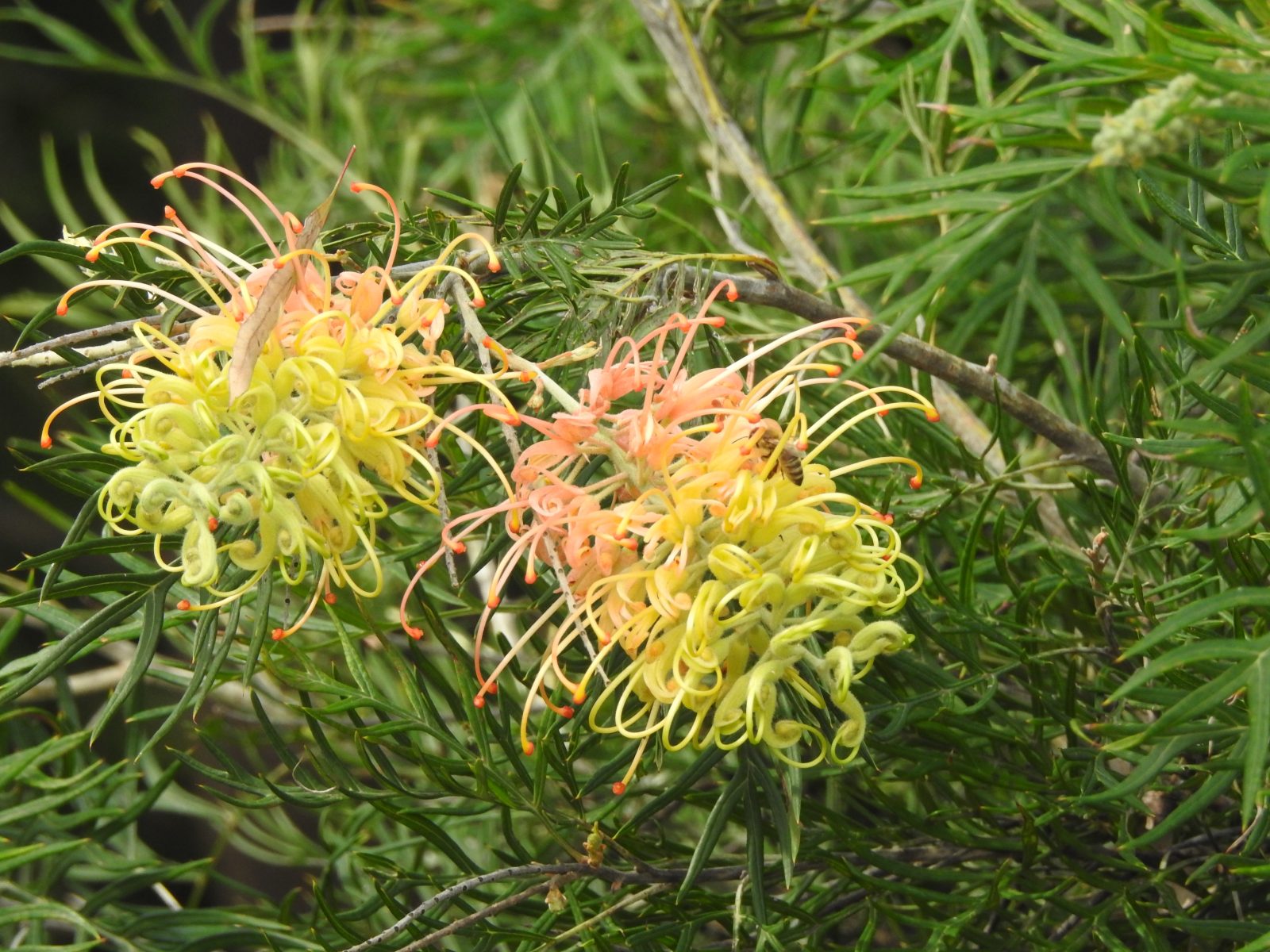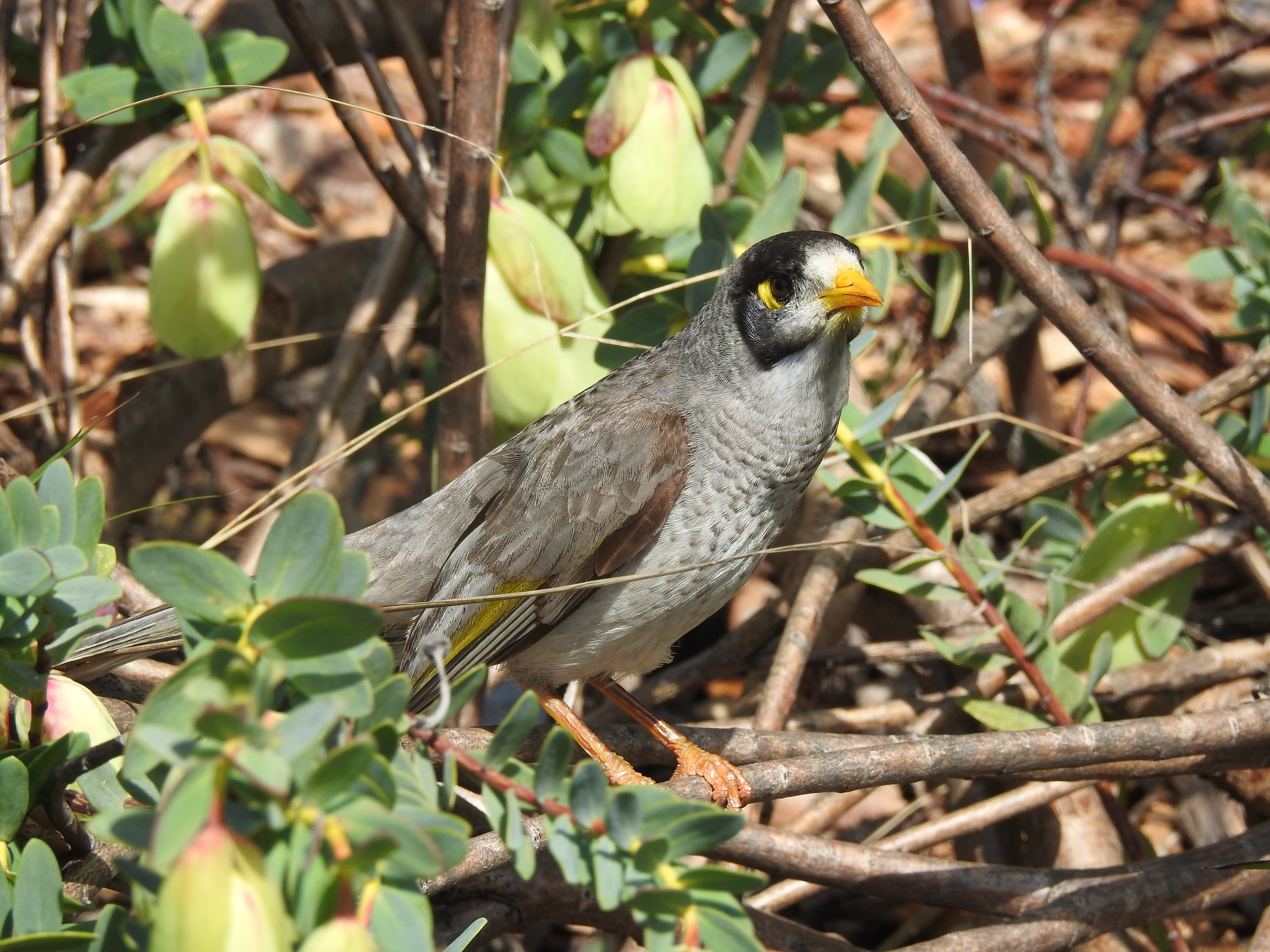 I am currently staying with my son and family in Sydney. Before arriving at his home I spent a few hours taking photographs and doing some birding in the Australian Botanic Gardens at Mount Annan. These beautiful gardens are situated in the south-west of Sydney. The plants are certainly worth seeing, especially in spring when so many are in full bloom. The birding is also very rewarding.
While I was taking plenty of photos of the many plants in flower (see photos below), I came across a very cooperative Noisy Miner. It was busily feeding on the nectar in one of the plants and was certainly unconcerned that I was barely a metre away, snapping away with my camera. It certainly makes bird photography easy when you get cooperative birds like this one. It is generally a very bold species, quite accustomed to being in contact with humans.
Food
The Noisy Miner is a member of the honeyeater family of birds. They usually feed on nectar which is generally in plentiful supply in our Australian native plants. They will also eat fruit and insects.
Habitat and distribution
Noisy Miners are a common species found throughout eastern Australia from northern Queensland through much of New South Wales, Victoria and South Australia. They are also present in Tasmania. They are found in open bushland, woodlands and forests. They have adapted well to life in parks and gardens in urban areas, often supplanting our smaller birds species through their aggressive nature. They are bold enough to take on much larger birds like magpies and ravens.
Further reading:
Rainbow Lorikeet in the "Moonlight"
Australian Museum article on the Noisy Miner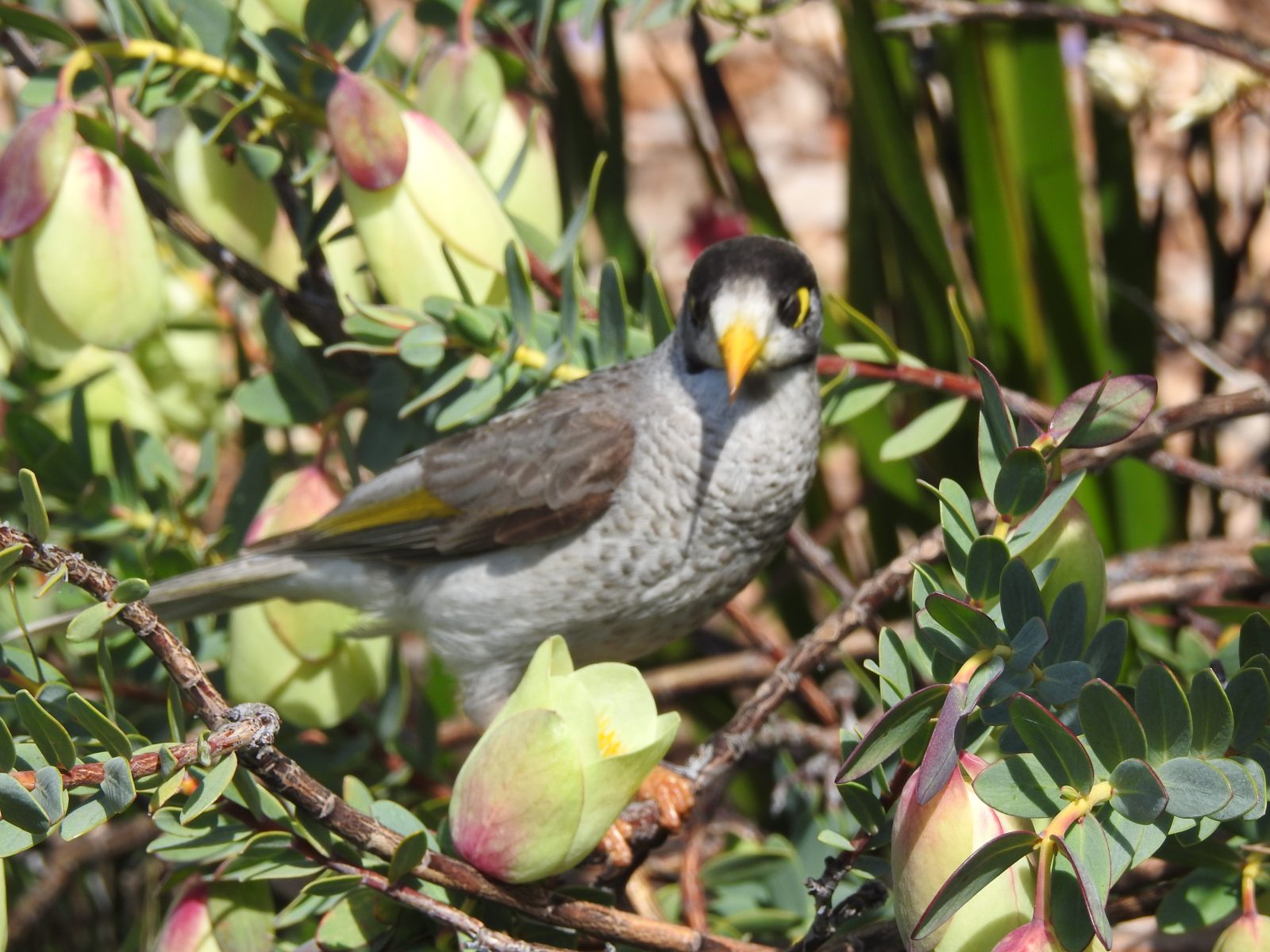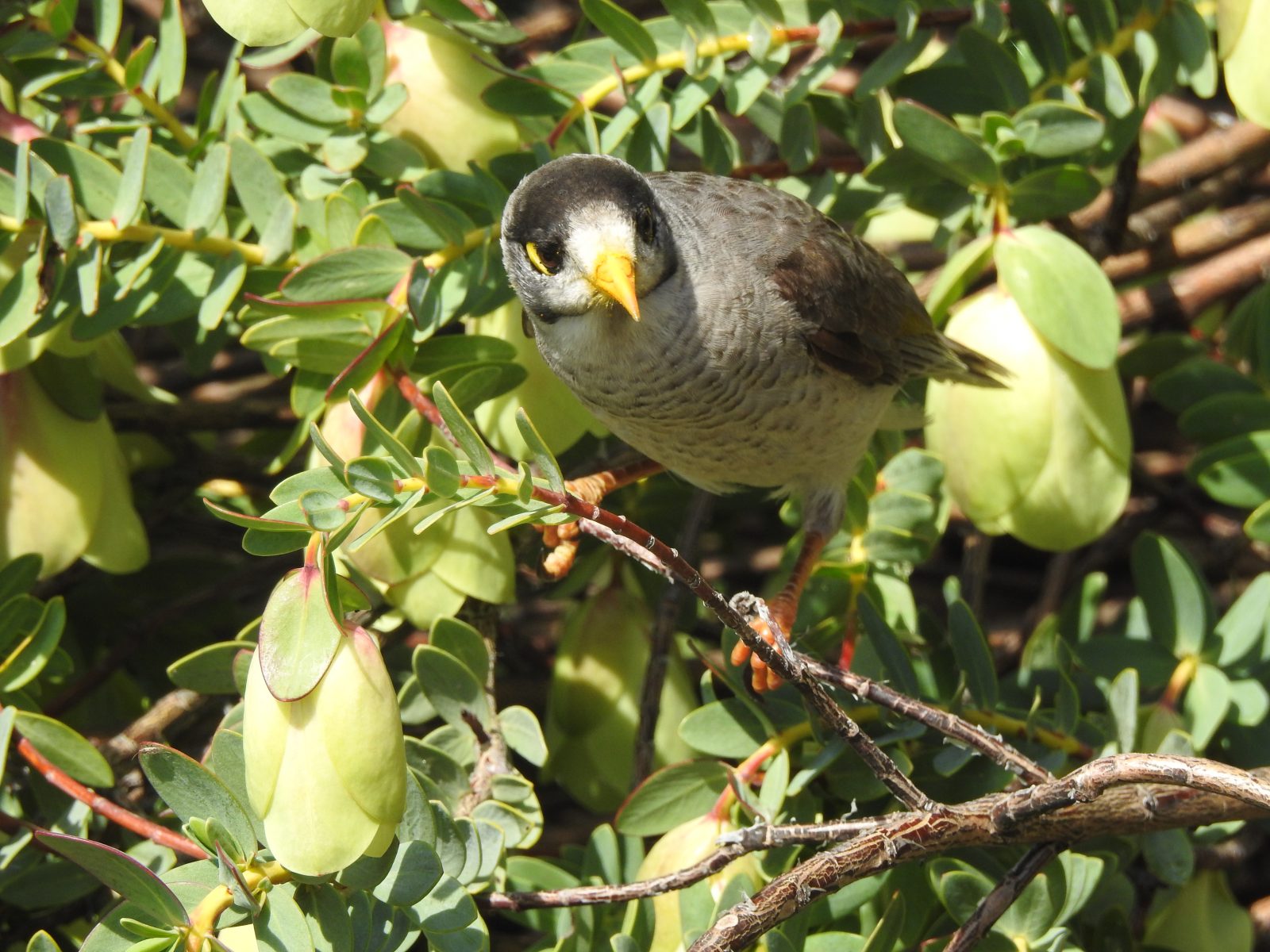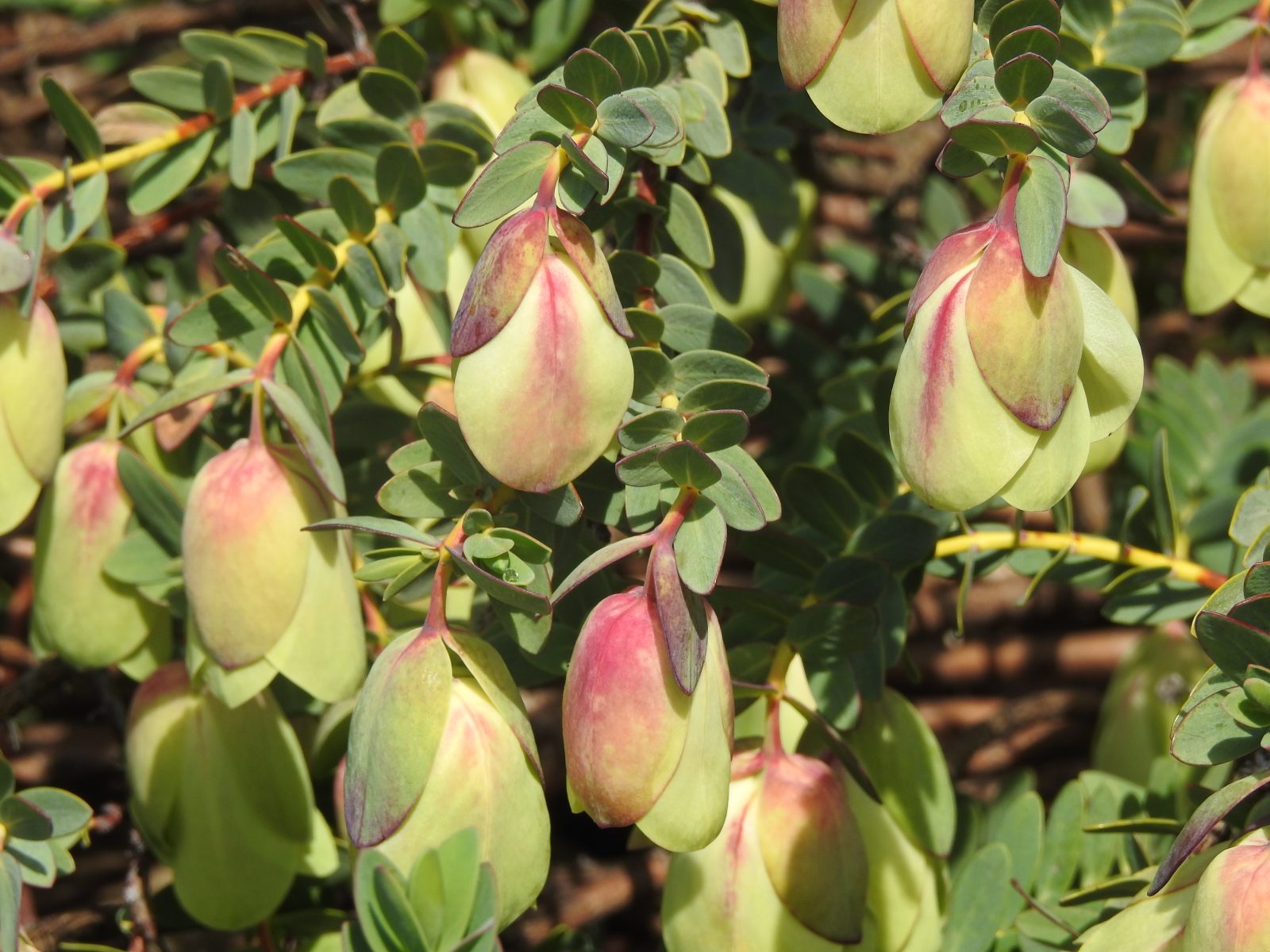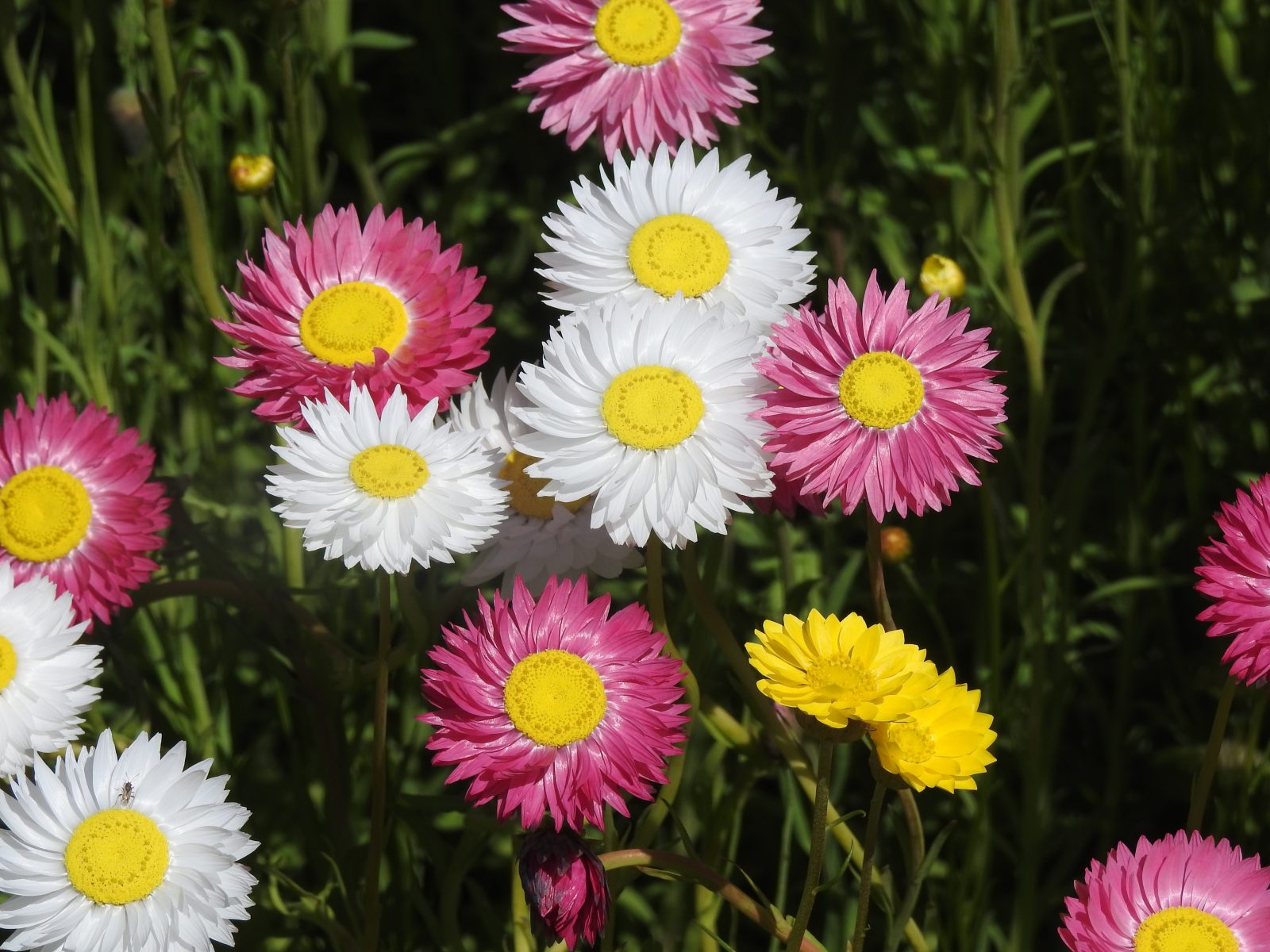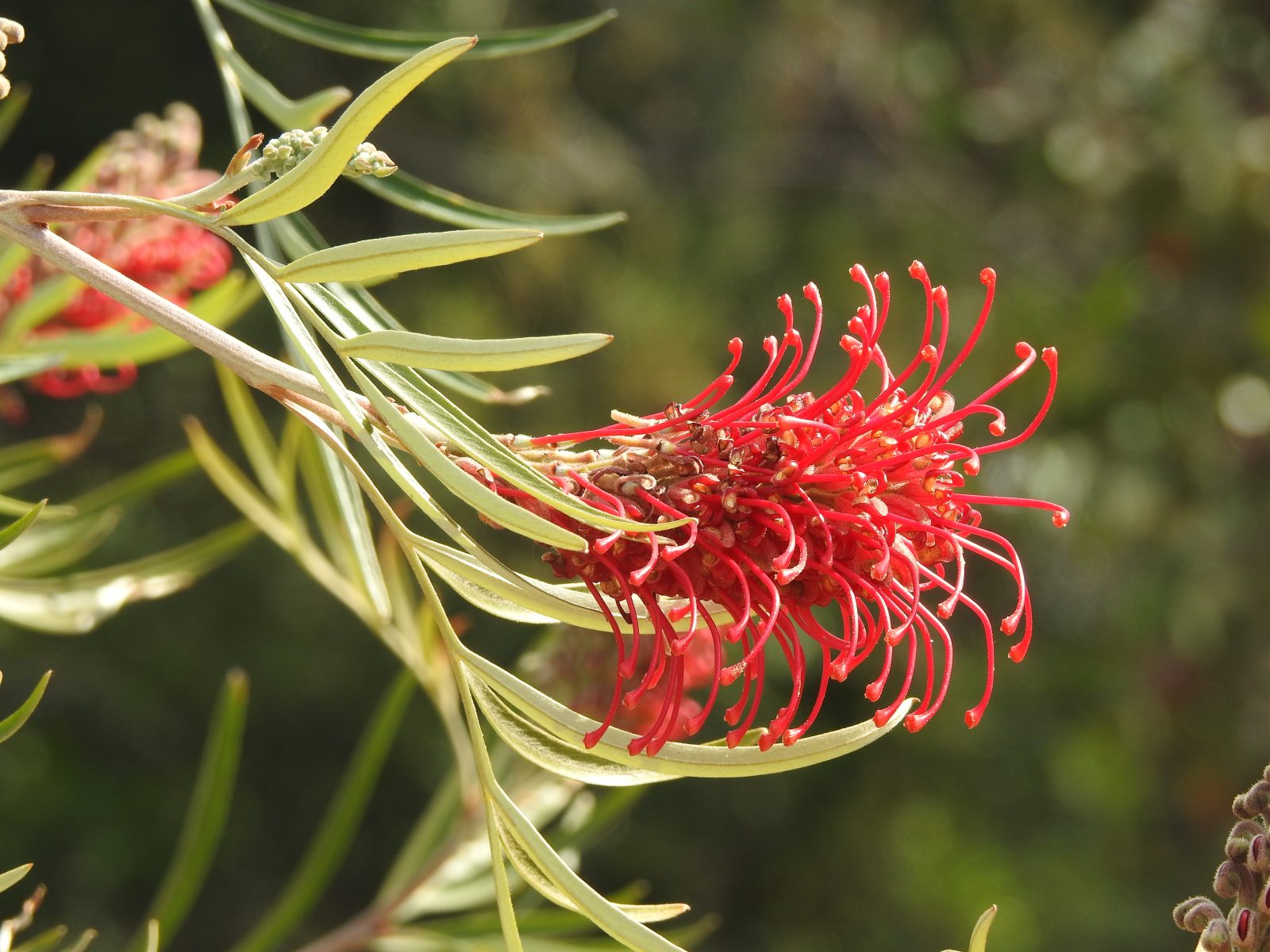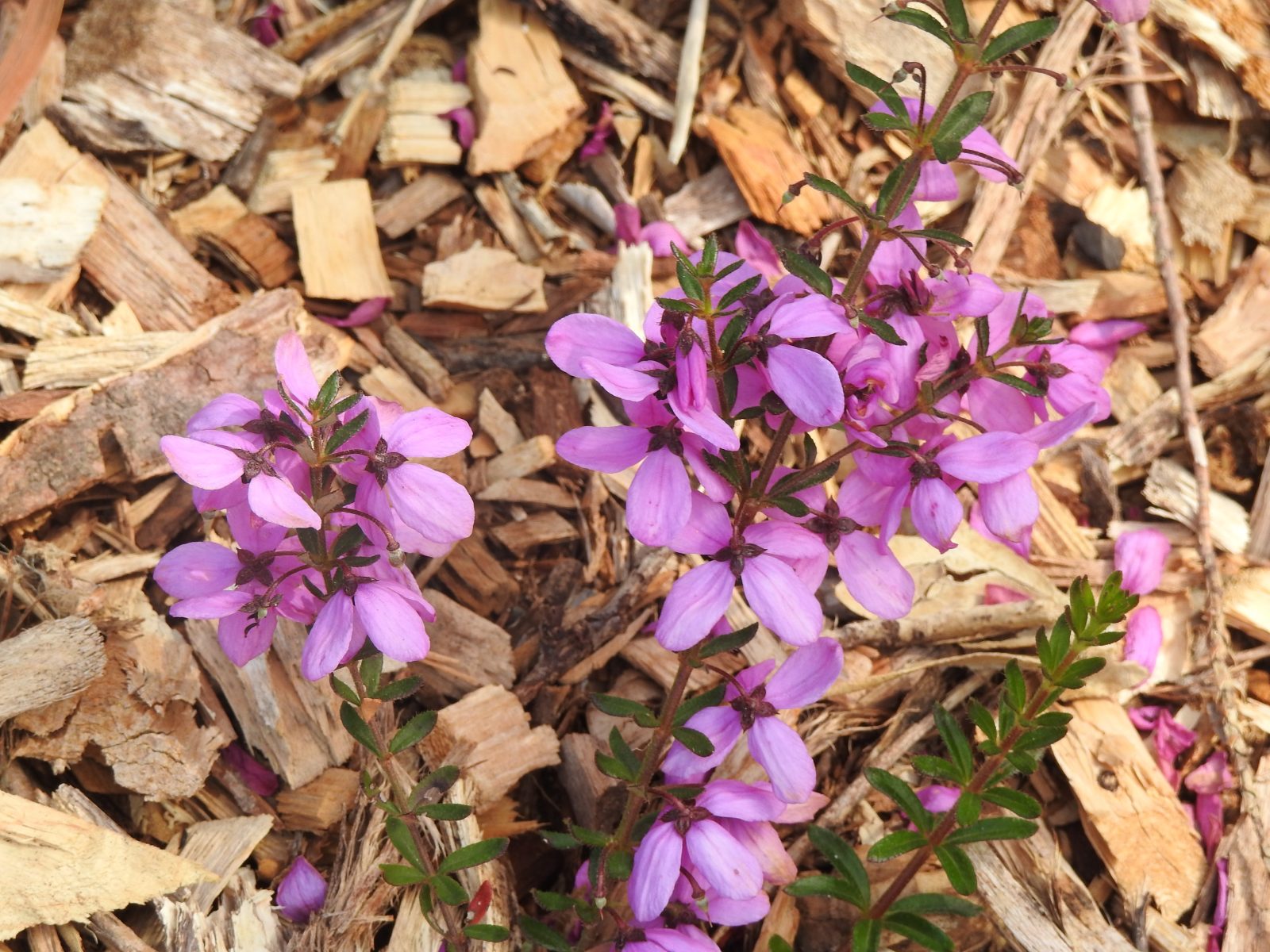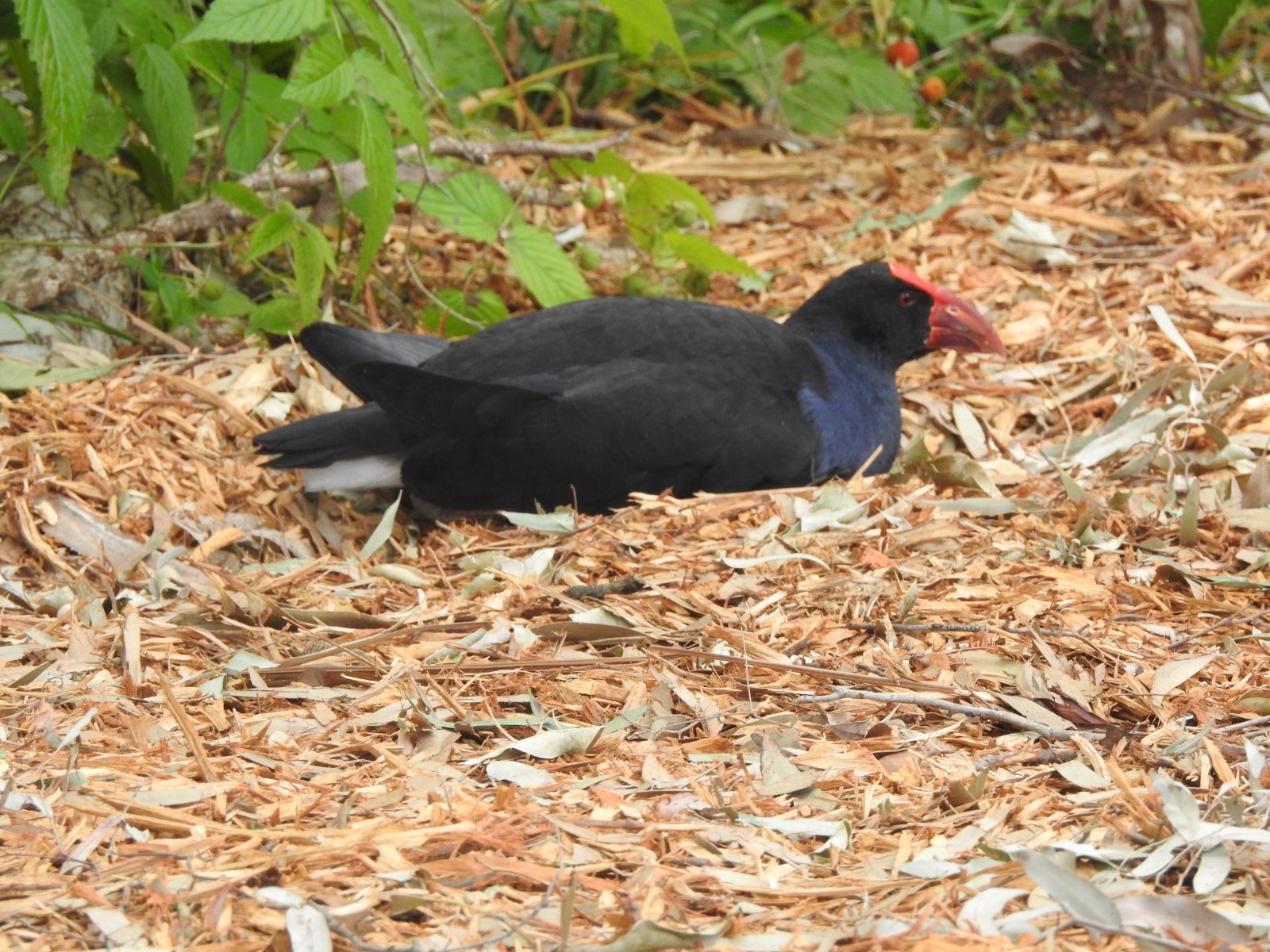 On my visit to the Australian Botanic Gardens in Mount Annan, SW Sydney last week I was surprised by the behaviour of the Purple Swamphen shown in the photo above. It didn't seem to mind me walking past only a few metres away, nor was it concerned by the lady sitting at a picnic table about ten metres away.
I am not used to seeing Swamphens sitting down in this manner except when they are sitting to hatch their eggs. It almost looked as if it was in the process of actually hatching its eggs. Or was it just having a little rest? Normally, I am used to seeing Purple Swamphens strutting along elegantly on their long legs, rarely hurried and quite at ease with the world.
My error
There are two major flaws in my idea that it was preparing a nest, or sitting on eggs.
1. Swamphens usually make a nest in a stand of reeds, treading on them to make a flat platform on which they make a nest.
2. When I went past this spot some twenty minutes later, the bird had moved on.
I guess it really was just enjoying a quiet rest in a comfortable spot.
Further reading:
Article on the Birdlife Australia site
Article on the Australian Museum site
Purple swamphens at Sturt Reserve, Murray Bridge
Preening his feathers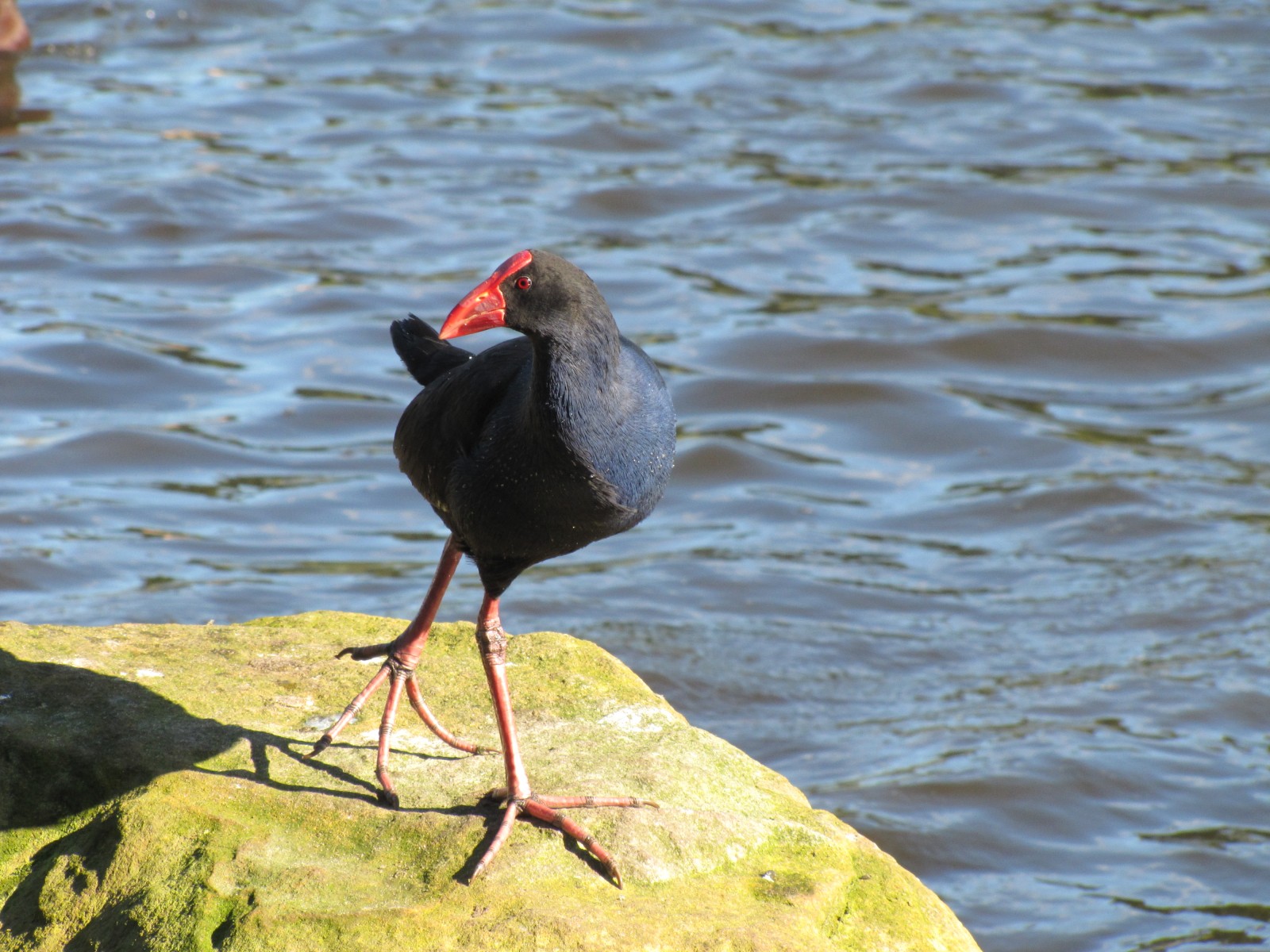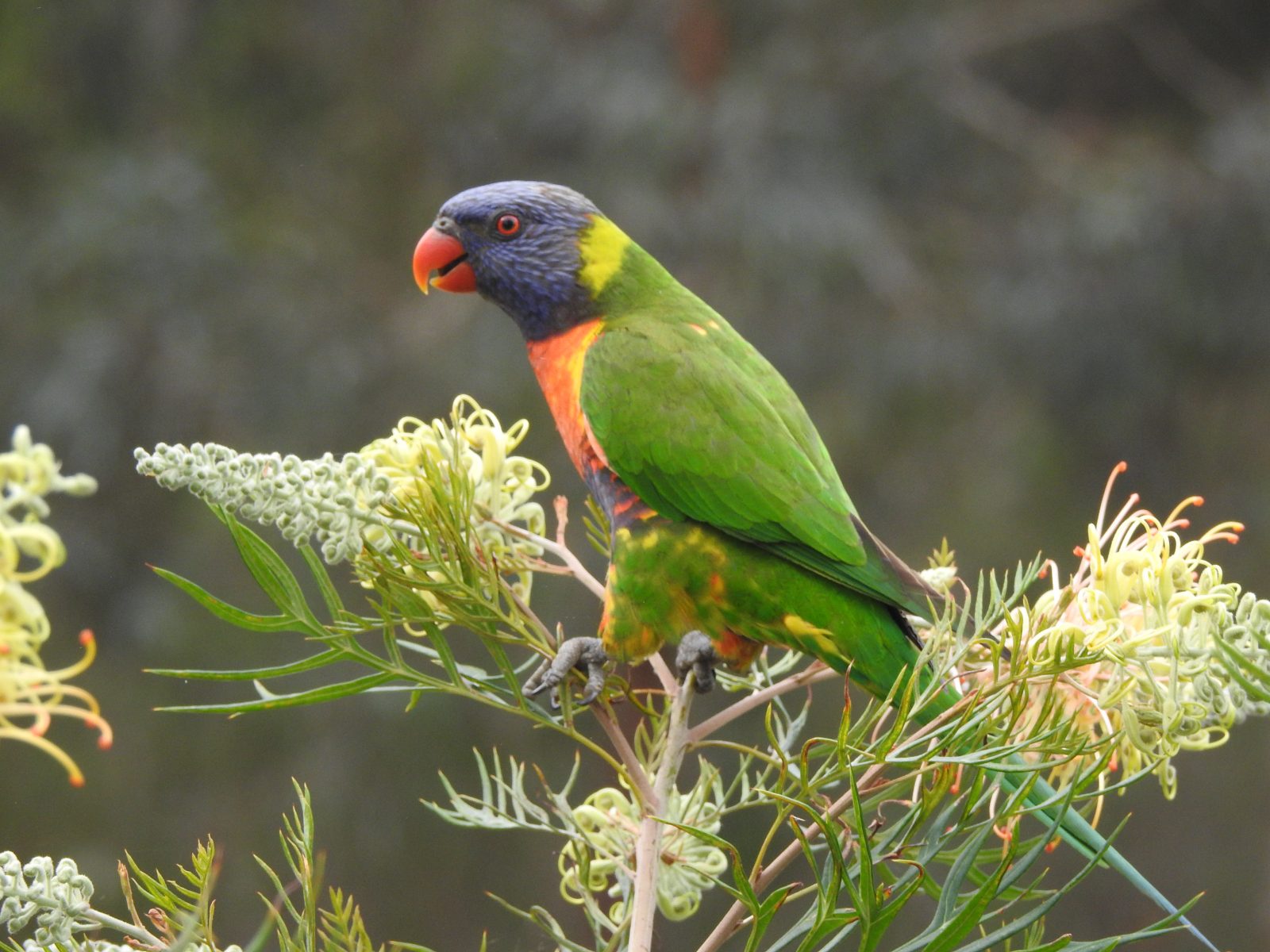 Last week I travelled from my home in Murray Bridge, South Australia, to Sydney to visit family for a few weeks. On the last day of my trip, I had a few spare hours, so I decided to visit the Australian Botanic Gardens at Mouth Annan. These magnificent gardens are in the south-west edge of the greater metropolitan Sydney area.
My wife and I had previously visited these gardens in December 2013 and we always wanted to make a return visit. Being the beginning of spring here in Australia it was an ideal time to visit. I mainly went to photograph the flowers, but it is also a great place to see and photograph some of our Australian native birds.
Just as I was about to leave, I passed a magnificent Grevillea "Moonlight" which is a cultivar, believed to be a hybrid of two other Grevillea species. This amazing plant was a significant tree some 5-6 metres tall and 6-7 metres wide. It was completely covered by brilliant white flowers. The local Rainbow Lorikeets were having a feast on the nectar.
The individual shown in today's photographs was a very obliging bird, seemingly posing for my camera. In reality, however, it was either very hungry or totally hooked on the sweet nectar in the flowers. I was able to take a series of close up shots and it was totally oblivious of my presence. I love moments like this when I can take multiple photos of the same bird.
Below I have included a series of the best shots taken on my visit to the garden.
Further reading:
Australian Botanic Gardens Mount Annan