Archive for the 'Garden birds' Category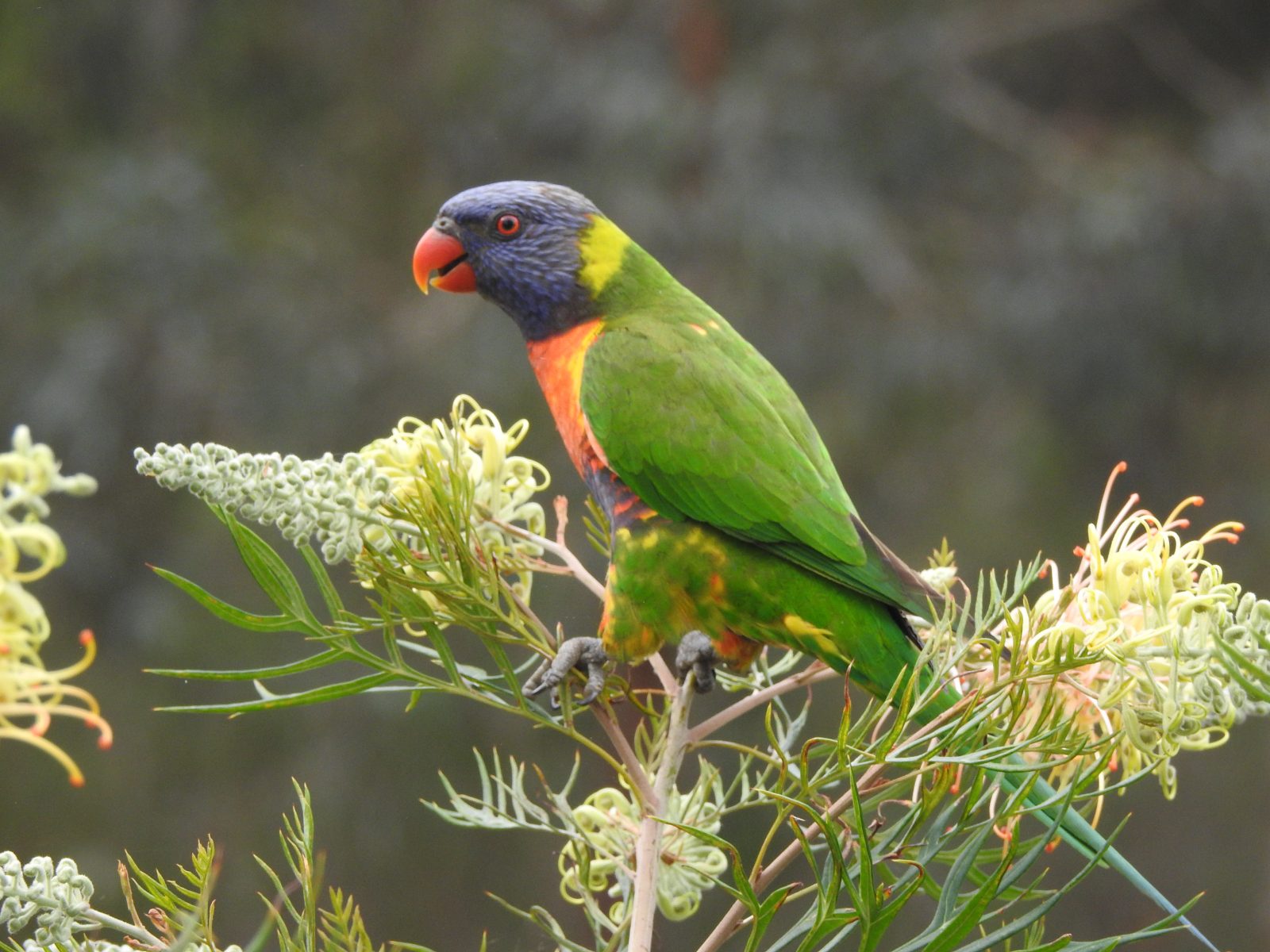 Last week I travelled from my home in Murray Bridge, South Australia, to Sydney to visit family for a few weeks. On the last day of my trip, I had a few spare hours, so I decided to visit the Australian Botanic Gardens at Mouth Annan. These magnificent gardens are in the south-west edge of the greater metropolitan Sydney area.
My wife and I had previously visited these gardens in December 2013 and we always wanted to make a return visit. Being the beginning of spring here in Australia it was an ideal time to visit. I mainly went to photograph the flowers, but it is also a great place to see and photograph some of our Australian native birds.
Just as I was about to leave, I passed a magnificent Grevillea "Moonlight" which is a cultivar, believed to be a hybrid of two other Grevillea species. This amazing plant was a significant tree some 5-6 metres tall and 6-7 metres wide. It was completely covered by brilliant white flowers. The local Rainbow Lorikeets were having a feast on the nectar.
The individual shown in today's photographs was a very obliging bird, seemingly posing for my camera. In reality, however, it was either very hungry or totally hooked on the sweet nectar in the flowers. I was able to take a series of close up shots and it was totally oblivious of my presence. I love moments like this when I can take multiple photos of the same bird.
Below I have included a series of the best shots taken on my visit to the garden.
Further reading:
Australian Botanic Gardens Mount Annan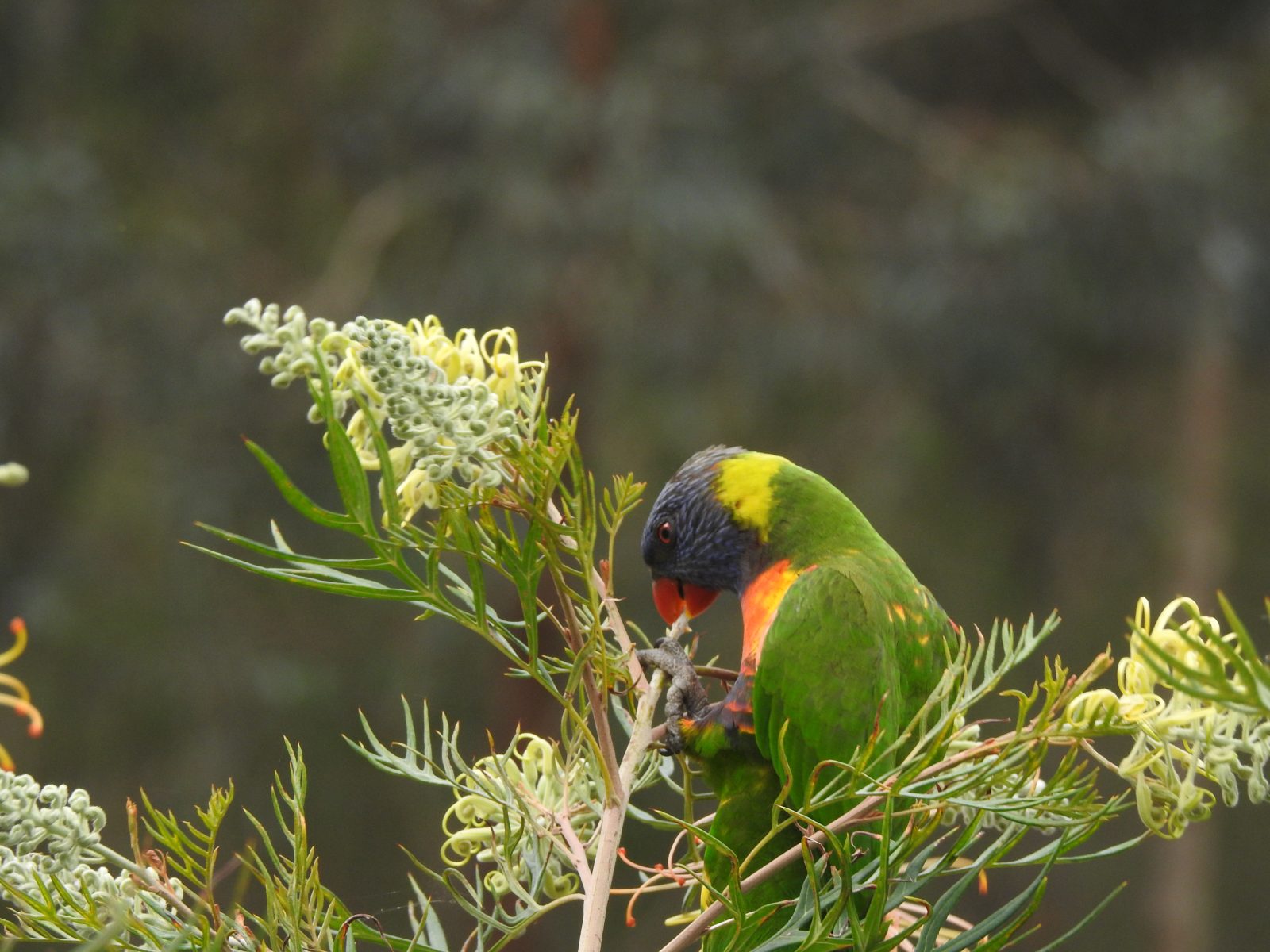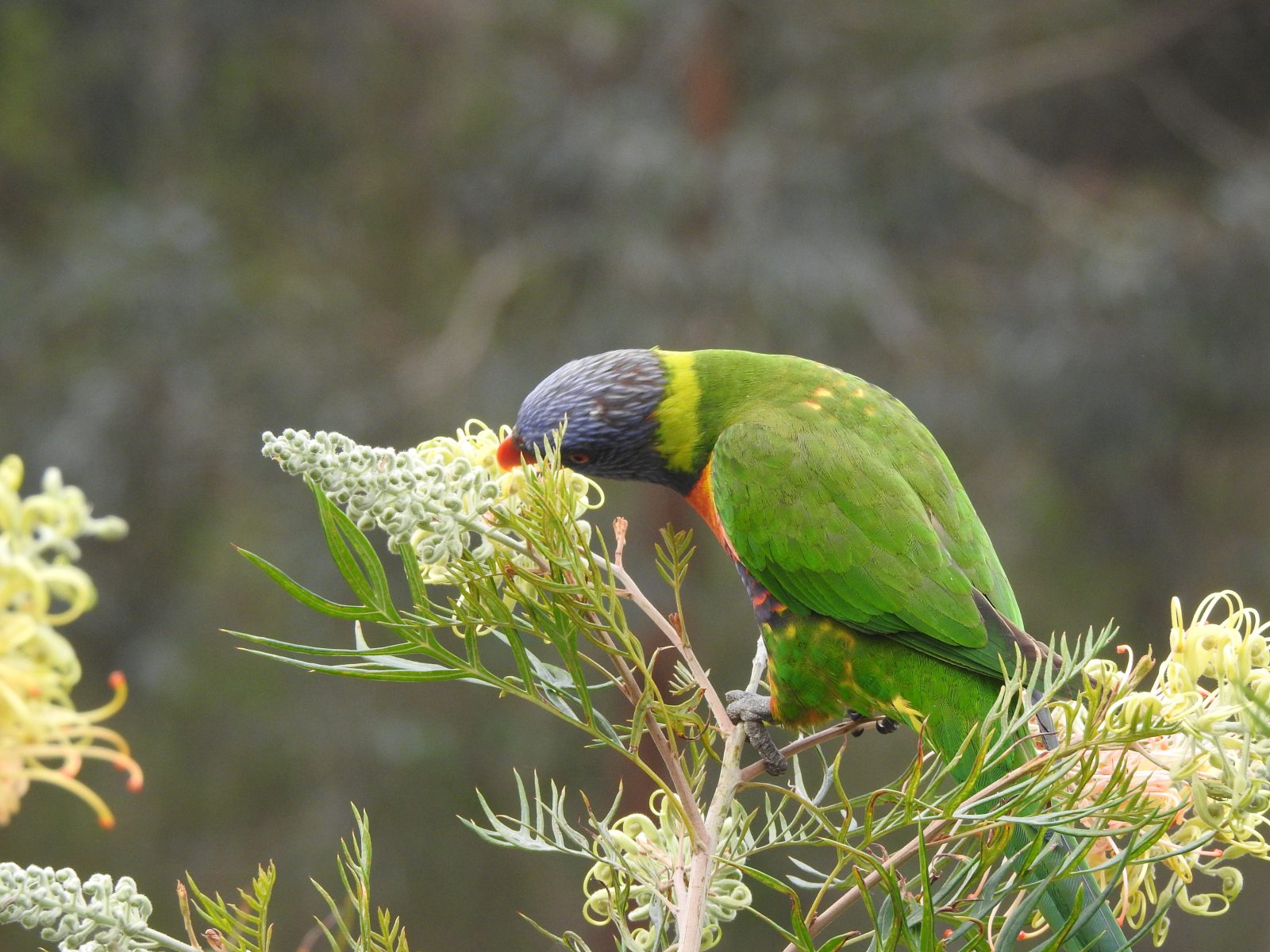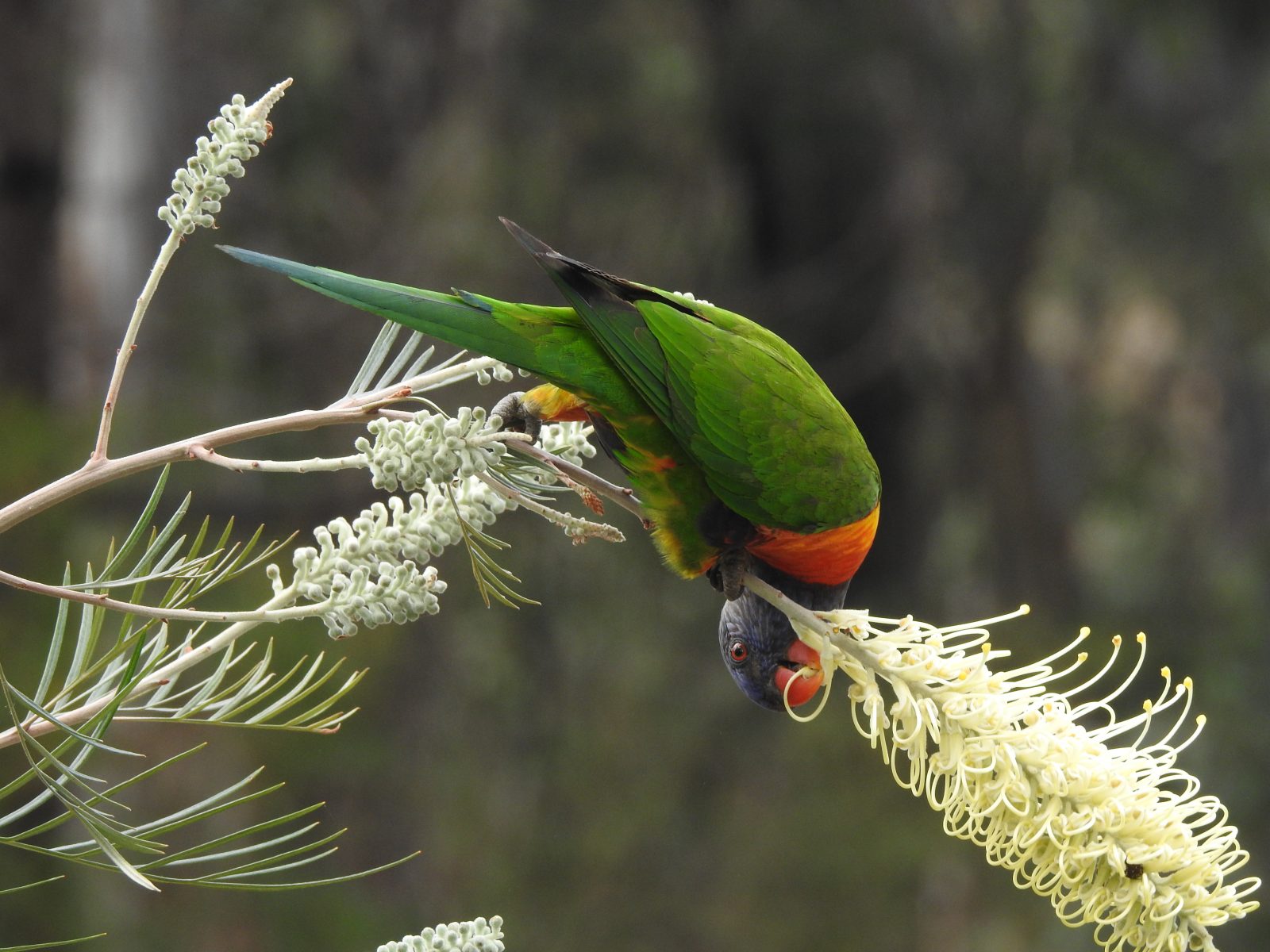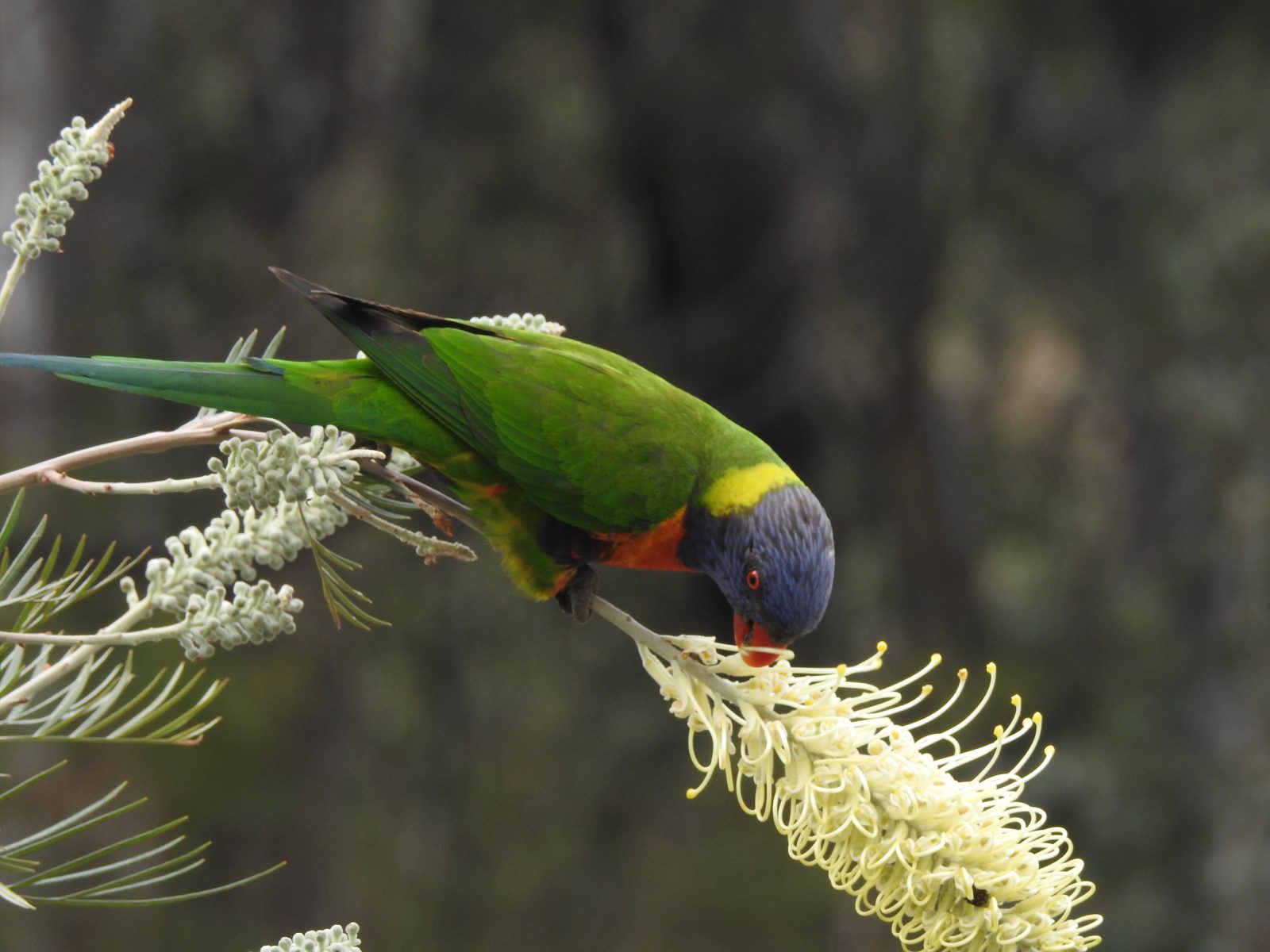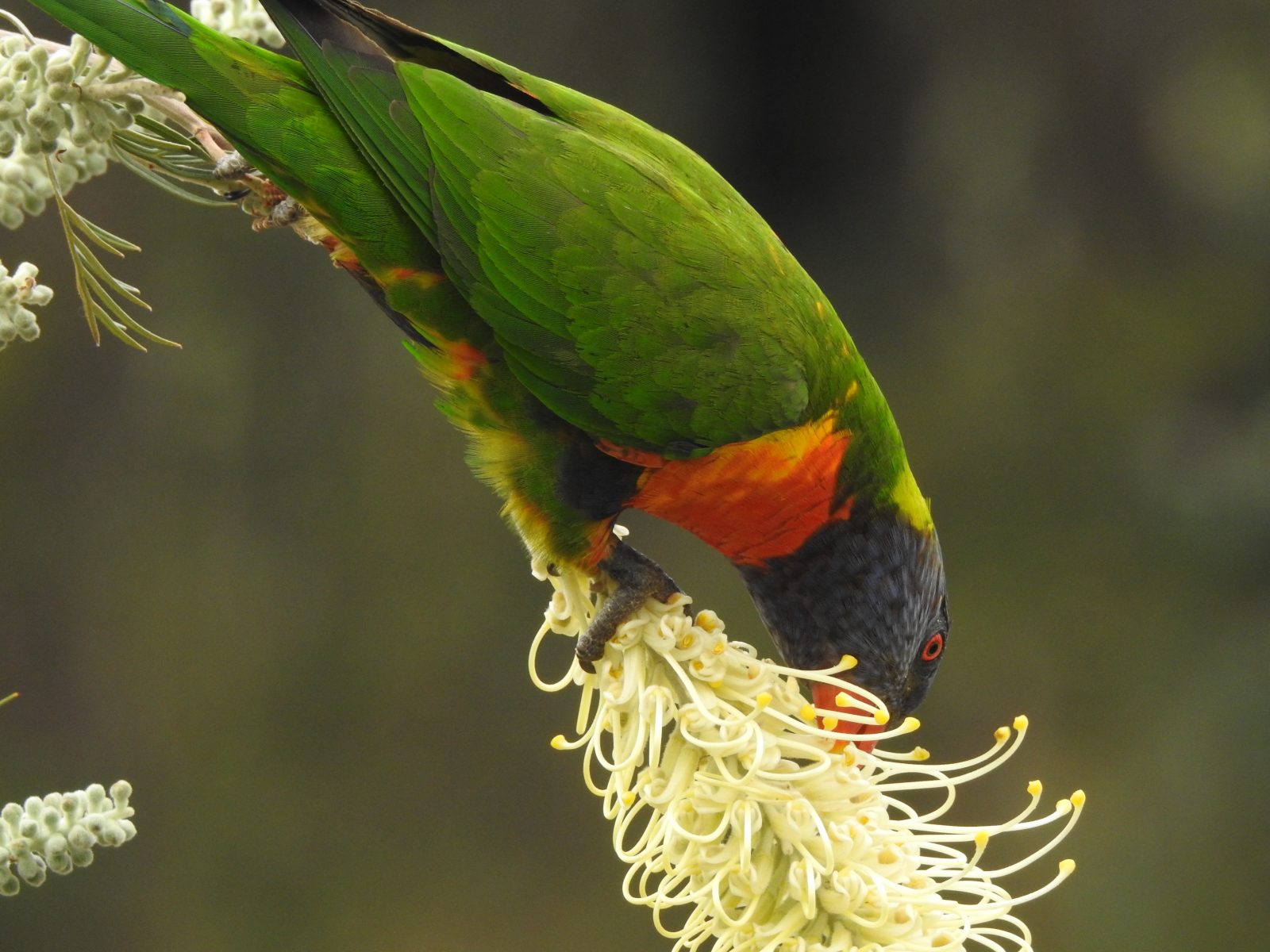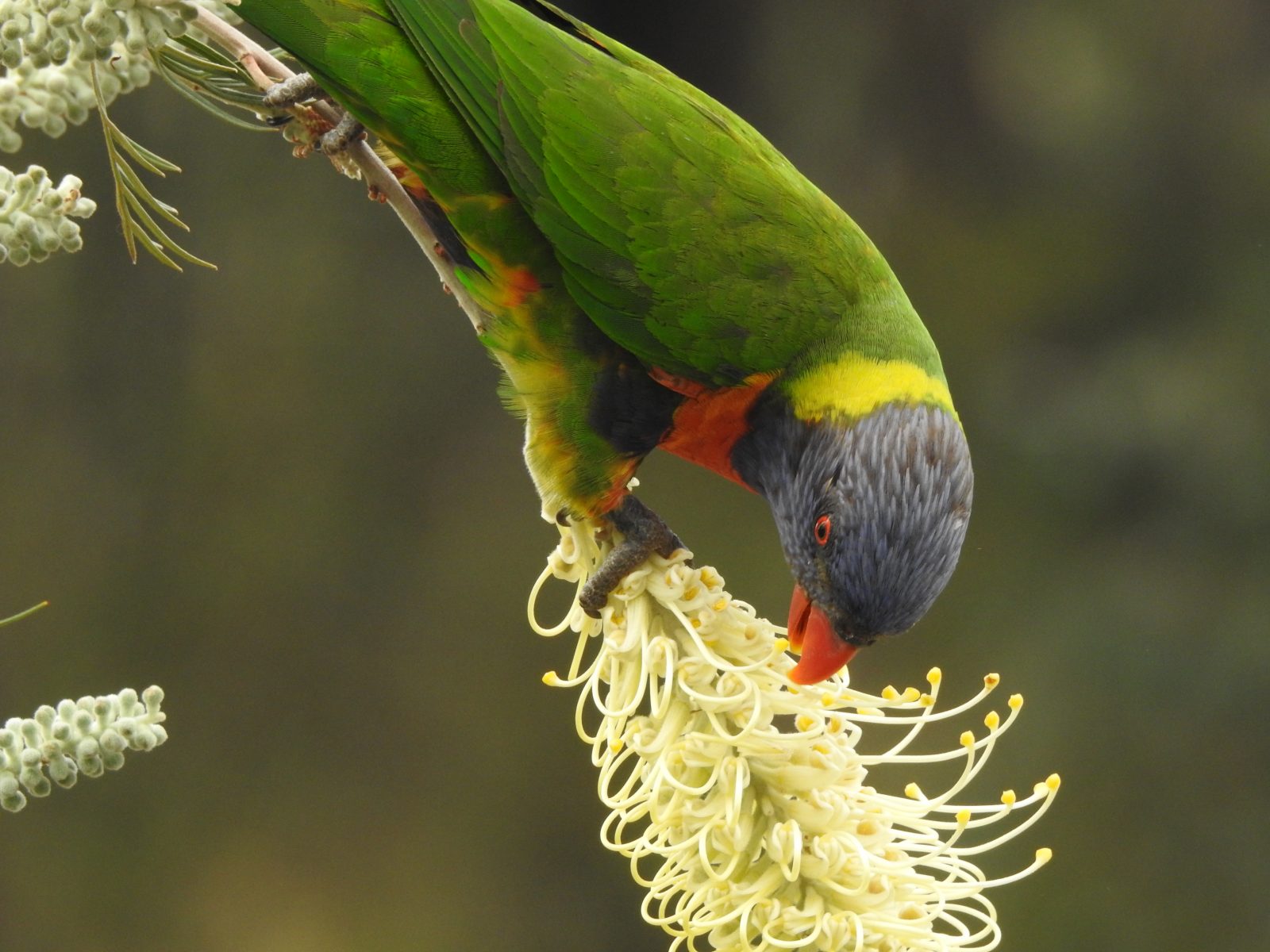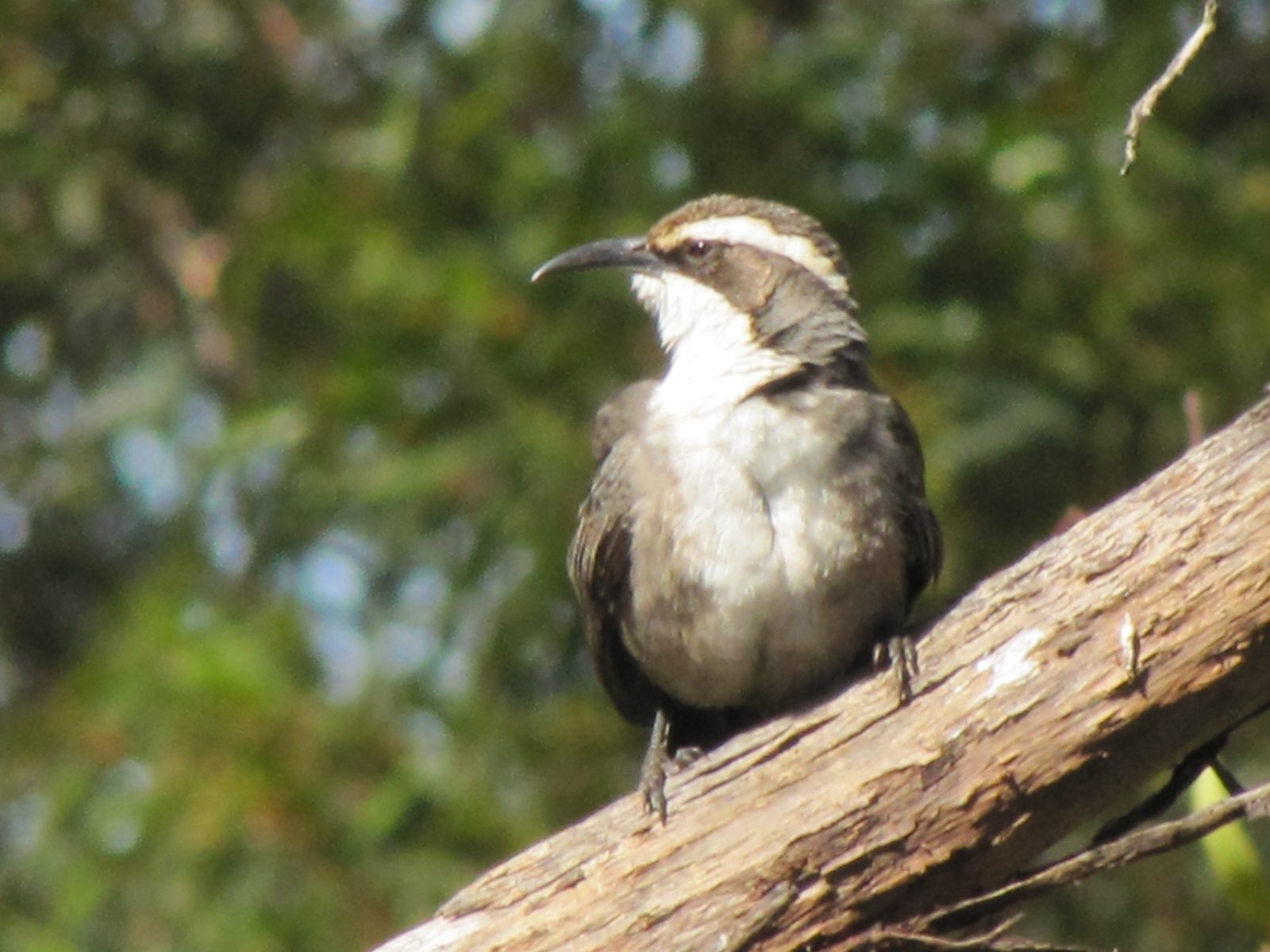 Over recent weeks there has been a family of White-browed Babblers (see photo above) constantly moving around my garden and five-acre block of land. I live on the edge of the rural city of Murray Bridge, an hour's drive SE of Adelaide, South Australia.
I find that this species is an endearing one, with their constant hopping around on the ground, scratching at the dirt, or prying under the bark of the mallee trees surrounding my home. They move around in small family groups of four to six individuals, sometimes more. As they move around searching for tasty snacks such as beetles and caterpillars and insects, they keep up a regular mewing call, like miniature demented cats.
I suspected that they were nesting somewhere, but a search of the bushes where I had seen them flying to were bare of any nests. I thought that might have been keeping the site of a nest as secret as possible. This was good news because I occasionally see a feral cat moving about the property. I discourage cats from moving about nearby by chasing them off, usually followed by a stone thrown at them. They don't know that they are really in no danger; my stone-throwing abilities are somewhat deficient.
A few mornings ago I went to get something from the garage. As I opened up the door, I was aware of a frantic fluttering nearby. This was followed by several plaintive cheeps something like the call of the babblers. I looked over the nearby fence. Two recently fledged baby babblers were clinging on to the wire of the fence, flapping their wings and trying not to get blown away by the strong wind.
It was obvious that they had only a short time before left the nest. Their tails had not fully grown and they had trouble balancing on the shaking fence wire. I can't show you a photo because I didn't have my camera with me. They only lingered there for a few seconds before launching into a haphazard flight path away from where I stood. I hope that they soon adapt to their new freedom.
Further reading:
White-browed babblers building a nest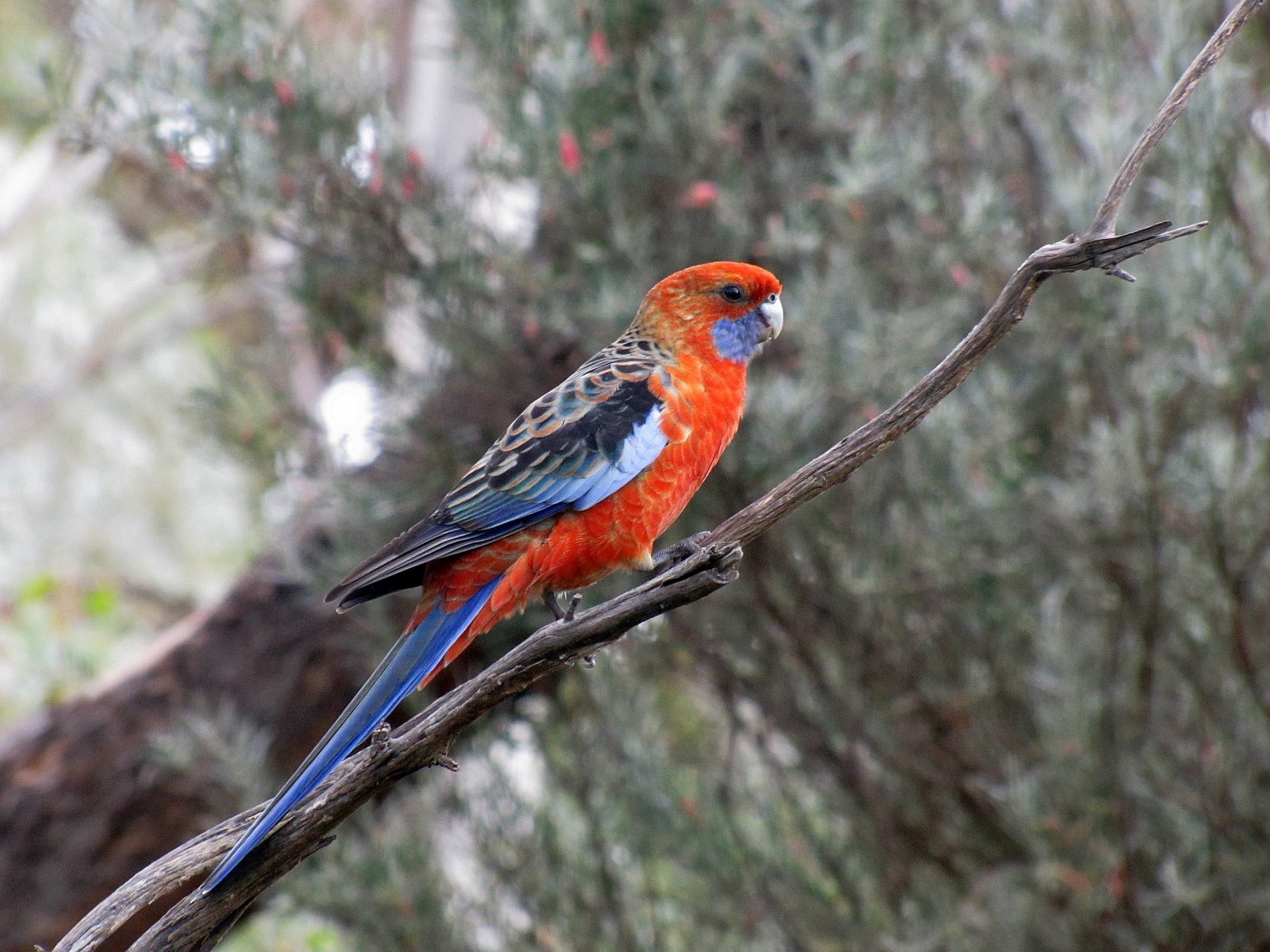 Earlier this week I spotted several birds coming in to land on the swimming pool cover in my garden. I keep the cover on the pool during the winter months to stop twigs from nearby trees falling into the water. The cover also stops excessive evaporation of the water.
During recent months, however, the winter rains have been quite good here where I live in Murray Bridge, South Australia. Other regions have been in serious drought conditions. Whenever it rains, small, shallow puddles of water gather on top of the pool cover. These pools are very inviting to the local birds and any others passing by.
When I stealthily crept closer to the pool I discovered three Adelaide Rosellas had landed on the pool cover and they were having a lovely time splashing around in the shallow pools of water. I crept quietly back into the house to get my camera, but by the time I came out again they were ready to leave. I didn't get a chance to take some photos.
When I first moved to my home on the western edge of town over 30 years ago, I never recorded Adelaide Rosellas in my garden. Over the last ten to 15 years, their visits have become more and more frequent. Sometimes several months go by without sighting them, and then I will see some several months in a row. I guess you could say that their visits are somewhat sporadic. I certainly cannot call them a resident species like the Mallee Ringnecks which are always around somewhere on my five-acre block.
The Adelaide Rosella is a sub-species of the Crimson Rosella, common here in the southern parts of South Australia, as well as throughout the eastern states. I have also seen the Yellow Rosella nearby, another sub-species.
Because I didn't get a chance to get a photo of the three visitors this week, I have used a photo of one taken some years ago (see above).
I am currently in Sydney visiting family. When we speak on the phone, my grandchildren often tell me that they have just seen several Australian Brushturkeys in their garden. They live in Artarmon and they know, however, that I like to know what birds they are seeing. I guess that this is quite a common, unremarkable event for many Sydney residents. For me, however, it is quite an unusual event. I live near Adelaide in South Australia and I never get turkeys visiting my garden. On the other hand, having a kangaroo or two in my garden is not unusual.
Three visitors
Several days ago I was able to see the three visiting turkeys in the back yard. I quietly crept outside with camera in hand and managed a few good shots, some of which I have shown here today. They were quite unconcerned about my presence some ten metres away clicking on my camera.
Leaf litter
In that particular part of the garden, there are several large bushes which constantly drop their leaves. There is quite a thick layer of leaf litter underneath the bushes, and the turkeys really enjoy scratching around looking for beetles and other tasty morsels.
While taking the photos I observed one of the birds checking out my grandson's toy cement truck (see photo above). I am not sure what it thought of the toy but it must not have considered it to be potential food. I never saw it peck at the toy or any other toys lying nearby.
On visits to Sydney, I have frequently seen Australian Brushturkeys. I have often visited the nearby Lane Cove National Park and I have seen the turkeys there strutting around looking for some handouts from picnickers, dropped scraps of food and other tasty items. I can't ever recall seeing one sitting down like one of the visitors to the garden (see photos above and below). I guess it needed a rest after walking the nearby streets.
Good birding,
Trevor.
A few weeks ago I was sitting at the table in my sunroom reading the daily paper. I was suddenly distracted by some birds at my bird baths just outside the window. This is a favourite place of mine to sit because I have an uninterrupted view of several bird baths strategically placed in my garden. During the warmer weather, there is often a steady stream of birds coming to drink and bathe in the water. Sometimes, the bird baths need daily replenishment. Many of the photos featured on this site have been taken of birds at the birdbath.
Once I saw that the bird was a Crested Pigeon sitting quietly on a branch near the top bird bath, I went to get my camera. It stayed there on the birdbath for a few moments, and then it moved to a nearby branch. It was then that its wing feathers caught the rays of the sun and showed up the brilliant iridescent colours (see the photos above and below). On most occasions, this species appears to be a dull grey with only a few white and black markings. In certain angles of the sunlight, the colours show up beautifully. When I zoomed in to take close-up photos, the beauty shows up even more – as seen in today's selection of photos.
I have often written about the Crested Pigeon on this site, and I have shared many photos of them over the years. To read these articles and see the photos use the search button at the top of the page or click here.
The individual in today's photos stayed around for about five minutes, enabling me to take plenty of shots in various poses. Bird photography can sometimes be a little frustrating because the subjects have a tendency to up and fly off – just when the camera has focussed on the bird. When they do pose nicely it is a wonderful bonus.
Enjoy.