Archive for the 'Garden birds' Category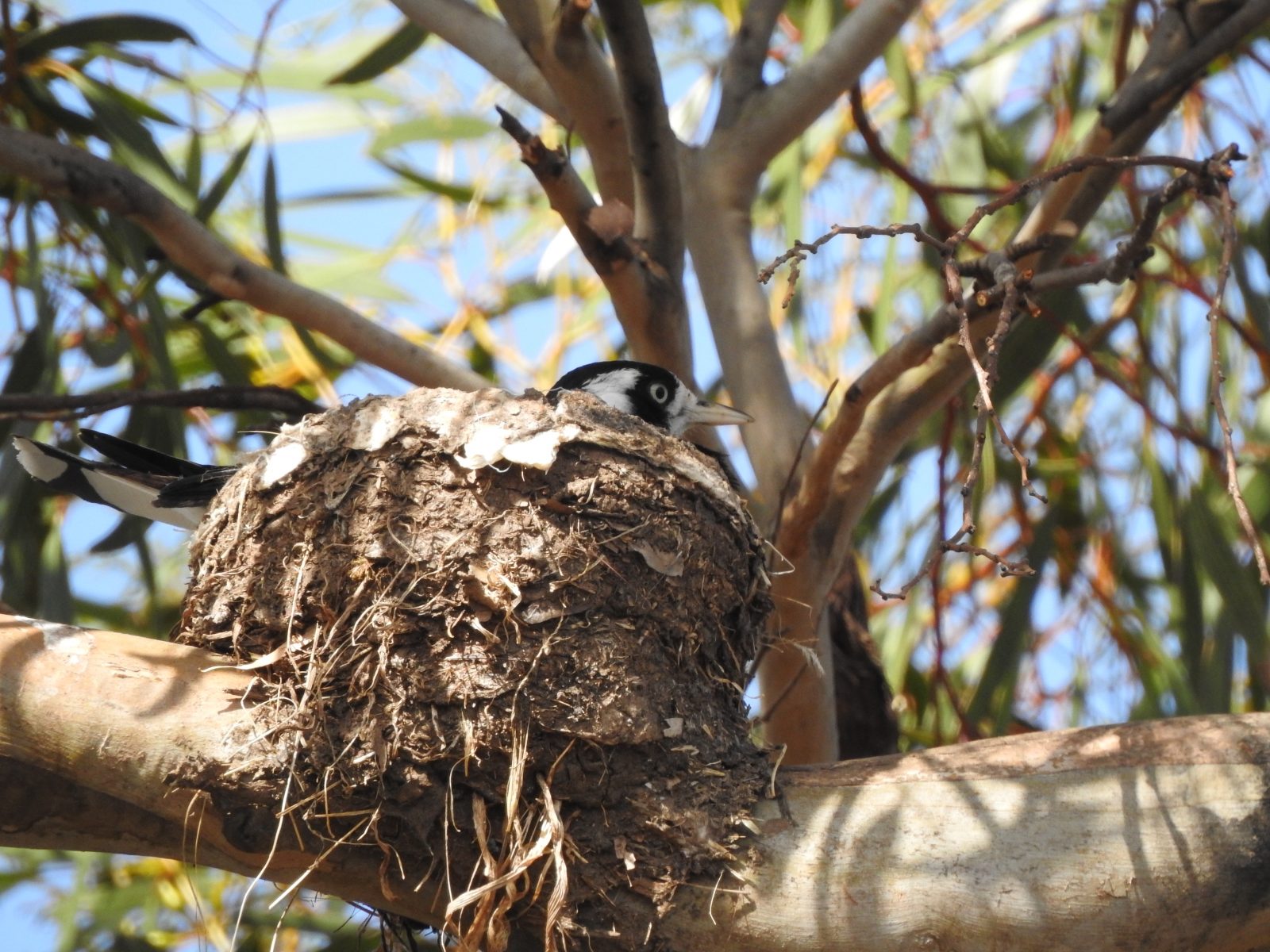 Magpie Larks' nest
Magpie Larks are a resident bird species in my garden in Murray Bridge, South Australia. By "resident bird" I mean that I see them every day. The pair I have on my five-acre property on the edge of the town is also a breeding pair.
Magpie Larks are also known as Murray Magpies, Peewees (imitating their call), and Mudlarks. They are not magpies, nor are they larks. Confusing? Yep.
A cheeky falcon
This year they have nested twice. The first attempt was in a eucalypt tree next to my driveway. The mud nest was quite well camouflaged in the outer canopy of leaves – or so I thought. I found it very hard to get a photo of that nest because of the leaves and twigs nearby. Sadly, a very cheeky Brown Falcon flew in one day and took one of the chicks. Despite being chased by the parent Magpie Larks, the falcon got away with the chick in its talons.
A new attempt
Undeterred by the attack on the nest, the Magpie Lark pair tried again. This time they made their new nest in the tree near my back veranda. I could sit in my comfortable chair on the veranda and watch them build their new home. This took several weeks until they were happy with the result. Now they are sitting on eggs but I cannot tell how many; it is far too high for a ladder and it is not a good idea to disturb a bird sitting on a nest.
Guarding the nest
This time the pair of birds seems to be ready for anything. They chase off many different species who dare to come near. This includes a family of Grey Currawongs who came close a few days ago. Currawongs are not slow at taking what they want from the nests of smaller birds, whether that is eggs or young.
After their failure earlier in the season, I hope that this pair is successful in raising their chicks to maturity this time.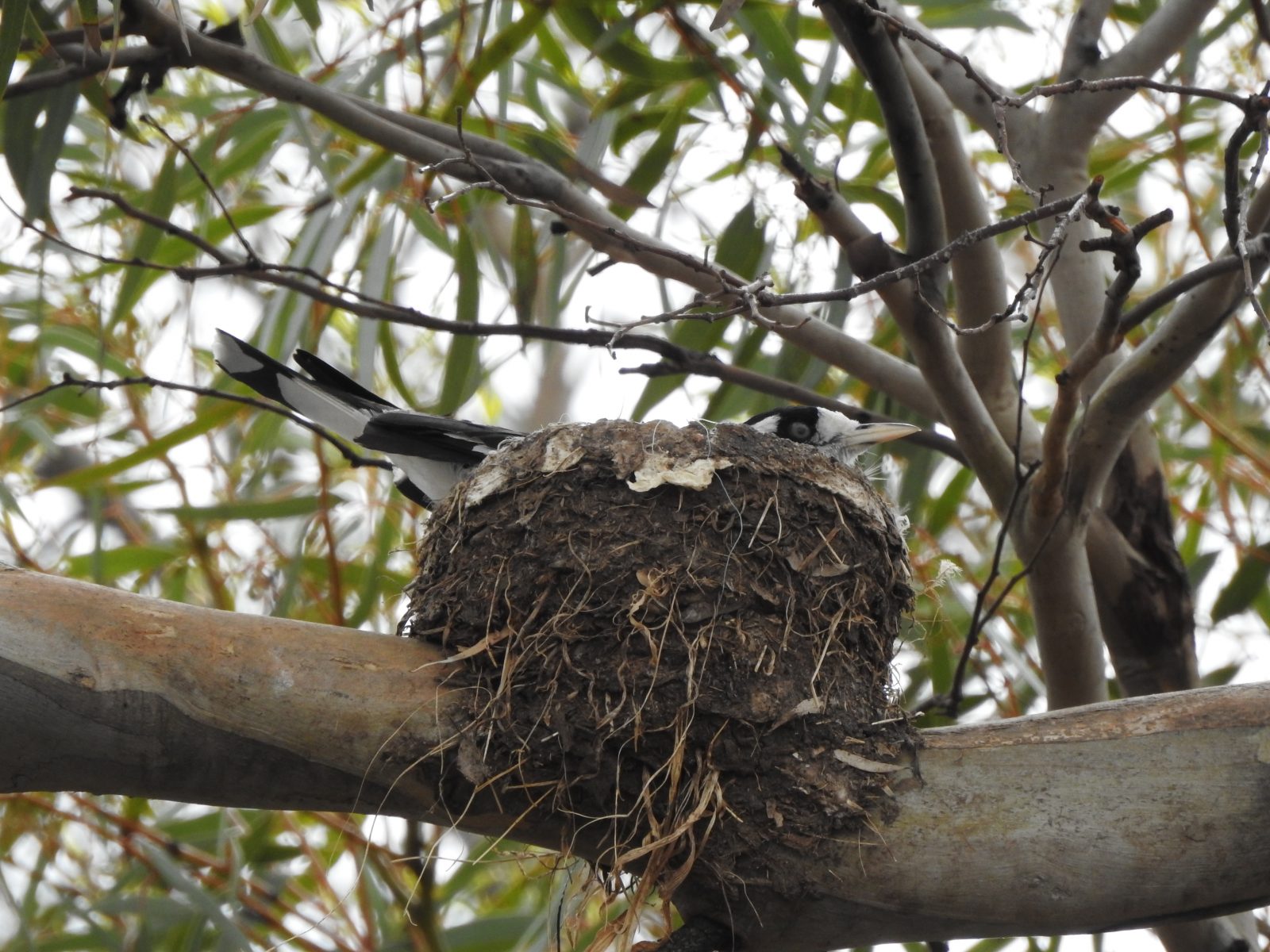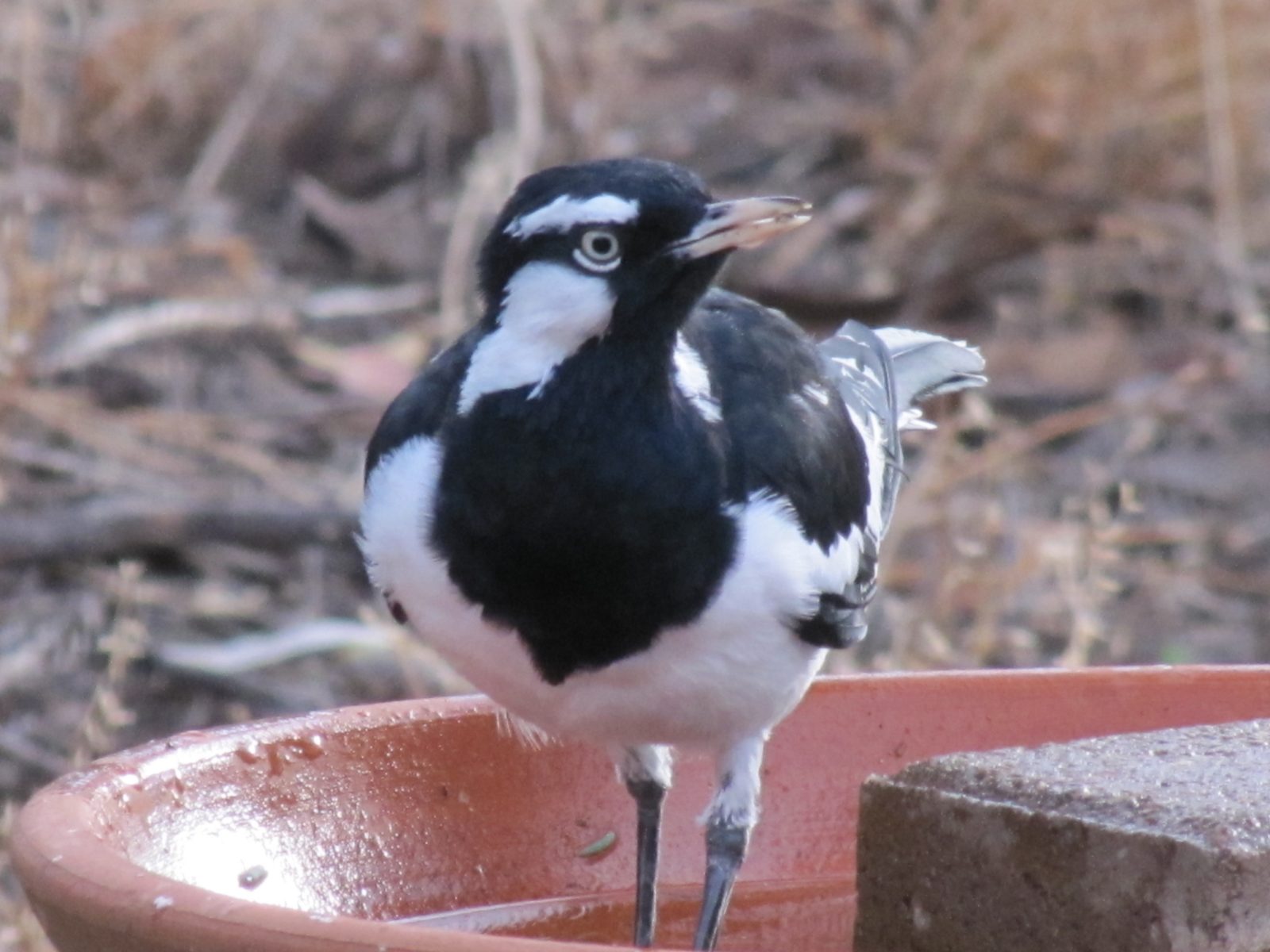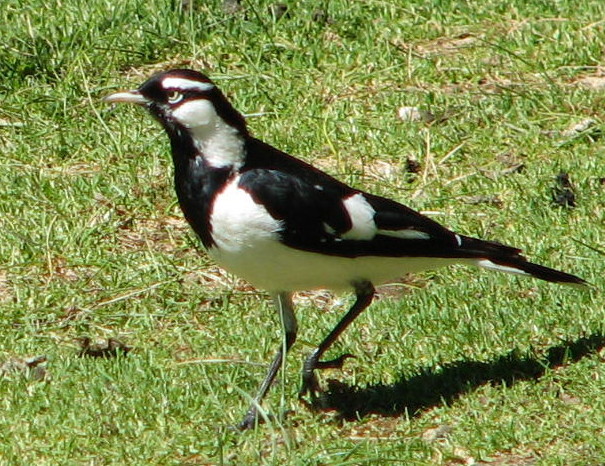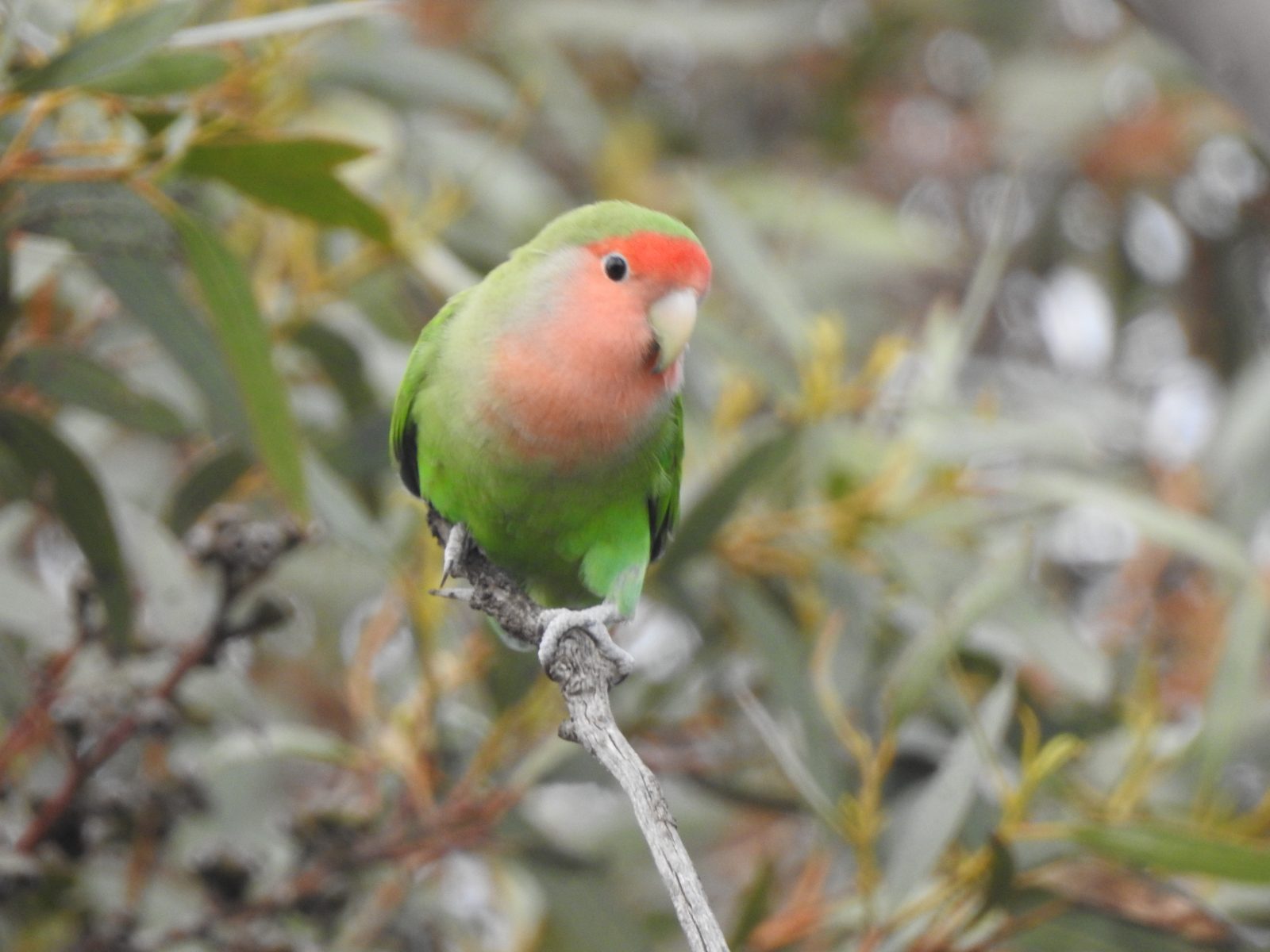 Yesterday I wrote about a visit from a Rosy-faced Lovebird to my garden here in Murray Bridge, South Australia. This is not an Australian native bird. Their natural habitat is in southwestern Africa, mainly Namibia, Angola and South Africa. This species is commonly kept in cages and aviaries around the world, including here in Australia. The bird I saw recently in my garden quite likely escaped from someone's cage or aviary.
I also mentioned that I had previously recorded this species in my garden just over a year ago. Today I wanted to show the photos I took on that occasion. It looks almost as if this individual is just a little guilty about having escaped. As I speculated yesterday, this could well be the same bird I saw a few days ago, though that is unlikely given the number of birds of prey lurking all around.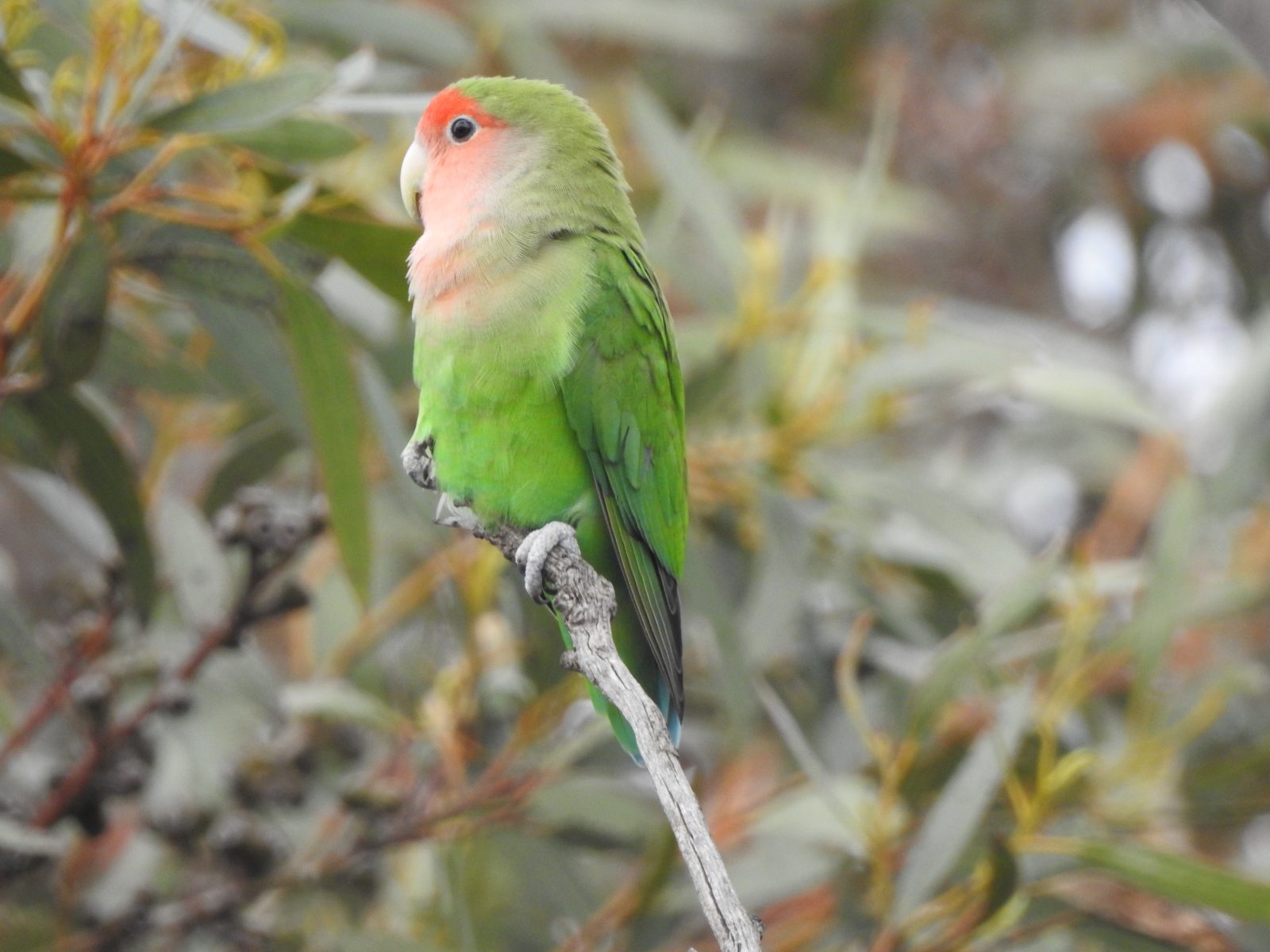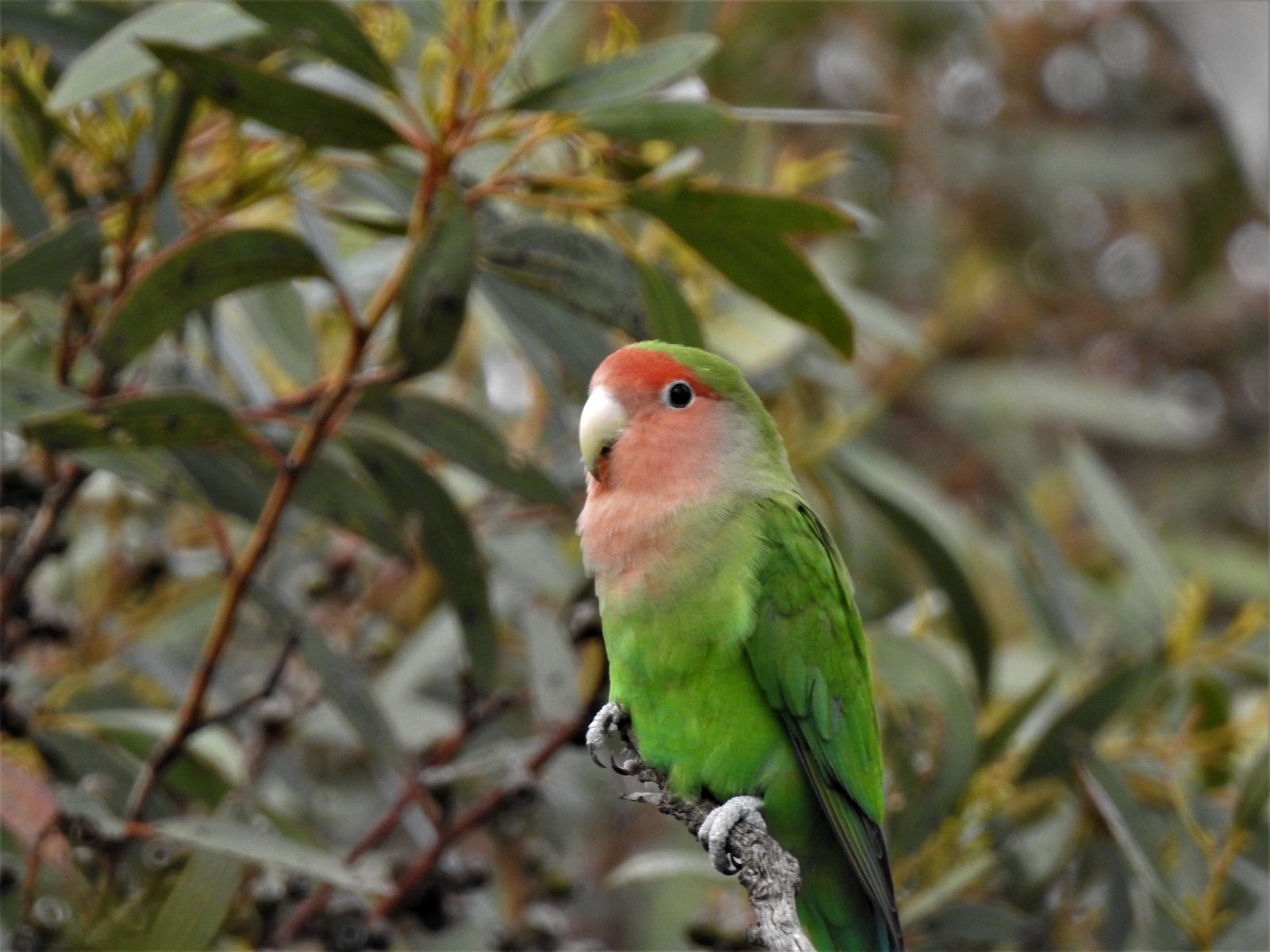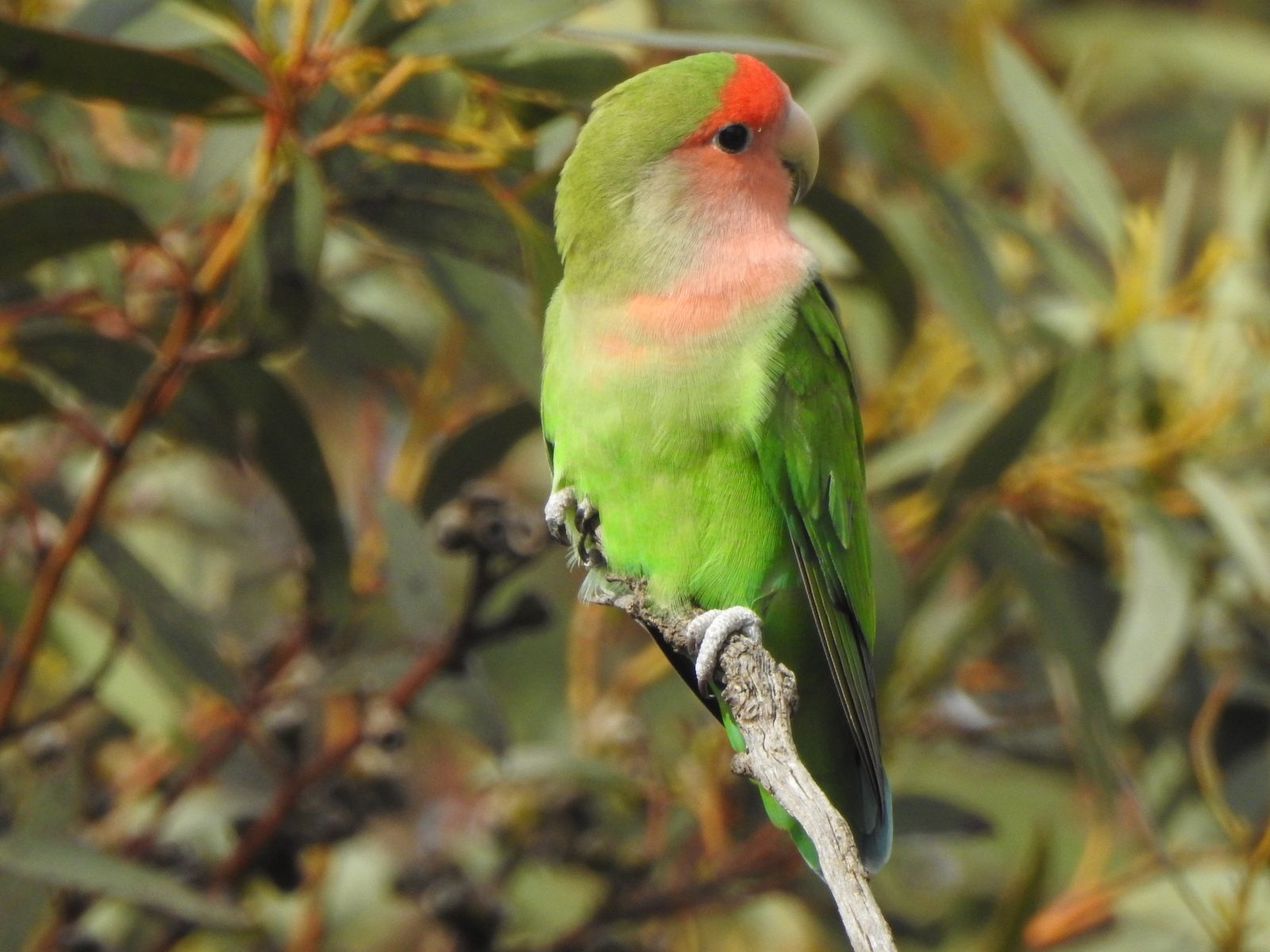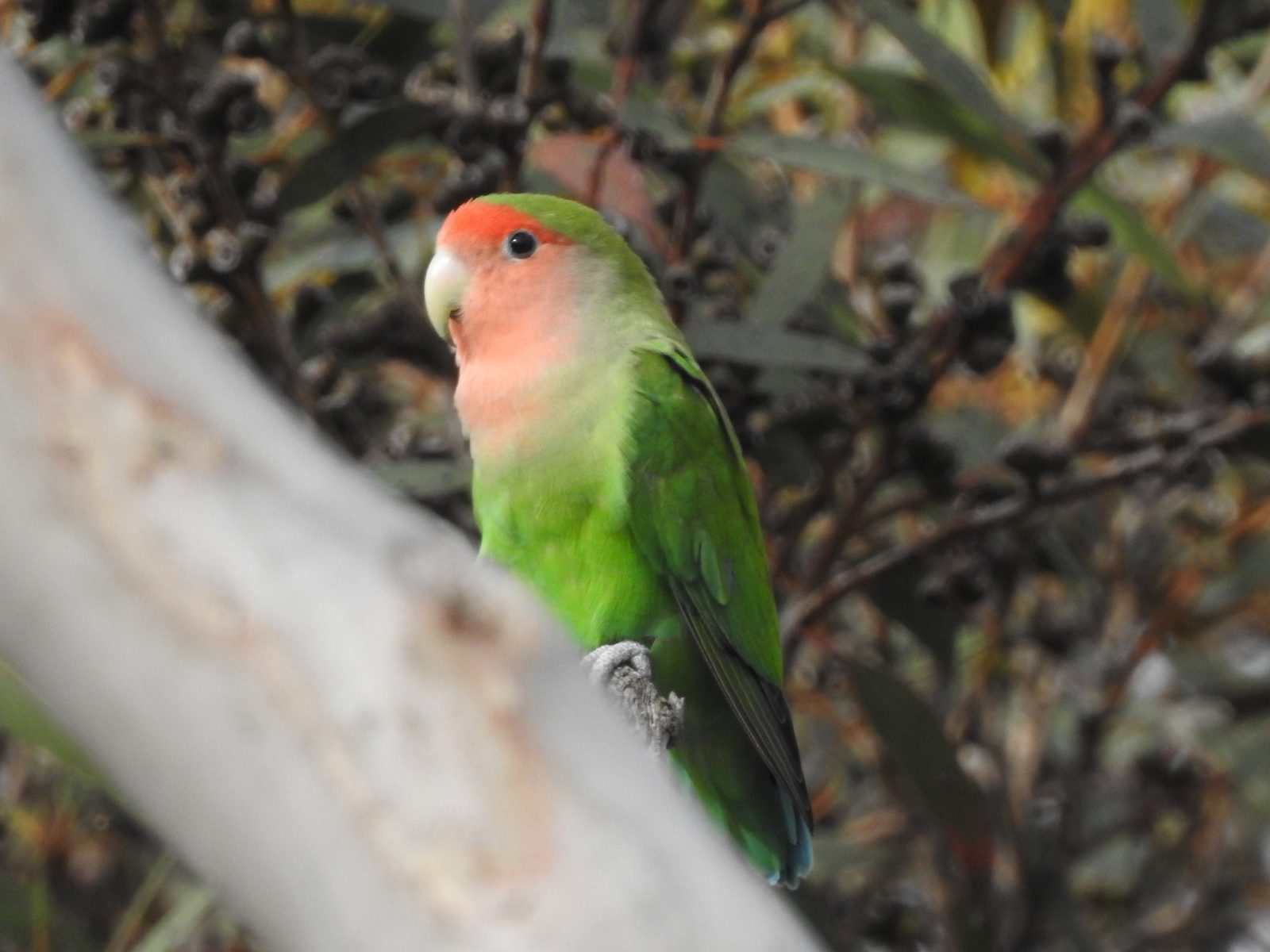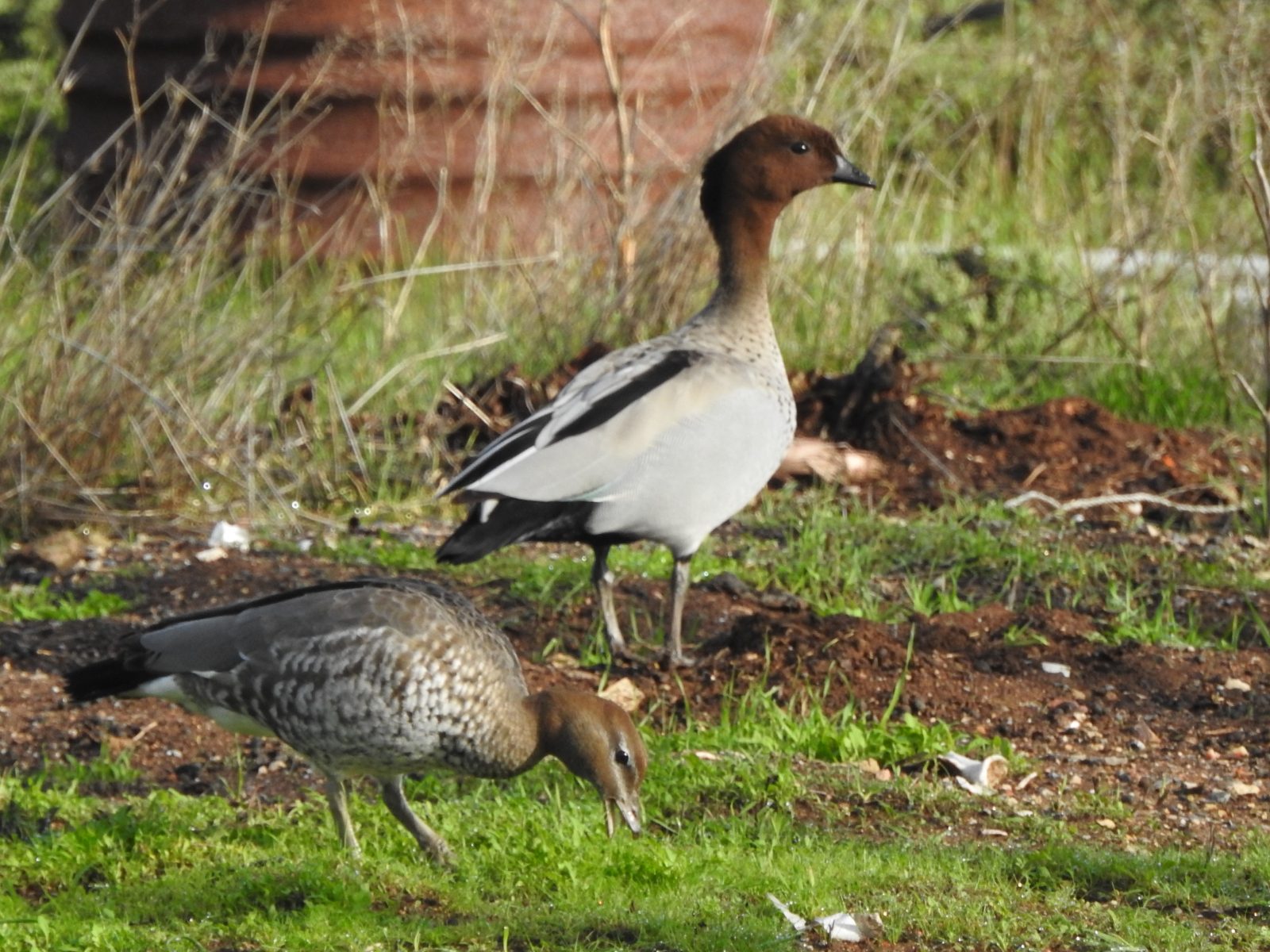 I had a pleasant surprise this morning. As I opened the curtains in my bedroom I saw two Australian Wood Ducks feeding on the grass in my garden. I quickly grabbed my camera and moved outside and a little closer to them, hoping to get some good photos. They were very cooperative and stayed grazing on the grass for a few minutes before flying off. I have included below a selection of the photos I took while they lingered there nearby.
New sighting
Australian Wood Ducks are quite common in the Murray Bridge area in South Australia. They can often be seen along and near the banks of the Murray River here, as well as in pastures some distance from water. In the Adelaide Hills to the west, and in other parts of the state, this species can often be observed in grassy pastures and around farm dams.
What is unusual about my sighting this morning is that I haven't recorded Australian Wood Ducks on my property for the last 15 years. In fact, I cannot recall ever seeing them here on my 5-acre block in over 35 years that I have lived here. My database of records only goes back to sightings since 2005. I still have many sightings from earlier years to enter on my database so I am trusting my memory on this one. And my memory is not as good as it used to be. (Sigh.)
From time to time I see Pacific Black Ducks flying overhead. Over ten years ago I also took photos of a mother Pacific Black Duck with her ducklings swimming in my swimming pool. This happened a number of times but now that I have a cover over the pool, they don't seem to be interested in coming down for a swim.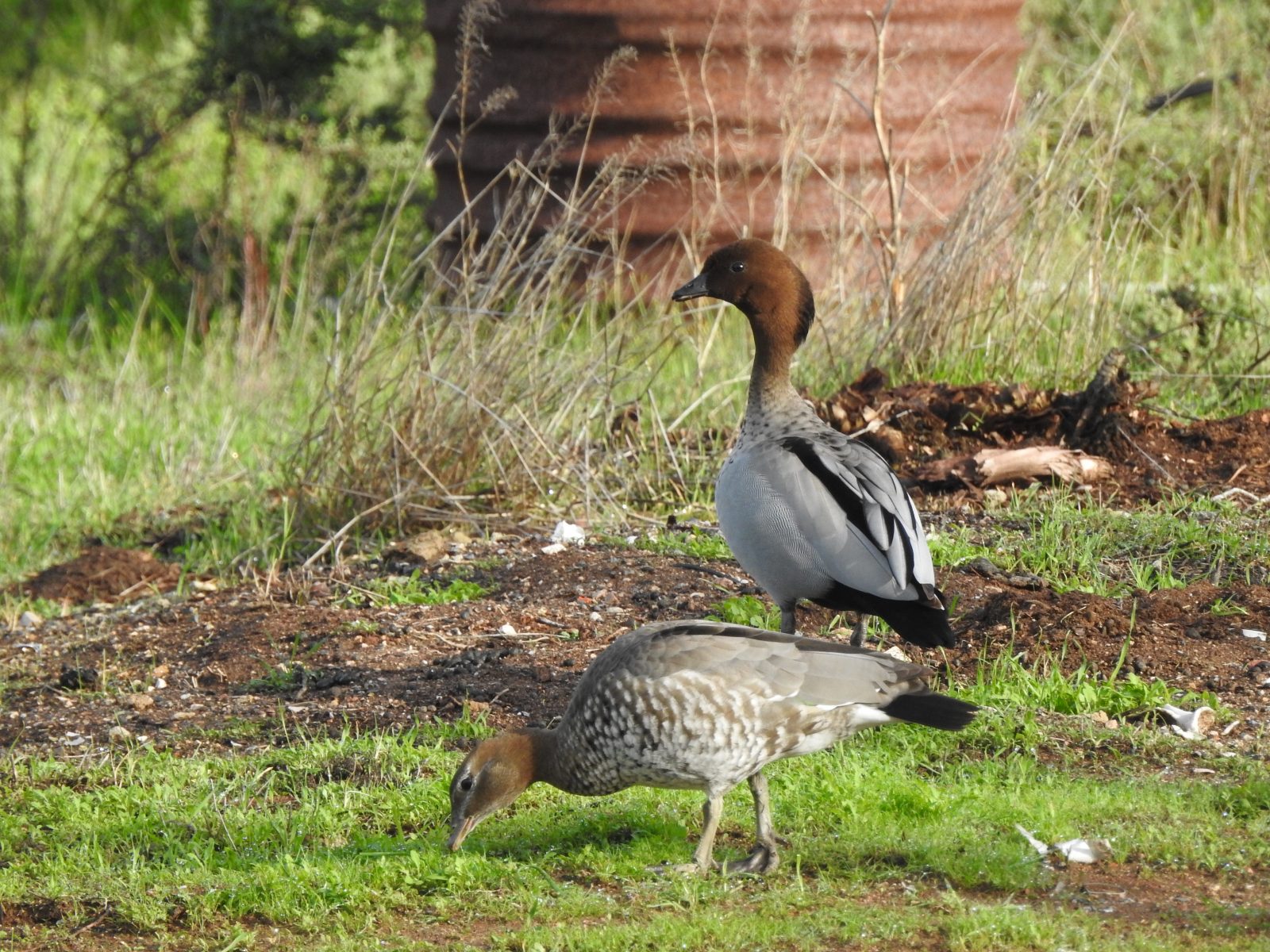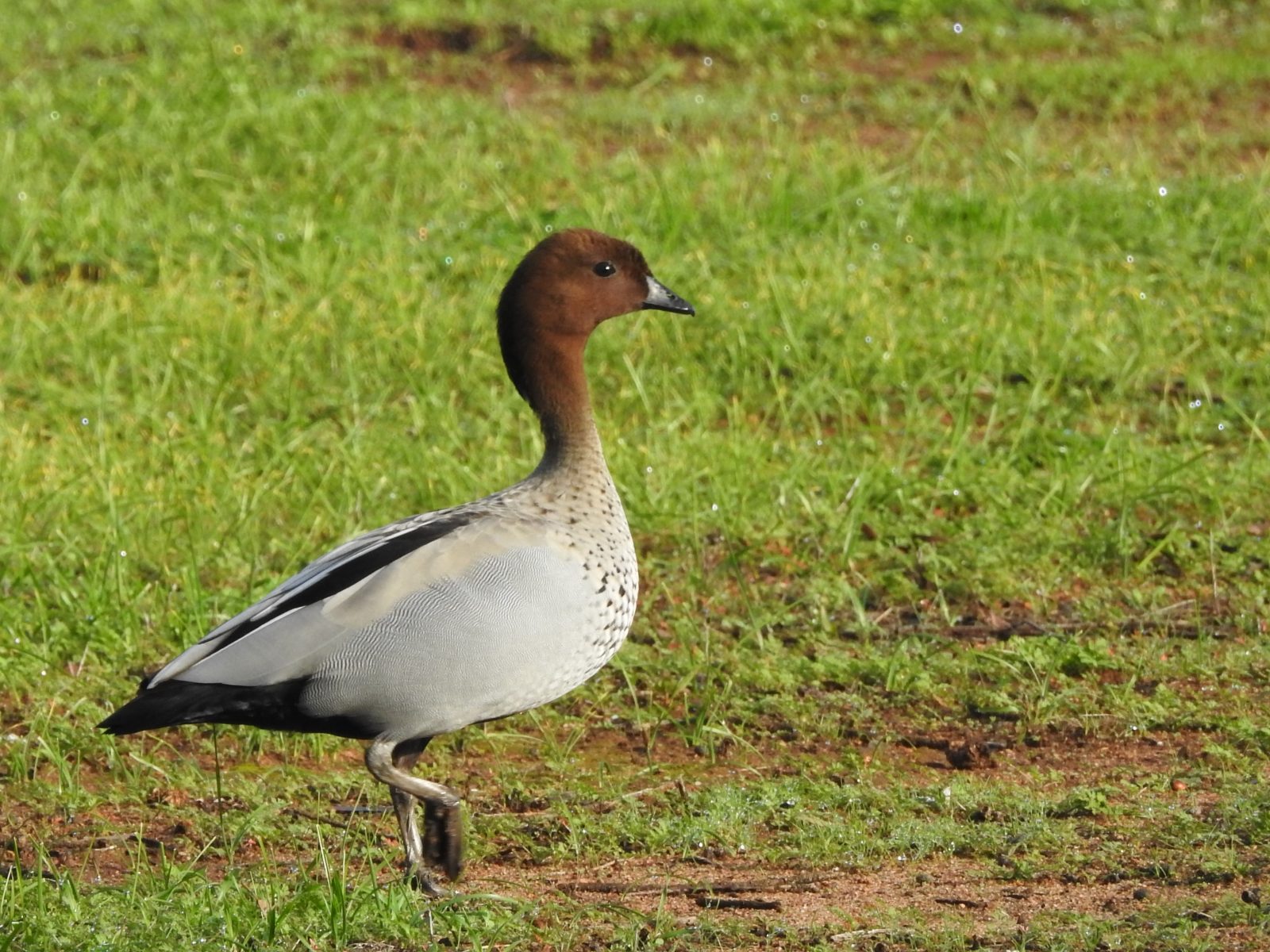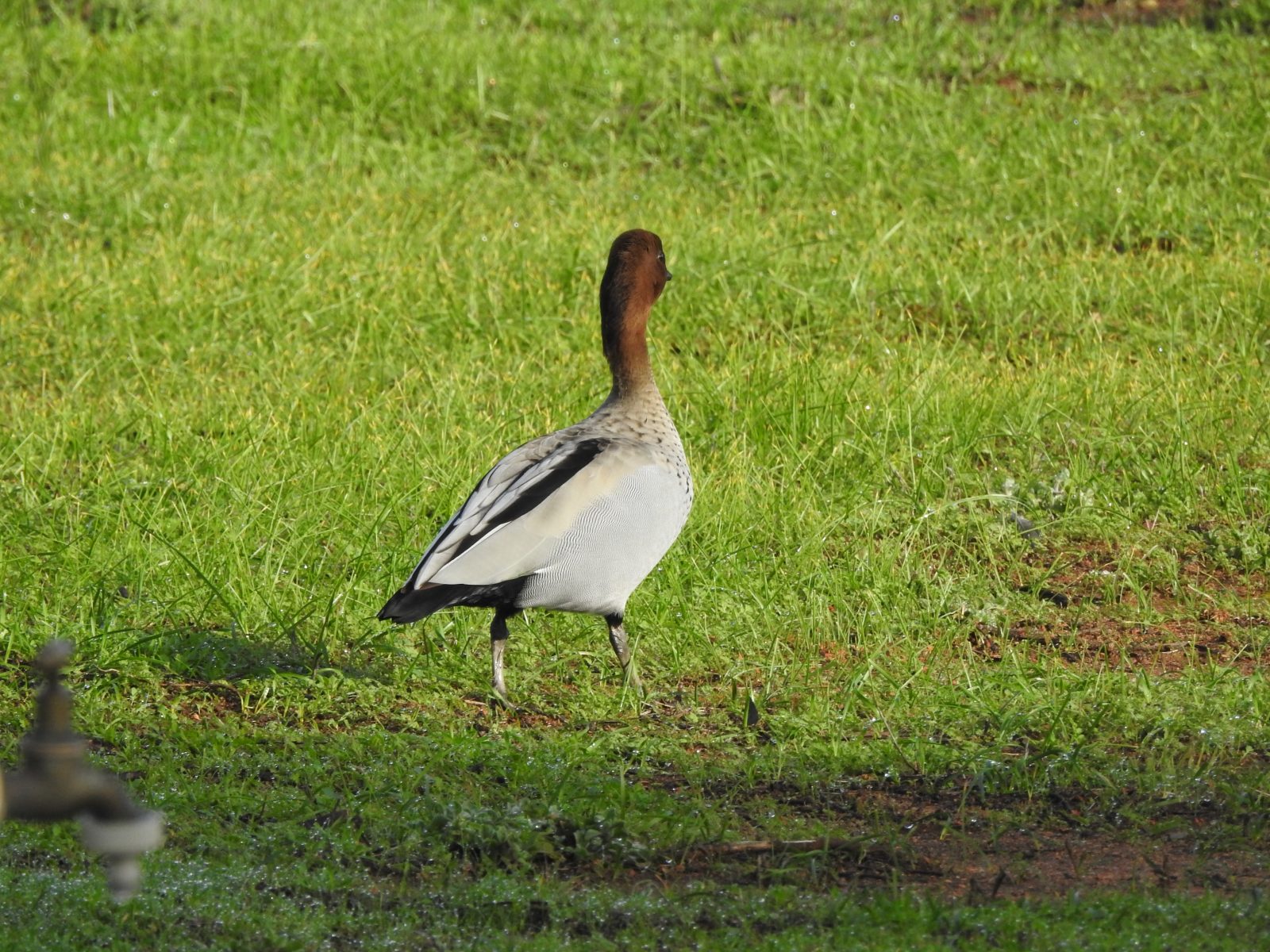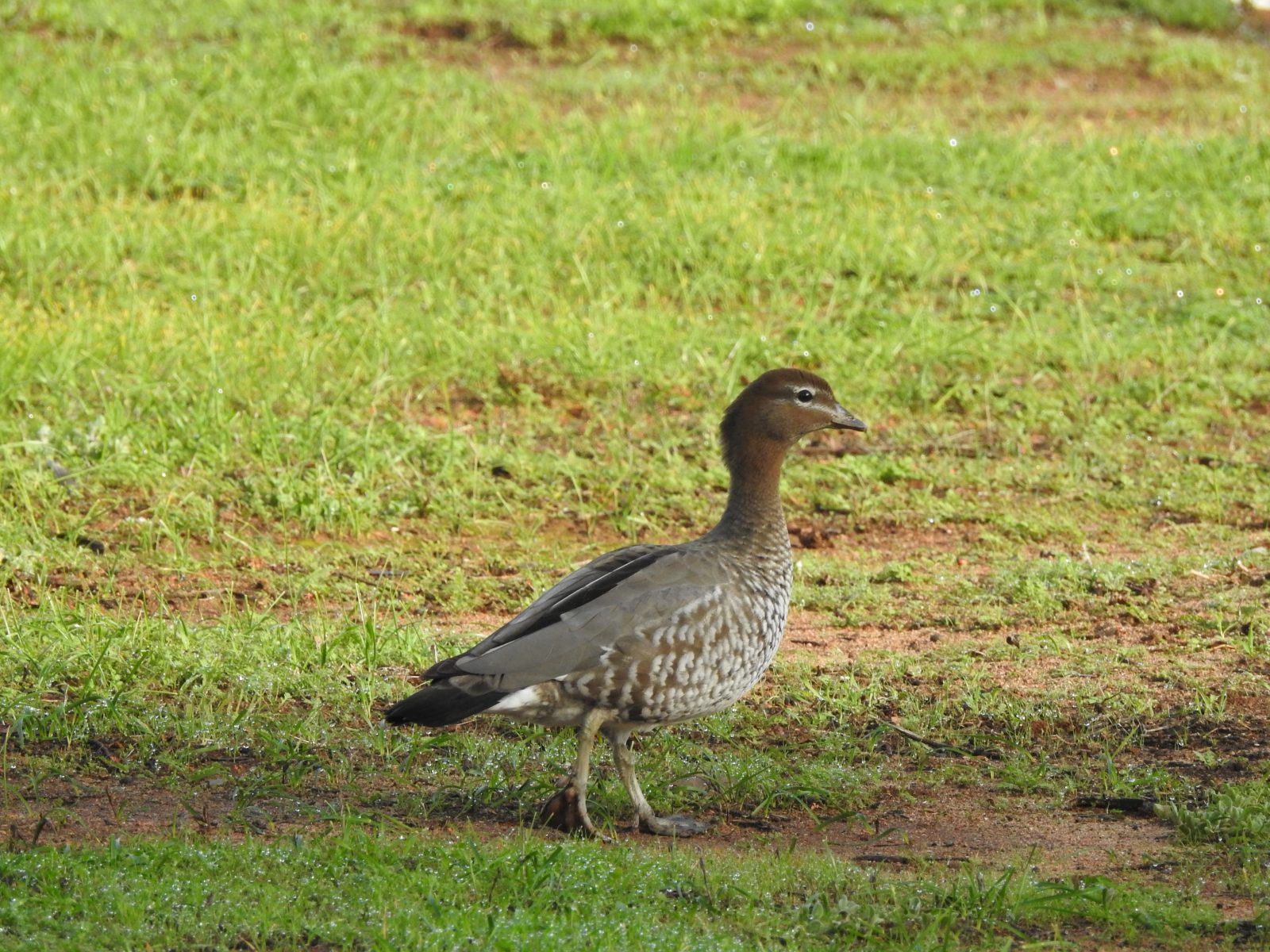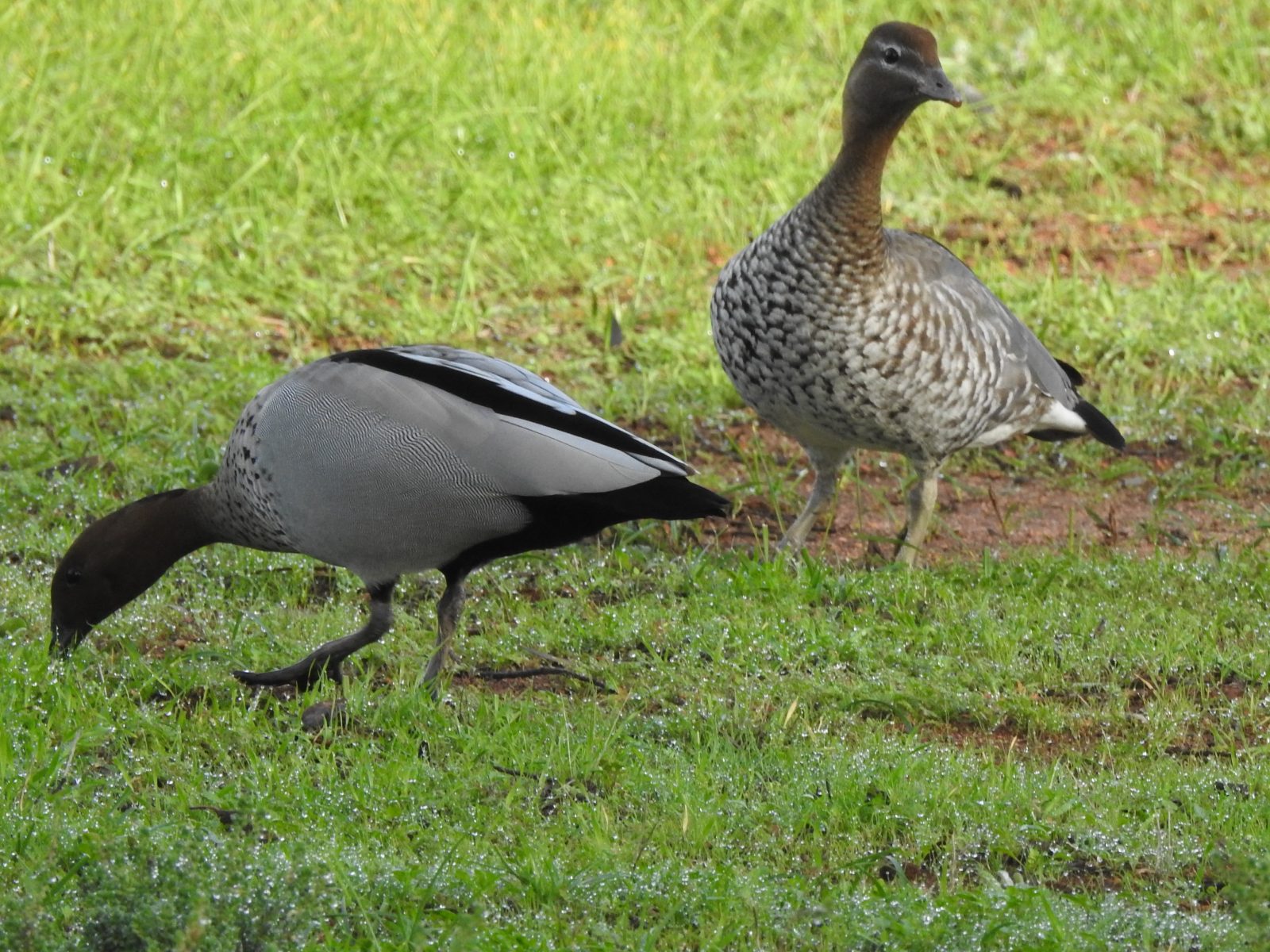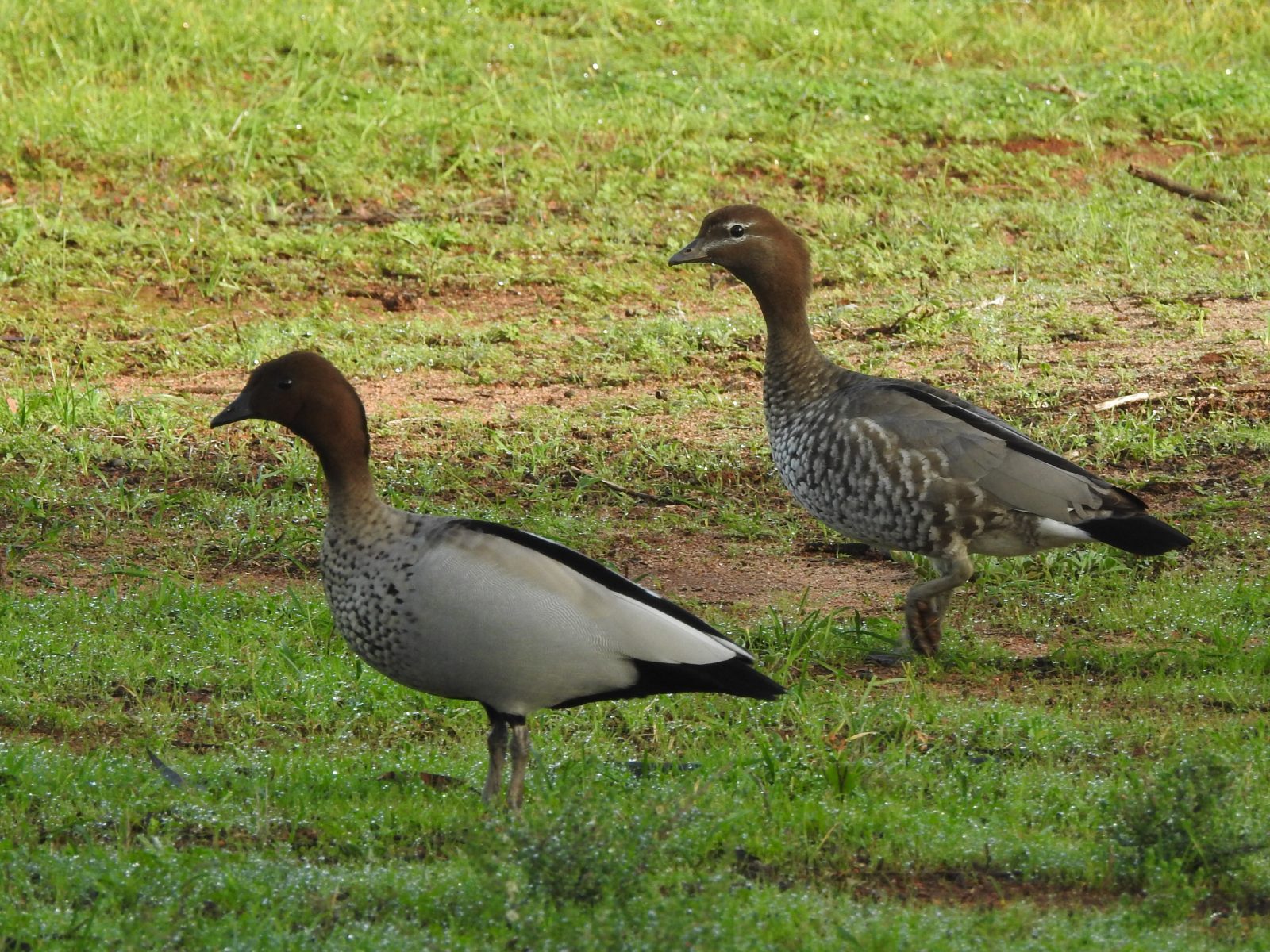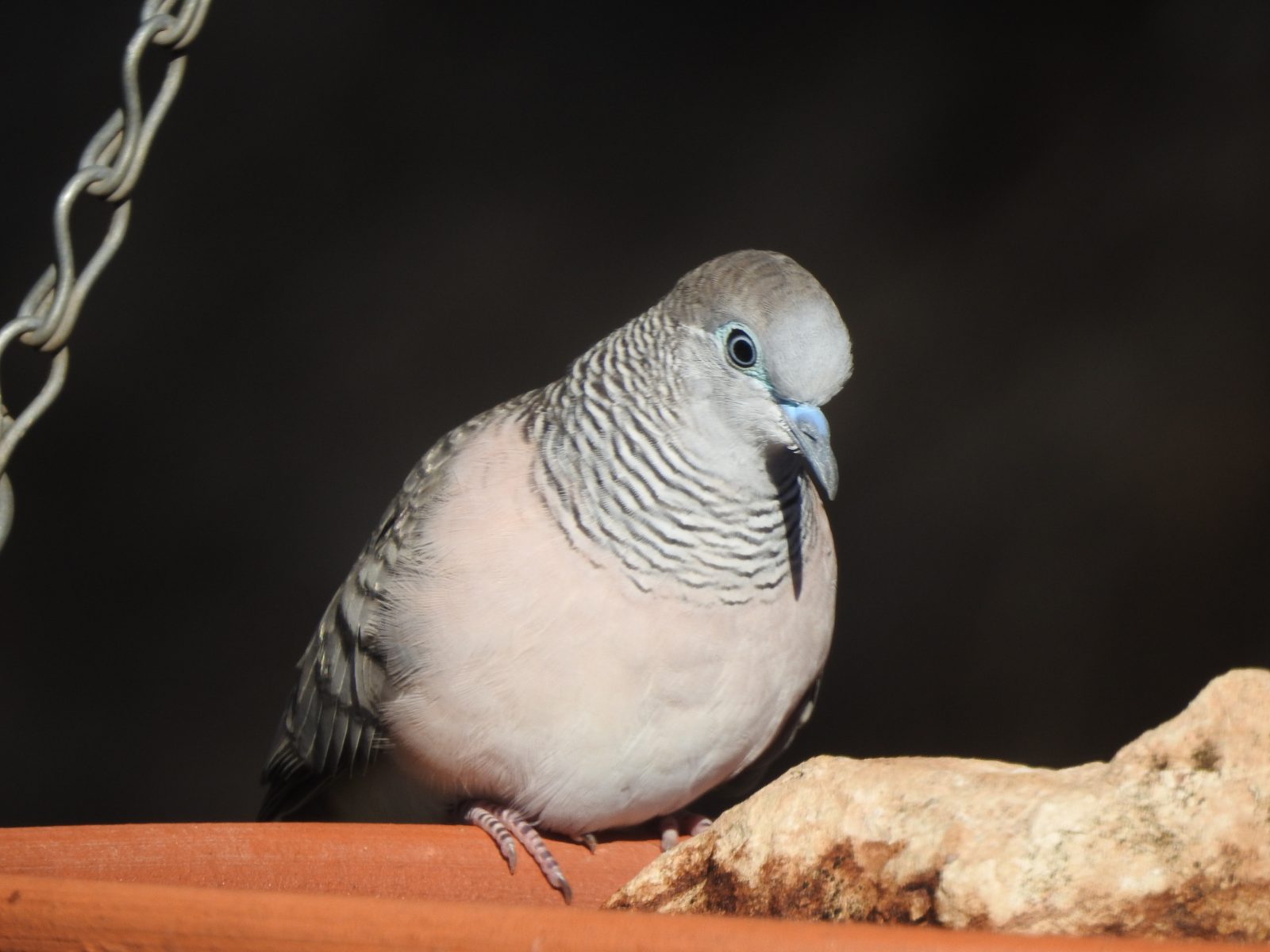 One bird species that I love seeing and hearing in my garden here in Murray Bridge, South Australia, is the Peaceful Dove as shown in today's photos. I live on the western edge of the rural city of Murray Bridge on a five-acre (two-hectare) block of land.
As well as a large variety of Australian native plants and trees, I have a small orchard and some remnant mallee scrub. My property adjoins several other mallee scrub areas, including Kinchina Conservation Park about a kilometre to the west.
Because there is so much native vegetation remaining in this area, the bird life can be prolific. I have lived here for over 35 years and have kept monthly lists of birds observed over that period, except for a few periods when I was away. This includes many holidays interstate and several trips overseas.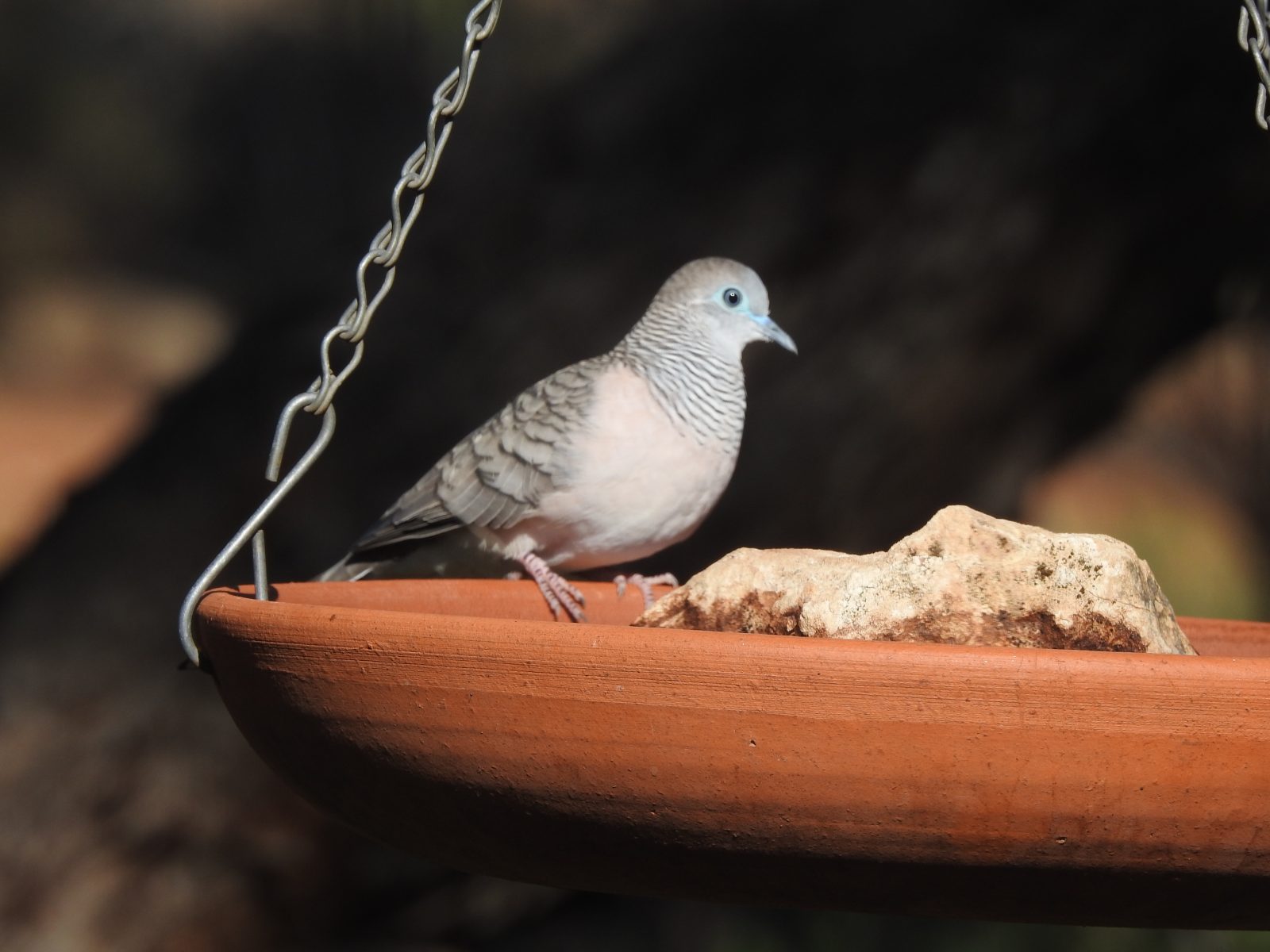 Doves and Pigeons
The most common species in this family of birds is the Crested Pigeon. They are a resident breeding species, meaning that they are seen every day and have been recorded breeding on my land.
For many years I have recorded Spotted Turtledoves (Spotted Doves) almost every day as well, but in the last few years, I have only seen this species here occasionally. The same applies the Rock Doves (Feral Pigeons) which are now only recorded occasionally. One other species, the Common Bronzewing, has only been sighted here on a handful of occasions.
In the first 20 years living here I only occasionally sighted Peaceful Doves. Then an individual would sometimes move down the hills to the west and visit my garden for an hour or two. On checking my database of records, I started seeing them regularly from late 2009. Over the next decade, they have become resident and I hear and see one or more every day.
At first I only saw one of two until more recently when I have recorded up to six in close proximity to each other. Only a few days ago I looked out the window to see four of them sunning themselves all within a square metre. It has become one of my favourite birds and I feel so privileged to see and hear them regularly here at home.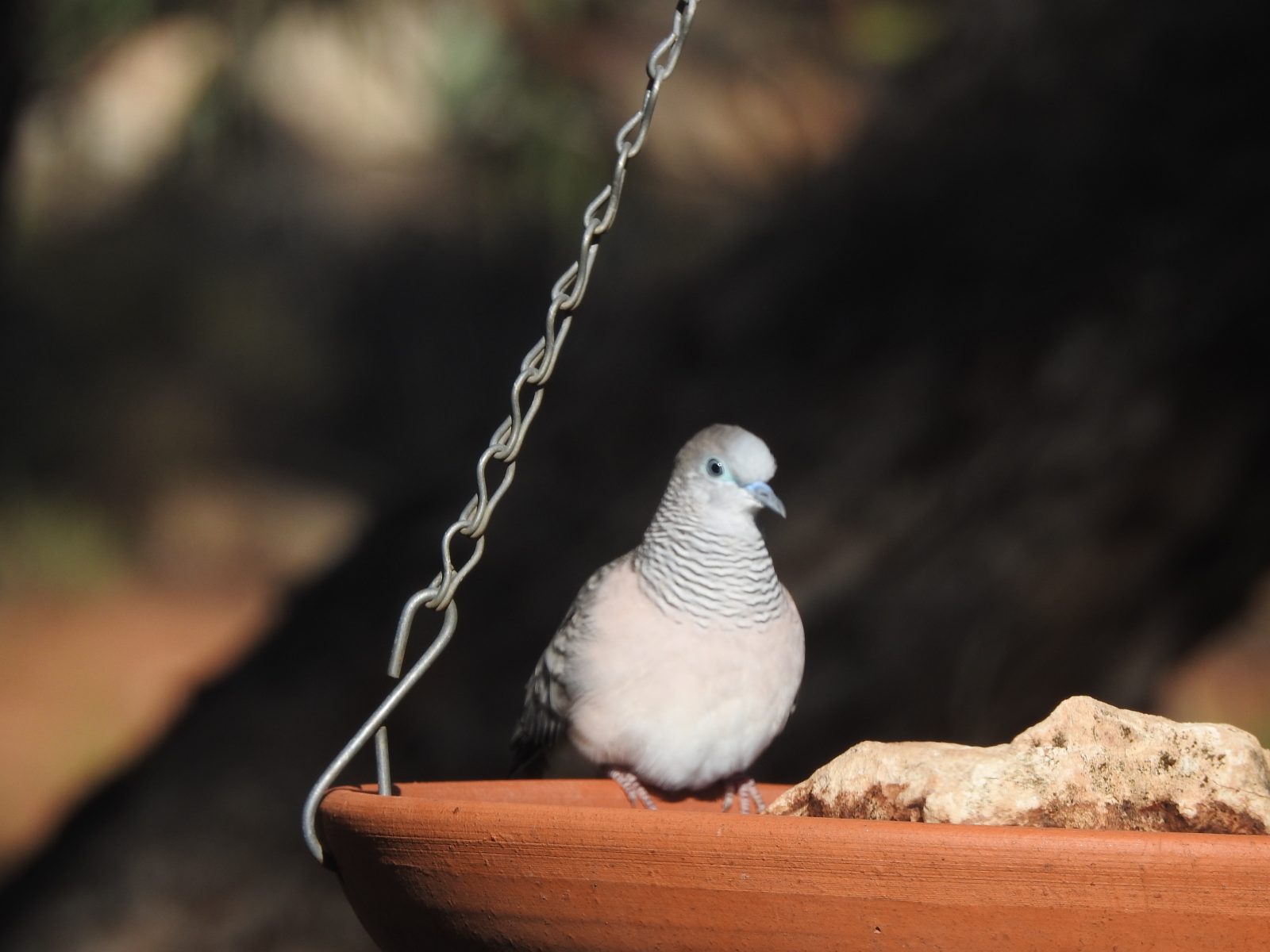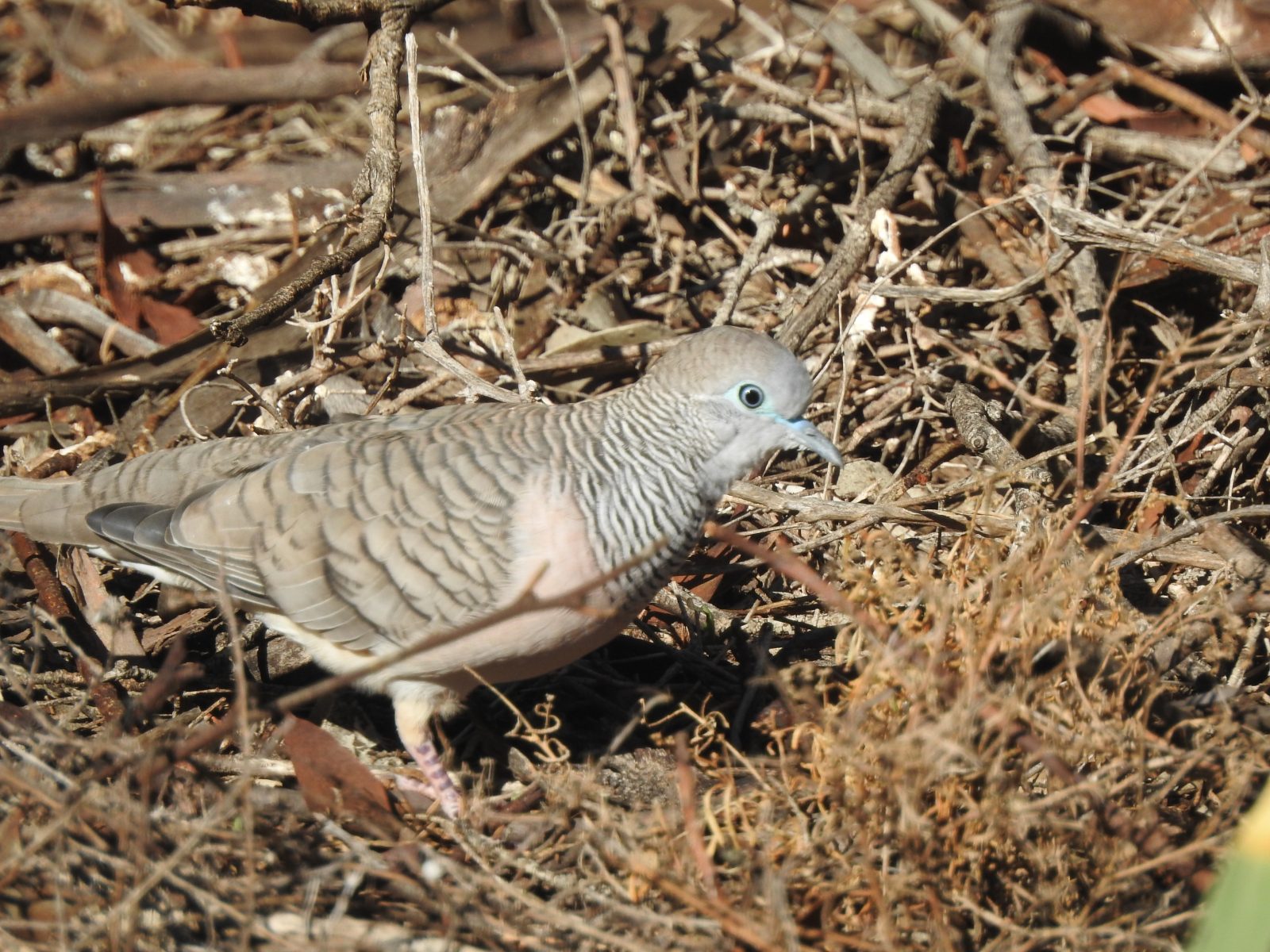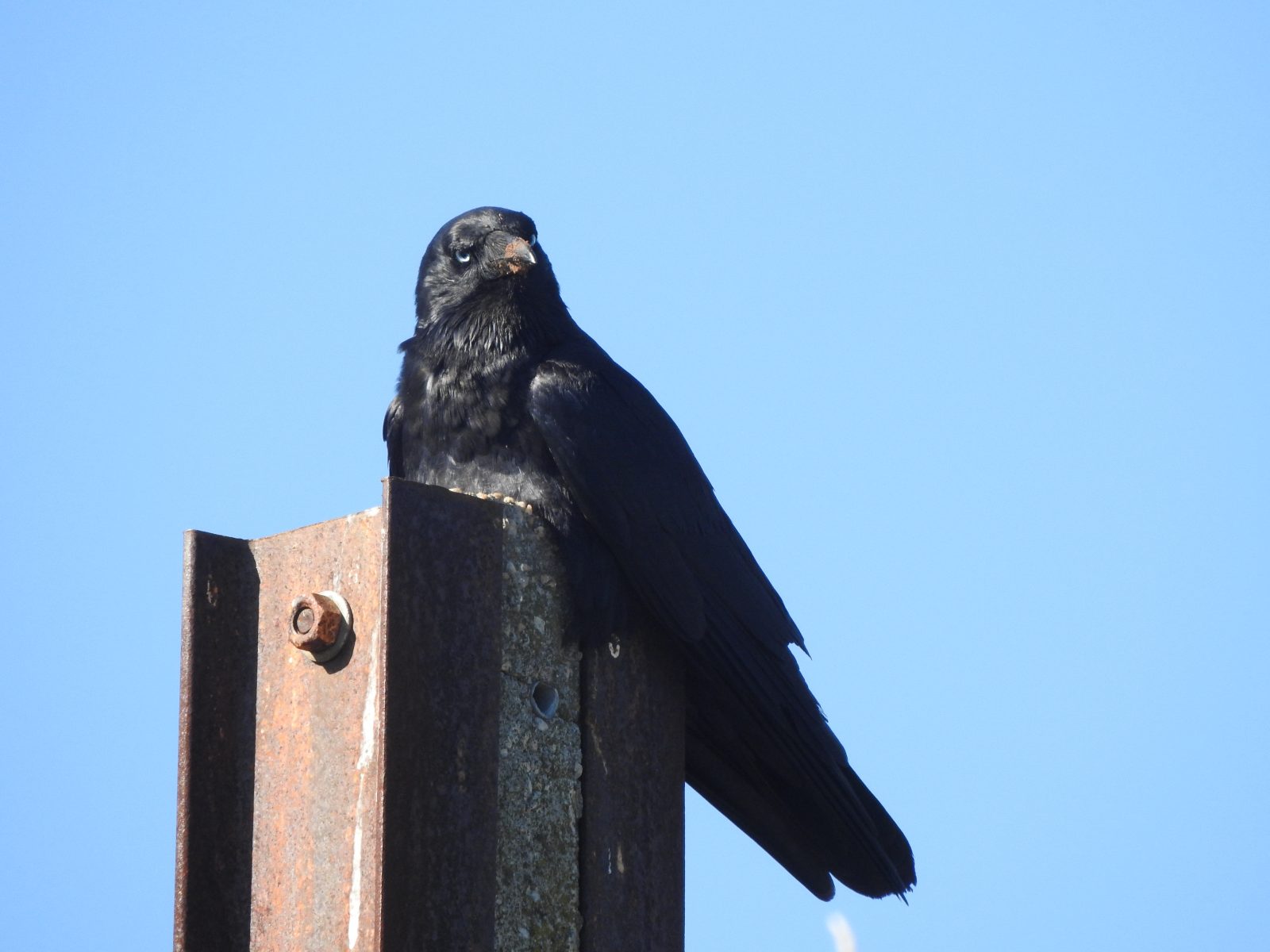 They are watching me
Ever had the feeling that someone is watching you?
I guess that feeling is common to most people. Have you ever had the feeling that an animal or bird is watching you? That is a very common feeling, I'd say. Dogs, in particular, have an uncanny way of watching people eat, for example. They always seem to know when there is food around.
Ravens nesting
Last month I was aware that the resident Little Ravens in my garden and five-acre block have been nesting. I observed them carrying sticks to a tall tree near my driveway, a spot which gives them a good lookout over the surrounding land. I had just taken some photos of the flowers of some native Australian plants in my garden when I spotted the Little Raven shown in today's photos (above and below).
Keeping an eye on me
The photos almost look like the raven is watching me carefully, making sure that I go nowhere near the nest. Over the few weeks, before these photos were taken, I walked past the nest tree many times. At no point did the ravens call out a warning, or swoop me or anything. I just went about my business, and they continued with their nest building.
I have been away from home travelling for the last two weeks so I don't know whether their eggs have hatched. I will still be away for a while so I expect to get home to find several young ravens begging for food.
Good birding,
Trevor
Further reading: